Maybelline new york's super staying matte ink liquid lipstick collections have high-pigmented color and give long-lasting wear.
They have an affordable and wide range of lipsticks. Therefore, today I will share a Maybelline Super stay Matte Ink liquid lipstick review.
Maybelline Superstay Matte Ink Review
 It is 100% smudge-proof and waterproof which stays for a really long without any mess. The brand claims that it will remain for 16 hours. This product might contain parabens and is not vegan. 
Maybelline matte lip ink has a unique arrow applicator that leaves a flawless matte finish. This applicator designs for a more precise application. It's long-lasting and no transfer formula will last up to 16 hours.
Budge-proof lip color provides pure matte perfection and sets into a dry matte. However, these lipsticks have a sticky texture even after setting so they will not completely dry out your lips or give a cracked look.
Product Details
Maybelline liquid matte lipstick has a beautiful color of 40 super-saturated shades from light to bright lipstick shades. Gorgeous shades of this drugstore lipstick are long-wearing that give a smooth matte finish that lasts all day.
Maybelline SuperStay Matte Ink Liquid Lipstick is a highly pigmented lipstick that has super-saturated shades ranging from classic red to nude to bright and bold lipsticks. This long-wear lip color delivers intense color and is designed to flatter a range of skin tones.
Price 
$9.49 for 5 ml (0.17 fl oz)
Sale
Last update on 2023-10-20 / Affiliate links / Images from Amazon Product Advertising API
Maybelline Super Stay Matte Ink Ingredients
Dimethicone, Trimethylsiloxysilicate, Isododecane, Nylon-611/Dimethicone Copolymer, Dimethicone Crosspolymer, C30-45 Alkyldimethylsilyl Polypropylsilsesquioxane, Lauroyl Lysine, Alumina, Silica Silylate, Disodium Stearoyl Glutamate, Phenoxyethanol, Caprylyl Glycol, Limonene, Aluminum Hydroxide, Paraffin, Benzyl Benzoate, Benzyl Alcohol, Citronellol, Parfum/Fragrance,
May Contain: CI 45410/Red 28 Lake, CI 77891/Titanium Dioxide, CI 15850/Red 7, CI 77491, CI 77492, CI 77499/Iron Oxides, CI 45380/Red 22 Lake, CI 15985/Yellow 6 Lake, CI 19140/Yellow 5 Lake, CI 42090/Blue 1 Lake, CI 15850/Red 6, CI 17200/Red 33 Lake, Mica]. F.I.L. D197345/2.
What the product claims:
Long-lasting formula
Last up to 16 hours
Transfer proof and Intensely pigmented formula
Gives you a flawless matte finish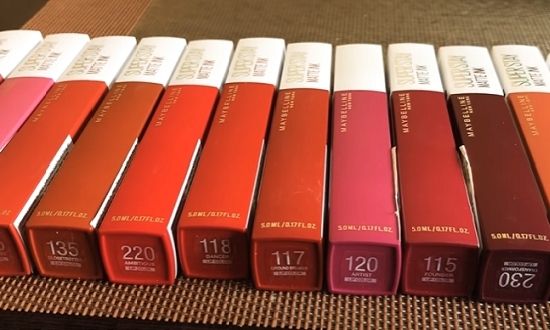 My write-up on Maybelline Superstay Matte lip Ink Review
The formula is very comfortable, it will last me all day without being overly drying. It will last me through water and food, and whenever I want to remove it, I'll require any waterproof makeup remover. I'm right now using the Garnier micellar water, so it will stand up. 
The color range is gorgeous, so you will be able to find it but my favorites are Seductress' which is a light pink nude, Pioneer is red with pinkish undertones, Seeker (brown with reddish undertones, Amazonian (nude with brownish undertones), and Transformer (wine-colored). and 'Loyalist' which is a tender neutral nude.
I feel like so many light nudes will be super white-based that even if you have a light skin tone, they're not super flattering, but this one works really well. By the way, they have a vanilla cake smell.
The application method has my favorite type of applicator that is sharp and has a little bit of space in the center.  They're delicate and simple to apply. They require a few moments to dry totally, yet by then they are transfer-proof. 
There are many shades with new colors and each shade is mind-blowing because they're so pigmented and super long-lasting.
Maybelline new york superstay matte ink used to last a long time on my lips and the best part about this formula is that this stint is a glossy matte finish. It doesn't look cracky or flaky like other liquid lipsticks. It claims to be 16-hour long wear and also smudge-proof and transfer-proof.
If you have extremely dry lips and you still want to use a liquid lipstick that lasts you a long time on your lips are highly recommend putting it like a lip balm.
It is very long-lasting but the formula is quite sticky and feels heavier on the lips. I noticed that it gets oxidized a little after application because I found a little change in the shade after some time.
Maybelline superstay matte ink lipstick is quite pleasant and pigmented, and it lasts a long time. It gives a moisturizing and hydrating effect on my lips. You can cover your lips in a single swipe without drying feeling.
It doesn't get streaky and gummy on the lips. The ink lipstick not only gives a velvety finish but also gives a smooth application.
The brush shape applicator makes it easy and simple to apply. This is, without a doubt, the greatest lipstick I've ever used.
[Read more: The ultimate guide for buying elf Poreless Putty Primer]
Sale
Last update on 2023-10-20 / Affiliate links / Images from Amazon Product Advertising API
Packaging
Maybelline new york superstay matte ink liquid lipstick comes in long plastic square tubes with a cap and solid-colored body representing the shade of the lipstick inside and making it simple to distinguish the shade color. The shade name is present on the lower part of the tube, making it simple to discover specific shades.
It has a beautiful, big, and leaf-shaped doe-foot applicator for easy application that works perfectly, particularly, around the corners and outlines of the lips. So, the sponge has a sharp tip that characterizes the lip well and gives an easy look with no effort.
The size of the tube is normal with a decent amount of product at the cost paid and goes on for around 3-4 months if we use it on daily basis. Overall, the packaging seems a bit heavy and clunky but the applicator is very accurate and comfortable to use. 
Texture
This ink lipstick has a medium-thick consistency that glides and covers the lips easily without any tugging and bleeding. It doesn't seem bumpy, but the thick texture makes it feel a bit creamy and dense on my lips. Even when the lipstick has dried completely, it still feels a touch sticky.
Formula
Lipstick has a tacky and rubbery finish that makes it not quite the same as most other long-wearing matte lipsticks. It does not have the dry finish of matte formula and has the subtlest trace of a sheen that makes it appear more ink-like. 
The most important thing is that does not rub or press your lips together until they dried totally because they stick and create patchiness together like a glue finish. These lipsticks aren't for people who prefer sheer, lightweight colors.
Due to the thick consistency, you may feel heavy but after one hour no stickiness there. You might not require lip liner because this product is smudge-proof, so it doesn't come out until you remove it.
Use bi-phase makeup removers like cleaning oils and water-based makeup removers to remove this Maybelline lip color from the lips.
Two to three layers can be applied without the worry of cracking or crumbling. However, after applying the one layer on the lips, allow it to dry for a proper matte finish. It takes about one minute to dry. Then you can apply more layers but allow every layer of color to dry completely before applying the next.
The formula is very pigmented and sort of creamy. They have a sort of sweet vanilla smell. The formulation of Maybelline ink is it is 100% smudge-proof and waterproof, as they claim.
Yes, it is slightly uncomfortable at first, but overall it is amazing lipstick. Because of its thick consistency, it peels from the inner lip line. I've found that a single normal layer is more effective than multiple ones. 
[Read more: Estee Lauder double wear Foundation Review & Swatches]
Sale
Last update on 2023-10-20 / Affiliate links / Images from Amazon Product Advertising API
Staying power
The stability is impressive. It effectively remains for 8-10 hours without bleeding or smudging of the shading. It looks wonderful for the duration of the day and never looks blurred. 
Because the pigment rubs off layer by layer, it stays on even after an oily and heavy dinner, beverages, and kisses, making it impossible to remove it all at once. That is the thing that works on its longevity.
It somewhat chips from the inward lip line and once in a while likewise from the middle before the day's over. It relies upon the circumstance. Else, it endures long for me. However, reapplication is certifiably not a simple way with this lipstick.
Maybelline superstay matte ink swatches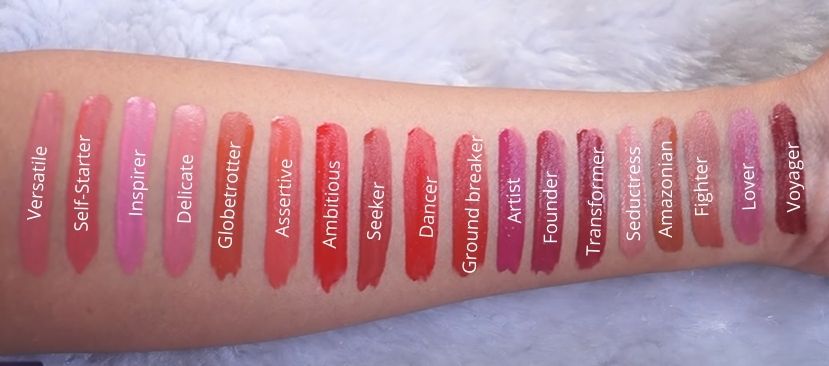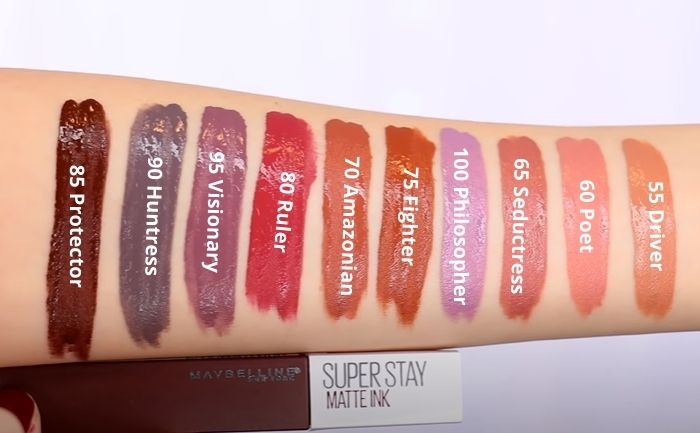 Maybelline superstay matte ink coffee edition swatches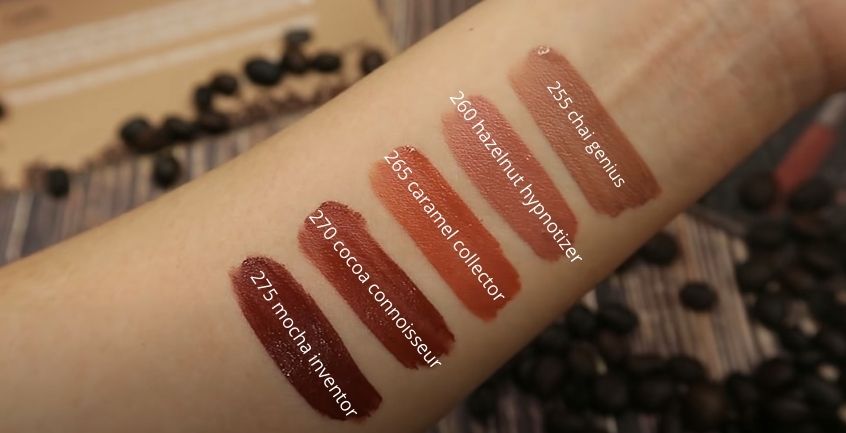 Maybelline superstay matte ink Pink edition swatches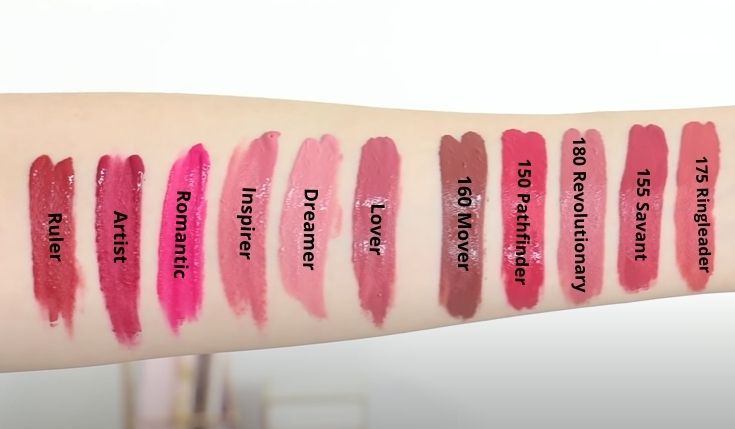 Maybelline superstay matte ink Spiced edition swatches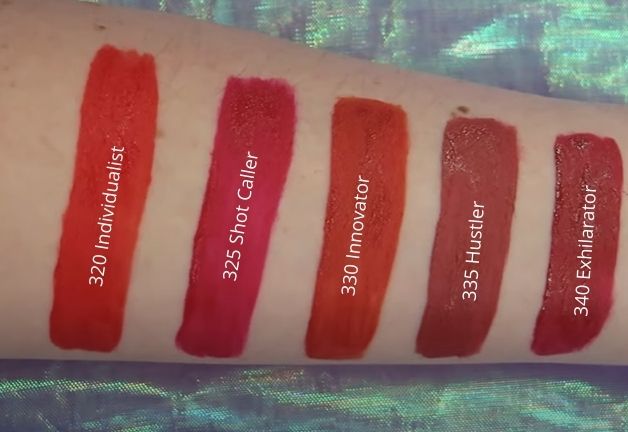 Maybelline super stay matte ink shades
Finding the best lip shade for your skin tone might sometimes be overwhelming. To find a color that highlights and flatters your skin, figure firstly your skin tone and undertone whether it is warm, cool, or neutral.
Maybelline brown shades: The shade 250 seeker is a beautiful brown shade, Chai 18 shade is a deep brown shade with warm undertones, The shade 70 Amazonian is a rich caramel brown and Voyager is a gorgeous terracotta brown.
In the purple color family, there are beautiful shades you can choose from, Creator (lighter shade) and Escapist (darker shade), and Believer – which is a wonderful eggplant purple.
Superstay matte ink red edition: Ambitious is a warm red, Pioneer is a rich & deep brick red and Dancer is a bright true red shade that will work for most skin tones. You can also try Heroine which is a very bright orange-red, almost coral and the shade Self Starter is a rusty red with tangerine undertones.
The founder is the perfect bold wine shade while Shade Ground Breaker is an orange-toned rich terracotta. Shade 65 Seductress is a dusty rosy beige with cool undertones.
Shade Artist is a dark plum color with a tinge of bright fuchsia, while Ruler is a brick-colored lip shade with a tinge of rosewood.
The shade Delicate is a mauve lipstick that looks gorgeous on a wheatish skin tone. The shade 15 Lover is a cool-toned mauve with pink undertones.
85 Protector has a beautiful rich chocolate shade. The shade 'Globe Trotter' is a reddish brick that flatters all skin tones. The shade 60 Poet is a beautifully soft, pink-beige that'll suit fair and medium skin tones. 
Maybelline super stay ink nude matte finish:
Driver: soft beige nude
Versatile – warm peachy nude
Seductress – dusty rose nude
05 Loyalist – a peach-based nude that suits fair complexions
[Read more: Maybelline Fit Me Concealer Review & Swatches]
Sale
Last update on 2023-10-20 / Affiliate links / Images from Amazon Product Advertising API
Pros of Maybelline Superstay Matte Ink
Easy To Use
Shades that flatter all skin tones
Long-Lasting and Pigmented
Mattifying
Transfer Proof, Smudge-proof and waterproof
Moisturizing and doesn't dry out lips
Good coverage with a single application
Smooth and creamy texture glides easily
Good choice for evening wear as well as office wear and party wear
Staying power is amazing
Cons of Maybelline Superstay Matte Ink
Thick and a little sticky formulation
The inner lip line flakes possibly a bit.
Difficult to wipe off the lipstick
Overview
Overall, Maybelline super stay matte ink liquid lipstick is an amazing lipstick that ink your lips up to 16 hours of liquid matte color. This highly pigmented color has a long-lasting and no-transfer formula. It has various shades that match all beauties. The formulation is incredibly good, but it takes some time to dry and leaves a mildly tacky feeling behind. This is the greatest option for those looking for a decent, long-lasting matte lipstick.
Frequently Asked Questions
How to take off Maybelline superstay matte ink?
Although any oil-based remover works well to remove this lipstick, however, I have found Maybelline's Super Stay Eraser lipstick remover works best to take off this product.
Is Maybelline SuperStay matte ink kiss-proof?
This liquid ink lipstick doesn't remove while eating greasy food or while drinking. So, as it is water-proof and non-transferable, it is a kiss-proof lipstick to a great extent.
Is Maybelline SuperStay matte ink vegan?
Some ingredients make them non-vegan. So, It is not 100% vegan and also not a cruelty-free product.
Last update on 2023-10-20 / Affiliate links / Images from Amazon Product Advertising API