Burt's Bees Tinted Lip Balm is a lip balm that nourishes the lips and adds a natural color hint. These balms are a sheer lip tint and come in a range of 6 naturally flattering shades. Thus, Today I will be reviewing the Burt's Bees Tinted Red Dahlia Lip Balm.
Burt's Bees Tinted Lip Balm-Red Dahlia Review
Today, I will review Burt's Bees tinted lip balm in the shade "Red Dahlia". Burt's bees-tinted lip balm is a paraben-free product. It is formulated with natural ingredients for gentle lip care. This lip balm is nourishing and moisturized for up to 8 hours.
These lip tints are a rich color palette from pinks to reds, plum, violets, and 100% natural beauty products. This lip balm with natural shade has a smooth texture. It is suitable for each skin tone.
Its six tinted shades Red Dahlia, Rose, Zinnia, Sweet Violet, Pink Blossom, and Hibiscus, are excellent. But personally, I like the red dahlia tint which suits me very well. The swatches of Burt's Bees tinted lip balm are very lovely and suitable for each skin tone.
Product Details
Burt's Bees tinted lip balms are 100% natural. These lip tints help lips look and appear soft and beautiful. The formula includes Botanical Waxes and moisture-rich shea butter. 
Burt's Bees lip balms are enhanced with 100% natural ingredients. For an honest and everyday look, a beautiful red color with Burt's Bees Red Dahlia tinted lip balm provides a light, smooth finish.
Price
$4.99, 0.15 Ounce
Sale
Last update on 2023-11-09 / Affiliate links / Images from Amazon Product Advertising API
Burt's Bees tinted lip balm ingredients
Shea Butter, Botanical Waxes, and vitamin E
Full Ingredients list: Cocos Nucifera (coconut) oil, candelilla Cera (Euphorbia Cerifera wax, cire de candelilla), lanolin, Ricinus communis (castor) seed oil, Olea Europaea (olive) fruit oil, helianthus annuus (sunflower) seed oil, Butyrospermum parkii (shea) butter, glycine soja (soybean) oil, aroma (flavor)*, Tocopherol, Cera alba (beeswax, cire d'abeille), olus (vegetable oil, huile vegetale), Rosmarinus officinalis (rosemary) leaf extract, Jasminum officinale (jasmine) flower wax, ammonium glycyrrhizinate, Cananga odorata flower wax, canola oil (huile de colza). May contain: alumina, CI 77491, CI 75470 (Carmine), CI 77891 (titanium dioxide), CI 77492, CI 77499 (iron oxides).
Burt's Bees Tinted Lip Balm Claims:
A hint of color and 8 hours of moisture
Made without: Free from Parabens, Phthalates, Petrolatum, or SLS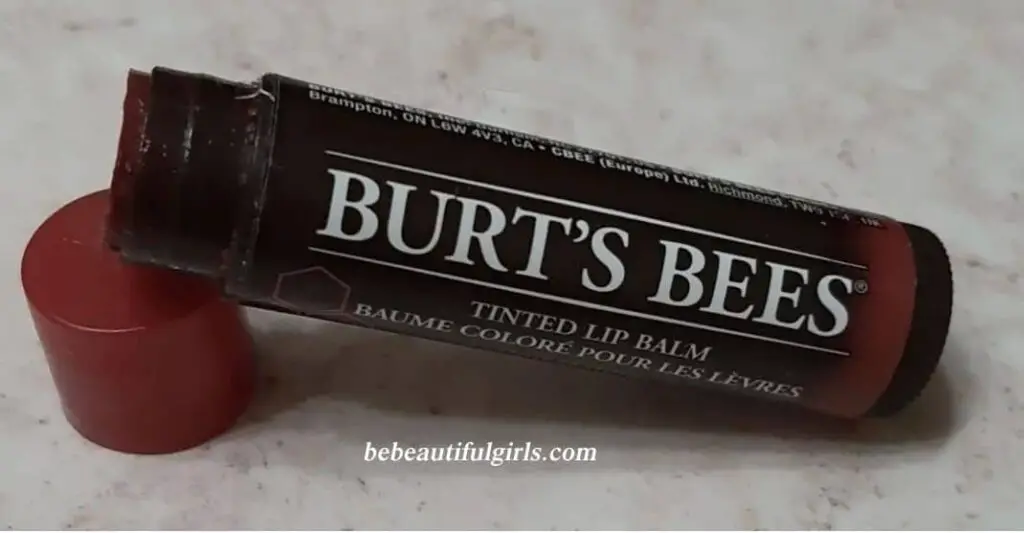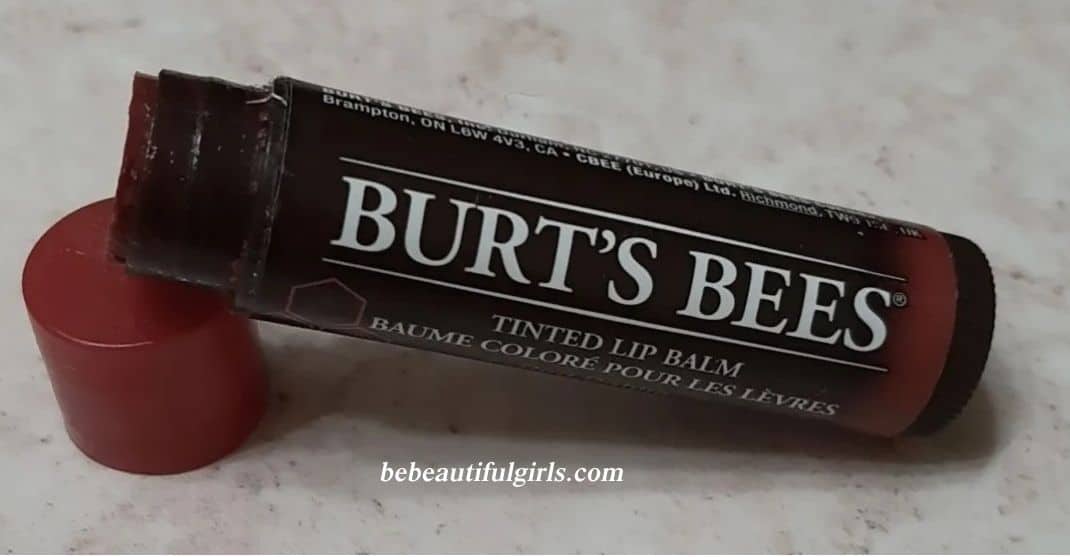 My write-up on Burt's Bees Tinted Lip Balm – Red Dahlia
I have utilized this lip balm for various days, and I have the Burt's Bees Tinted Lip Balm in Red Dahlia, it is a lovely color and base.
This Lip Balm gives a less waxy feel than ordinary BB beeswax lip balms. This balm applies smoothly and provides a hint of color. The flavor and smell of this balm are relatively subtle.
The product applies smoothly, and the tint is subtle. My lips felt refreshed after using it each time. Because it's a tint, it doesn't stay as long as lipsticks, yet it has a decent wear time.
It is a lot simpler to apply than lipstick and should be possible anywhere. Especially if you don't have a mirror, and require a quick touch-up.
I noticed this balm wore off very soon and didn't last after eating and drinking. For this individual, I like a more pigmented product or a long-wearing lip stain, As this is a personal choice. If you need a subtle lip appearance and don't mind reapplying, this product would suit you.
It works to keep my lips moisturized and prevents cracking. Looking for a lip balm that moisturizes your lips may be surprisingly challenging.
Generally, many lip balms initially feel like they moisturize your dried lips yet dry them out in the long term. It's even excellent if you can't find your lipstick and want something to deliver your lips slightly pop. 
[Read about fabulous Renee Fab 5 in 1 Lipstick Review and Swatches]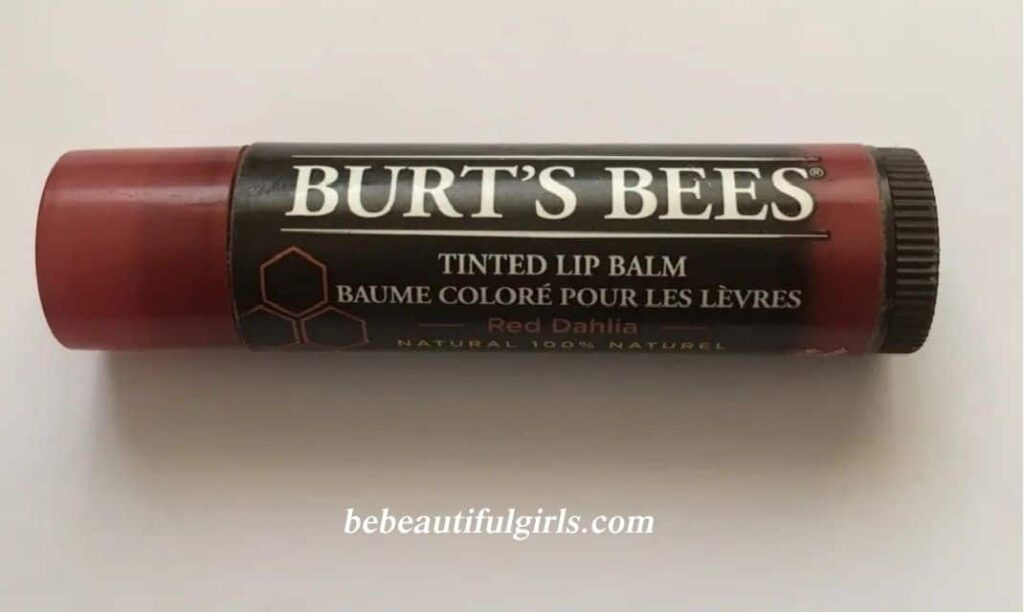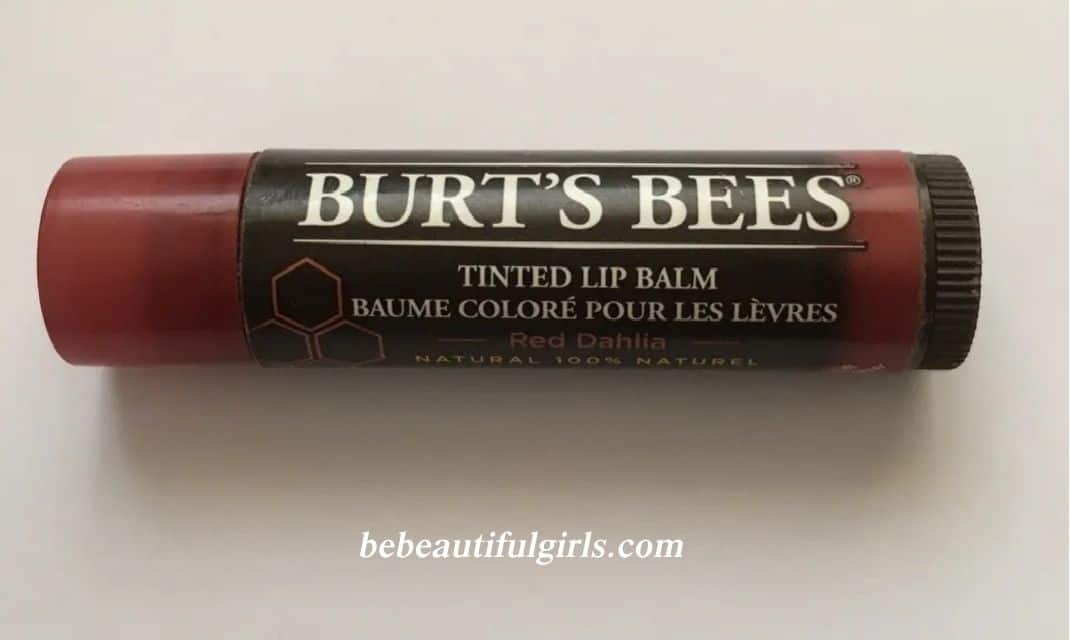 It is incredible for those minutes on the run when you believe you need a touch something extra but don't have the time to whip out a mirror and put on some lippy. It gives a similar beautiful smooth floating lip balm feel as other Burt's Bees lip balms.
It merely gives enough colors to make your lips pop without going over the top into lipstick land and can be applied effectively without a mirror or worrying about staining outside your lip line.
These tinted lip balms are ideal for protecting lips. I apply this balm mostly when outdoors to protect my lips from wind and sun.
They prevent dry, cracked lips and are super moisturizing and hydrating. These feel light to wear and just enough for a nice natural appearance. They are non-sticky, which is a huge bonus.
Packaging
It is beautiful in an adorable tube with the tone of the tint displayed. Simply a chapstick, as it is in a swivel-up tube. Also, this small tube is easy to carry anywhere and simple to apply. It is very handy to quickly bring it in my purse or set it in my pocket.
Smell: Mild and Pleasant
Color: Red
[The ultimate guide for buying elf Poreless Putty Primer in 2021]
Burt's Bees Tinted Red Dahlia Lip Balm Swatch: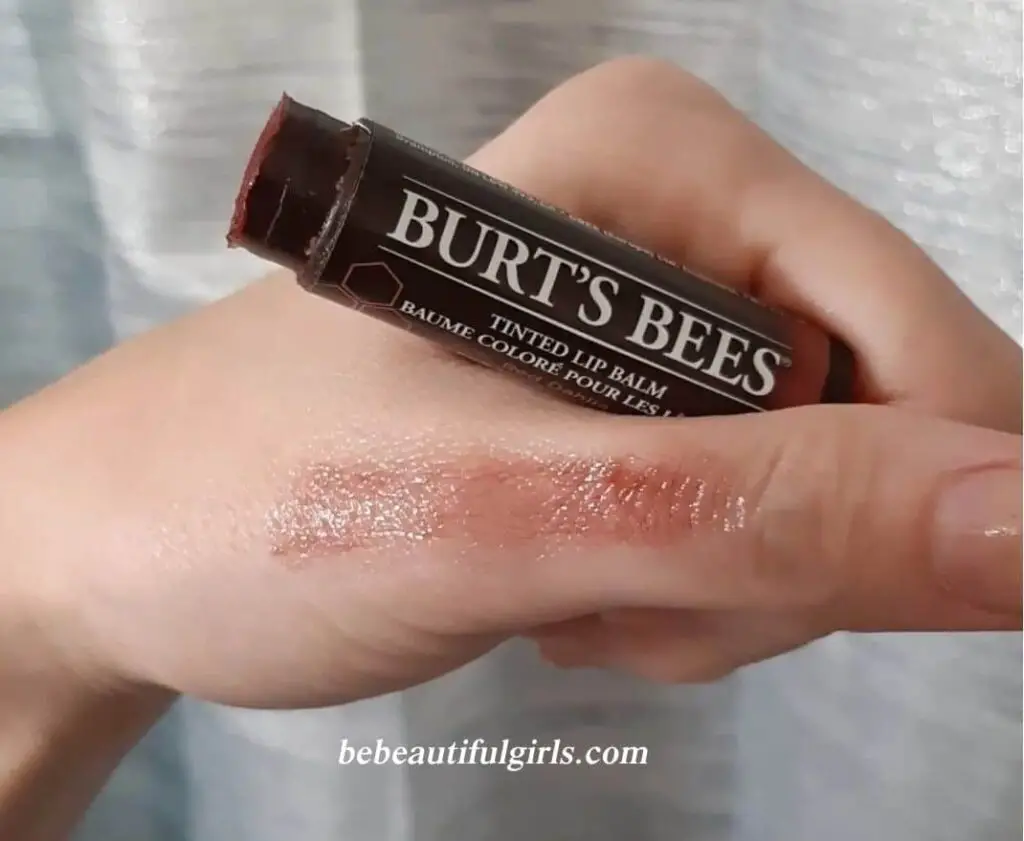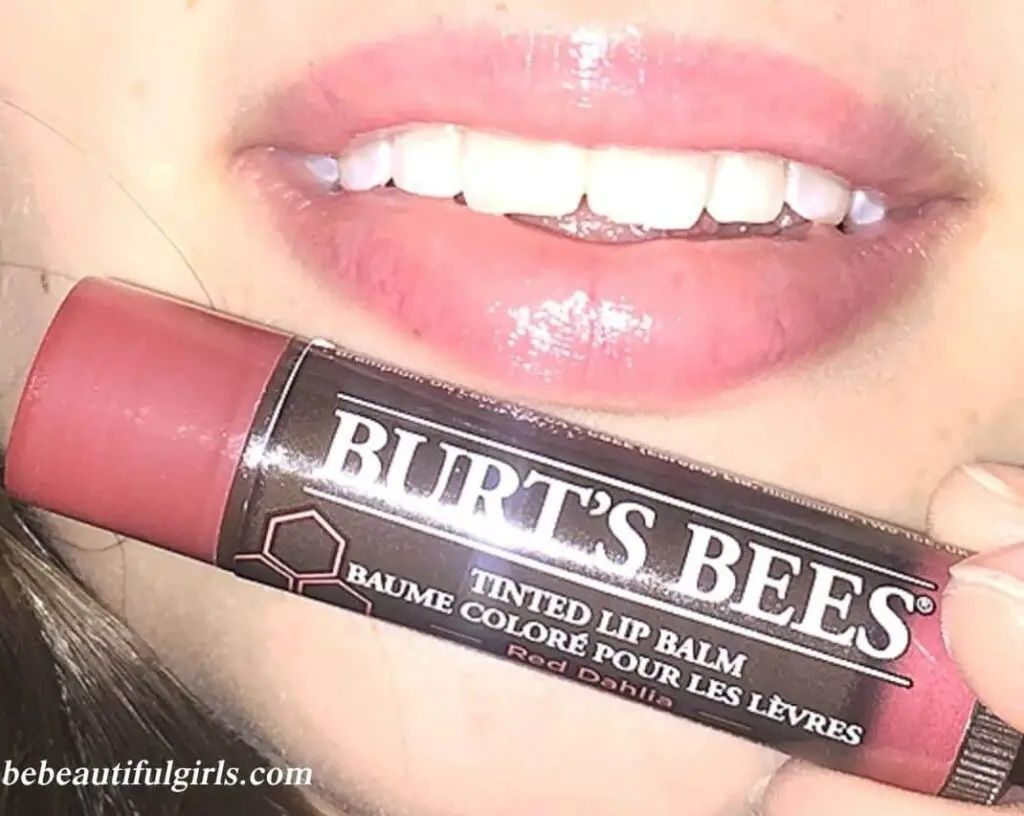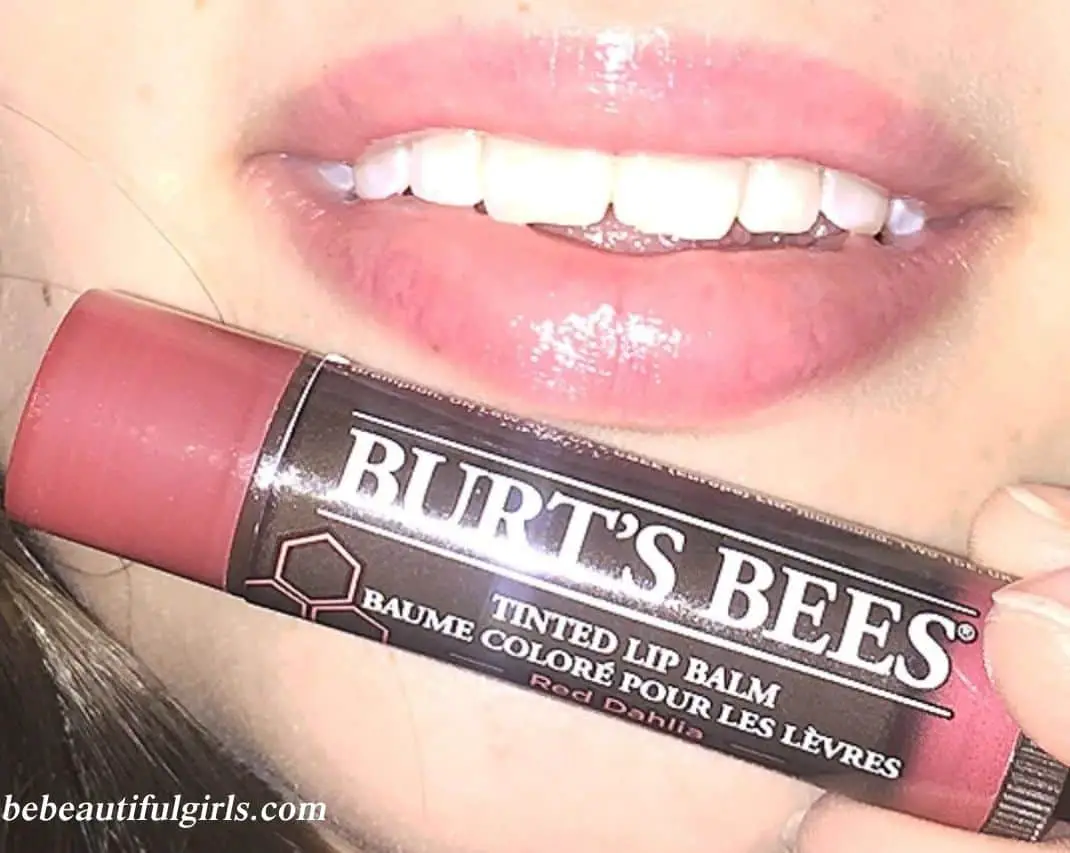 Burt's Bees Tinted Lip Balm benefits
Shea butter and botanical wax moisturize and soothe dry lips naturally.
It keeps lips moisturized while adding a hint of color.
A flattering shade enhances your everyday lip and adds a smooch of color.
Just a straightforward swipe of this moisturizing lip balm keeps your lips soft.
This easy-to-use Tinted Lip Balm tube is perfect for an everyday natural makeup routine.
The lip balm is available in six colors with beautiful shades- Red Dahlia, Rose, Hibiscus, Sweet Violet, Pink Blossom, and Zinnia.
Pros of Burt's Bees Tinted Lip Balm
100% Natural
Soft moisturizing effect
Not sticky or greasy in texture
Subtle color and shine
Lovely shade selection
Cons of Burt's Bees Tinted Lip Balm
Wore off easily
Frequent application
HOW TO USE: Apply a simple swipe of sheer, natural color anytime, anywhere.
Availability: Easy
Overview
This conditioning lip balm hydrates and soothes chapped lips naturally. This chapstick lip balm gives total hydration with 8 hours of moisturization. It is moisturizing lips and also offers a tint of color to your lips. So Burt's Bees tinted lip balm is excellent for a natural sober look for routine life.
Last update on 2023-11-12 / Affiliate links / Images from Amazon Product Advertising API