I like to use organic products, and also, people are opting for organic beauty skincare products over synthetic ones.
Thought of a chemical-free skincare & hair care product, the products should bother the skin without any chemicals.
I recently found this organic brand called Deyga, which has various organic skincare, haircare, bath & body, baby care, and wellness products on its website.
Deyga has excellent natural well-valued products, and they are made in India. So, I get some Deyga products like beetroot lip balm, basil facial toner, turmeric healing mask, and body scrub. Therefore, today I will review one lip care product, namely the Deyga Organics Beetroot Lip balm.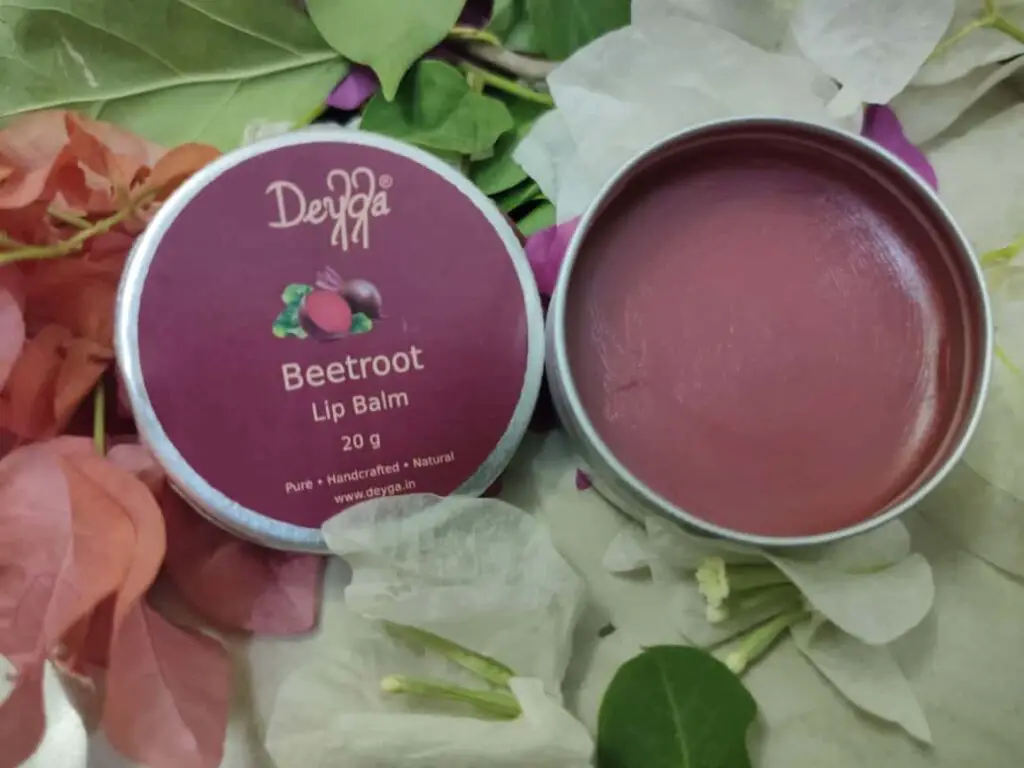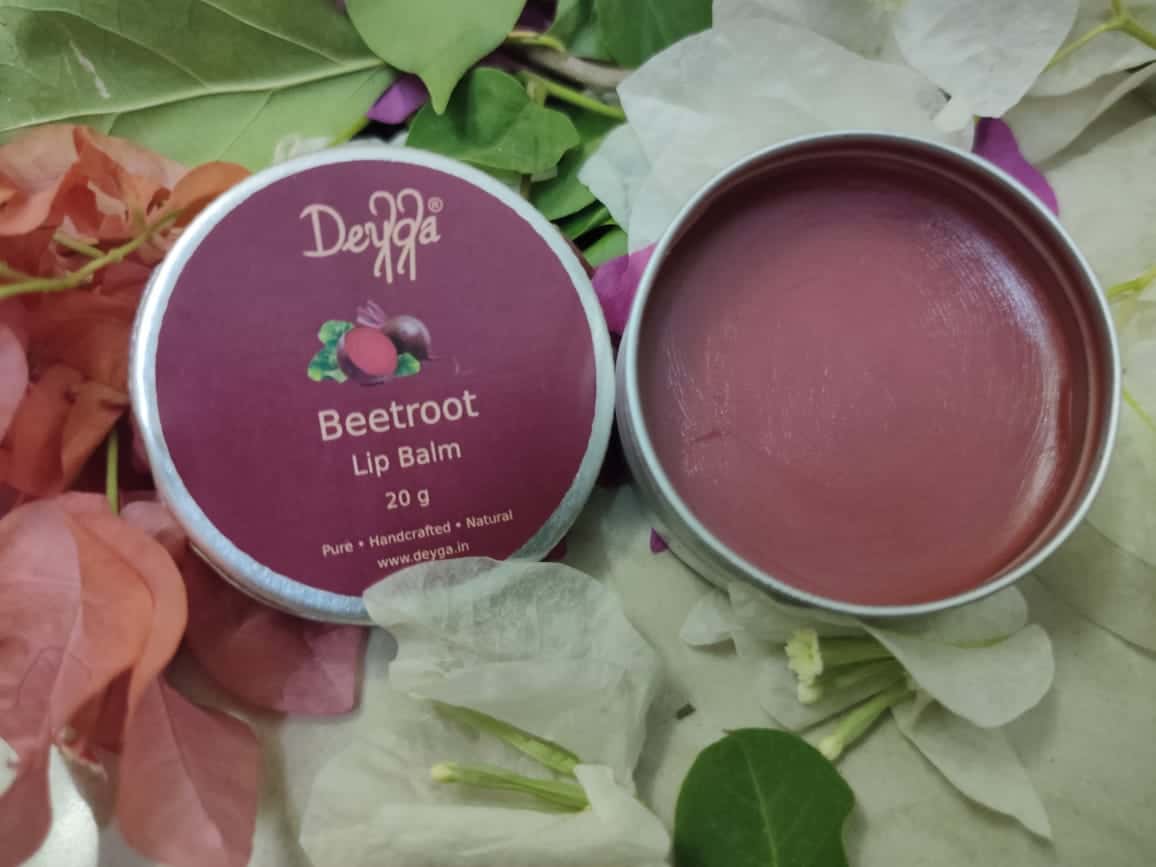 Deyga Beetroot Lip balm Review 
The lightweight lip balm slides easily into lips and gives a lustrous shine. It also acts excellently as a base under lipstick. It retains my lips hydrated and smooth for 3-4 hours without making them seem exceptionally oily, and it provides a pleasant sheer shading color. 
This lip balm from deyga keeps lips hydrated for a long time and doesn't need constant reapplication. The main advantage of this lip balm is it doesn't feel heavy on the lips and doesn't aggravate the lips when implemented in a thick layer.
One significant benefit of this lip balm is that it does not include petroleum jelly. The shelf life is less, just eight months. It is shorter, but it also means fewer preservatives, which is a major characteristic.
Product Details
Deyga organic lip balm is a 100% organic and natural cream. This ayurvedic lip balm is formulated with a rich blend of shea butter, beeswax, avocado oil, and beetroot extract. 
Delicious-looking beetroot lip balm is a handcrafted lip balm formed up of 100% pure, natural products. It is infused with the natural goodness of beetroot and beeswax. It moisturizes the lips while also providing a little shine. 
Deyga Beetroot Lip Balm
Benefits:It is ideal for people with dry and chapped lips.
It leaves a subtle shine on the lips.
It makes the lips soft and supple.
Last update on 2023-09-14 / Affiliate links / Images from Amazon Product Advertising API
Price
290 INR for 20 gms
Deyga Organics Beetroot Lip Balm Ingredients
Almond Oil, Jojoba Oil, Avocado Oil, beetroot extract, Shea butter, beeswax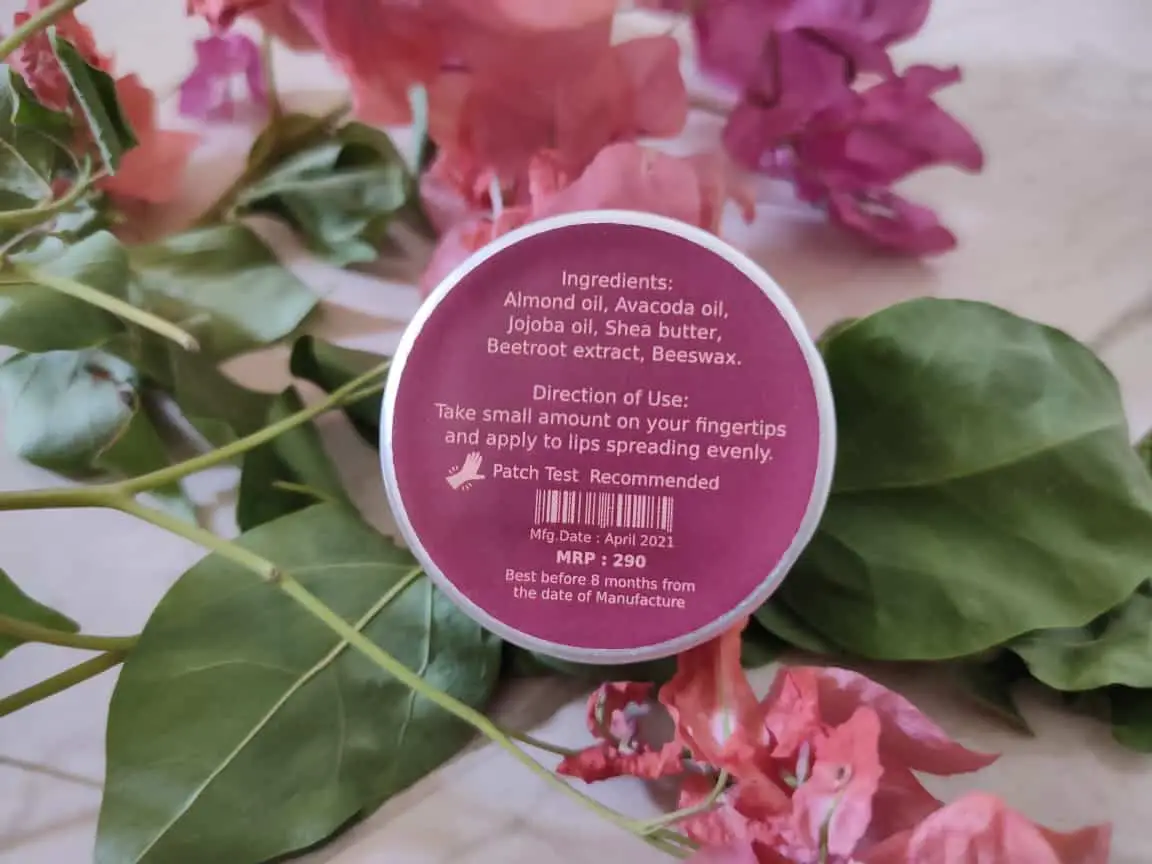 What the product claims:
Pure, handcrafted, and natural
It is good for dry and chapped lips, people.
It provides the lips with a slight shine.
This natural balm does smooth and supple lips.
It cures the cuts on the lips caused because of dryness.
My write-up on Deyga Organics Beetroot Lip Balm Review
For the past fourteen days, I've been using Deyga Beetroot Lip Balm. This Lip Balm is hydrating, nourishing, and soft. It assists with improving the lips through the constant application.
It feels very hard when I used it the first time. I needed to rub my finger, and afterward, I got the required amount on my finger. The balm spreads quickly, and my dryness reduces after some time.
When I started using it, I had very dry lips with many dead skin cells; mainly, I have more dehydrated and chapped lips during the winter season.
My lips begin smooth and supple within 5-6 days of usage. So, I think it has great healing and moisturizing properties. Thus, its creamy, long-lasting formula makes it the best lip balm for dry skin.
This natural lip balm helps to hydrate and nourish my lips well and also heals chapped lips. It also makes my lips soft, luscious, and supple every time I applied this lip balm.
It gives me protection from dryness and provides moisturization for about 3 hours, after which it needs re-application. The lip balm is not tinted with any artificial color to be applied underneath any matte lipstick.
Very little quantity is sufficient for applying on lips. So, one container lasts a long. I think one jar will last you the entire winter season that depends on your usage.
It creates a waxy layer on my lips while moisturizing them properly. The moisturization remains for around 3-4 hours. My lips start to feel dry after that, and I have to reapply the balm. For parched lips people need to apply it every 2-3 hours; otherwise, 5-6 hours is alright.
Well! I could not say that this organic lip balm gives all-night nourishment. A re-application is needed after every 4 hours, which is not perfect for overnight revitalization.
Deyga lip balm removes extra pigmentation from my darkened lips after regular application, but it cannot lighten my lips more than my natural lips. It is perfect for those who have dry, chapped lips. It leaves the lips with a light sheen.
It contains beetroot extract, and it has dark beetroot color too. Thus, I expected an excellent dark color on my lips, and it looks transparent on the lips. It does not give much color or tint to my lips like tinted lip balms. Probably, it may provide a light tint on light-colored lips.
Hence this organic beetroot lip balm is the ideal lip balm for the morning and nighttime for me. I also tried to utilize it under my liquid matte lipstick, which helped keep my lips moisturized.
The durability of this lip balm is pretty great than other lip balms available in the market. This one stayed for some time even after drinking water.
One fact that I like the most about Deyga lip balm is that it doesn't have any essential oils like other products. Deyga beetroot lip balm costs 290 INR for 20 gms and has an 8-month shelf life in India. It is either the same or less costly than most of the general and leading lip balms. So, thumbs up for the price.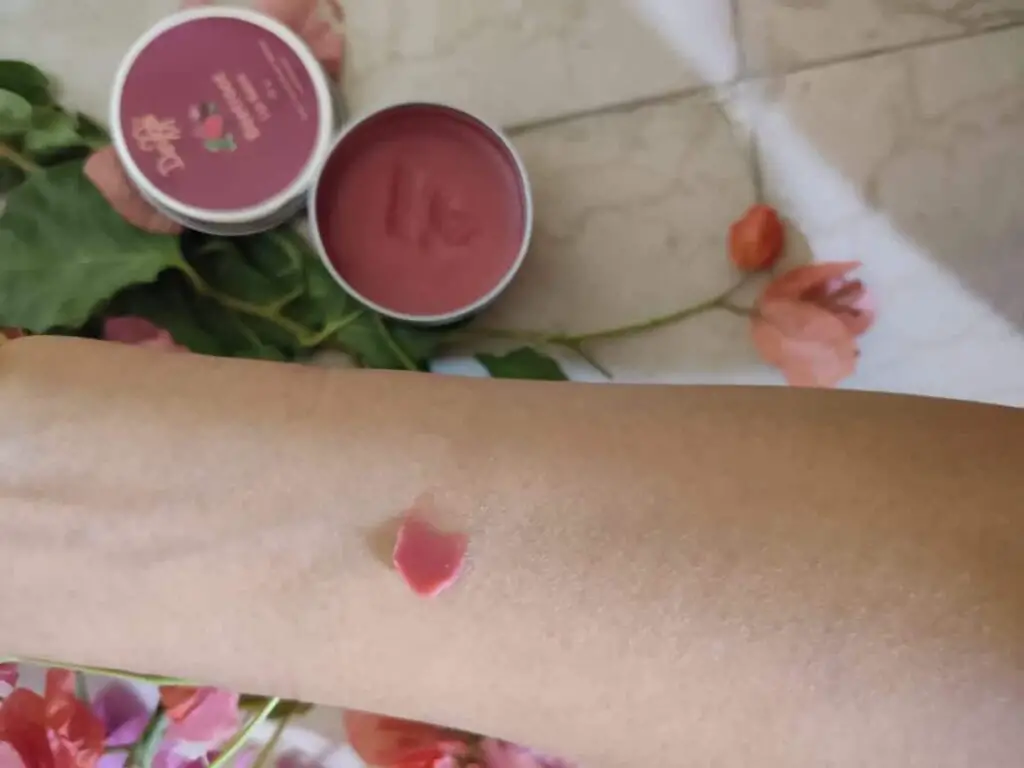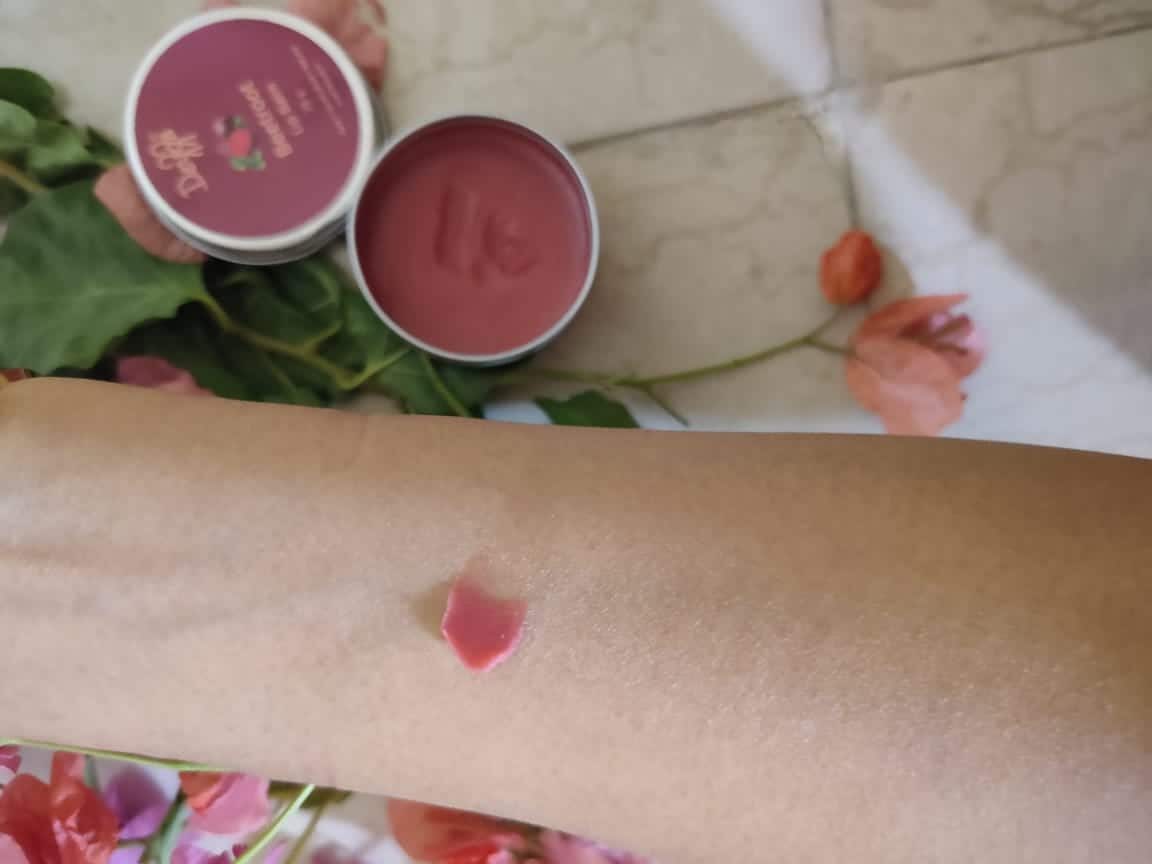 Packaging
The product pack is a cute little tin with a small round-shaped that is closed tightly. It is an aluminum tin with a screw top. The aluminum tin tub container has a standard size with a twisted tin lid that is eco-friendly and recyclable.
So, the tin is reusable. A simple, small silver and maroon-colored jar are quite handy and sturdy. This tub-type packaging makes it ideal for travel-friendly.
Thus, it can be comfortable to take any place. It has labeled the brand name, name of the product, and quantity on the top side of the tin. All the important details are written on the backside of the aluminum tin.
Texture
The consistency of Deyga lip balm is not buttery; it is a little bit waxy. You need to scratch the balm with a finger or a toothpick or any spatula as the texture is very thick, in fact, hard initially. But when we apply it to lips, it has a very light, soft, and moist texture. It gets easily absorbed into the lips.
Fragrance
Deyga lip balm has not added any artificial fragrance to it; it smells of the natural ingredients present in the product. However, it has a beeswax-like aroma that is not pleasant, but it is not bothering you too. So, it is not overwhelming and disappears within a few seconds after applying. I feel like using ghee on my lips. Also, I feel light, moisturizing, and natural on my lips.
Color
The lip balm has a beautiful dark pinkish-red shade exactly like the color of the beetroot. But the lip balm appears transparent on the lips and imparts a hint of color to the lips when applied.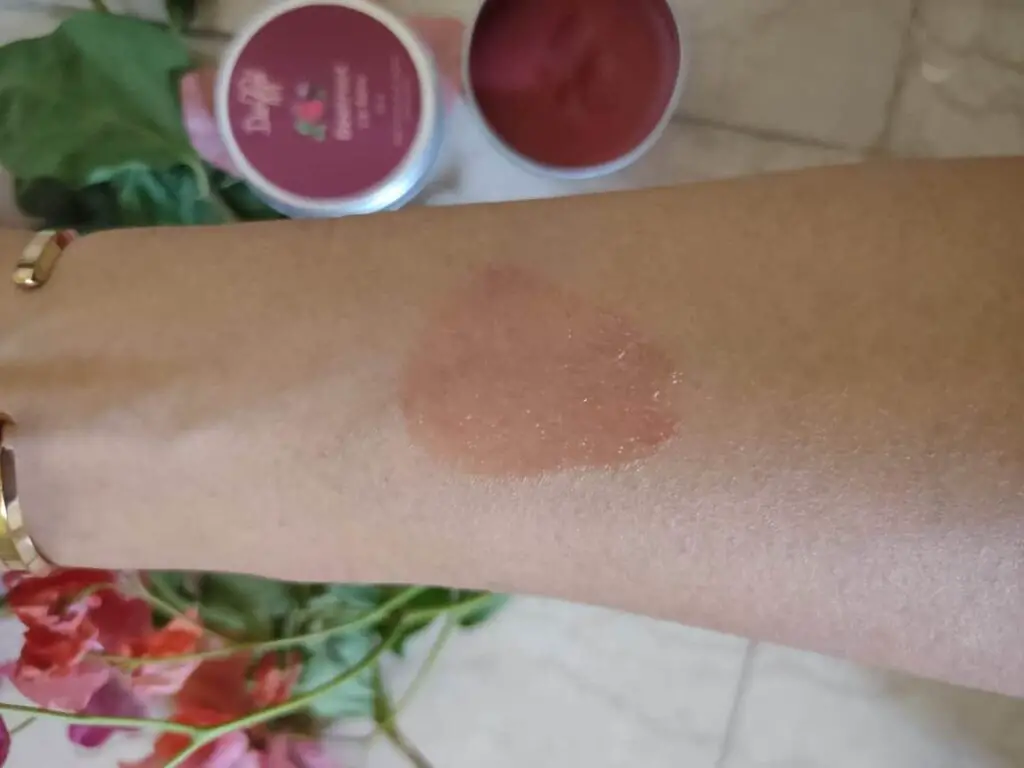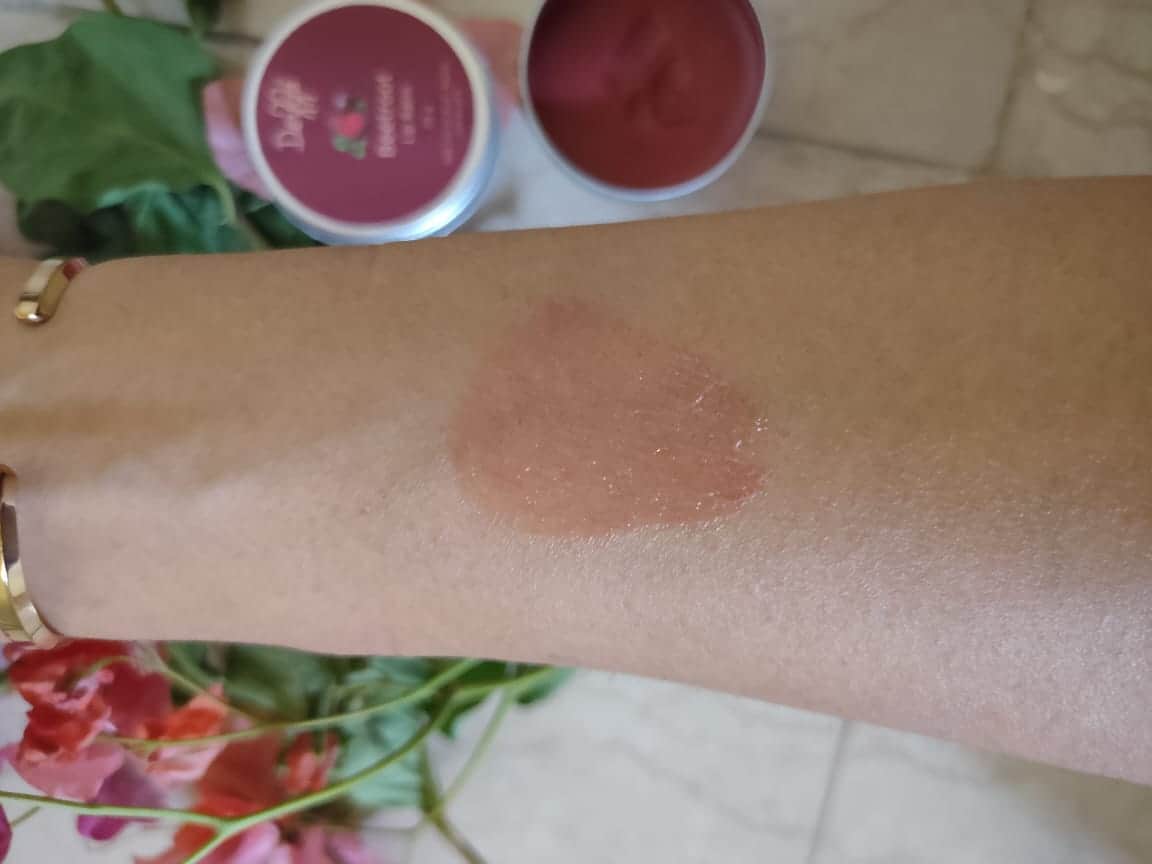 Results
There are many lip balms accessible in the market. However, they are not working for me, but Deyga's beetroot lip balm is a blessing for dried lips.
I have always suffered from dry and chapped lips through all seasons, and this product has been my ultimate savior. Through consistent use of this product, I could notice a significant difference in my lips. They are a lot smoother and more supple too.
Its moisturizing ingredients work well as a natural lip moisturizer and smoothen lips. It adds shine to the lips, and I like to apply it before going to bed to secure; I don't awaken to dry and got dehydrated lips.
Thus, it is the best organic lip balm in India. It doesn't irritate my lips, and I did not see any side effects. 
How to use
Take a little amount on your fingers and apply it straightforwardly on your lips. Apply as often as required.
I use it both in the morning and at night and apply 2-3 layers of this lip balm for extra hydration at night-time. It converts into a part of my skincare routine. I apply this lip balm 4 to 5 times a day. I also apply it whenever my lips feel dehydrated.
Even you can exfoliate lips twice a week using deyga mint lip scrub or deyga rose scrub if you have highly cracked lips. DIY lover beauties can use a homemade lip scrub too.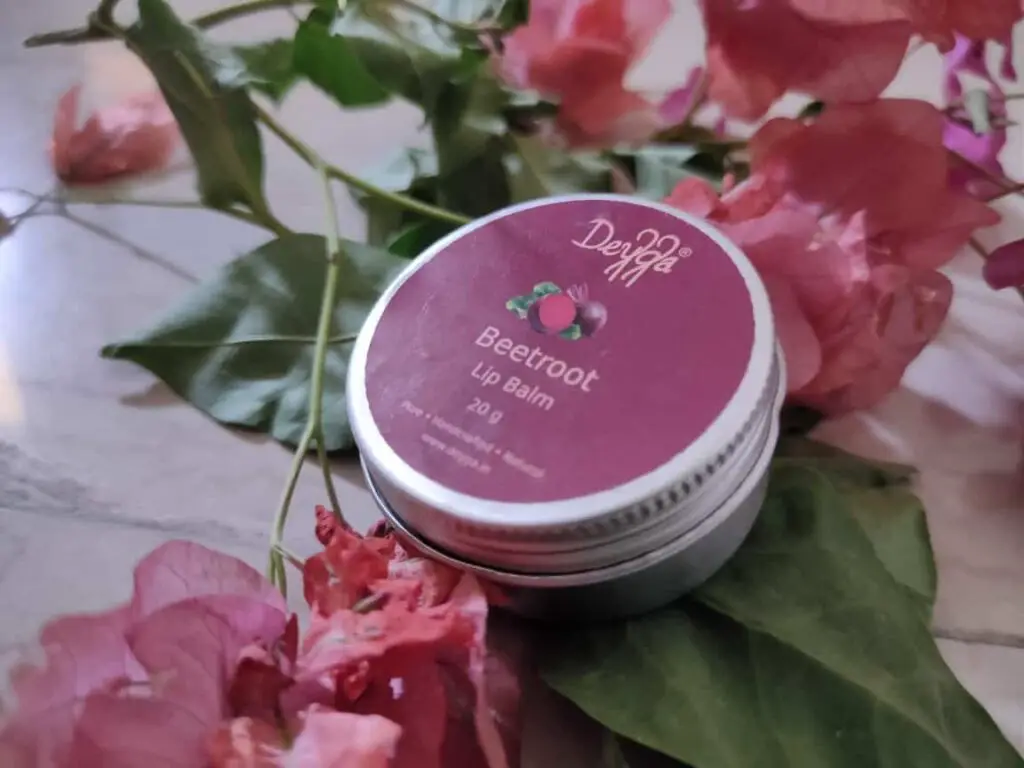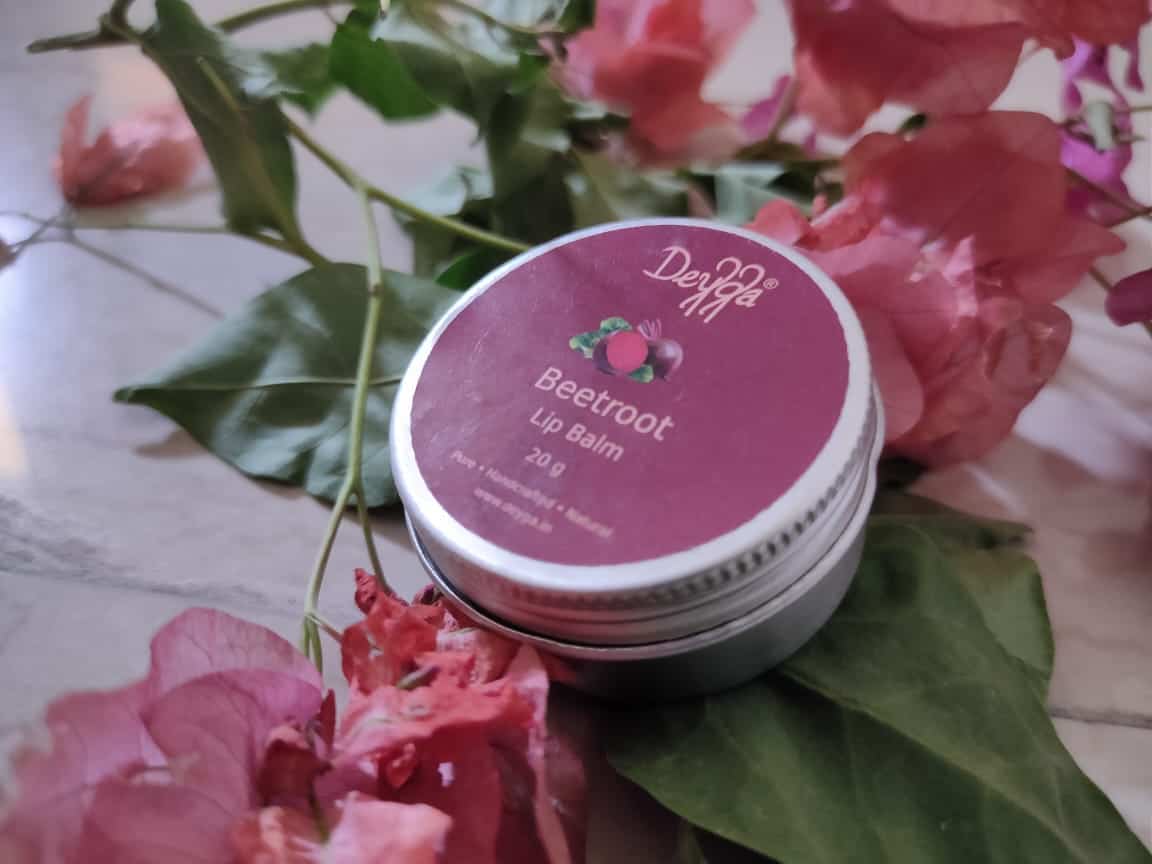 Deyga beetroot lip balm benefits
Almond Oil is loaded with Vitamin E and has emollient properties that help to keep your lips soft, efficiently lightening your dark lips. Also, it helps to rejuvenate your lips.
Avocado Oil has skin-softening quantities that give the lips a supple touch. It provides extra hydration that makes it ideal for natural lip care.
Jojoba Oil creates a protective layer over dry or parched lips to secure dampness and make them feel velvety and creamy. Many lip balms have comedogenic (clogged pores) ingredients, so jojoba oil is an excellent alternative. 
Shea butter is an excellent soothing agent for dry and cracked lips. It protects your lips from cool and dry weather.
Beetroot has many benefits for lips. Along with providing you pink beetroot tint, beetroot has several other advantages as well. It relieves parched, flakiness, and dehydrated lips. 
Beeswax is a very famous moisturizing lip balm compound that contains natural emulsifiers that help maintain moisture.
Pros of Deyga Beetroot Lip Balm
Moisturizes and nourishes the lips well
Very less quantity is needed
Affordable and Very Economical
Heals dry and Chapped lips
No added fragrances and colors
It does not contain petroleum jelly
Staying power for 3-4 hours
Contains all-natural ingredients
Pure, natural, and handcrafted product
Cruelty-Free
Keeps the Lips Smooth and Supple
Don't require frequent reapplication.
Organic lip balm does what it claims
Well-moisturizing and hydrating
Has sturdy packaging and Travel friendly
Remove mild pigmentation from the lips 
Cons of Deyga Beetroot Lip Balm
This lip balm is only available on their official website.
The herbal lip balm comes in a tub packaging which can be inconvenient for some. It is a little unhygienic as we need to dip our fingertips whenever usage, but it will be perfect if it comes in tube packaging. Personally, I have no issues with tub packaging.
Shelf life: Eight months from the date of manufacture
Availability: You can purchase this lip balm online on its official website Deyga.in and also available on Amazon.
Overview
Overall, a decent lip balm is economical and free from artificial color & fragrance and harmful chemicals, only pure goodness. The deyga beetroot lip balm is one of the best lip balms for dry skin; In fact, It is suitable for all skin types. This natural lip balm cures dry and chapped lips well. So, it is more than average lip balm for me. The clear ingredient list, the transparency in processing is what attracted me. I like this lip balm and will definitely repurchase it.
Last update on 2023-09-13 / Affiliate links / Images from Amazon Product Advertising API