Hi everyone, I hope you all do well and in the best of your health.
If you are accurate with your makeup and pick a top-quality cream formula, you will see the amazing outcomes. Make-up artists always apply concealer, because it is the way to achieving an expert finish. So, Let's discuss Maybelline Fit Me Concealer – should we buy it or not?
A concealer is a kind of cosmetic product to have in your make-up pack. It doesn't just conceal blemishes -it was likewise used to cover dark circles, huge pores, age spots, and uneven tone visible on the skin. It was also intended to make a base for the eye shadow.
Concealer or color corrector is offered in a variety of shades. I will suggest when picking a concealer, pick a couple of shades lighter than their skin tone to better hide their blemishes and dark circles under the eye.
If you use a concealer and set it in place using a loose or compact powder, you will achieve a lot of fresher and younger appearance to your eye zone. Concealer takes out the discoloration around the eye area and the eyes look more awake and youthful.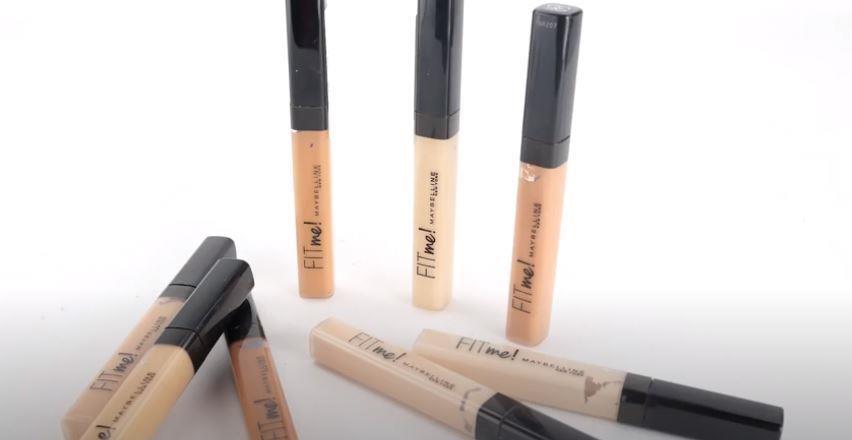 About Maybelline Fit Me Concealer
Product Details
This oil-free concealer makeup formula gives a flawless look that lets the real you come through. This concealer doesn't contain oil, waxes, and nonsense and therefore gives you natural-looking radiant skin effortlessly. This concealer ensures that your dark spots and dark circles get covered and you look flawless with its exclusive translucent base.
Price
Around $6.49, 0.23 fl oz (6.8 ml)
Maybelline Fit Me Concealer ingredients
Water (Aqua), Cyclopentasiloxane, Glycerin, Sorbitan Isostearate, Hydrogenated Polyisobutene, Propylene Glycol, Ozokerite, Phenoxyethanol, Titanium Dioxide, Magnesium Sulfate, Disodium Stearoyl Glutamate, Methylparaben, Disteardimonium Hectorite, Acrylates Crosspolymer, Alumina, Butylparaben, Silica, Aluminum Hydroxide, Tocopherol, Chamomilla Recutita (Matricaria Flower Extract), May Contain (+/-): (Ci 77891), Iron Oxides (Ci 77491, 77492, 77499), Mica F.I.L. D43567/2
What Maybelline Fit Me Concealer Claims:
Maybelline Fit Me® Concealer makeup for flawless and natural coverage. This oil-free concealer matches skin tones to deliver a more even complexion.
Non-comedogenic concealer, Dermatologist tested, Ophthalmologist tested, Fragrance-free.
My write-up on Maybelline Fit Me Concealer
Packaging: These concealers come in plastic packaging that is very compact, sleek, trendy, and not fragile; with a doe-foot applicator, nothing special there. It is very tightly shut, so it doesn't spill or leak. So it travels friendly too. You'll find the shade name and number on the bottom. In the new packaging, the shade is written on the front. It costs around $6.49 for 6.8 ml of product which may be a good amount for a concealer because even if you use it daily, you'll still find yourself having the concealer for like 2-3 months minimum.
Smell: It does have a really mild fragrance, kind smells like chemicals. But the smell goes away very soon. It's not bothersome at all.
Texture: Maybelline Fit Me Concealer features a creamy consistency that is thick, Not watery, and thin, but not cakey. So it is quite easily blendable also.
Finish: This concealer stick leaves a touch of a dewy finish, which might be good for dry skin. For my oily skin, I set it with some powder foundation and it lasts throughout the day.
Wearability: I've done the oxidation test of this concealer. After applying, I waited for 1 hour. After 1 hour, I reapplied to check the difference. I personally feel that the concealer oxidizes within 15 minutes, it becomes kind of wearable. I can go through an entire workday and go out at night with it lasting. My nose does get a bit oily after 8 hours, but I have oily skin so this is to be expected.
The formula is dilute but not too dilute. These are liquid concealer. It is very good for highlighting the purpose and for people who don't like heavy layers of concealer. This fade-proof formula is very light. It gives medium coverage but you can build it up. But adding too many layers can become cakey and creasy Because of the diluted and light formula works well for dry skin types as well.
Apply a tiny amount of concealer using the applicator under your eye area in a triangular shape. I like to apply the concealer on my eyelid, upper eyelid also because I have a bit of discoloration there too. This concealer sets very fast. You need to be very quick in blending it away. You can use a brush or sponge or a beauty blender, whatever you have. I like to use my fingers because actually the warmth of the fingers kind of melts away the product and helps it blend easily.
This concealer creases very badly. It is not like it starts creasing after 2-3hours. It will start creasing right after the moment you apply it. So you need to set it with a translucent or compact powder or with loose powder the under eye area to prevent creasing, whatever you want to do. But you have to do something about it; you cannot leave this concealer on its own.
They claim that this water-based concealer can hide all the blemishes and dark circles. But I have seen that even after applying it dark circles peek out through the concealer. Even after color correcting the dark circles I could not see the best results. This concealer is not my first choice to hide dark circles.
Some people claim that it color corrects too but my under eye dark circles are still peeking through the concealer, I don't think so. It sure does brighten your under-eye area and makes you look more awake. I don't use it on my uneven skin tones areas like scars and all because it just makes them look a lot ashy, and I don't like that.
Maybelline Fit Me Concealer Swatches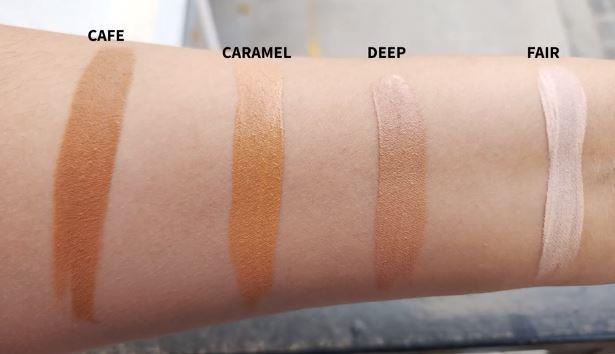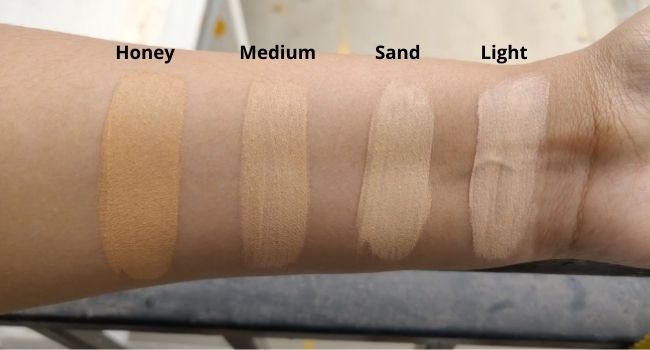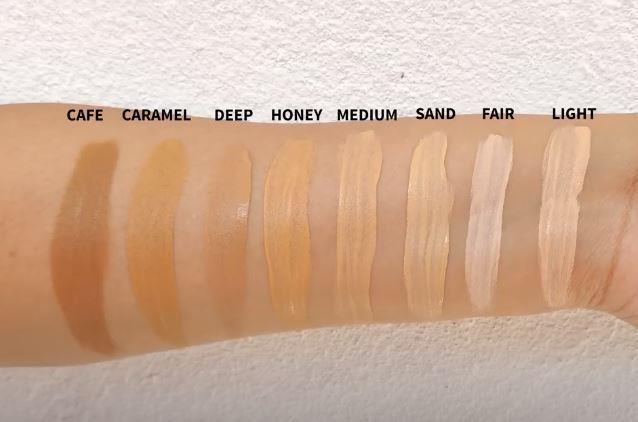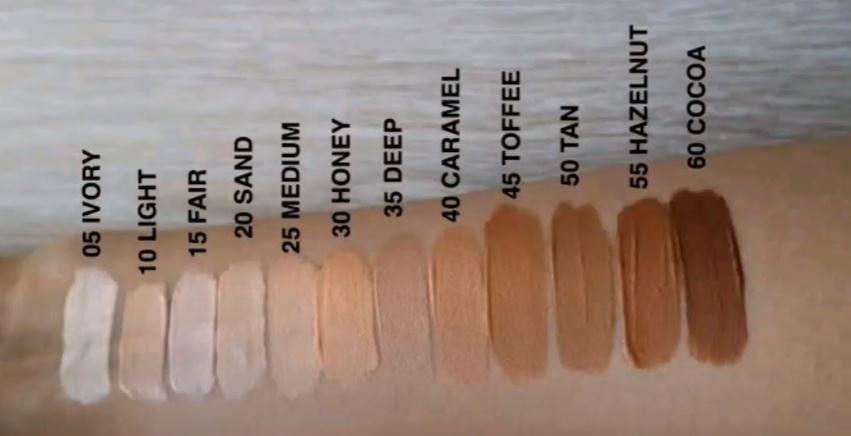 Maybelline Fit Me Concealer Shades Guide/Shade Finder
Maybelline Fit Me liquid concealer provides a wide range of shades of concealers for various skin tones. Maybelline concealer comes with 12 shades and 6 new shades.
IVORY 05 – Very fair skin
FAIR 10 – Light skin with pink or cool undertones
LIGHT 15 – Light skin with peachy undertones
SAND 20 – Light skin with yellow or warm undertones
MEDIUM 25 – Medium skin with peachy undertones
HONEY 30 – Medium skin with yellow undertones
CARAMEL 40 – Medium Dark skin with warm undertones
DEEP 35 – Medium Dark skin with pink undertones
CAFÉ 50 – Dark skin with cool undertones
TAN 45 – Dark skin with olive undertones
HAZELNUT 55 – Dark skin with Neutral undertones
COCOA 60 – Deep dark skin with warm undertones
New shades :
Shade for Fair- light skin tones: COOL IVORY 01, VANILLA 11
Shade for Medium skin tones: WHEAT 22, WALNUT 57
Shade for Dark skin tones: COFFEE 65, DARK COFFEE 70
Tips to choose right shade:
Don't swatch it over your wrist; You ought to never match your concealer or foundation on your wrist or the palm of your hand. Always swatch it on the edges of your cheek then blend it out.
How to use Maybelline Fit Me Concealer?
Follow these steps to apply Maybelline Fit Me Concealer properly.
First, apply the Layer of foundation before applying the concealer. If you apply your

foundation

first, you will find that you don't need to use as much concealer.
Apply your concealer in the shape of a triangle. Start by drawing a triangle, from the inner corner of your eye up to your cheek. This shape not only conceals dark circles, but it also creates the illusion that your face is lifted. It adds just the proper amount of brightness underneath your eye.
You can also use a color corrector before you apply the concealer. If you suffer from redness or rosacea, and just want to conceal a pimple. So apply a concealer with a clean brush or your finger to the pimple, then with your finger, blend it over and set it with powder. Use it as an eyeshadow primer.
To prevent your eyeshadow from falling off and settling into the creases you can use your concealer, to make sure the eyeshadow is set in place. Use it to further enhance your eyebrows. Apply your concealer, Right below your brow bone to actually define those brows. It's also great for days you haven't threaded or tweezed, as the concealer can help cover up the excess hair. Don't over-apply.
If you're applying concealer to cover dark circles or redness, just use a shade lighter than the rest of your normal makeup. This will help even your skin tone. Don't forget to set it with powder to keep it in place. Just take some loose powder and dab it over your concealer. Never drag the concealer, always tap it instead. So that it blends evenly into your skin.
Pros and Cons of Maybelline Fit Me Concealer
Pros
Skin stays fresh all-day
Many shades that match all skin tones from light to dark
Quick touch-up coverage for any dark spots or imperfections
Gives medium to full coverage (buildable)
Easy-to-use doe-foot applicator
Affordable price
Cons
Ingredients are not listed in the packaging
Shelf life: 3 years
Availability: Easy ( You can easily purchase it at any cosmetic shop or buy online at its official site Maybelline and other shopping sites like Amazon, Target, Ulta, Walmart. )
Overview
This concealer is long-wearing and has perfect consistency. It gives various shades that fit all skin tones. Also, it provides buildable coverage at an affordable price.
Would I Recommend and Repurchase Maybelline Fit Me Concealer? Yes, I will definitely recommend and repurchase it.
Hope you found this review helpful. Please do comment about your experience and any suggestions.
You may also like