Today, I'm going to tell you about my honest review of Pond's BB+ cream, which was recently released. BB cream is a face makeup product that combines skincare and cosmetics.
The BB is known as Beautifying Balm or blemishes balm. It's great for concealing tiny imperfections because of its sheer coverage.
It's a skin-first product that moisturizes, illuminates, protects, and mattifies the skin. The light texture makes it excellent for "no makeup" makeup looks.
Ponds' new BB+ cream comes in two shades:
Ponds BB+ cream Review
Since I was a college student, Pond's BB has been one of my favorite BB creams, and it's still one of my favorites.
Ponds recently released a new bb+ cream with a new shade name and appearance, and ivory and Natural are the two shades available.
Pond's BB+ Cream is a light makeup glow that combines a vitamin-enriched cream with a lightweight foundation.
This 2-in-1 formula helps in the provision of instant spot coverage. This cream's best feature is its SPF rating of 30 PA++, which is pretty good for a BB cream.
Product Details
This cream evens skin tones with natural coverage and finish, thanks to Pond's Institute's GenWhite technology.
Ponds BB+ cream instantly makes your skin look flawless, giving you that picture-perfect look every day.
It provides your skin with a luminous glow and makes it look even-toned and brighter. This cream is made to have an immediate and long-lasting effect.
Price of ponds bb cream
BB Cream comes in a variety of sizes and costs.
INR 67 for 9 gm.
INR 120 for 18 gm.
INR 249 for 30 gm.
Sale
Last update on 2023-10-22 / Affiliate links / Images from Amazon Product Advertising API
Ponds BB Cream Ingredients
Ponds BB+ Cream contains silicones, alcohol, and fragrances. Palmitic acid, stearic acid, and potassium chloride are also present.
These chemicals are somewhat pore-clogging and have a low comedogenic rate, and therefore they may induce breakouts.
Almost all of the bb creams I've looked at contain stearic and palmitic acids. It can also be seen on most sunscreens.
The BB Cream is an excellent blend of UV filters and skin-beneficial ingredients. The following are some essential ingredients:
Ethylhexyl Methoxycinnamate: It is a sunscreen ingredient that absorbs UV radiation and protects skin from the sun. It protects the skin from harmful UV radiation as well as other environmental elements.
Zinc Oxide: It's a long-lasting sunscreen ingredient that's also known as a physical filter, which means it won't permeate into your body and will stay on your skin where it can protect you from the sun.
Titanium Dioxide: This mineral-based UV filter ingredient is commonly used as an active agent.
Niacinamide: It is a potent component for skin moisturization and a skin brightening agent.
Glycerine: It is a mild moisturizing agent found in various cosmetics. Glycerine helps in moisture retention and is helpful in the treatment of wrinkles, dark spots, and pore size reduction.
Tocopherol Acetate (Vitamin E): It is potent in antioxidants, and essential for reducing inflammation and preventing skin damage.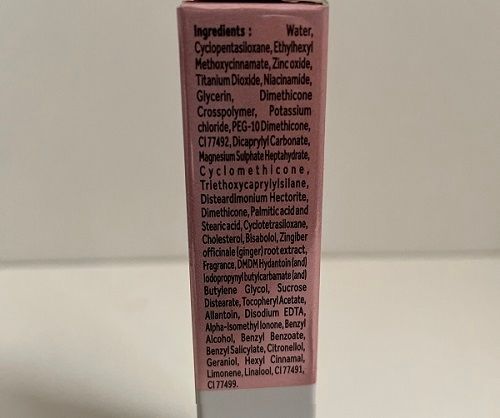 What the product claims:
The Ponds BB+ cream overs dark spots, dark circles, skin tone, and light makeup glow. It also doesn't smudge, even when you sweat.
My write-up on Ponds BB cream Review
I have an ivory shade that is a beautiful match for my skin tone, and it effectively lightens my minor scars and blemishes while also evening out my skin tone. An SPF of 30 PA++ provides enough sun protection for a BB cream.
Ponds bb cream works as a primer, concealer, foundation, SPF, and moisturizer all at the same. This all-in-one cream readily lasts 4-5 hours, even in warm and moist weather.
Unlike other noticeable foundations, this one is silky smooth and blends wonderfully with the skin, providing natural coverage.
It blends perfectly on my entire face and effectively conceals my dark patches. I use it regularly, and it does not cause acne.
You require to utilize a concealer that is one shade lighter than your skin color to cover pigmentation and dark acne marks. Otherwise, the pigmented region may seem ashy after applying this BB cream.
Ponds bb+ cream has a creamier texture than Lakme CC cream. However, because it is not particularly hydrating, it is best suited to oily to combination skin types.
It leaves a matte finish with a natural appearance and no greasiness on the skin. However, dry skin requires the use of a light moisturizing moisturizer.
I apply ponds bb cream ivory shade daily after cleansing and using a generous amount of my favorite hydrating toner. The cream distributes and blends effortlessly with fingers on damp skin.
For a natural makeup look, Just a small quantity of this cream is needed. On most days, I don't use a compact or face powder. However, it seems sticky in rainy weather, so I use this BB cream with a touch of powder. Just a light brush with the loose powder is sufficient.
It's a light-glow daily cream with spot coverage that rapidly conceals imperfections and black spots. Regarding the claim that the formula is non-comedogenic, the cream in no way clogs pores or causes pimples after application or over time.
The finish is perfectly matte and does not create an ashy tone owing to color mismatch. Overall, I like this BB cream since it instantly brightens and adds a slight glow to my skin.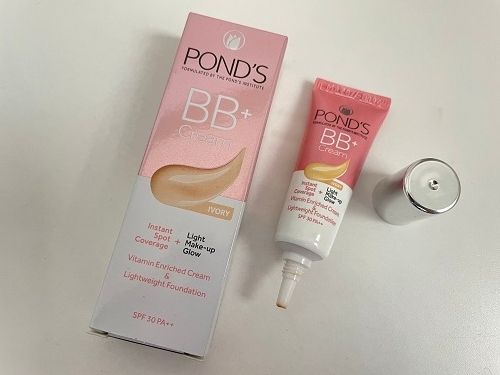 Packaging
The pond bb+ cream is packaged in a white-hot pink tube with a silver screw lid. The tube is pleasant and appealing, and it does not appear cheap for the price that it is offered. The tube is light and easy to travel.
When the tube is pressed, the nozzle dispenser delivers the correct amount of product. Ingredients, usage instructions, price, expiration date, and other information are all printed on the cardboard.
Consistency
The BB cream has a good creamy, thick texture to it. Despite its thick texture, I find this BB Cream easy to blend. A small amount is sufficient to cover the face, and I quickly spread it all over my face with my fingertips. The cream has a non-oily texture that feels light on the skin.
Fragrance
The cream has a nice light floral fragrance.
Coverage
Ponds BB+ cream has better coverage than a tinted moisturizer and gives light to medium coverage. It does great work of evening out skin tone, but it doesn't offer much coverage.
After applying it, I can still see my skin flaws. This BB cream does not perform a good job of concealing dark circles and discoloration.
This BB Cream performs admirably in terms of skin brightening. It doesn't make a white form on the skin and doesn't appear cakey. It has a lovely smooth finish.
It provides medium coverage; nevertheless, you need to use foundation if you want full coverage.
Oxidation
This BB cream did not oxidize, and it does not transform to a darker shade of one or more.
How to use:
Apply directly to the skin while simultaneously spreading and mixing with your fingers.
Ponds BB cream shades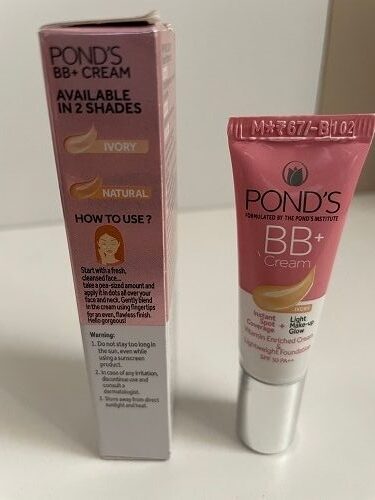 My complexion is light with a strong yellow undertone. The ivory shade compliments my skin tone nicely without creating a white cast. Ivory is an excellent shade for fair to slightly medium skin tones, and the other Ponds bb cream natural shade is suitable for medium to wheatish complexion tones. This shade is ideal for Indian skin tones, and deep or dusky skin tones should avoid both shades.
Ivory: For skin tones ranging from light to medium
Natural: For skin with medium or wheatish skin tone
Ponds BB+ Cream Swatch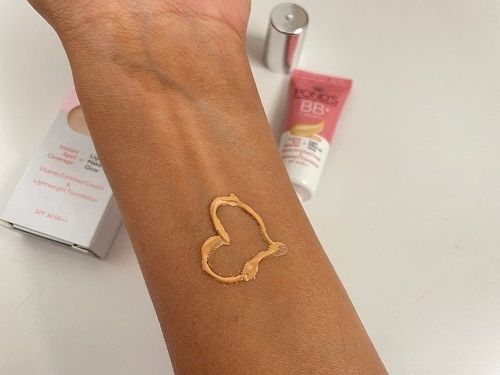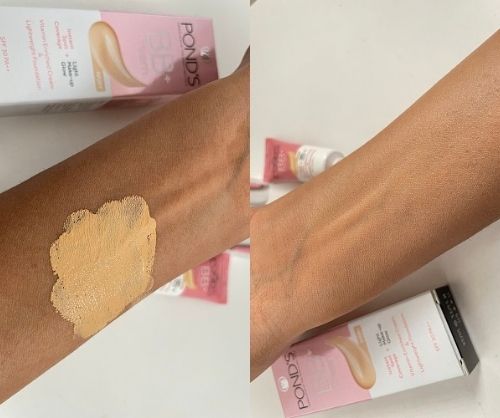 Pros of Ponds BB Cream
Attractive Packaging
It contains Vitamin B3 And Vitamin E
Spreads and blends easily
It does not leave a white cast
Budget-friendly
Non-greasy formula
Provides light to medium coverage
Instantly brightens skin tone
Has SPF 30++ sunscreen
It does not irritate sensitive skin
Evens skin tone
It does not clog pores
No breakouts
Cons of Ponds BB Cream
Not fragrance-free
It doesn't provide heavy coverage
It may not be hydrating sufficiently dry skin
Shades don't match darker skin tones
It doesn't cover imperfections and dark circles
Only available in two shades
Pond's bb cream side effects
I haven't had any side effects from Pond's BB+ Cream, such as skin irritations, redness, itching, or acne breakouts. However, this BB Cream may strip moisture from it if you have extremely dry skin. It's not recommended for acne-prone skin. You'll clog up all of your pores, resulting in more annoying pimples and breakouts, which will lead to you wearing more makeup. People who are allergic to perfumes and silicones should avoid this product.
Shelf life & Availability: The BB Cream has a three years shelf life and is widely available in both online and offline retailers.
Overview
Pond's All-in-One BB+ Cream SPF 30 PA++ is an affordable BB Cream that provides light to medium coverage and a natural glow. This Ponds BB Cream is suitable for a combination and oily skin types. Overall, this BB cream is my favorite among all the BB creams on the market, and it gives me a beautiful natural immediate glow without making me seem plastered. This is my all-time favorite BB cream, and I'll be repurchasing it.
Frequently Asked Questions
Is ponds BB+ cream good?
Pond's BB+ cream covers little dark spots and uneven skin tone well. It also gives the skin an even texture without clogging the pores. However, it is not able to conceal pigmentation, dark circles, and fine lines. Overall, it is pretty good for a daily makeup look.
Is ponds bb cream good for daily use?
Pond's bb+ cream can be used in place of a regular foundation as part of your daily routine. It's a safer and less time-consuming alternative to applying foundation every day. Its light texture and decent coverage make it suitable for daily use. This product's price is also very reasonable, making it accessible to girls in college.
Is ponds BB cream chemical-free?
No, it's not a chemical-free cream, but it does contain some sunscreen and skin-beneficial ingredients.
Is ponds bb cream waterproof?
Pond's BB Cream is not waterproof and the main concern is the cream melting in the heat and heavy sweat. You can easily wash using your regular face wash.
Last update on 2023-10-22 / Affiliate links / Images from Amazon Product Advertising API