When the air outside gets cold and dry skin gets quite dry also because the water in our skin evaporates and that is the thing that occurs to prompts dry skin in our bodies. So, that is the reason it's very significant for us to use moisturizers and rich creamy lotions.
But sometimes moisturizers and creamy lotions feel greasy and oily on the skin. The body oil could be used as a moisturizer, Body oils are smooth and highly concentrated liquids that improve the quality of the skin. Therefore, I am aiming to review Neutrogena's body oil-light sesame formula.
Neutrogena body oil Review
Product details
This lightweight body oil is made with a delicate sesame formula that assists skin with keeping up its moisture balance while providing a subtle, soothing fragrance.
Pamper your skin with Neutrogena Body Oil, which vanishes into the skin providing essential hydration for dry skin. It is available in Original and Fragrance-free.
This moisturizing body oil absorbs easily into the skin when applied, leaving the skin feeling soft and silky.
This Fragrance-Free Body Oil features a sheer moisturizing experience. Its light sesame formula moisturizes dry skin, leaving it soft and silky, with a radiant, healthy glow.
Sale
Last update on 2023-11-10 / Affiliate links / Images from Amazon Product Advertising API
Ideal for:
Normal to dry skin
Anyone who does not like heavy oils
Transitional seasons
Price
$9.99, 8.5 fl oz (250 ml)
$14.99, 16 fl oz (473 ml)
$22.49, 32 fl oz (946 ml)
Neutrogena body oil Ingredients
Isopropyl Myristate, Sesamum Indicum (Sesame) Seed Oil, PEG-40 Sorbitan Peroleate, Fragrance, Propylparaben, BHT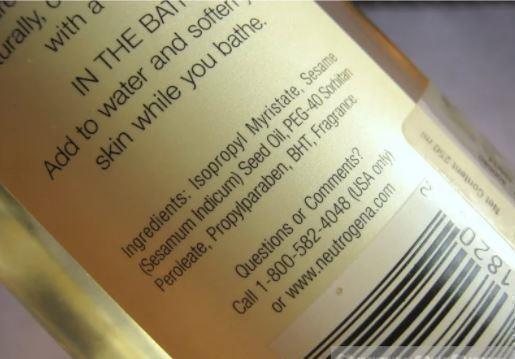 My write-up on Neutrogena body oil
I would never have tried body oil, however, it was given to me by a friend, so there was nothing to lose if I didn't like it. I apply somewhat more than the "few drops" they instruct you to use, but yet I'd suggest beginning with a very small amount since it's anything but difficult to go over the edge.
It's actually less greasy than almost any lotion I've ever tried and lasts much longer. I swear it even makes my skin softer over time, especially places like my elbows that tend to be dryer.
It is a light dry oil that absorbs quickly without leaving a greasy feeling on the skin. While I don't think it would be perfect as a stand-alone product in winter, it is absolutely perfect for the transitional seasons.
I've used it as a 'lotion' which makes my skin feeling remarkably soft and I've used it in a hot bath and it's given my skin the same, soft, relaxing feel once I'm out of the bath and dried off.
It's perfect for anyone who has dry skin and/or doesn't need a lotion that has a super heavy smell or feel.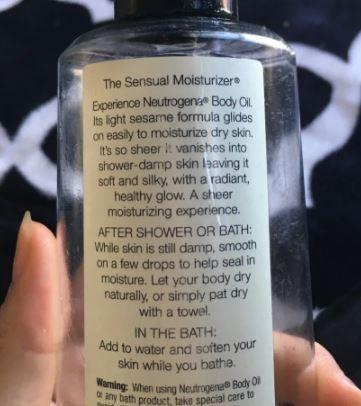 I use this oil every time I take a shower. It can get sticky so make sure you have enough time after you shower to let it dry before you get dressed. It keeps my skin soft and shiny.
Also check: Neutrogena Hydro Boost Water Gel Sunscreen Review
Sesame oil is a natural conditioner for the skin. It is really a very light formula. After some time it doesn't feel oily at all. It really helps in lightening the skin tone and keeps the skin moisturized throughout the day if applied to damp skin. It makes the skin look radiant and nourished.
This Non-greasy oil has a mild fragrance and, nourishing enough for my dry skin.  Its gentle formula makes it easy for me to use on summer days as well, yes I do wear body oil in summer due to dry skin.
I bought it off the counter in one of the superstores and have not regretted it even once. It doesn't stain, is steeped in the skin in minutes after you apply it, and keeps the skin nourished.
I add a few drops to my shower after a long day at work, and I immediately feel more relaxed. Also, because this oil is so light, your skin can absorb it rapidly. This product has completely captured my heart, and I plan to use it constantly.
Packaging
It's like liquid gold in a bottle. The packaging is quite simple, with a round opening at the top with a flip cover. It causes the oil to flow out and it is relatively hard to control the amount because of the liquidity of the oil. It would be better if it comes with a pump. but for the price, you can't complain too much.
Smell
It doesn't have a strong smell, but it has a sheer hint and a light smell.
Consistency
This body oil is a very light, almost liquid-like consistency.
Treat your skin with the ultimate hydration routine with Neutrogena's three-step moisturizing system.
Use Neutrogena Rainbath body oil as a shower and bath oil in the shower to cleanse and condition the skin.
Seal the moisture in the skin using body oil on damp, dry skin.
Complete with sheer oil-lotion to add additional moisture to the skin.
Benefits of Neutrogena body oil
Its lightweight formula glides on easily to nourish your skin without leaving a greasy feel.
Body oil locks in the moisture you need to achieve soft, smooth skin.
Instantly vanishes into shower-damp skin, sealing in moisture.
Pampers your skin as a sheer moisturizer without the heavy feeling of lotion.
Sesame body oil provides essential hydration for dry skin.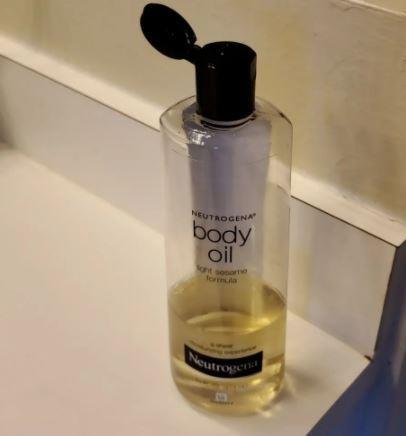 How to use Neutrogena body oil?
Neutrogena body oil for massage: Neutrogena Body Oil, is a light sesame oil formula that glides on easily and allows a wonderful massage without becoming sticky or heavy. It is absorbed gently into the skin, making it soft and smooth without leaving any oily residue. Its light fragrance is pleasant all by itself or mixes well with lavender oil for an aroma effect. 
Neutrogena body oil for stretch marks: Actually it is marketed as a skin moisturizing body formula, not being marketed as a stretch mark formula. However, It may reduce and lightens stretch marks to some extent.
Neutrogena after shower body oil: Apply a small amount of oil on your damn skin after a quick towel dry to lock in moisture after a shower. It doesn't take long to dry and keeps your skin feeling moisturized all day.
Neutrogena bath oil: Add a few drops of oil into the bathwater to soften the skin and helps to seal in moisture while you soak.
Boby oil as Shaving moisturizer: You can also use body oil lotion in place of your shave cream for silky-smooth and tug-free hair removal.
Light sesame Body oil for softening cuticles: Gently massage nails and around cuticles using a drop of oil to ease dryness.
Pros of Neutrogena body oil
Affordable
Absorbs quickly with non-greasy formula after-feel
Moisturizes and Softens Skin well
Lightweight sesame body oil
Dermatologist-tested
A sheer moisturizing experience
Nice smell
Cons of Neutrogena body oil
It could be user-friendly if it comes in a spray bottle.
Availability: Easy
Overview
I highly recommend giving the Neutrogena Body Oil a try if you ever get dry, flaky skin. It's moisturizing, smells nice, is inexpensive, will last a long time, and the residue is manageable as long as you don't use too much.
Would I Recommend and Repurchase Neutrogena body oil?
This oil has many benefits and is very useful for our body's nourishment. So, I definitely recommend and repurchase it.
Hope you found this review helpful. Please do comment about your experience and any suggestions.
Last update on 2023-11-10 / Affiliate links / Images from Amazon Product Advertising API