Sanfe Intimate Lightening Serum Review
Today, I am going to share a review of Sanfe Intimate Lightening Serum. Sanfe is a popular feminine hygiene brand specializing in inventing and producing products that help women improve their health and hygiene.
For many women, discoloration of the vaginal area is a usual condition, and the darkening of this area is an important part of a woman's overall well-being and health.
Despite the fact that the intimate areas of the body are darker than the rest of the body, if you've suddenly observed that your vaginal area has darkened even more, pay attention.
Avoid pricey medical treatments and bleaching lotions using the Sanfe Intimate Lightening Serum to achieve whiter, more radiant skin. It isn't a medicine, a drug, a supplement, a cream, or even an oil; it is simply a serum!
Women who suffer from intimate skin darkening often feel embarrassed about wearing a sleeveless top or a bikini. But, first and foremost, how does the skin become darker? And does Sanfe Intimate Lightening Serum genuinely work?
The following are some of the most common causes of intimate darkening.
Ventilation
Age
Friction
Sweat
Hormonal Factors
Vaginal Infections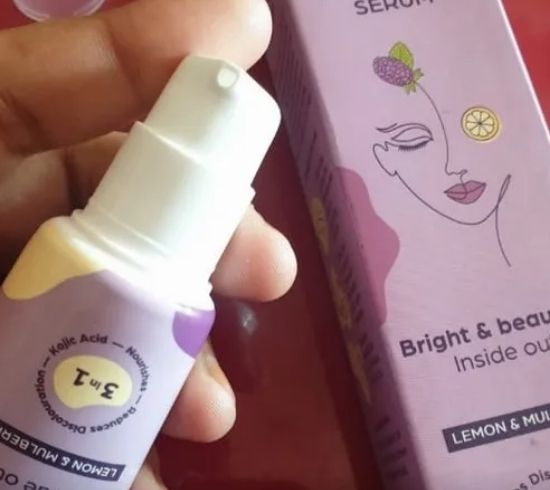 Sanfe Intimate Lightening Serum Review
Sanfe Intimate Lightening Serum is a plant-based serum that lightens scars and evens out skin tone in intimate areas. It is rich in Vitamin c, mulberry extracts, kojic acid, licorice extracts, moringa oil, and shea butter.
There are no lanolin, mineral, petroleum byproducts, or vegetable oils in this intimate lightening serum, so it stays on top of the skin instead of being sucked up and creating a sticky residue. As a result, the serum absorbs fast into the skin and does not need to be reapplied frequently.
Product Details
The serum reduces melanin production and increases cell renewal, giving the skin a natural glow. The hyperpigmented and discolored patches eventually blend in with the natural skin tone.
Sanfe Intimate Lightening Serum can be used on:
Bikini Area
Underarms
Inner thighs
Elbows
Knees
Price: MRP 699 for 50 gm (I get it discounted price on Amazon at 298 rs.)
Sale
Last update on 2023-10-23 / Affiliate links / Images from Amazon Product Advertising API
Sanfe Intimate Lightening Serum Ingredients
Key Ingredients:
Vitamin C/Lemon: Vitamin C is a natural anti-hyperpigmentation agent. It exfoliates dead skin cells and brown patches, revealing healthier, younger-looking skin.
Kojic Acid: Kojic acid inhibits acne-causing germs and reduces scars and pigmentation thanks to its antibacterial characteristics.
Mulberry: Mulberry, known for its natural skin-lightening characteristics, fades black spots and nourishes the skin for a bright and radiant appearance.
Moringa Oil: The bioactive ingredients include antioxidant and anti-inflammatory effects, which aid in the reduction of aging skin and acne breakouts.
What the product claims:
The serum efficiently heals dark spots, hyperpigmentation, acne scars, and skin discoloration caused by friction in the sensitive parts.
Sanfe Intimate Lightening Serum reduces melanin synthesis while increasing the creation of new cells, resulting in a naturally lighter complexion.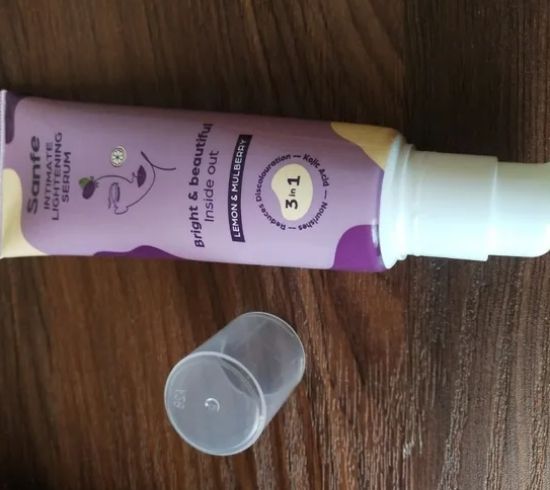 My write-up on Sanfe Intimate Lightening Serum Review
I've been using this Sanfe Intimate Lightening serum for about 35 days. And it has performed its purpose admirably. First and foremost, it makes my skin bright and healthy while still being easily absorbed. It is non-irritating to my skin and is very safe to use.
Although the product claims to lighten private parts, I noticed visible differences in the dark. It also has a fresh feel, and I believe it would primarily even out my skin tone.
With continuous usage, this serum gradually diminishes the blackness of sensitive areas. Therefore, it is the best intimate lightening serum in India.
It has a relaxing and refreshing effect, and its spray nozzle helps achieve proper amounts. The nicest thing is that the skin lightens and becomes itch-free after each wash.
It works effectively and lightens the skin with continued use. It helps lighten dark thigh spots, but the process is slow.
It's something I like to use on my dark underarms, and it made a significant difference in reducing the darkness in that location.
Overall, it is used to fade scars and balance out skin tone in intimate areas.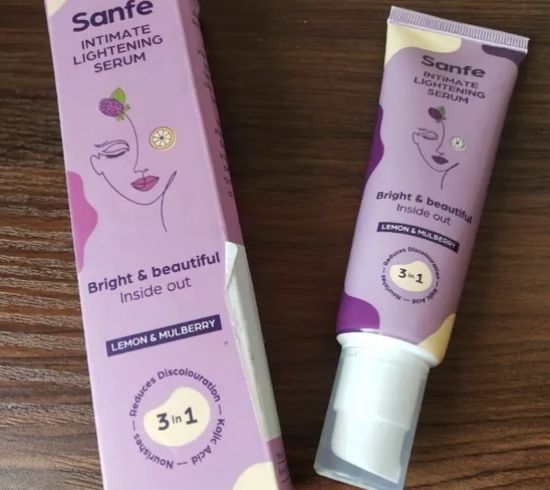 Packaging
Sanfe Intimate Lightening serum comes in a purple pump tube and purple-colored cardboard packaging. This lightening serum's pump container makes it much easier to use, and there will be no leaks because a tightly closed cap covers the pump. All relevant details, such as ingredients, price, and usage directions, are included in the packaging.
Consistency
This serum has a light consistency that readily mixes into your skin. The texture is ideal, it's simple to apply, and it absorbs quickly.
Fragrance
The smell is quite lovely and refreshing.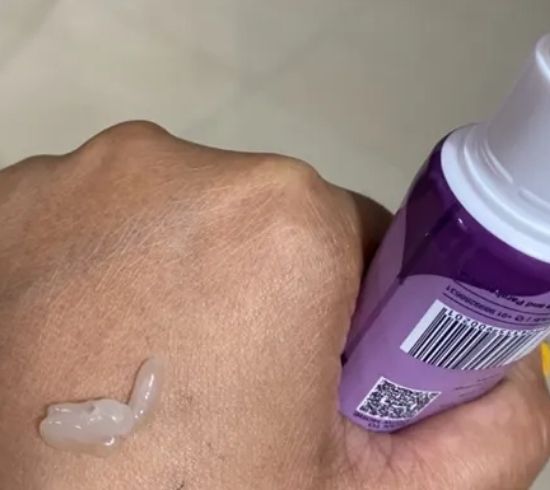 How to use sanfe intimate lightening serum?
It is necessary to clean and dry the intimate area. Place yourself in a squatting stance.
Apply two pumps of serum and lightly massage it.
Allow for 2-3 minutes of drying time while staying seated.
It should be used twice a day.
Sanfe Intimate Lightening Serum Side effects
Sanfe's intimate lightening serum is formulated with all-natural components, but it could cause a rash, itching, or redness. So, before using this product, perform a patch test. If you experience an allergic response, quit using it immediately and consult medical advice.
Pros of Sanfe Intimate Lightening Serum
Made with 100% natural ingredients derived
Airless pump tube that is easy to use
Soften and smoothens rough skin
Hassle-free application
It helps reduce uneven skin tone
Cons of Sanfe Intimate Lightening Serum
Bit pricey
Not completely lightens the dark bikini area
Overview
Overall, Sanfe intimate lightening serum effectively lightens the dark underarms, knees, Bikini areas, and inner thighs. This intimate lightening serum also works wonders for skin discoloration and even skin tone. Thanks to natural extracts, this serum is suitable for all skin types, including sensitive skin. As a result, this serum is worth a shot!
Frequently Asked Questions
Does Sanfe intimate lightening serum really work?
The Sanfe lightening serum produces incredible results. This serum will undoubtedly help in the lightening of your skin tone, the removal of dark spots in sensitive areas, and the reduction of blackness and pigmentation. It also efficiently works out on intimate areas and dark underarms to even the skin.
Where can we use Sanfe intimate lightening serum?
It's suitable for the dark bikini area, underarms, inner thighs, knees, elbows, and any other dark skin.
Is Sanfe intimate lightening serum safe?
It is non-sticky and feels refreshing in an intimate area. Its natural formula is both safe and beneficial to our skin, and it is non-irritating to my skin and is very safe to use.
10 Best Tan Removal Face Packs in India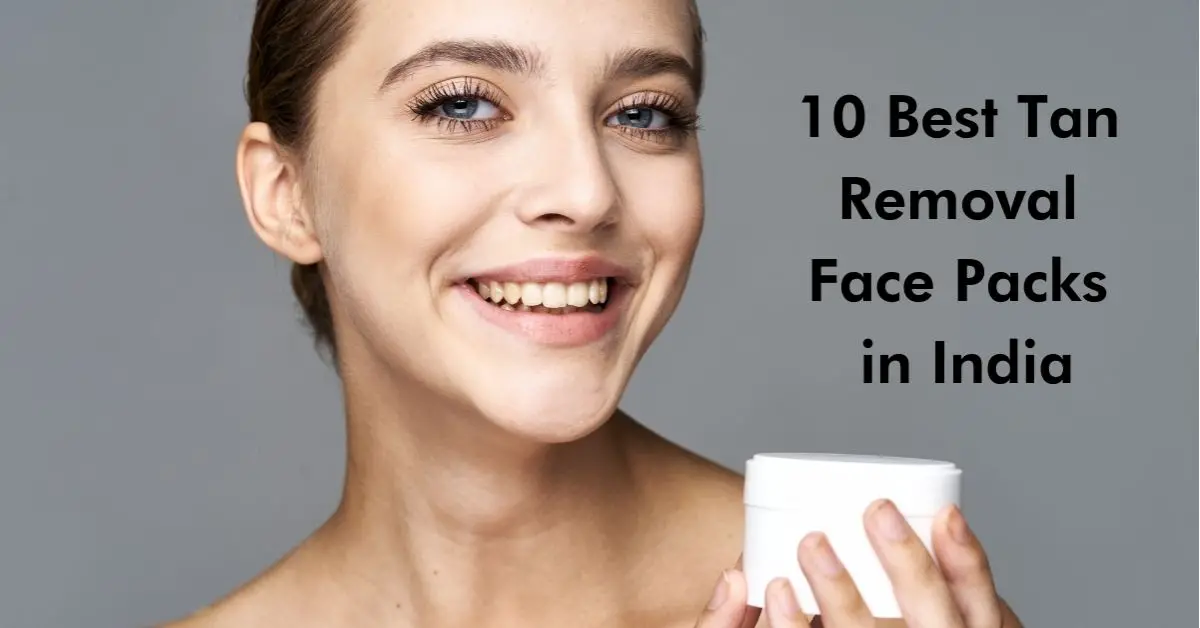 There are many tan removal products to choose from in India, and tan is effectively removed with de-tan face packs.
Scroll down to see our best ten de-tan face packs in India.