If you're searching for a fun new trend to try, the eyebrow slit is a great option. This edgy and dramatic look for men and women is also referred to as a shaved eyebrow line, eyebrow cut, or eyebrow notch. 
You may change your usual style by following the eye-catching and stylish eyebrow slit trend. The origins of this brow style may be traced back to the hip-hop era of the 1980s and 1990s, but it is making a comeback in 2023. This look is suitable for both men and women, as all that is required is confidence and a positive mindset.
You might think that having your eyebrows cut is an easy style choice. Choosing the appropriate form and design to cut can be difficult.
We've created a list of the best eyebrow slits for men and women available right now to give you some ideas. Look into the eyebrow cut trends to see how you might slit your brow in new ways.
What are eyebrow slits?
The meaning of the eyebrow slit differs from person to person because the shaved line is mainly a fashion trend. Eyebrow slits are shaved gaps in the brows used as a fashion choice or a way to express oneself.
While the style has been linked to gang affiliation in the past, today's shaved lines do not carry the same negative connotations. Men and women might choose from various major designs or try out new and trendy ideas.
The eyebrow slit is a fashion craze that involves cutting a narrow, vertical slash through the brow with a razor or electric trimmer.
The shaved brow gap often referred to as an eyebrow cut, is a fashionable and appealing style. In the 1990s, the appearance was particularly popular among hip-hop artists.
Celebrities and current beauty bloggers have helped to reintroduce them to public attention. The eyebrow slash was popularised in hip-hop culture by Big Daddy Kane, who cut several slits into his brow. They can be done at home by a barber, a professional hairstylist, or a beautician.
History of Eyebrow slit Trend
Many people think that the hip-hop movement embraced eyebrow cuts after some music idols of the time, like Big Daddy Kane, wore them while performing.
Actors like Game of Thrones' Jason Momoa have given it new life recently, even though Jason acquired the cut from a genuine bar brawl. That is fascinating to us. It's almost like a scar has been transformed into a desirable feature.
Eyebrow slits were particularly prominent during the American Hip-Hop era. Many African-American musicians used their music to oppose police violence in their communities and convey their concerns. Many fashion statements, particularly those created by African-American or hip-hop communities, exploded during this time.
Although it may appear that brow cuts have just lately become famous on Instagram, they actually precede the social media platform by several decades.
Even in 2023, many people are unaware that eyebrow slits are commonly acknowledged as the cultural heritage of the hip-hop community, which popularized them in the 1980s. Eyebrow slits are commonly referred to as 'eyebrow cuts,' which was first coined by the hip-hop scene.
Different types of eyebrow slits
Eyebrow slits for Men 
1. Single Eyebrow Slit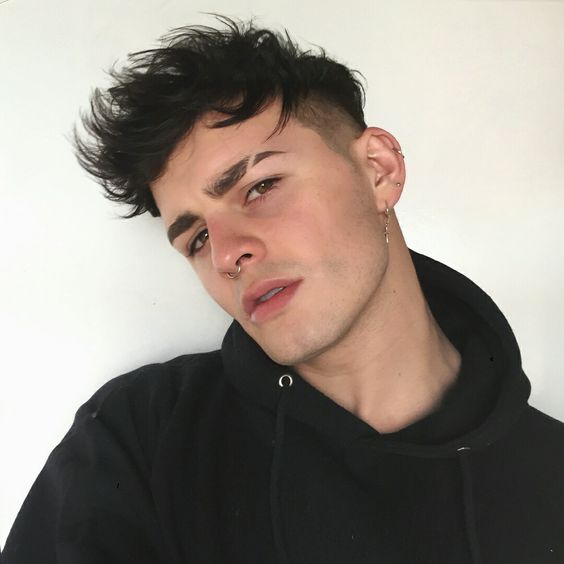 Image Source: Pinterest
One of the most simple and basic trends is a single brow slit. It's also the most versatile, elegant, and fashionable eyebrow style. The single slit is a shaved split in only one brow, producing a lovely separated look. Guys new to the trend should start small, with just a single brow cut. You can try a bolder style once you've mastered the slit-shaving technique.
2. Double Eyebrow Slit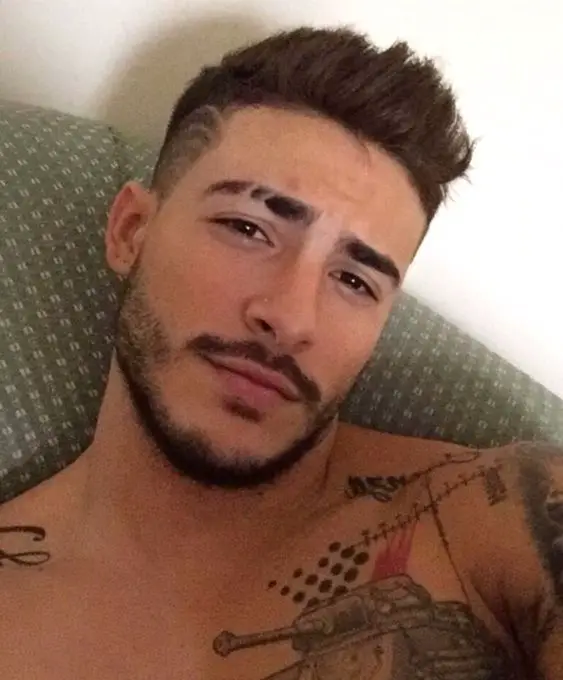 Image Source: Pinterest
With two brow slits, the double eyebrow slit amplifies your style. It's distinguished by two brow cuts. Two shaved lines at the end of your brow are the most frequent pattern, giving males a more bold look. Traditional brow slits are made on the outside of a brow.
However, You can sculpt your brows to your liking. Make sure the two cuts are equal by making sure they are the same size and spaced correctly to appear deliberate. This slit brow style gives you a more powerful look that expresses confidence and attitude.
3. Eyebrow Slit with Haircut Joining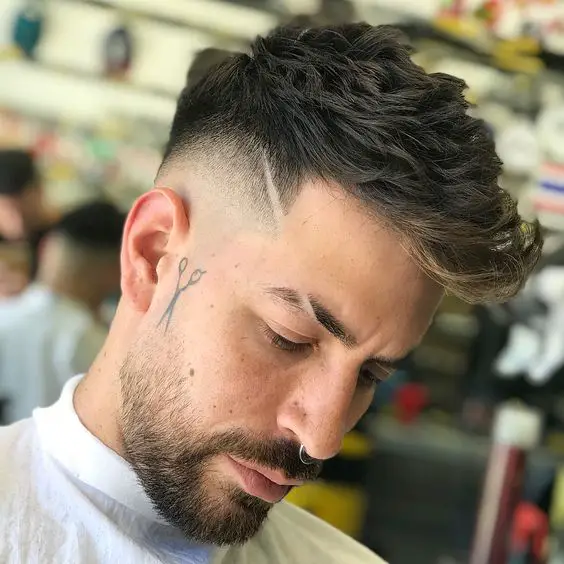 Image Source: Pinterest
The eyebrow slit trend comes in various shapes and sizes, which you can attempt depending on how much risk you're ready to take. Taking the shaved line of your brow to the next level by merging it with a continuous cut into your hair is an unusual method to do it.
It appears excellent with a side part with a fade, buzz, crew, or undercut. Keeping the same angle up to the hairline is critical to the style's success. Alternatively, especially if you are a newbie, we recommend having your barber or a skilled hairstylist shave the slit into your eyebrow.
4. Double Slit with Haircut Joining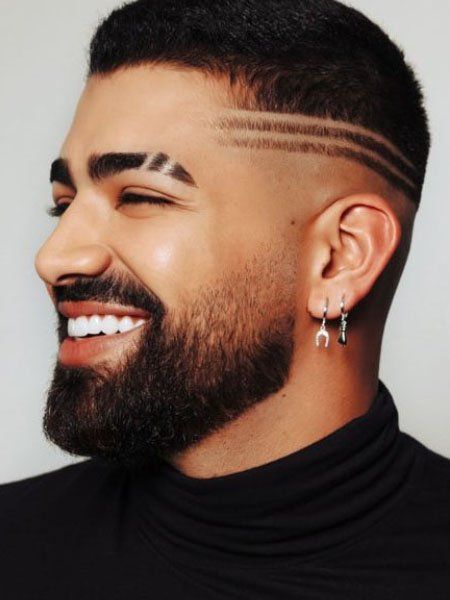 Image Source: Pinterest
A double-slit that extends into your hair is another fantastic choice. This one is a lot more tense than the last one. It is a combination of the double-slit and connecting haircut eyebrow split trends.
You make a double-slit, and two joining splits in your cut, as explained above. Again, getting professional help is preferable to going it alone with the electric razor, which is tough and stylish for men. Professional assistance would be significantly more beneficial. 
5. Cross Eyebrow Slit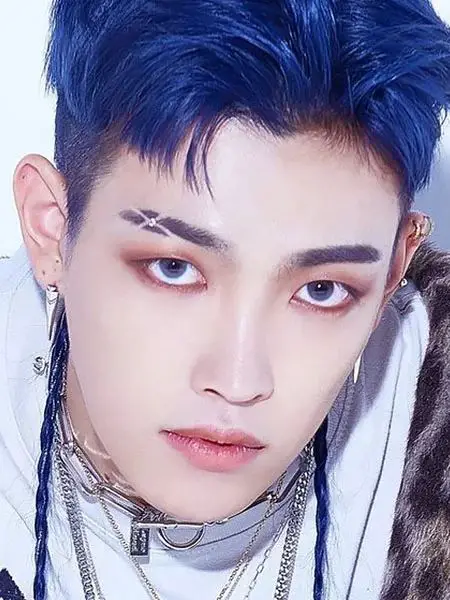 Image Source: Pinterest
Cross brow slits are unique and exciting, and they're an excellent way to make a statement in a crowd. This look is ideal for men who aren't scared to try new things and stand out. You can be creative with your designs and styling; try cutting across your brow instead of a typical vertical line.
Most guys will cut their brows to a certain length beforehand for a smooth appearance. On the other hand, this style might work well with thick brows since fuller hair provides more excellent contrast for a stunning look. 
9 Effective ways to grow Eyelashes thicker and longer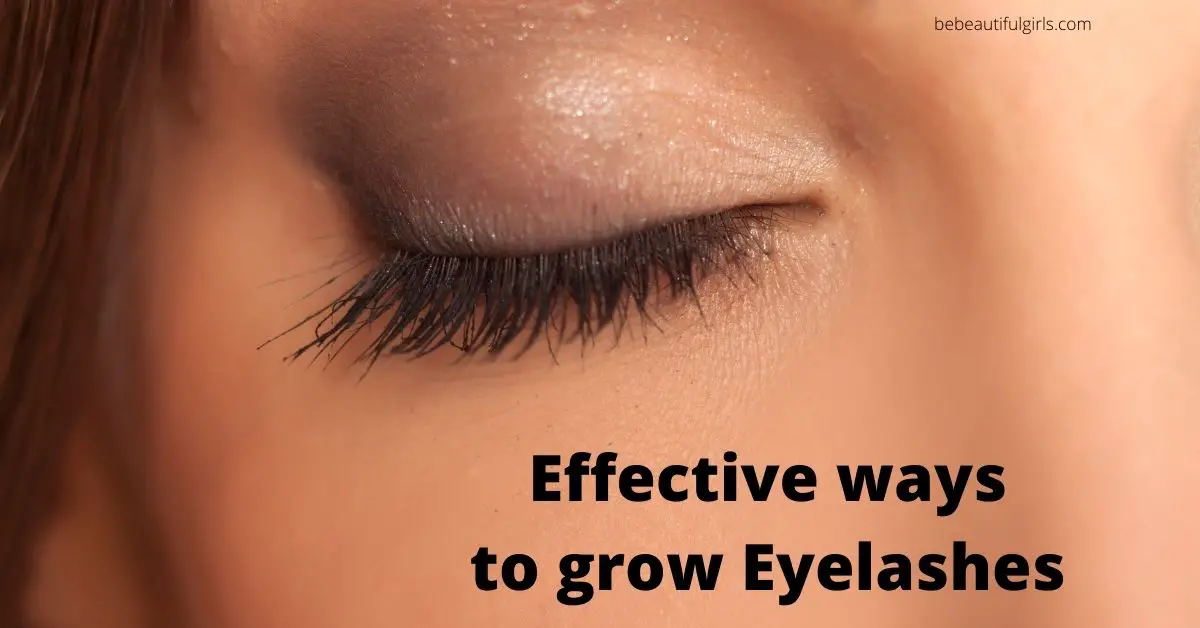 You can get this look using high-end cosmetics, expensive mascara, or fake lashes. Eyelash extensions are also an option. But, before you go out and spend a lot of money, why don't you try these simple and efficient strategies to regrow your eyelashes quickly and naturally?
Eyebrow slits for Women
1. Single Eyebrow Slit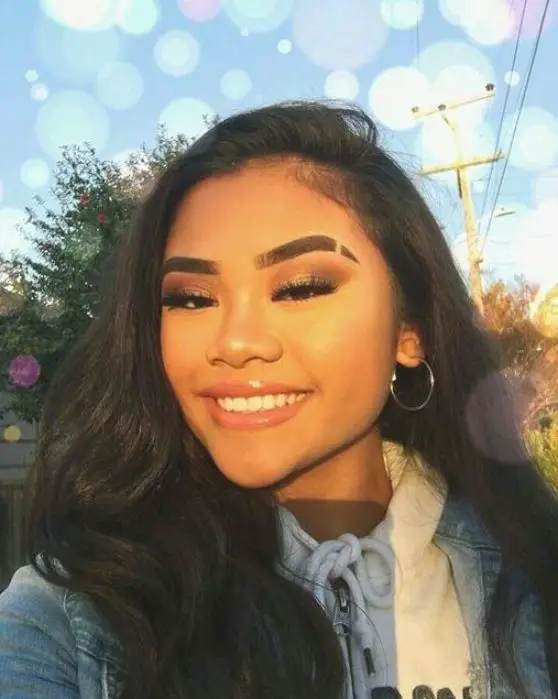 Image Source: Pinterest
Women can seem really charming and stylish with just a single brow slit. It's a simple shaved line on one brow that gives ladies a lovely, trendy look.
This style is the best brow cut for you if you're a beginner. You can draw attention to your eye makeup with a single, clean slit at the end of your brow, making your eyes stand out.
The single brow slit is a fashionable look that isn't quite as daring as its more daring counterparts. Darker brows create the most eye-catching look. On lighter brows, though, the effect can still be created with an eyebrow pencil.
2. Double Eyebrow Slit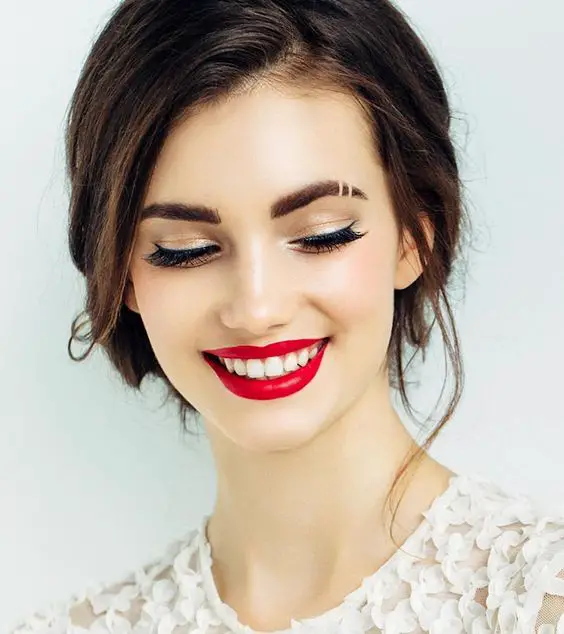 Image Source: Pinterest
The double notched eyebrow is a wonderful way to get double the fun from this new trend. The double brow slit is flexible and gorgeous, adding dimension to your face while emphasizing your flawless brows. It gives a lovely appearance.
As the title indicates, the double-slit comprises two equal clean cuts near one end of your brow. This gap can draw attention to your eyeshadow while elevating a laid-back look. It can be a fun way to highlight your brow arch, giving your face a lifting, clean, and sharp aspect.
3. Four Eyebrow Slits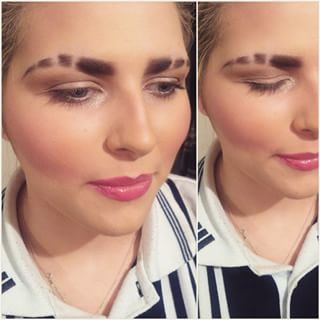 Image Source: Pinterest
A four-brow slit is ideal for expressing a confident and daring personality. It looks best with darker brows to highlight the contrast, and you'll need to spend some time filling in your brows with sharp edges. Shave three or four brow slits into one or both brows to take this trend to the next level. However, you can tone down the visual impression of this striped style by shaving two in each brow. It's a terrific approach to creating a statement while emphasizing your impressive features.
4. Front Eyebrow Slit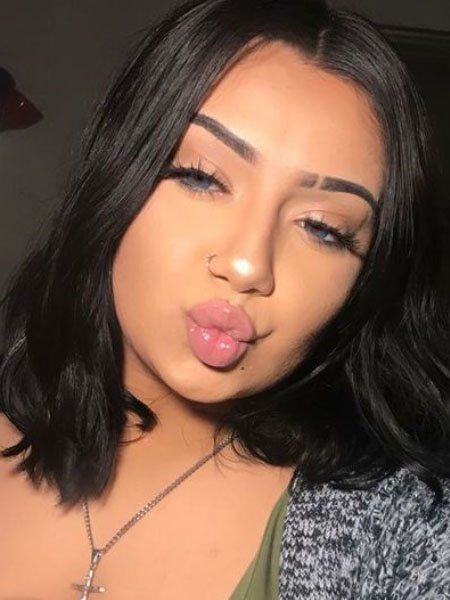 Image Source: Pinterest
Make your slit at the front of your brow by flipping it around. Most eyebrow line cuts are made towards the brow's edge or end. However, the front brow cut is made near the beginning. It's a beautiful method to give your face a distinctive twist while also drawing attention to the center of your face. This slit trend looked better on a bigger forehead.
5. Fishtail Eyebrow Slit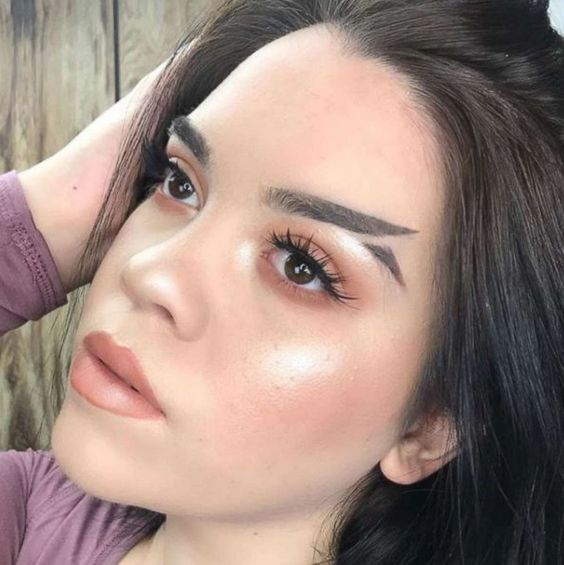 Image Source: Pinterest
The fishtail eyebrow cut is a fun way to be creative with your brows if you have a feel for them. This eyebrow notch offers an entirely different look. This look is edgy and sassy, elevating it to new levels. To achieve this look, start with a single brow cut and work with the angles to produce an upward flick at the front section's finish. It alters the appearance of the brows as well as the face. If we use an eyebrow pencil, we can create this fishtail style more smoothly. On our own, we may design a range of looks.
6. Arrow Shaped Slit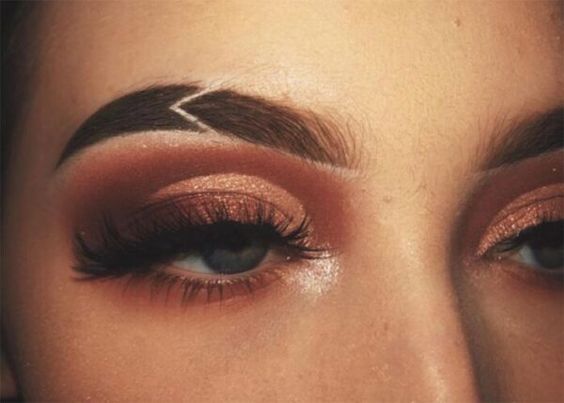 Image Source: Pinterest
The arrow-shaped brow slit is a unique and attractive look. This brow slit runs vertically across your brow and is fashioned like an arrow. It has a luxurious and elegant look that draws attention to the eyes. This method necessitates more effort because each arrow line must be shaved separately while keeping the shape's center point.
7. Bejeweled eyebrow slit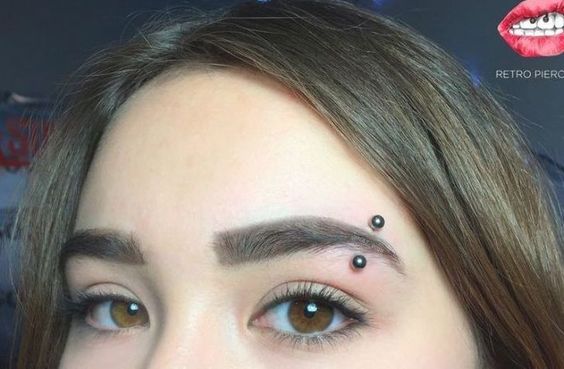 Image Source: Pinterest
Another variation in the style is bejeweled cuts. The most subtle way to customize the brow slit trend is through the piercing. It appears quite modern and contemporary since it helps you stand out and brings attention to your eyes. It doesn't require much time or effort. After slicing and piercing, you're finished.
How do eyebrow slits?
There are several techniques to slit your brows based on the style you want to achieve. It can be done at a salon or at home. Use tape as a reference and line up approx 2-3 mm thick where you like the cut to go if you're making an eyebrow slit at home. Then cut a line through your brow with sharp scissors, trimming till you have adequate space.
On the other hand, women can get a more defined look by shaving a vertical line with a facial razor or professional scissors. Remember to start with a bit of gap because you can easily remove more, but you can't place it back. After setting the proper spacing, you may use a razor to generate specified lines. We recommend going to a professional stylist or barber to achieve the perfect look.
Sale
Last update on 2023-10-16 / Affiliate links / Images from Amazon Product Advertising API
How to get eyebrow slits?
The simplest way to do this is to visit a salon and have it done. Eyebrow slits are affordable and require very little time to complete. Furthermore, having it performed by a professional lessens your chances of making a mistake or injuring your skin.
You also can do it at home if you've done similar stuff before and are confident in your abilities. Here's how to make your eyebrow slit at home:
Step 1: Use a clean brow brush or spoolie to comb your brows.
Step 2: Draw a line across your brow where you'd like the slit to appear.
Step 3: Put two pieces of tape to the side of the exact spot where the slit should appear.
Step 4: Shave the area between the tapes using a razor or a trimmer. To make the perfect brow slit, glide your shaver or trimmer in small circular strokes.
Please make sure not to overdo it, or you'll have a bald area. You can also use concealer to achieve the same effect—prepare your brows by drawing and filling them in with powder. Create the edge slits with concealer and then blend them improperly.
Sale
Last update on 2023-10-21 / Affiliate links / Images from Amazon Product Advertising API
Do eyebrow slits grow back?
Yes, shaved brow slits regrow in one to four weeks, depending on your hair growth rate. Hair growing depends on the person, but new hair should start growing within a few days of shaving, and the slit should be covered with new hair within a few weeks to a few months at the most. These shaved brow lines will have to be managed because they are just temporary. When plucking hairs, keep in mind that pulling them out at the root can result in thinning or slightly altered angles after they've been tweezed. Therefore, we strongly advise avoiding plucking your brows to create a slit.
How to Slit Your Eyebrow?
To slit your brows, you must first choose your desired style. Traditionally, both men and women have chopped their brows on the outside edge. You can then create your brow cut by outlining where you'll shave the slits. Adjust the tape to cover your brow, keeping in mind that the gap needs to be a small vertical line. To make a slit in your brow, you can use scissors, a razor, or an electronic trimmer.
Sale
Last update on 2023-10-21 / Affiliate links / Images from Amazon Product Advertising API
Overview
So, there you have it: some unique advice on the many eyebrow slit patterns you can try. With all of these techniques, we can create a variety of looks. All of these styles are rocking and flaunting everywhere. As a result, pick a style that you enjoy and flaunt your stunning appearance.
Frequently asked questions
What do eyebrow slits mean?
In the 1990s, hip-hop artists made popular the brow slit, which involves cutting a vertical line in your eyebrow hair. An eyebrow razor, trimming scissors, a spoolie, brow filling products, and concealer can all be used to make brow slits at home.
How Long Do Eyebrow Slits Take To Grow Back?
In most cases, eyebrow slits begin to grow within two weeks, but it might take up to six weeks to grow fully. However, If you pluck the hair, it could take weeks or months to grow back. Some people may discover that their hair is thin and uneven for an extended period. Genetics, food, exercise, and lifestyle habits influence the rate at which your hair grows.
How to Shave An Eyebrow Slit?
Begin by spooling out your brows with a spoolie. Then, with two tape strips over your brow, designate where you want the cut to go. Cut the slit with a face razor or electric shaver in little motions using a steady hand.
How to make fake eyebrow slits?
Start by brushing your brows and applying concealer with a flat, angled brush at the top and bottom of your brows, so the slit fits in. Next, use your brush to apply concealer across your brow in the desired spot to create the "slit."