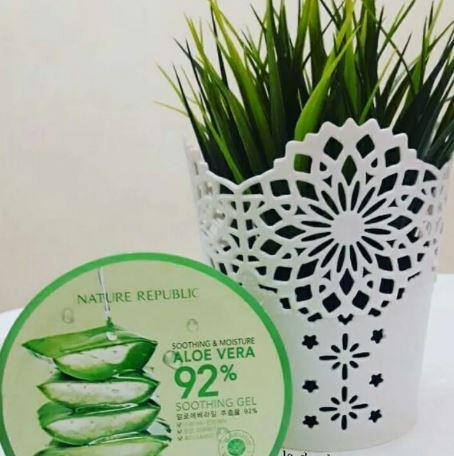 Hi everyone, I hope you all do well and in the best of your health. Aloe Vera is known for being extremely beneficial in various areas. So include it in your skincare routine. Therefore, today I'm going to be reviewing the Nature Republic Soothing Moisture Aloe Vera Gel.
Before that I used to WOW Aloe Vera gel, Now I switched to Nature Republic Aloe Vera Gel. It is the best Korean aloe vera gel. The gel however might take a little bit of time to penetrate into the skin but Nature Republic is a fast-absorbing gel, so much easier to apply! So go grab your Aloe Vera now!
About Nature Republic Soothing Moisture Aloe Vera Gel
Product Details
This Aloe Vera Gel is an incredibly versatile moisturizing gel that can be used all over the body such as the face, arms, legs, and hair. It adds moisture or hydration exactly where it needs the most. Its mild formula is safe to use on all skin types.
Nature Republic Aloe Vera Gel, 300 Ml
This Gel Made About 30 Times Of Sold-Outs In A Year, And Also Sold About...
Main Ingredients : Aloe Vera Extracts 92%
Stimulated By The Sun, The Aloe Vera Relaxes Your All Reddish And Dried...
Last update on 2021-06-24 / Affiliate links / Images from Amazon Product Advertising API
Price
7.95$, 10.56 fl oz (300 ml)
Key Ingredients
92% Aloe Vera Extracts, Vitamin E, Vitamin C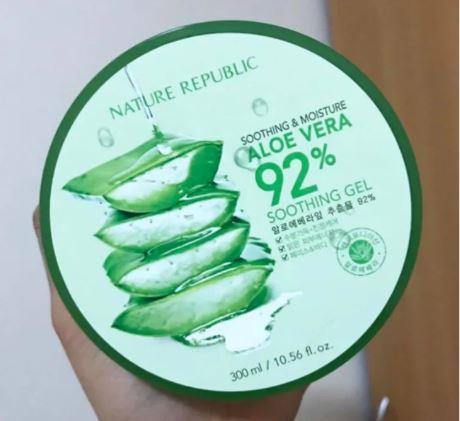 Nature Republic Claims: This soothing gel with 92% organic aloe Vera certified by California certified organic farmer can be used to mildly moisturize various parts of the body.
Ingredients Callouts: Free from Paraben, Mineral oil and Artificial color.
My write-up on Nature Republic Soothing Moisture Aloe Vera Gel
I'm a big fan of Korean cosmetics and this product was in the must-buy Korean beauty products from the Nature Republic. I think this is the best moisturizer and it's very affordable.
It's a lightweight gel and the scent isn't overpowering. It smells really good. I love how natural and mild the scent is. Its texture is like a real aloe Vera. The consistency is watery than another aloe Vera gel that will absorb in the skin really fast. The packaging comes in a huge 300 ml container which I personally think is less hygiene.
I have an oily skin type and I sometimes suffer from redness on my face and some pimples. So I would apply a thin layer of this product over the redness and pimples and follow it up with my night cream and by morning, the redness is gone, and my pimples have shrunken!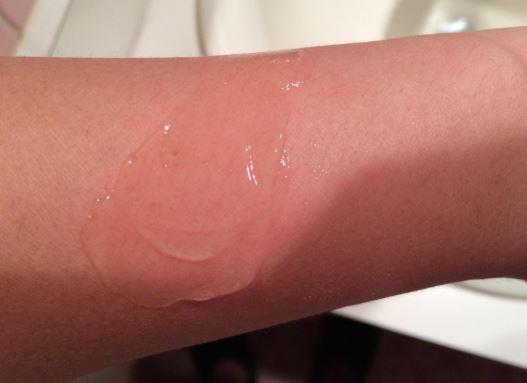 I love to use this in the morning and night with all my other skincare products. This product absorbs into the skin so fast and I love how it's so light and cooling on the skin. There is a sticky feeling at first, but once the product absorbs into the skin, that feeling goes away.
It has a cooling effect so it really helped to minimize pores. It feels nice on the skin and absorbs really fast and also it is very moisturizing and the best part is that it's multifunctional!
It's not that sticky to apply and it dries up quickly. It goes well with my lotion. I feel like I'm putting a serum in my body because it helps my lotion penetrates more.
It is very gentle for the skin. Not only that it makes your skin visibly Dewey your pores also seemed to tighten that resembles a glass skin.
Also Check: The Body Shop Tea Tree Oil Review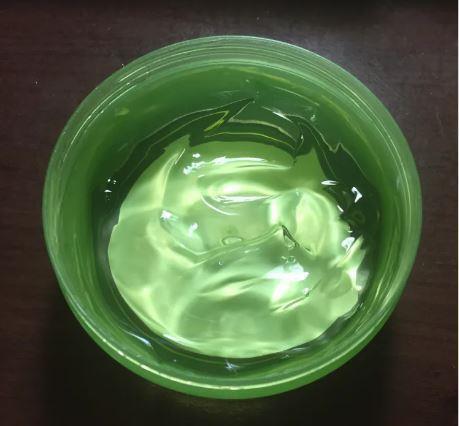 Application
You can use it as moisturizing sleeping mask, or use it like a hair serum to the split ends. It's also a good treatment for soothing irritated skin after shave or after sunburn.
You can use this Moisturizer during the summer because it is easily absorbed on the skin.
Aside from using it as a moisturizer, it may also be used for different skin concerns like sunburns and flaking skin.
Making a mask by adding your favorite oils serums then soak sheet mask into a gel. Also, mix makeup primer with aloe at 2/1 ratio creating a natural glow.
Why you should love Nature Republic Soothing Moisture Aloe Vera Gel?
This product is 92% Aloe Vera leaf extract that has many benefits and uses.
This gel is considered Skin firming and moisturizing but does not leave a sticky residue on your skin.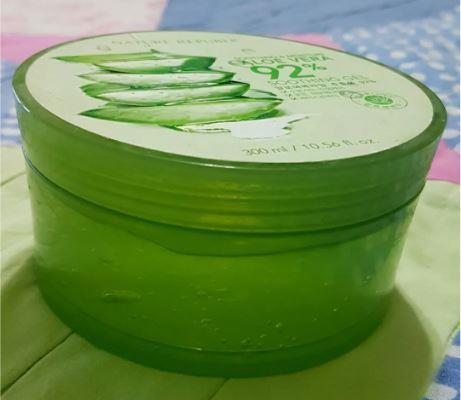 It is fast-absorbing gel provides a refreshing feel to the skin Soothing and moisturizing and also Keeps the surface of the face and body healthy.
It also alleviates stressed skin caused by sun or dust and it helps with sebum control by balancing the

PH level

.
Works with any skin type and can rub into your nails and cuticles, as well as use as a hair mask or put on split ends.
Also Check: Pantene Rose Water Shampoo Review
Pros and Cons of Nature Republic Soothing Moisture Aloe Vera Gel
Pros
Reducing the redness and also blemishes of the skin
Anti-aging
Gently hydrates the skin
Rapidly absorbed by the skin for moisturizing effects
Provides a refreshing sensation
Helps effectively soothe skin
Cons
Overview
This moisturizer is so amazing and the best moisturizer I ever had. It is a Korean skincare. It is natural and it doesn't harm your skin in any way, except if you have really sensitive skin. The price is good due to the product.
Do I Recommend Nature Republic-Soothing & Moisture Aloe Vera Gel?
Yes, I definitely recommended this Aloe Vera gel.
Would I Repurchase Nature Republic-Soothing & Moisture Aloe Vera Gel?
Yes, I will repurchase.
Hope you found this review helpful. Please do comment on your thoughts and experience. If you have any suggestions or any queries then ask in the comment box.
Stay Happy and healthy.
Last update on 2021-06-24 / Affiliate links / Images from Amazon Product Advertising API