Hi everyone, I hope you all do well and in the best of your health. Today I'm going to be reviewing the Cetaphil Moisturizing Cream. This Moisturizing Cream by Cetaphil is a really good moisturizing cream and an absolutely perfect for winters. It keeps the moisture lock-in and prevents skin from becoming dry so moisturizing cream is the savior for the winter season.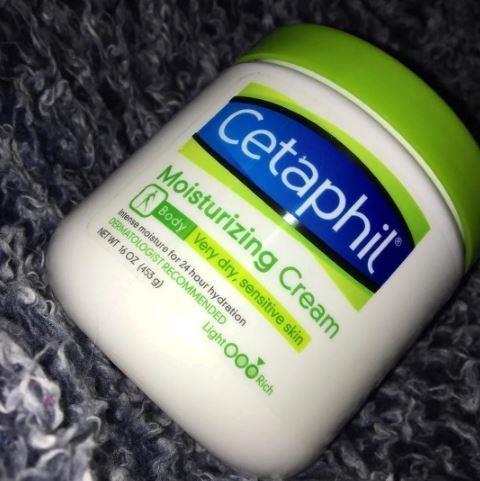 About Cetaphil Moisturizing Cream
Product Details
Cetaphil Moisturising Cream is recommended by dermatologists for use on dry and sensitive skin. This Moisturizing Cream contains emollients and humectants that has a superior system of extra-strength with clinically proven and prevent moisture loss.
Cetaphil Moisturizing Cream is an intensely moisturizing cream that provides relief to severely dry skin. It is an excellent moisturizer for face, feet, hands, knees, elbows, or all over the body that replenishes dry skin.
Price
$10.99, 16oz (453 gm)
$12.99, 20oz (566 gm)
Ingredients
Water, Glycerin, Petrolatum, Dicaprylyl Ether, Dimethicone, Glyceryl Stearate, Cetyl Alcohol, Helianthus Annuus (Sunflower) Seed Oil, PEG-30 Stearate, Tocopheryl Acetate (Vitamin E), Dimethiconol, Acrylates/C10-30 Alkyl Acrylate Crosspolymer, Benzyl Alcohol, Phenoxyethanol, Prunus Amygdalus Dulcis (Sweet Almond) Oil, Propylene Glycol, Disodium EDTA, Carbomer, Sodium Hydroxide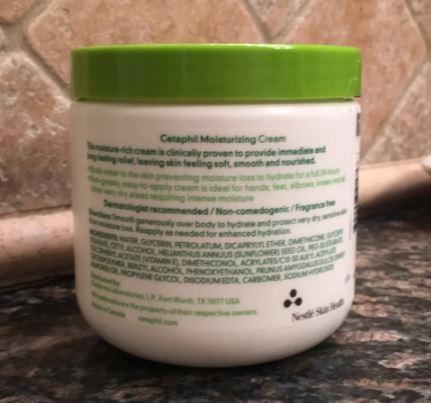 Features
Hypoallergenic and non-irritating
Goodness for your skin
Contains sweet Almond oil and Vitamin E
Helps retain Skin's natural moisture barrier
The unique, rich cream is free of fragrances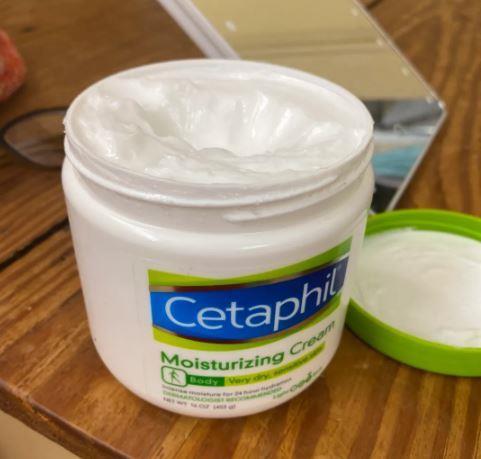 My write-up on Cetaphil Moisturizing Cream
I have been using this since last winter. It's a great alternative to more expensive night creams. It's definitely meant for dry skin. It feels very light at first but really moisturizes throughout the day and night. Personally, I have dry and combination skin. So I like having super intense moisture throughout the night to really revitalize my skin. In the morning I wash it off. This works really well for me. So I would say that Cetaphil moisturizer is the best moisturizer for the winter season.
I'd rather use other brands that have herbal bases but they don't work for me. But This moisturizer hydrate skin deeply and lock moisture. Also, it doesn't have any SPF.
Cetaphil Moisturizing Cream is Fragrance-Free. The fact that its fragrance-free formula makes it great for sensitive skin i.e it does not have the Perfume ingredient. Otherwise, it has a mild scent that fades off quickly.
The packaging is quite decent, convenient to use, and travel friendly. It is really a blessing for people having sensitive skin because It is gentle on the skin and fragrance-free too.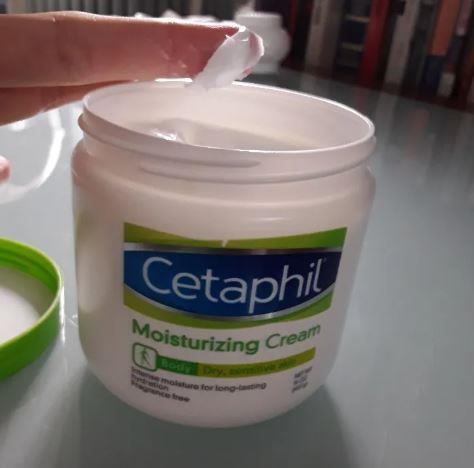 If you're suffering from dried out feet and heels from sports, genetics, or gorgeous but cruel heels, clean your feet and massage with Cetaphil for five minutes. If you can stand it, put on thick cotton socks and sleep with them on. You should heal and develop healthy thickened soles over time.
Just a pea-size amount is enough to moisturize the whole face. It gets absorbed very quickly by the skin. Applying it once a day which is enough as it keeps your skin hydrated for approx 8-10 hours. Do not use it in excess or your skin may get oily.
Sometimes, I also use it as a base under foundations when my skin is being very sensitive. It did suit me well without any breakouts. We can also use it as a night cream as it doesn't have any SPF in it. You can use it immediately after exfoliating your skin when you need a quick skin miracle.
This is quickly becoming my go-to moisturizer for the winter season because my skin always gets so dry. The consistency of the cream is thicker than the other moisturizer. It keeps my dry skin hydrated and moisturized without clogging of pores or the greasy feeling.
Also, it is non-comedogenic so it can be used on the face as well. Though, I haven't tried it on the face since I have combination skin. I generally apply it all over my body after a shower and it definitely keeps my skin soft for the rest of the day. And does take a little while to absorb since it is so rich, but then it leaves my skin feeling moisturized without feeling greasy or sticky. Occasionally I have periods of dry skin even when it is not winter but even in summers sometimes. So I apply this before going to bed. This cream will work best for very dry skin, otherwise, you might find it greasy.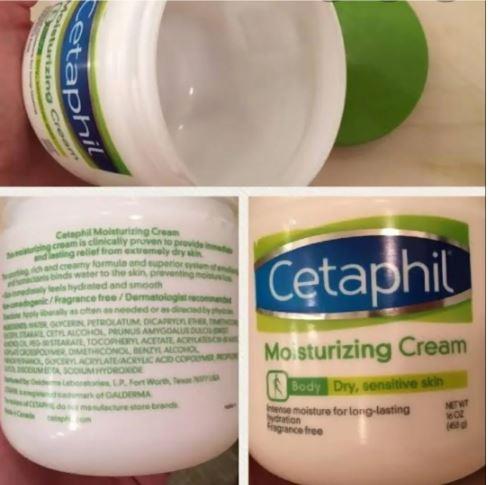 Cetaphil Moisturizing Cream for eczema
This moisturizer is great for eczema-prone. so If you suffer from eczema on the face and this is a great moisturizer that isn't harsh and keeps skin hydrated. To the point where the skin goes raw, it bleeds. Cetaphil cream moisturizes the skin but does not make the flare-up go away. But This moisturizer is non-irritating moisturizer-for eczema.
This cream doesn't make eczema patches sting. Only use this on the face when your eczema flares up and it really helps to reduce the flakiness but it can feel a little heavy so it's better to use at night. It coats the skin and feels like an ointment. Therefore this moisturizing cream highly recommends for people with eczema.
Why you should love Cetaphil Moisturizing Cream?
Some are the main benefits of Cetaphil moisturizing cream.
Cetaphil Moisturizing Cream quickly absorbs into the skin and intensely hydrates for up to 24 hours.
Cetaphil moisturizer for dry skin is hypoallergenic and non-irritating.
Clinically tested hypoallergenic and non-comedogenic, so it won't irritate skin or clog pores.
Unique formula attracts water to the skin and quick absorbing.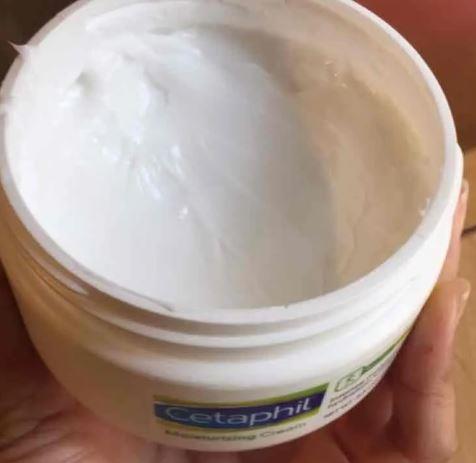 Pros and Cons of Cetaphil Moisturizing Cream
Pros
Great for eczema-prone and very dry skin
Can be used on all body parts
Long-lasting relief from dryness
Cons
How to use Cetaphil Moisturizing Cream?
Use liberally on clean skin twice a day as and when required.
Apply gently on your skin as often as needed or as directed by a physician.
Overview
Overall it's a great product, simple and easy to use. Anyone could use it. The cream is thick, rich, and fragrance-free. It doesn't include any irritating fragrances so can be used by those with sensitive skin. Especially if you have dry and sensitive skin, this would be the ideal product for most people.
This moisturizer keeps skin super hydrated through any season. It works perfectly well as a moisturizer and the best part is can be used day and night moisturizer So no need to buy a separate cream for both needs. Cetais a good and thick all-purpose cream.
Would I Recommend and Repurchase Cetaphil Moisturizing Cream?
It is best for very dry and damaged skin. So, highly recommended and I will definitely repurchase it.
Hope you found this review helpful. Please do comment about your experience. If you have any suggestions or any queries, ask in the comment box.
Recommended Articles