We have a tendency to purchase a lot of skincare products that promise flawless beautiful and glowing skin. However, we are frequently dissatisfied since they do not work and are a complete waste of money.
Lakme just released a new product called Lakme Lumi Cream, which is a moisturizer with a highlighter. Because it combines a moisturizer and a highlighter in one, it is created for glowing and vibrant skin in one step.
The article is focused on Lakme Lumi Cream, a product that is gaining popularity in the beauty industry. In this article, we provide a detailed review of the product, its benefits, and how it can be used.
Lakme Lumi Skin Cream Review
The shimmer particles in the Lakme Lumi cream highlighter will give you an instant luminous glow while keeping your skin hydrated for up to 8 hours.
This Lumi cream is a mild moisturizer because it is non-sticky and quickly absorbs. The best thing is that it has a non-greasy texture and can also be used as a highlighter to give the skin a natural intense glow.
Product Details
Lakme Lumi Cream gives you an instant glow by hydrating your skin and enhancing your beauty. It is a lightweight 2-in-1 moisturizer and luminizer that gives your skin a 3D radiance. Due to its light texture, Lakme Lumi Cream is good for all skin types, especially oily skin.
Lakme Lumi skin cream is enriched with Vitamin C, B6, Niacinamide, and Korean pink pearl extracts, which offer your skin a flawless radiant, and bright look. It also contains glycerine, butylene glycol, and hyaluronic acid, which helps to calm and moisturize your skin.
Price
INR 299 for 30 gm
Lakme Lumi Skin Cream Ingredients
Hyaluronic Acid, Niacinamide, Vitamin C, B6, B3, and Korean pink pearl extracts, Glycerin
Niacinamide helps in skin protein production and provides a defense against environmental harm.
Korean Pearl Extract: promotes more effective cell turnover while also helping to boost the natural moisture content of your skin.
Sodium Hyaluronate: This water-binding substance moisturizes and allows it to retain moisture.
Sodium Ascorbyl Phosphate: This water-soluble, stable type of vitamin C removes free radicals and protects the skin from fine wrinkles and premature aging.
Ethylhexyl Methoxycinnamate: This ingredient protects the skin from UVB radiation.
Sale
Last update on 2023-10-18 / Affiliate links / Images from Amazon Product Advertising API
What the product claims:
3D glow
Hint of highlighter
Highlights your features
Lightweight moisturizing cream
My write-up on Lakme Lumi cream moisturizer with highlighter Review 
On the internet, I came across a new product called Lumi cream. After using it for a few days, I'm writing this review. Firstly, Lumi cream is a light moisturizing cream with a bit of a highlighter that draws attention to your features and provides you with an immediate glow.
It's not heavy on the skin, has a very light consistency, and is non-greasy, so it won't leave your skin feeling oily or sticky.
It moisturizes the skin while also acting as a highlighter. After using it, my skin really glows. Because I have dry skin, none of the creams provide 24-hour moisture, however, the Lakme Lumi cream with highlighter keeps my skin moisturized all day.
It's non-sticky, non-greasy, and has a light moisture content. It gives you a 3D shine right away and acts as a highlighter. With a highlighter and skincare advantages, it creates excellent party looks in a flash.
The Lakme Lumi cream is the best cream for face highlighter and radiance. Because of its highlighter and moisturizing properties, this cream gives the skin a 3D radiance.
Because of its gleaming textures, Lakme Lumi Cream provides the finest of both skincare and makeup. It instantly brightens the skin. Lakme Lumi cream is ideal for all skin types and is designed for all skin tones.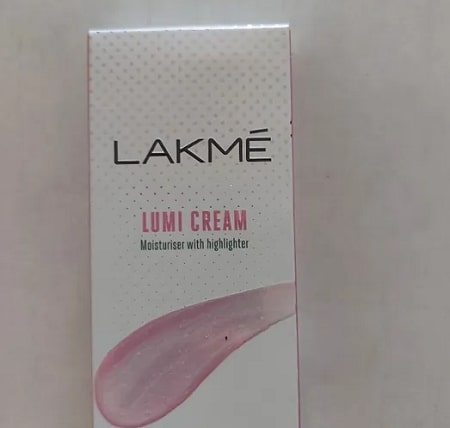 This Lakme glow cream is a light moisturizer that absorbs quickly and gives skin a luminous appearance. Because I have an oily T-zone, I appreciated the fact that it did not leave any stickiness or oily finish.
For a strobing effect, I used it with bb cream and everyday foundation, and the result was stunning. After using it regularly, I didn't see any breakouts on my face and doesn't clog the pores.
Lakme Lumi cream moisturizer with highlighter gives you the perfect makeup look while also providing skin care advantages for any event. It's time to make your life easier without compromising your looks.
Furthermore, you do not need to take a large amount; a small amount will be enough and will be absorbed rapidly. It's simple to apply to your skin for a quick makeup look.  The cream lasts for a long time.
Lakme highlighter moisturizer provides a subtle pinkish tint to the face.  Even if you sweat a little, it lasts a long time. It aids in the reduction of wrinkles, age spots, and blemishes on the skin.
It can also disguise my freckles and give off a festive shine. I also used it as a subtle highlighter on my cheeks and eyes.
I also blend it with the foundation to add a gloss to my makeup, but you can also apply it directly to the skin. For my dry winter skin, This was one of the best spendings I'd bought. Definitely worth purchasing, especially with the upcoming winters.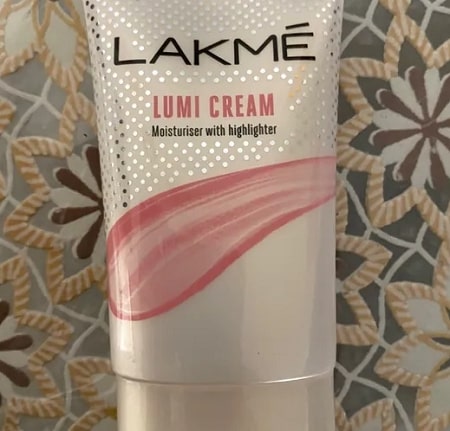 Packaging
The cream is packaged in a white tube with a flip-flop top cover and is packaged in white cardboard. The product is dispensed through a nozzle on the inside of the flip-flop cap. Because the cap closes tightly, there is no possibility of leakage. It only gives out the exact amount of product that is needed. On the backside of the tube are all the details. The packaging is also very small, making it easy to carry in your travel luggage.
Texture
It has a creamy white consistency. It also contains small shimmering particles that give your skin a beautiful glow.
Fragrance 
The smell of this cream is extremely light and pleasant.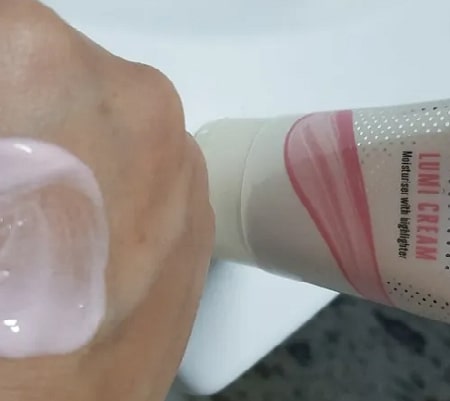 How to use Lakme Lumi Skin Cream?
Take the required amount of cream onto your hand. Make small dots all over your face. Mix in the moisturizer. Take pleasure in your 3D illuminated shine.
Pros of Lakme Lumi Skin Cream
Budget-friendly
Non-sticky and non-greasy cream
Suitable for all skin types
Perfect for an instant boost of glow
Easy to apply on your skin for quick makeup
Makes my skin soft
Absorbs quickly
leaving my skin healthy and glowing
Very lightweight texture
Spreads smoothly on my face
Handy to carry anywhere
Cons of Lakme Lumi Skin Cream
It may not work for sensitive skin types.
Sale
Last update on 2023-10-18 / Affiliate links / Images from Amazon Product Advertising API
Lakme Lumi Cream Side Effects
I used Lakme Lumi cream for two months. Personally, I didn't notice any negative effects from it. If you are sensitive to fragrance compounds, the Lumi Cream may not be right for you. Itchy skin, redness, itching, and clogged pores are possible side effects. The cream contains some comedogenic ingredients. So, Some people get breakouts.
Overview
The new Lakme Lumi cream is a lifesaver for women who seek a natural glow without wearing makeup every day. This cream gives you the perfect makeup appearance with the added advantage of skincare for any occasion. It's a one-of-a-kind moisturizer with a hint of highlighter to instantly give your skin a 3D glow. There are no dangerous ingredients, it's light, non-greasy, easy to apply, and there are no clumpy particles. All you get is a wonderfully dewy finish that gives your skin a healthy glow.
Frequently asked questions
Does Lakme Lumi Skin Cream cause acne?
I've been using it for about two weeks and haven't had any breakouts. However, it is not efficient in removing acne scars.
Is Lakme Lumi Skin Cream good for daily use?
The moisturizing Lakme Lumi cream with a highlighter is suitable for all skin types and seasons. It leaves skin moisturized and bright with a 3D subtle glow. Therefore, we can include it in our everyday skincare routine.
Is Lakme Lumi Skin Cream good for sensitive skin?
The Lakme skin cream is extremely nourishing and moisturizing. Its creamy consistency is ideal for all skin types and tones. However, it does not always work for everyone, especially those with sensitive skin. For sensitive skin types, it may produce redness, itching, swelling, or small bumps on the forehead. So, before using this product, do a patch test first.
Is Lakme Lumi Skin Cream waterproof?
This skin cream has a shimmering sheen and is a gentle moisturizing cream. It is not waterproof, you can easily wash it off.
Last update on 2023-10-18 / Affiliate links / Images from Amazon Product Advertising API