Garnier light complete vitamin c serum review
Vitamin C is well known in the skincare industry as one of the most efficient and convenient antioxidants. Indeed, some consider it the holy grail of all skincare routines.
This amazing antioxidant and anti-inflammatory ingredient are known for enhancing skin tone and texture, hydrating the skin, lessening the effects of aging, and reducing wrinkles.
Vitamin C Serum is a breakthrough skincare product that nourishes the skin with vitamin C goodness.
Vitamin C is an effective antioxidant with various skin-beneficial properties. Therefore, I'll be reviewing Garnier's Vitamin C Serum today.
Garnier Vitamin C Serum Review
It contains the power of 30x vitamin c concentrated in a weightless formulation that blends in flawlessly with all skin types and leaves no white cast. It is essential for skin hydration and overall skin health.
Garnier bright complete vitamin c booster serum's lightweight formula is rich and creamy with a non-greasy skin feel.
This serum has passed dermatological testing and is appropriate for all skin types.
It has an antioxidant vitamin c concentrated brightening formula with antioxidant vitamin C that diminishes all forms of spots, including black spots and acne scars.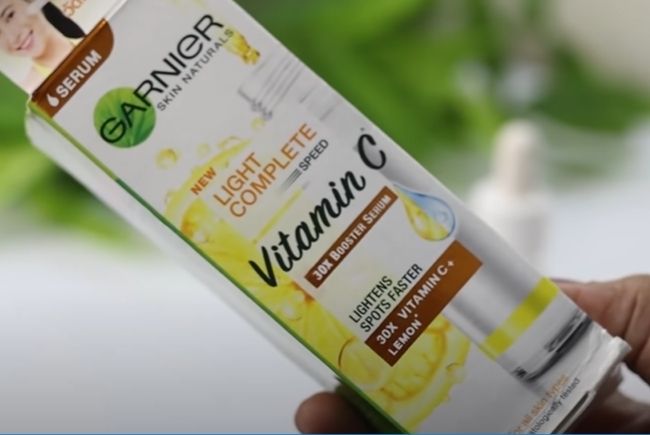 Product Details
Garnier's most concentrated spot-reduction formula brightens your face and removes dark spots and acne marks from the first use.
Garnier vitamin c 30x booster serum is an anti-oxidant-rich face serum that gives your skin a fresh lease on life and a bright, spot-free complexion.
The most concentrated non-oily formula serum for the face from Garnier Skin Natural penetrates the skin instantly. It contains potent nutrients such as 30X VITAMIN C* and yuzu lemon.
Garnier vitamin c serum price
INR 225 for 15 ml
INR 449 for 30 ml
Sale
Last update on 2023-11-09 / Affiliate links / Images from Amazon Product Advertising API
Garnier vitamin c serum ingredients
Aqua / Water, Glycerin, Niacinamide, Alcohol, Peg/Ppg/Polybutylene Glycol-8/5/3 Glycerin, Citric Acid, Citrus Limon Fruit Extract / Lemon Fruit Extract, Hydrogenated Lecithin, Disodium Edta, Citrus Junos Fruit Extract, Salicylic Acid, Benzyl Alcohol, Hydroxyethylpiperazine Ethane Sulfonic Acid, Linalool, Geraniol, Oxothiazolidinecarboxylic Acid, Maltodextrin, Dipropylene Glycol, Butylene Glycol, Bht, Parfum / Fragrance, Sodium Citrate, Sodium Hyaluronate, Phenoxyethanol, Phenylethyl Resorcinol, Adenosine, 3-O-Ethyl Ascorbic Acid, Tocopheryl Acetate, Xanthan Gum, Limonene, Bis-Peg-18 Methyl Ether Dimethyl Silane, Ammonium Polyacryloyldimethyl Taurate, Isononyl Isononanoate, Acetyl Trifluoromethylphenyl Valylglycine, Benzyl Salicylate
What the product claims:
Reduces dark spots and acne marks and gives spot-less, bright skin in just 3 days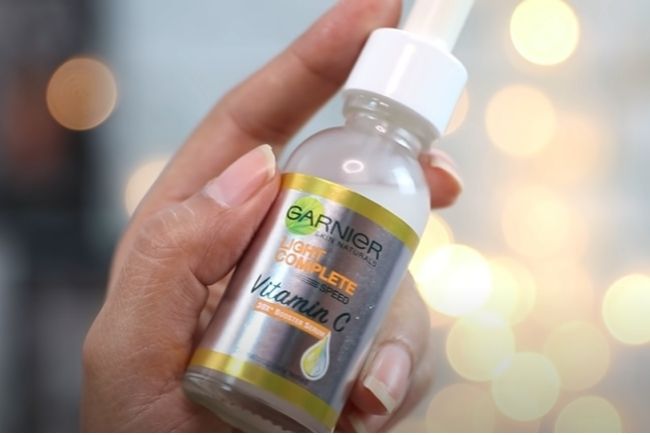 My write-up on Garnier vitamin c booster serum Review
It's been about a month since I started using it. After cleaning my skin, I applied 6-7 drops every morning to hydrate it.
This Garnier face serum is so light that it doesn't feel like you've put anything on. It doesn't feel heavy on the skin and gives me a slight glow.
Also, I used Garnier vitamin c serum at night to hydrate my tired, dull skin without leaving a white residue on the skin.
It does not dry out the skin but makes my skin feel oily and sticky, as I have oily to combination skin. However, People with dry skin may need to moisturize after using the serum.
Garnier bright complete serum is a light and easily absorbed serum, but it won't instantly brighten or lighten my skin. It gradually lightens the area, however on the first application, it caused me to break out all over my face, thus these are the product's drawbacks.
Then I massage it in for a longer period to allow it to soak. My skin didn't show any significant changes. If you use it for a long period, you will notice a gradual shift in your skin tone.
After a week of application, it began to work, and pigmentation was significantly reduced. The light and little acne spots were receding, and the darker ones were becoming lighter, though not fully gone.
With frequent application, they may be quite lightened. But, the main drawback of this serum is Garnier vitamin c serum percentage is not mentioned anywhere.
This vitamin C serum from Garnier did not give me clean skin in three days as they claim. But Garnier vitamin c serum gives spotless skin in 15-20 days to a great extent.
Also, my skin texture improves and my skin becomes brighter with daily usage of the serum followed by sunscreen.
It does brighten your skin, whatever your skin tone. When put underneath makeup, this serum holds it in place. However, the 3-day lightning of spots is complete nonsense. I've been taking it for a month and the spots have lessened slightly, resulting in radiant skin.
The Garnier vitamin C serum is really effective in removing blemishes and dark spots. My skin is oily and prone to blemishes and acne.
My dark spots and blemishes were greatly diminished, making my skin tone appear brighter and healthier. This is a must-try if you have uneven skin complexion or acne breakouts.
It's a good serum; I can't speak to skin lightening, but it leaves you with a lovely glow and soft skin. Also, it helps to reduce pore size to some extent, not completely giving perfect poreless skin.
The only disadvantage is that the packaging may cause vitamin C to oxidize quickly, although this may be avoided with good care.
This Garnier Vitamin C booster serum is perfect for all skin types, Its mild formula isn't harsh even on the most sensitive skin or acne-prone skin.
With regular application, the skin develops a glow and changes in texture, leaving the skin clear, radiant, and lovely. I can say that it is one of the best vitamin c serums.
Garnier light complete booster serum will take time to blemish old acne scars. However, if you have a new pimple, it will disappear in a week. I had four large pimples that went away slightly, but the scars from the pimples are still visible.
My skin is incredibly hydrated thanks to this Garnier spotless serum. It penetrates quickly into my skin and leaves me with a soft finish. It does not work in three days as they claim, but it does work after a week.
It also helps to remove dark marks and blemishes. In addition, this serum reduced my breakouts and evened out my face complexion. But don't forget to use a gel-based moisturizer afterward.
Because it does not contain Ascorbic acid, this serum is not a pure Vitamin C serum (the purest form of Vitamin C). It contains a Vitamin C derivative that is less efficient than Ascorbic acid. 
[Read more: 13 Best Neem Wood Comb in India]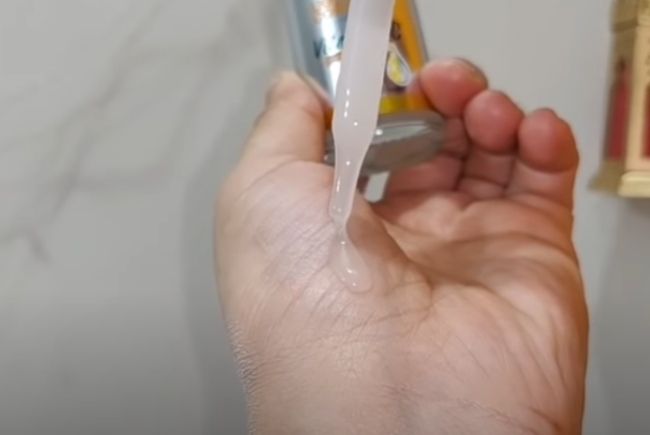 Packaging
Garnier booster serum comes in a cardboard box and is packaged in a glass bottle. The bottle has a dropper on top.
The dropper allows us to manage the amount of product and ensure that the serum is always free of germs.
However, because vitamin C is photosensitive, I believe the serum should have been packaged in a dark-colored bottle rather than a clear glass one.
So, keep this container in a dark, cool area to avoid exposure to sunlight. After each usage, I would recommend keeping the cardboard package instead of throwing it away.
Fragrance
It has a pleasant, refreshing lemony scent that is subtle and not overwhelming. Furthermore, the scent does not linger for long, so sensitive noses will not be bothered.
Texture
The serum has a smooth appearance and is slightly thicker than water.
[Read More: Nivea Milk Delights Face Wash Review – For all skin types]
Sale
Last update on 2023-10-27 / Affiliate links / Images from Amazon Product Advertising API
How to use Garnier vitamin c serum
Wash your face and pat it dry with a gentle face wash.
In your hands, place a coin-sized quantity of Vitamin C Booster Serum.
Apply it evenly over your palms without rubbing too hard. Put the serum on your face and neck with little, gentle tapping motions. Use daily for optimal benefits.
Garnier Vitamin C Serum vs. Deconstruct Vitamin C Serum
Personally I find the Vitamin C from Deconstruct to be more lightweight, non sticky and non greasy as it absorbs quickly onto my skin.
I agree with the fact that Garnier's Vitamin C Serum is quite a popular choice for people although the percentage of vitamin c can be quite harsh on skin ,especially beginners. The serum is enriched with potent ingredients like 30X Vitamin C and yuzu lemons that provide skin an instant glow, reduce spots, and improve skin texture.
Where as Deconstruct Vitamin C Serum for face, on the other hand, contains 3-O-Ethyl Ascorbic Acid which with Ferulic Acid makes the serum more stable. It only has 10% Vitamin c which is best suitable for beginners and provides an effective treatment for people looking to combat stubborn pigmentation, tanning and brighten skin. It also protects your skin from damage caused by sun exposure. I love how the hyaluronic acid gives instant moisture and plumpness on my skin. Therefore I found Deconstruct serum more effective than Garnier, especially enthusiasts who are keen on developing their skincare journey.
Garnier vitamin c serum before and after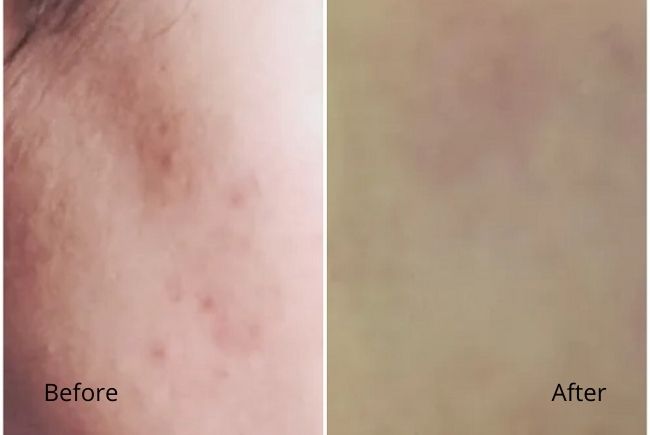 [Read More: Deyga Turmeric Healing Face Mask Review]
Garnier vitamin c serum benefits
Vitamin C has anti-inflammatory and antioxidant qualities. It has the ability to increase collagen formation in the skin.
Vitamin C in the form of ascorbic acid has been shown to help neutralize free radicals. It has the ability to brighten and reduce spots.
Citric acid is an exfoliator that eliminates dead skin cells from the layers of skin, leaving it smooth and supple. According to certain studies, Citric acid can heal sun-damaged skin and increase skin thickness when used regularly.
Other key ingredients increase collagen production and improve skin firmness without leaving a greasy behind.
Pros of Garnier light complete vitamin c serum
Lightweight
Affordable
Non-sticky and non-oily formula
Glass bottle with dropper
Gentle fragrance
Fast-absorbing formula
No residue on the skin
Cons of Garnier light complete vitamin c serum
No visible results in 3 days
It contains alcohol, which dries out the skin
The bottle should be dark/amber in coloration, but it is translucent
Chemically loaded
Not sure of serum effectiveness and the concentration of vitamin c is not mentioned
Garnier vitamin c serum side effects/ Precautions:
Vitamin C serum, like any other skincare product, might cause side effects in some people. Though topical vitamin C is a skin-friendly and normally well-tolerated substance. However, Hyper-sensitive skin people may have some adverse effects.
Furthermore, the fact that Garnier vitamin c serum has various chemical ingredients could lead to an allergic reaction in certain people. Itching, redness, and skin irritation are all possible side effects of using the product.
While some people may feel a mild burning or tingling feeling after applying this Garnier serum, this should only last a few minutes.
If a person's skin continues to burn or shows signs of an allergic response, such as redness or rashes, they should wash their skin right away to remove the serum.
I did not experience any of the above-mentioned issues when using the Garnier Vitamin C Serum.
Shelf life: 36 months
Availability: Easy (You can easily purchase on Amazon, Flip kart, Nykaa, and its official Garnier website)
Overview
Overall, Garnier vitamin c serum is very light on the skin and the formulation is non-sticky and non-oily. Results are not getting in just 3 days as the brand claims.
But Garnier vitamin c booster serum gives bright spotless skin in one month with regular usage.
This serum helps to reduce dullness and dark spots and also improves skin texture thereby making it look bright and glowy.
If you are looking for a decent vitamin c serum on a budget, just go for it.
Frequently Asked Questions
Is Garnier vitamin c serum good for oily skin?
Its non-oily, lightweight formula is suitable for oily skin. Because it absorbs fast and easily into the skin and does not leave a greasy residue, it is suitable for persons with combination and oily skin.
Does Garnier vitamin c serum remove dark spots?
Vitamin C and lemon work together to create a concentrated brightening solution that minimizes dark stains and pimple marks. It evens out and brightens the complexion, leaving it with a long-lasting radiance.