Here I am with another review of Little Extra Coco Onion Natural Shampoo. The little extra is a brand that provides a variety of skin and hair care items.
Little extra is Made Safe Certified by Safe Cosmetics Australia. Furthermore, they are Fragrance-Free and don't use any colors in their Product.
Their products are manufactured from 100% vegan and natural ingredients that are designed to nourish, replenish, and rejuvenate your skin and hair.
Little Extra Coco Onion Natural Shampoo Review
Product Details
It is a plant-based, 100 % vegan shampoo for both men and women that are created from coconut milk, which is rich in nutrients and fatty acids for thick, full locks.
Coconut and onions give luster to the hair and promote hair growth. Other Shampoos have only onion. They are better than that.
With this Coco Onion Hair Shampoo, you can continue your journey to having healthy, gorgeous hair. It will provide your locks with the moisture and nutrients they need while shielding them from UV radiation and pollution.
Price
INR 499 for 30 ml (Buy Here)
Little Extra Coco Onion Natural Shampoo Ingredients
Purified Water, Citric Acid, Sodium Cocoyl Isethionate, Coco Betaine, Glycerine, Coconut Milk Powder, Guar Hydroxypropyltrimonium Chloride, Onion (Allium cepa) Oil, Heptyl Glucoside, Rosemary (Rosmarinus officinalis) Oil, Glyceryl Caprylate, Sodium Gluconate, Glyceryl Undecylenate, Neroli (Citrus aurantium) Oil, Green Tea (Camellia sinensis) Extract, Tocopheryl Acetate
Key ingredients: Onion Oil, Coconut Milk, Green Tea Extract, Rosemary Oil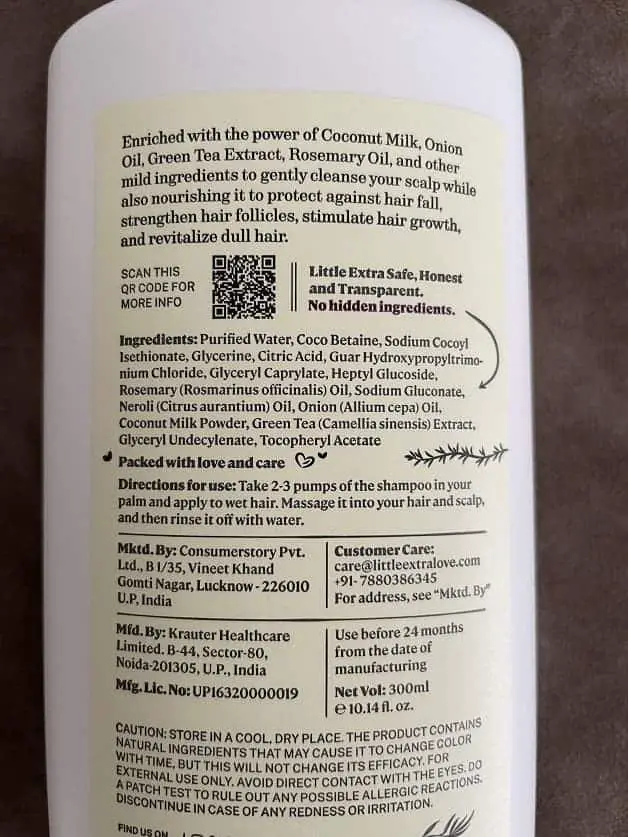 Made without: This sulfate and paraben-free shampoo is also free from other ingredients like phthalates, silicones, SLES, mineral oil, artificial color, synthetic fragrance, SLS, etc.
My experience with Little Extra Coco Onion Natural Shampoo
This winter, I've had a terrible problem with hair loss. When I started using this onion natural shampoo, I noticed the difference with every use.
My hair was frizzy and extremely dry. No hair oil on the market was able to stop hair loss or lessen frizzy hair.
The fact that this product actually helped me in feeling silky after washing my hair proves that it is far more effective than the majority of products on the market. Additionally, it promotes healthy hair and lessens dullness.
This shampoo is sulfate-free and won't remove your hair from its natural oils. Those with dry or damaged hair will also benefit from this because it keeps their hair nourished and healthy.
It is a mild organic shampoo that cleans hair gently. It successfully stops hair loss while providing hair with natural nourishment.
It takes a minimal quantity to complete the job. My hair always looks shiny thanks to this product's potent coconut and onion blend, which also strengthens hair follicles and stops hair fall at the root.
Little Extra Coco Onion Natural Shampoo is a soft and nourishing shampoo produced from only natural ingredients. This shampoo is made to rejuvenate and energize you while also strengthening and cleaning your hair.
It produces excellent lather and has a powerful cleansing effect. It completely cleans the scalp and gets rid of all pollutants at once.
On the other hand, it doesn't strip or dry out the scalp excessively. It gives my hair a new aroma while removing sweat and foul odor. Even without a conditioner, the shampoo leaves the hair with a fair amount of softness.
For anyone with sensitive scalps or those seeking a more natural shampoo substitute, this one is ideal. Overall, this shampoo is a fantastic choice for anyone searching for a safe and efficient hair care product.
Packaging
A little extra use of sustainable ingredients and recyclable packaging. It comes in a white bottle with a pump and packs in small carbon cardboard. To pour the shampoo, you only need to press the pump's head. Its packaging method is quite simple and user-friendly.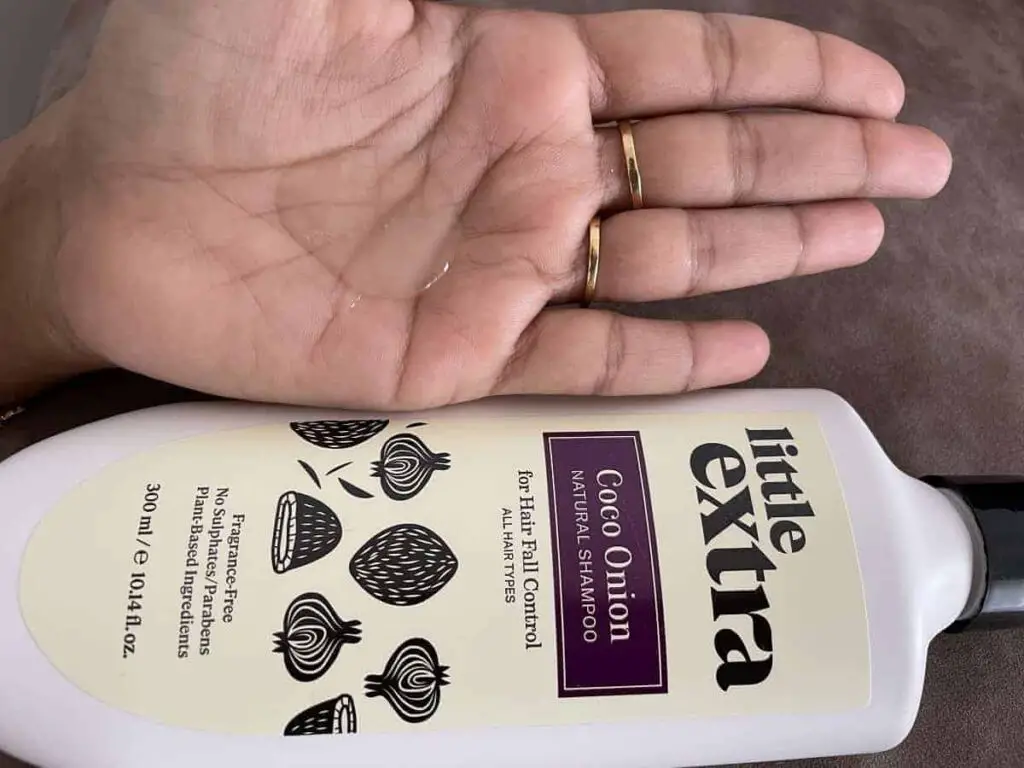 Consistency
It has the perfect texture and almost white color. Its consistency is neither runny nor thick. It makes good foam lather.
Fragrance
There is no synthetic fragrance in the shampoo. However, it has a lovely, natural smell.
How to use:
Apply a few drops of shampoo and a few drops of water to your palms and massage them together.
After washing your hair, massage the shampoo into your scalp for 2-3 minutes.
Rinse it off completely with water, then pat your hair dry with a towel.
Pros of Little Extra Coco Onion Natural Shampoo
100% Vegan
Fragrance-free
Gentle on the Scalp
Control Hair fall
Plant-Based Ingredients
Promotes Hair Growth
Cleans the scalp thoroughly
Peta Certified Cruelty-Free
FDA Approved and Dermatologist-Tested
No Silicones, Parabens, Sulphate, and Artificial Colors
Cons of Little Extra Coco Onion Natural Shampoo
Sale
Little Extra Coco Onion Natural Shampoo for Hair Fall...
CONTROLS HAIR FALL. The proven combination of coconut milk and onion oil...
CERTIFIED SHAMPOO. Little Extra Coco Onion Hair Shampoo is one of the few...
STIMULATES HAIR GROWTH AND ADDS SHINE. Our natural shampoo contains Onion...
Last update on 2023-10-24 / Affiliate links / Images from Amazon Product Advertising API
Overview
Overall, the coco onion shampoo from Little Extra is a natural, vegan product that effectively controls hair loss. It is gentle enough for the scalp, as well. It is made with natural ingredients and has no toxic substances. Additionally, this shampoo has been dermatologist-tested. It hydrates hair and encourages hair growth. Choose this natural and safe shampoo if you want a shampoo that reduces hair fall and makes hair frizz-free.
Frequently Asked Questions
Why should you buy a paraben and sulfate-free shampoo?
Shampoos with chemicals should be your last option because your health comes first. Sulfates like SLS and SLES can result in too much oil being removed from the scalp, which can lead to Dermatitis, edoema, dry, itchy skin, and redness. Parabens can irritate your skin, interfere with hormone activity normally, and harm your fertility.
How long should I use Coco Onion hair oil for hair loss?
You should use it twice a week for at least 3-4 months to help control hair fall and breakage. Don't forget to use this natural shampoo to wash your hair as it contains Rosemary essential oil and green tea to stimulate hair growth.
Can I skip conditioner if I'm using vegan shampoo?
A vegan shampoo like Little Extra Coco Onion will provide essential vitamins, minerals, and nutrients for hair growth. However, skipping conditioner will cause the breakdown of the hair's cuticle layer and make your hair unmanageable.
Why is there less lather in natural shampoo?
Natural shampoos don't lather up like conventional shampoos, as it does not contain foaming agents like Sulfates in them.