Many elements, such as nutrition, lifestyle, and climate, play a role in hair quality and how products react to our hair. A shampoo's job is to remove oil and grime from your scalp.
The basis of any good hair day is using the appropriate shampoo and conditioner for your hair type, but the style products you use out of the bath are the mortar that keeps your look together.
Your forehead seems broader if you're losing hair or growing bald. There are numerous methods for reducing the size of the forehead.
However, shampooing is the simplest technique to reduce hair fall, dryness, and frizz. Today I'm going to share my thoughts on Herbal Essences Argan Oil Shampoo. PETA has verified Herbal Essences as a cruelty-free brand.
Herbal Essences Argan Oil Shampoo Review
Herbal Essences Bio Renew Argan Oil of Morocco Shampoo is specially designed to deeply hydrate and nourish dry and damaged hair.
Argan oil penetrates quickly into the hair roots, restoring shine and smoothness while also strengthening it. It will make your hair look soft and supple because it is formulated for dry, damaged hair.
It's a paraben-free, mild shampoo that works wonders on dull hair. Herbal essences Moroccan argan oil shampoo for frizz contains SLS.
The brand also claims that its shampoo and conditioner range is pH-balanced and color-safe, making it suited for color-treated hair.
Herbal Essences Shampoo contains a gentle formula that cleans your scalp without stripping it of its natural oils, making it suited for both oily and normal hair.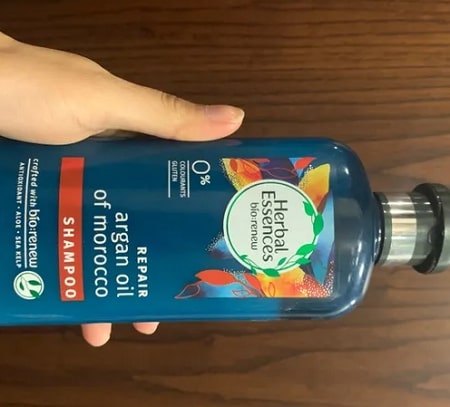 Product Details
It's prepared with a bio-rejuvenated blend of natural antioxidants, aloe, and sea kelp, as well as other actual botanicals recommended by Royal Botanicals Garden, and it's made up of 90% naturally derived ingredients.
Moroccan oil shampoo makes hair smoother and softer by repairing the damage. It hydrates and purifies dull damaged hair.
Dry, damaged hair is hydrated and restored with this soothing product, leaving it smooth and silky. It provides essential nutrients while also protecting the hair from free radical damage.
Price of Herbal Essences Argan Oil Shampoo
₹600.00 for 400 mL in India
$6.97 for 13.5 fl oz in the USA
Sale
Last update on 2023-11-09 / Affiliate links / Images from Amazon Product Advertising API
Herbal Essences Argan Oil Shampoo Ingredients
Water/Eau, Sodium Laureth Sulfate, Sodium Lauryl Sulfate, Glycol Distearate, Cocamidopropyl Betaine, Dimethicone, Argania Spinosa Kernel Oil, Fragrance/Parfum, Aloe Barbadensis Leaf Juice, Histidine, Ecklonia Radiata Extract, Cocamide Mea, Sodium Citrate, Citric Acid, Sodium Xylenesulfonate, Sodium Benzoate, Guar Hydroxypropyltrimonium Chloride, Sodium Chloride, Polyquaternium-6, Tetrasodium Edta, Methylchloroisothiazolinone, Methylisothiazolinone. 
Made without: It is free from paraben, gluten, colorants, mineral oil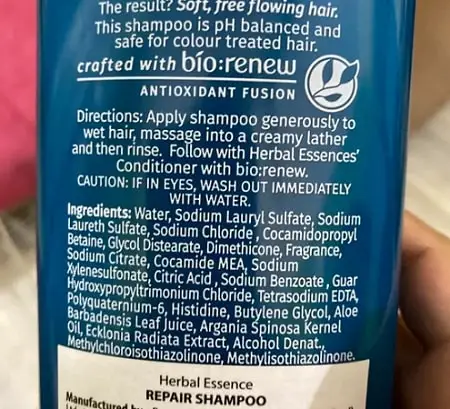 What the product claims:
Repair & smooth hair
The Royal Botanical Garden in Kew London has endorsed real botanicals.
PH-balanced and color-safe
Fizzy citrus, exotic spices, and creamy vanilla notes infuse your hair strands, leaving it silky and smooth.
My write-up on Herbal Essences bio renew Argan Oil of Morocco Shampoo Review
For the last month, I used Herbal Essences Argan Oil Shampoo and became addicted. I purchased this shampoo because my hair is really dry and frizzy, and believe me it made a difference after the first wash. It softened and smoothed my hair.
My hair became frizzy when I used shampoo at first. With continued use, it has helped with my greasy scalp. My scalp used to be greasy, and my hair was dry and scratchy. This herbal shampoo has helped to bring everything back into perfect balance.
Herbal argan oil shampoo is great for dull and damaged hair. My hair is silky, lustrous, and soft after using it. However, It doesn't much effective in the reduction of dandruff.
This product allows you to have silky, frizz-free hair at home without having to go to the salon. This shampoo has a pleasant scent that lasts for 2-3 days and leaves you feeling refreshed.
For dry and rough hair, hot oil therapy before shampooing is ideal. So, after oiling my hair, I use this herbal argan shampoo and herbal essences conditioner to wash and condition it.
The shampoo lathers well, and I only needed two or three pumps to clean my oily, dirty hair. It will smooth and soften the hair without making it limp. Also, I use a neem wood comb after washing hair for less hair loss and dandruff problems.
Although my hair is naturally straight and long, this makes it even softer and shinier, and I can't stop myself from running my fingers through it. It lasts all day, unlike other shampoos that fade as soon as you blow-dry and straighten your hair.
To clean your hair, you only need a small amount of the product, which lathers up well. It revitalizes your dry, lifeless strands.
After the wash, the hair remains glossy and manageable for three days. I live in a humid area, therefore after the third day without a hair wash or even a simple water wash, my hair becomes frizzy and dry, and my scalp becomes oily.
My hair feels rejuvenated – silky, smooth, and unexpectedly voluminous – as it repairs damaged hairs. The most significant downside is that it is only available in a single size and contains SLS.
This shampoo is said to be safe for color-treated hair. However, use a sulfate-free shampoo if your hair has been chemically treated. Because this herbal shampoo contains sulfates, this Herbal Essences combination is not recommended for you.
Overall, Moroccan argan oil from Herbal Essences is beneficial for frizzy hair because it keeps hair nourished and feels lovely and silky when used with conditioner. I think my hair will keep getting stronger with prolonged use.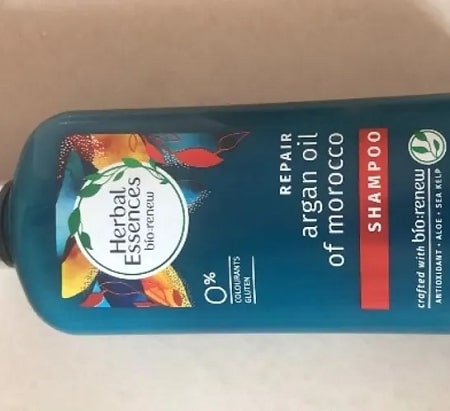 Packaging
The packaging is hygienic because it has a flip-open top. The shampoo comes in a bluish-green plastic bottle with a black cap. The bottle is stunning, with bright colors and designs. However, because the bottle is large, it is inconvenient to transport.
Texture
The shampoo has a light creamy consistency that lathers effectively and is white in color. With this stuff, a little goes a long way.
Fragrance
It has a divine, mellow, and pleasant scent. It smells like vanilla, citrus, and fruity type.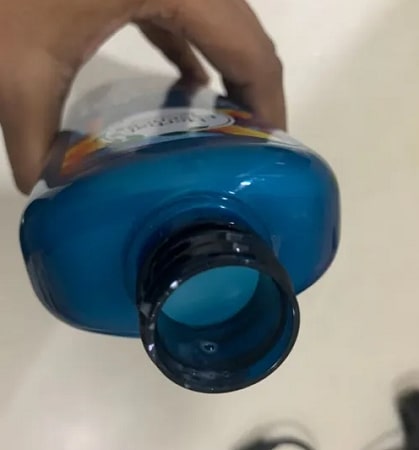 Pros of Herbal Essences Argan Oil Shampoo
Pleasant odors
Smoothes hair from root to tip
Texture is silky
Creamy lather
Formed with 90% naturally-derived ingredients
Cruelty-free and PH-balanced
Its consistency is semi-thick
Replenishes lackluster hair by quickly removing oil and grease
It's easy to remove
Cons of Herbal Essences Argan Oil Shampoo
Expensive
Sulfate is present in this product
There was no reduction in hair fall after using the shampoo.
In comparison to the price of this shampoo, the bottle material is really low. You must handle the plastic cap with care to avoid spilling the shampoo.
Sale
Last update on 2023-11-09 / Affiliate links / Images from Amazon Product Advertising API
Shelf life: 3 years
Availability: Easy
Overview
Herbal essences argan oil from morocco shampoo gently cleanses and restores damaged hair, leaving it silky and gorgeous. It has no gluten, parabens, or colorants and is made up of a combination of essential antioxidants. This shampoo is for hair that is dry, damaged, or frizzy, but not for hair loss or dandruff. It also effectively eliminates oil and impurities, leaving hair smooth and free-flowing. Overall, it's a good frizzy hair shampoo. Therefore, I strongly advise it to everyone who suffers from rough hair.
Frequently Asked Questions
Is Herbal Essence argan oil shampoo good for curly hair?
Wavy hair becomes smooth, lustrous, and bouncy to a large extent after using a combination of argan oil shampoo and conditioner.
Is Herbal Essences argan oil shampoo sulfate free?
It is not sulfate-free and contains Sodium Lauryl Sulfate and Sodium Laureth Sulfate. 
Is Herbal Essences Argan Oil Shampoo helpful to remove dandruff?
It's not very good at getting rid of dry flakes and dandruff. It's designed specifically for damaged hair. I will recommend herbal essences and anti-dandruff shampoo for dandruff problems.
Last update on 2023-10-23 / Affiliate links / Images from Amazon Product Advertising API