There are numerous hair care products to help prevent ingrown hairs and scalp damage that are on the market nowadays.
Hair-related concerns are quite common nowadays. Every other individual is having a few, be it turning gray, hair fall, dryness, or dandruff, so We can't fix it all completely.
But at least control it to some extent by inculcating good habits and routines, avoiding unhealthy food, and going naturally wherever possible.
Shampoo is an integral part of a woman's beauty regime. If you care about your hair, then investing in good products for it is essential.
Welcome to the Indulekha range of hair care products, of which I have tried a variety of options. But today I will share a review of Indulekha bringha hair fall shampoo.
Indulekha Bringha Shampoo Review 
The contents of this product are 100% natural consisting of 9 full bringhraj plant extracts with no artificial color or added fragrance. It is an excellent hair cleanser with therapeutic properties that cleanse hair and scalp properly.
The Indulekha bringha hair cleanser is formulated with natural ingredients that help to keep your hair and dry scalp nourished and treats dandruff too, It is suitable for oily scalp.
Indulekha Bringha Anti-Hairfall Shampoo is Paraben and Sulphate free therefore this product is suitable to use on colored hair. But, it is free from harsh agents but not fully ayurvedic shampoo. It is not just a regular shampoo but also not chemical-free shampoo.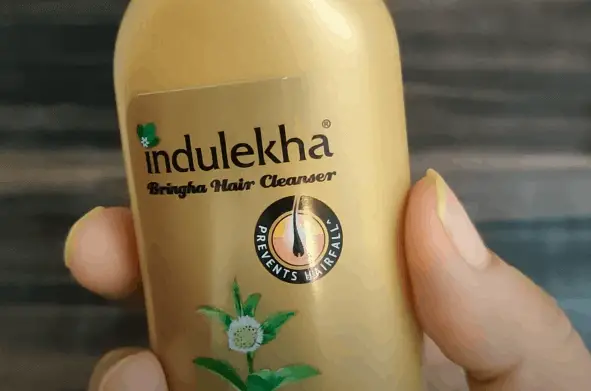 Product Details
Indulekha bhringraj shampoo is formed with 6 herbs and essential oil making it much more powerful. Aside from Bringharaj, it likewise holds herbs like Tulsi, Neem, Shikakai, and Amla.
This herbal product's active ingredients help in efficiently purifying the scalp caused by dirt and pollution.
Sale
Last update on 2023-11-09 / Affiliate links / Images from Amazon Product Advertising API
Indulekha bringha shampoo price
MRP 135 for 100 ml
MRP 234 for 200 ml
MRP 405 for 340 ml
Indulekha Shampoo Ingredients
 Each 10 ml shampoo contains an extract of
Bhringraj (Eclipta alba – Plant) – 1000 mg
Amla (Phyllanthus Emblica – Fruit) – 40 mg
Tulsi (Ocimum sanctum – Leaf) – 80 mg
Neem (Azadirachta indica – Leaf) – 400 mg
Madhyantika (Lawsonia inermis – Leaf) – 400 mg
Shikakai (Acacia concinna – POD) – 120 mg
Rosemary (Rosmarinus officinalis – Leaf Oil) – 200 mg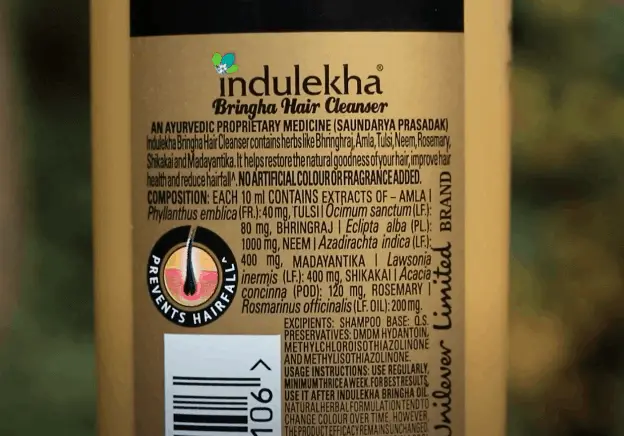 Made without: 
Does not contain Parabens, Synthetic Dyes, and Synthetic Perfume
What the product claims:
Indulekha hair Shampoo is a proprietary ayurvedic medicine for lessening Hair Fall. 
My write-up on Indulekha shampoo review
I buy this shampoo for one month and I'm using it but I've only used it twice a week. My experience within these four weeks with this product is quite nice because it's cleaning my scalp really well. I feel oily after washing but it will be alright after our hair dries out.
Indulekha bringha cleanser has ayurvedic medicine properties for hair fall that extracts from the Bhringraj plant help in restoring the natural goodness of hair while at the same time improving the health of the hair.
Bhringraj aids the skin with the revival and regeneration of new hair. I used this shampoo after applying Indulekha bringha hair oil which gives better hair and scalp conditions. After applying oil, you can apply a hair regrowth hair mask for better results.
Just a limited quantity is needed to clean hair appropriately. Using more shampoo will dry out the hair. So, it is not so good for very dry hair, but it is the best shampoo for oily hair.
It is not difficult to control the quantity of product that is coming out of the bottle leading to no excessive usage. 
Also, I have tried wow apple cider shampoo and wow onion shampoo for hair fall which is quite well. But Overall, Indulekha hair Shampoo is perhaps the best shampoo for hair fall in India. 
The Indulekha shampoo price in India is around 235 INR for 200 ml which is very budget-friendly. Also, you can purchase a small pack, indulekha shampoo sachet on a trial basis. Indulekha shampoo pouch price in India is 5 Rs for 7.5 ml.
The negative thing about it is not being able to remove stubborn dandruff. So, It is not good for dry flakes, scalp, and dandruff.
[Check – Mamaearth Aloe Vera gel Review]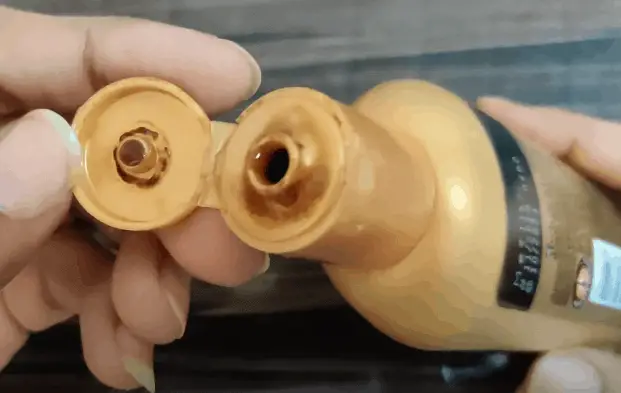 Packaging
The hair cleanser comes in a simple hardy plastic bottle but is packed without any box. It has a flip opening cap, a tape to seal its cover, and prevent unintentional spillage. The bottle is opaque and golden-brown in color just like indulekha bringha oil. Thus, it is hard to perceive how much quantity is still left in the bottle. The shampoo comes in many variants but the 100 ml bottle is quite compact and travel-friendly.
On the front side packaging written that it is an ayurvedic proprietary medicine for hair fall.  Whereas the back side of the bottle mentioned all details about the cleanser which include rate, composition, manufacturing date, and expiry date.
Consistency
It has a smooth and thick gel-like texture however it is very easy to spread. Due to its dense consistency, the shampoo comes out as much as we need it.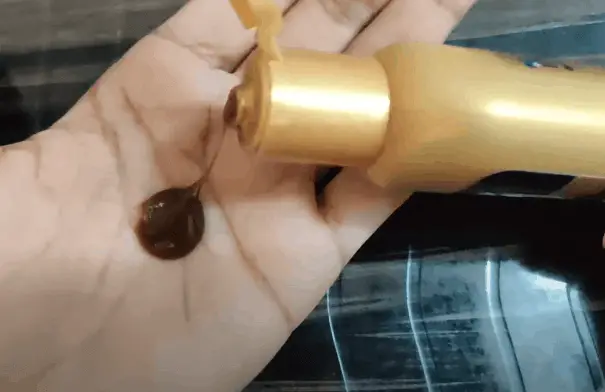 Color
The shampoo is dark brown in color and The good thing is that there is no colorant has been used here.
Fragrance
The aroma resembles Dabur red toothpaste which is anticipated of ingredients in there i.e. ayurvedic scent of herbs. The smell is very strong, predominantly of bhringraj, somehow it smells like indulekha hair oil. The smell of this shampoo doesn't remain in our hair for a long time. There is hardly any scent left behind, once you rinse off the hair. So, the aroma is not a major disturbance for me.
[Check – 9 effective ways to make your forehead smaller]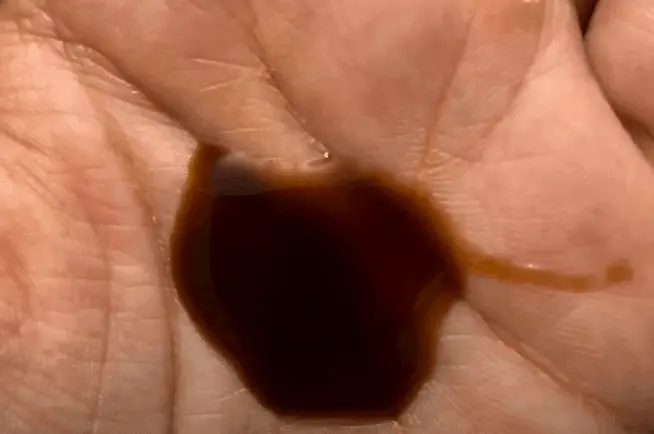 Indulekha shampoo benefits and Active ingredients analysis
Bhringharaj – The ayurvedic herb, Bringharaj, contains antioxidants and minerals known to increase hair growth and prevent hair loss. This herb is referred to in Ayurveda as keshraj, "king of hair." It feeds hair follicles. 
Amla – Amla plentiful in Vitamin C builds blood flow in the scalp, supports the strength of hair follicles, and maintains the luster of hair. It rebuilds hair tissues for shiny, stronger, and healthy hair.
Tulsi – Tulsi is the one-stop solution to treat all scalp infections. It is an effective ingredient that strengthens the roots and reduces scalp itchiness and dandruff. 
Neem – Neem, known for its medicinal properties makes the hair follicles stronger and its regenerative properties stimulate hair growth. It is an effective herb for hair fall treatment.
Madhyantika – It helps to prevent hair breakage and gives shine to the hair. This amazing ingredient improves overall hair health.
Shikakai – Rich in micronutrients & vitamins, is a cooling agent and thus helps calm your scalp. It is known for its cleansing & antifungal properties that provide shine to hair.
Rosemary – Known for its anti-inflammatory properties, relieves irritated, dry, flaky scalps, and promotes thicker hair.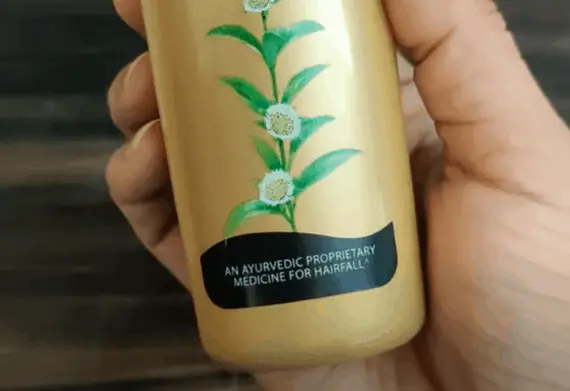 Pros of Indulekha Bringha Shampoo
Nice herbal shampoo for hair
Advantages of Bhringraj and 6 other astonishing herbs
Produces good lather for small quantities
No artificial color or fragrance
Budget-friendly
Travel-friendly packaging
Cons of Indulekha Bringha Shampoo
The fragrance might have been better. Its strong aroma may not suit everybody. 
It makes your hair dry yet somewhat just like other herbal shampoos. You may use a natural hair conditioner or oil to beat this issue.
Doesn't stop or control hair fall a lot. 
Insufficient ingredient list. Furthermore, toxic additives are utilized. 
Although the brand claims it is an ayurvedic remedy yet this cleanser doesn't convey any such outcomes.
How to use Indulekha shampoo
Before shampooing, apply indulekha bringha oil or any other chemical-free oil like coconut oil, or almond oil that conditions hair and gives nourishment to the strands.
Then apply a quarter-size amount of an indulekha cleanser on wet hair. Massage gently on the scalp and roots. Then rinse it thoroughly.
Indulekha hair cleaner is not a thoroughly natural or mild shampoo, so avoid using it daily. You can use it twice or thrice a week. The daily wash makes your hair drier and dull.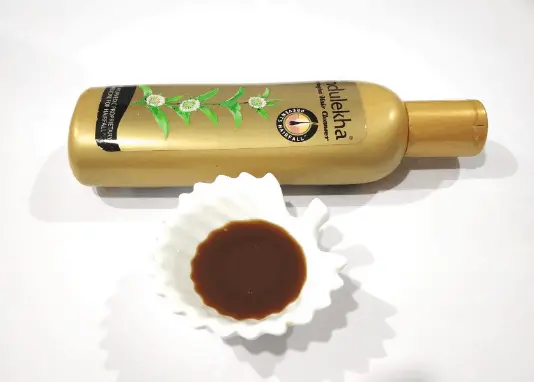 Indulekha Bringha Shampoo Results
Obviously, no product works wonders in the first instance. Likewise, I didn't notice much difference in the first wash. Although it left my hair feeling softer and smoother.
After the subsequent wash, I would say again that lumps of hair didn't come out a lot while washing however yes separated from that no change. 
After using two to three weeks, there are a few hair strands while washing hair and also while combing after wash.
Also, I apply the Indulekha oil for some hours and then wash my hair with this mild cleanser. Likewise, you can put oiling hair overnight and wash hair the following morning. 
Always remember, any product doesn't work from day one. You must be patient and you will get appropriate results. Use oil along with the cleanser for better results.
Indulekha shampoo side effects
As an Indulekha cleanser made with organic ingredients, there are no major side effects. However, they have their own cons like different shampoos. The shampoo makes my hair frizzy, dull, and dry consequently I need to use conditioner for hair nourishment. Otherwise, it sometimes causes bald problems because of dryness and breakage. Even so, this shampoo cannot stop or control hair fall much. Hair regrowth is just impossible with this shampoo.
Also, its strong smell may not tolerate by a few people, especially sensitive people. Also, it contains harmful preservatives that may suit everyone. The brand has mentioned three commonly used preservatives. They are Methylisothiazolinone, Methylchloroisothiazolinone, and DMDM Hydantoin. These compounds are all dangerous. These are bad for the ecosystem as well as the human body.
Shelf life: 2 years
Availability: Easy
Where to buy: You can purchase it online on Amazon, Flipkart, Nykaa, etc.
Overview
Indulekha bringha hair shampoo is a good hair shampoo for all hair types. Its herbal ingredients make the scalp healthy, strong, and nourished. It does not contain any synthetic color or fragrance. It helps reasonably to decrease hair fall and dandruff.  This shampoo cannot cure hair fall completely, but control it to some extent. Hence, on the off chance that you are looking for a cleanser to fix all your hair issues, you are in some unacceptable place. But, you can overcome bad hair damage.
Frequently Asked Questions
Is indulekha shampoo good for hair growth?
This shampoo is not much effective to stop or control hair loss. Although, the brand claims that it is an ayurvedic medicine for hair fall. Overall, this cleanser neither causes hair fall nor boosts hair regrowth.
How to use indulekha oil and shampoo?
Before shampooing, apply oil for 2-3 hours or more. Also, you can keep it overnight. Then wash your hair.
Is Indulekha shampoo good for hair?
It is for mild hair issues not for severe hair problems. But, it gives a nice shine to the hair and also provides a smooth texture to the hair. The hair fall is diminished somewhat.
Is Indulekha shampoo sulphate free?
This shampoo is made with a mixture of 9 full Bhringraj plant extracts. This ayurvedic remedy contains natural herbs such as henna, neem, amla, tulsi, and shikakai. It doesn't contain sulfate or parabens. So, it is much more than regular shampoos. 
Is Indulekha shampoo chemical free?
The shampoo base of this cleanse is liberated from harmful chemicals such as sulfate, paraben, color, and fragrances. However, it may have harmful preservative elements that they not mentioned in the ingredients list. So, it is not a completely chemical-free shampoo.
Is Indulekha shampoo good for dry hair?
Its herbal herbs help to improve hair health and make dry hair soft, smooth, and silky. But remember one thing that doesn't use daily. The everyday wash makes hair drier.
Last update on 2023-11-09 / Affiliate links / Images from Amazon Product Advertising API