Neutrogena is a great brand in the sun care and skincare industry. Its product is amazing and It works with great SPF protection.
Many ladies begin their hunt for good sunscreen that they can use under their makeup in the summer. People who spend too much time in the sun raise their problems of skin cancer and untimely skin aging.
Neutrogena Hydro Boost water gel sunscreen, Sun Bum Moisturizing Sunscreen Lotion, and Blue Lizard Australian Sunscreen are three of my favorite sunscreens for hot weather.
Neutrogena Ultra Sheer Dry-Touch Sunscreen Review 
Neutrogena's ultra sheer sunscreen provides effective sun protection without leaving a greasy behind. This sunscreen lotion absorbs extra sunscreen oils for a shine-free finish thanks to dry-touch technology.
This broad-spectrum sunscreen lotion comprises sunblock ingredients titanium dioxide and zinc oxide and is made with superior sunscreen technology. It gives good sun protection with an ultra-light feel. Even spending time on a sunny day protects well.
Product Details
Dermatologically verified, Neutrogena ultra sheer dry touch sunscreen SPF 55 features helioplex technology. It has UVA and UVB protection of broad-spectrum, as well as Dry-Touch technology for a featherweight feel. It has a non-greasy finish and provides superior skin protection.
Price: $11.99, 3 fl oz (88 ml)
Skin Type: Combination Skin, Normal Skin, and oily skin
Gender: Unisex (Men, Women)
Container Type: Tube
Last update on 2023-09-15 / Affiliate links / Images from Amazon Product Advertising API
Neutrogena ultra sheer dry-touch sunscreen ingredients
Active ingredients: Avobenzone (3%), Octisalate (5%), Homosalate (10%), Octocrylene (10%)
Inactive ingredients: Water, Silica, Styrene/Acrylates Copolymer, Benzyl Alcohol, Beeswax, Potassium Cetyl Phosphate, Caprylyl Methicone, PEG-100 Stearate, Caprylyl Glycol, Ethylhexylglycerin, Cetyl Dimethicone, Glyceryl Stearate, Fragrance, Aluminum Starch Octenylsuccinate, Acrylates/Dimethicone Copolymer, Sodium Polyacrylate, Chlorphenesin, Behenyl Alcohol, Xanthan Gum, Dimethicone, Dimethicone/PEG-10/15 Crosspolymer, BHT, Trideceth-6, Hydrolyzed Jojoba Esters, Ethylhexyl Stearate, Disodium EDTA, Tocopheryl Acetate, Jojoba Esters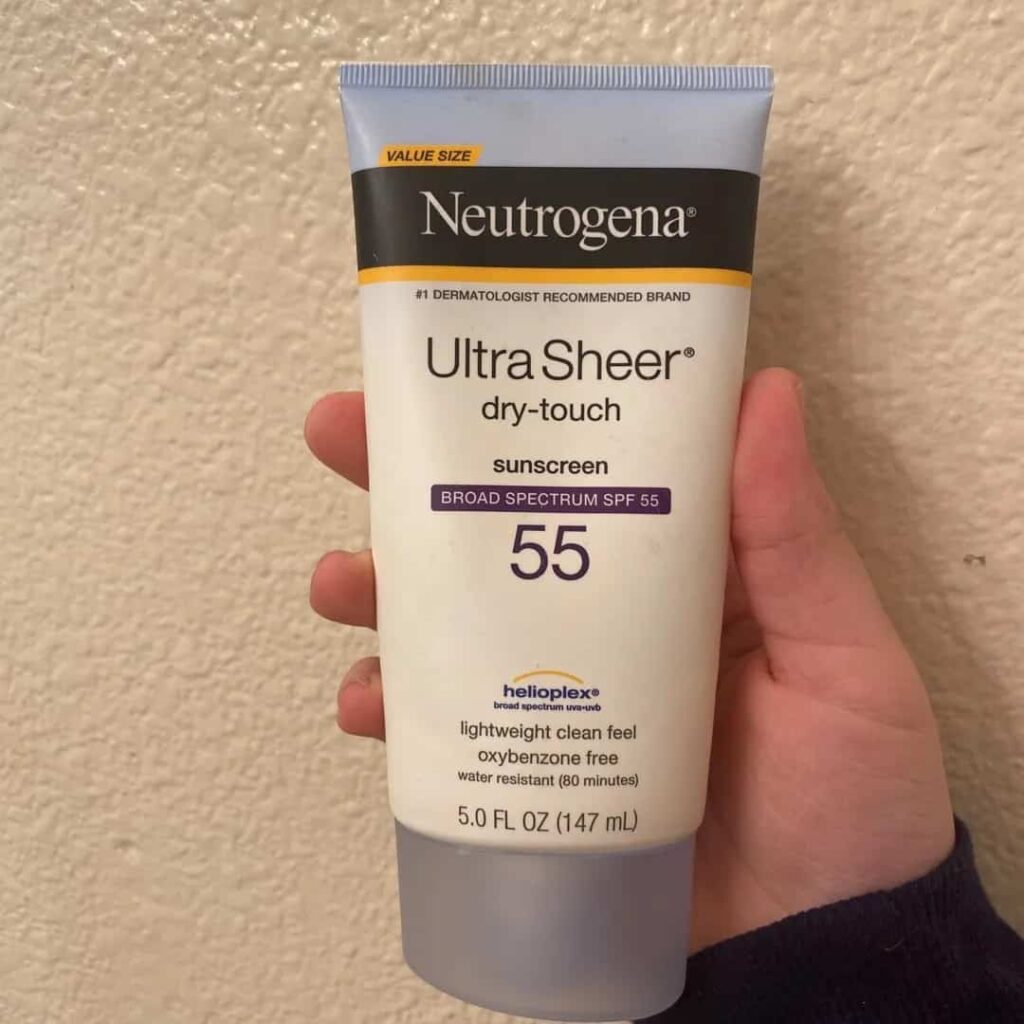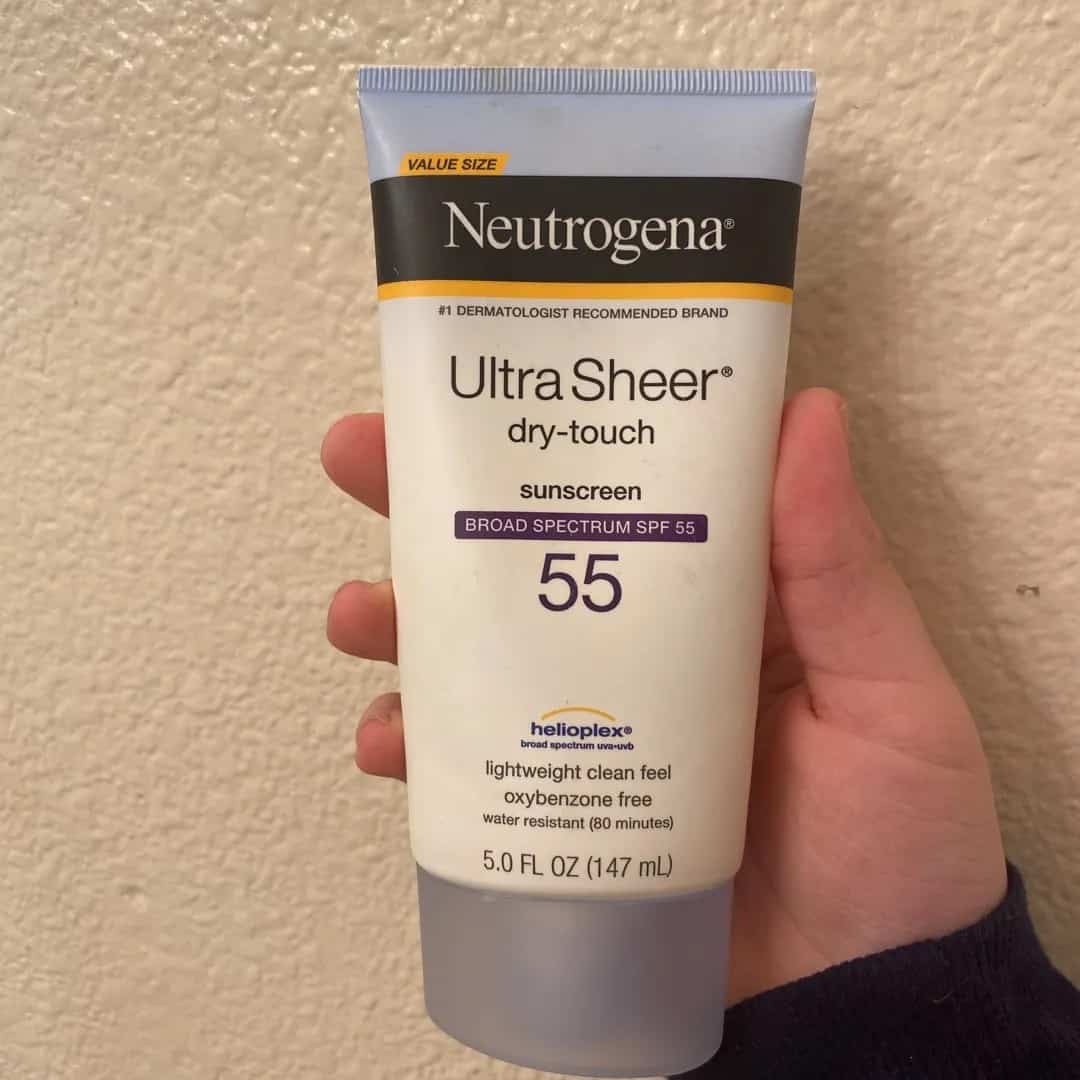 SPF's of Neutrogena Ultra Sheer Dry-Touch Sunscreen
It has various SPF range which provides powerful sun protection and It provides SPF 30, SPF 45, SPF 55, SPF 70, SPF 85+, and SPF 100+.
Features
Helioplex
Waterproof
Sweatproof
PABA-free (Para-aminobenzoic acid)
Non-comedogenic (won't clog pores)
My write-up on Neutrogena Ultra Sheer Dry-Touch Sunscreen lotion
This Neutrogena sunblock is doing super on my skin. I started utilizing this item a couple of months prior and have since turned totally to it. It works wonders on your skin. 
I have oily and acne-prone skin. To be honest, I've used so many sunscreens in my life that I can't remember when I started. I never consider repurchasing any of them. They broke me out, gave a white layer on my face, or were too oily.
As an oily skin individual, I have been checking out a natural sunscreen that will not leave me looking shiny and oily an hour after using it.
My search stops here because I am going to use Neutrogena Ultra Sheer Dry-Touch Sunblock sunscreen. I use this sunscreen, then dust the loose powder over my face, and I don't have any problems keeping matte for the majority of the day. After using it for months now, my skin never feels dry.
You may sweat a little if you have oily skin or mixed skin, but not severely. But It's very good for people with dry skin.
This sunscreen is also ideal for sensitive skin due to its hypoallergenic nature. Also, it is the best sunscreen for men as it gives enough sun protection for them.
According to the active components, the Neutrogena dry-touch sheer zinc sunscreen is a chemical sunscreen, which means you should apply it before your moisturizer and wait about a quarter-hour before going outside.
The best feature of this broad-spectrum SPF 55 sunscreen is that it is neither greasy nor dry. It just gets absorbed by your skin in a few minutes. Wait 20 minutes after applying this sunscreen for it to permeate into your skin before heading outside.
Neutrogena products are extremely beneficial to one's skin. I'm almost done with this product. It is a matte finish, so it is suitable for summer and the best sunscreen for oily and combination skin and can be used for dry skin in summer.
Its Helioplex formula will provide extra protection against harmful UVA and UVB rays. Feel light in the skin. A great everyday sunscreen is one must-have. But this one is not water-resistant. It contains parabens. Other than this is a good quality product for daily use.
I had no tanning when I tried this product. I put it on my hands and stepped outside into the hot sun. I washed my hands after I got back and didn't see any noticeable tan on my skin. I utilized it frequently for outdoor purposes, and it never let me down.
[Know about Best Moisturizer for dry & sensitive skin]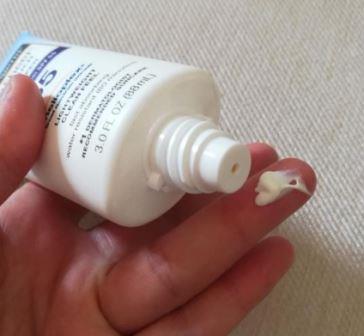 Packaging
The packing comes in a blue and white squeeze plastic tube with a screw cap. It is lightweight and easy to use. Also, you can easily carry it in your purse while traveling.
Fragrance
The product has a light fragrance, perfect for people who prefer products that do not have a strong fragrance. It's a mild fragrance that gives a fresh mood.
Texture
Sunscreen with a semi-thick, creamy consistency.
Neutrogena ultra sheer dry-touch SPF 55 for face:
It's a semi-thick cream that covers the entire face with just a small bit. It doesn't have a watery texture. Because it is non-comedogenic, it did not clog my pores or produce any breakouts or pimples, and it did not make my skin feel sticky. As a result, Neutrogena ultra sheer sunscreen is suitable for use on the face.
[Buying guide of Mad Hippie Vitamin C Serum]
Pros of Neutrogena ultra sheer dry-touch sunscreen
Nourishes skin while also protecting it from the sun
The Dry-touch function gives it a matte finish
Equipped with elite Helioplex innovation
Feels Clean and Light: Goes on effectively and ingests
Leaves A Matte Finish: The oil-free ingredients provide your skin with a non-greasy, matte finish that keeps it from looking oily.
Leaves skin soft and silky with an ultra-light, non-sparkling finish.
Cons of Neutrogena ultra sheer dry-touch sunscreen
The only con is that Neutrogena Ultra Sheer Dry-Touch Sunscreen contains parabens and certain ingredients that are not good for the environment. Also, the downfall is that it is very pricey.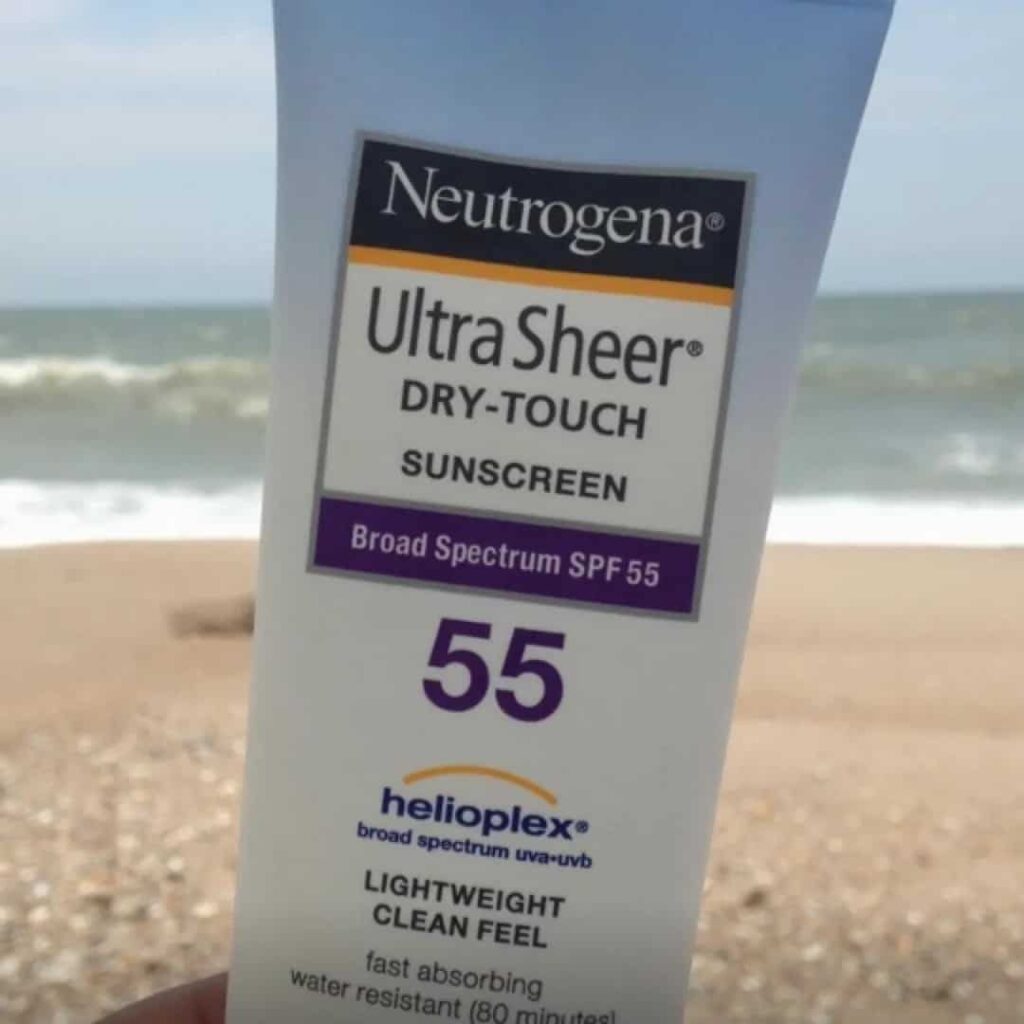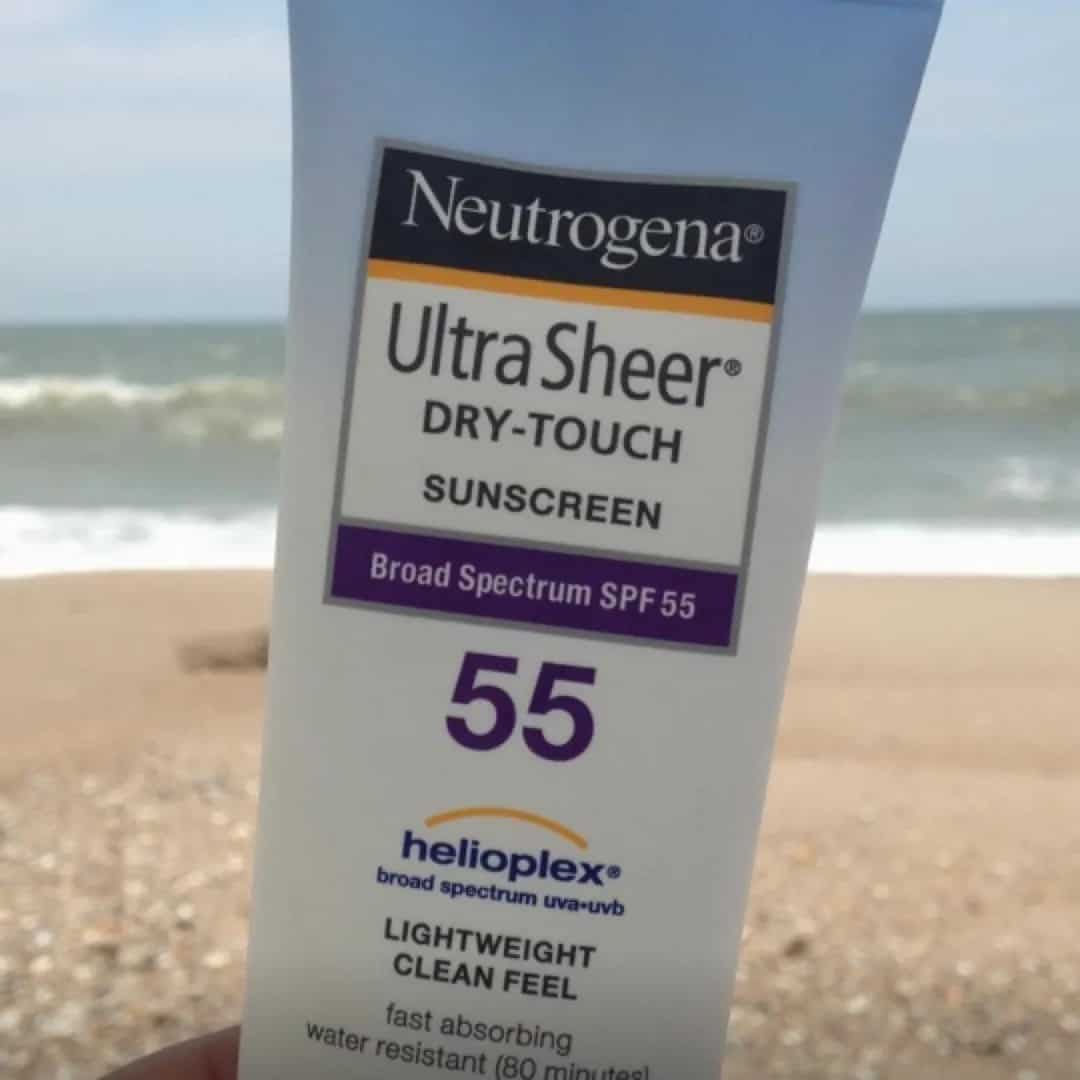 Shelf Life: 24 months
Availability: It is easily available at local beauty or cosmetic stores, medical stores, and online at leading e-commerce websites like Walmart, Nykaa, Flipkart, Amazon, etc.  
Overview
Overall, it's a very good product, in fact, the best sunscreen. The cream has a light texture and has a pleasant scent. This lightweight sunscreen prevents sunburn without causes skin breakouts. So, it suits well for people with oily skin and acne problems. It is stabilized with Helioplex Technology, which provides superior sun protection. Its ultra-light formula absorbs quickly and gives a non-shiny finish.
If your other sunscreen's texture makes you sweat and sticky, this sunscreen is what you are looking for. This sunscreen dries up on your skin like gel and does not leave a white cast on the face, and neither it makes your face sweaty. It works well for all skin types. 
Frequently asked questions 
Does Neutrogena Ultra Sheer Sunscreen cause acne?
It has a creamy texture and spreads easily on the skin but makes my skin greasy and perspiring immediately, but after a few minutes, it begins to absorb in the skin. It doesn't clog the pores, and it delivers superior sun protection. Also, I never face acne problems with this product.
Can I use Neutrogena Ultra Sheer Dry-Touch sunscreen on my face?
This sunscreen is very lightweight. After I apply it, my face looks very clean, with no white residue, and my skin does not get oily. Also absorbs very fast.
Is Neutrogena ultra sheer dry touch sunscreen wearable under makeup?
This sunscreen is something I use before putting on makeup, and it doesn't make my foundation greasy in the least. I had not been a lover of sunscreens until I tried this one. Also, I find this product's formulation pretty effective. Plus, it's so easy to apply.
Is Neutrogena Ultra Sheer Dry-Touch sunscreen good?
The light, hydrating formula makes you feel as if you're not wearing anything at all, and it leaves your skin looking radiant and nourished.
Is Neutrogena Ultra Sheer Sunscreen good for oily skin?
It has a soft, creamy texture that settles well on the skin. This sunscreen for the face penetrates quickly and provides enough protection. It's a non-comedogenic sunscreen that won't make you break out. As a result, it is appropriate for oily and acne-prone skin.
Is Neutrogena Ultra Sheer Dry-Touch Sunscreen a chemical sunscreen?
It contains avobenzone, homosalate, octisalate, and Octocrylene. These active ingredients are chemical elements. So, ultra-sheer dry-touch sunscreen is chemical-based sunscreen.
Is SPF 55 good for the face?
Because SPF 55 is Oxybenzone-free and provides UVA/UVB broad-spectrum sun protection, Neutrogena ultra sheer dry touch sunscreen SPF 55 is ideal for the face. In addition, being invisible, it absorbs swiftly.
Last update on 2023-09-13 / Affiliate links / Images from Amazon Product Advertising API