In the present time, when the market is full of promising products, it is elusive and demanding to search for the right face wash.
When you consider buying the best face wash, the first thing that hits your mind is the type of skin you have, followed by the purpose of buying the face wash.
Many will conclude that a face wash is used to clean the face, which is true but incomplete.
A face wash is used to clean the face, but it can do more than that only if you go for the right product.
For instance, you can learn about salicylic acid face wash and why you should choose it here. But before that, let us find the factors contributing to making the right purchase.
Choosing the Best Face Wash for Your Skin
Choosing the right face wash for your skin can be hectic only if you don't know what you need to consider. Here are a few points that will assist you to make the correct decision.
So, the only factor that should be considered before buying a face is your skin type.
To state the fact, there are mostly 3 types of skin, dry, oily, and normal. In addition to that, you can also have combination and acne-prone skin.
There is various skin type, each having a specific set of characteristics.
Dry Skin
If you have dry skin, there is no doubt you should only opt for a moisturizing face wash. This skin type is prone to inflammation, redness, flakiness, and patchiness.
You will need to be careful when dealing with dry skin type. The face wash recommended for dry skin should have natural ingredients, mostly skin moisturizing ones such as fruit extracts, butter extracts, and more.
Oily Skin
Oily type of skin is common but irritating. All you experience are those shiny and we T-zone, oiliness and dirty.
No matter what you use, oily skin loses its freshness in a few seconds. However, the salicylic acid face wash has recently taken over other products recommended for oily skin.
It is loaded with the right chemical that helps to pull out extra oil along with specks of dirt and grimes that blocks the pores.
The salicylic acid face wash is highly recommended for oily skin since it can deep clean the pores and interferes with oil production in the face. It thus delivers a long time of clean and fresh feeling.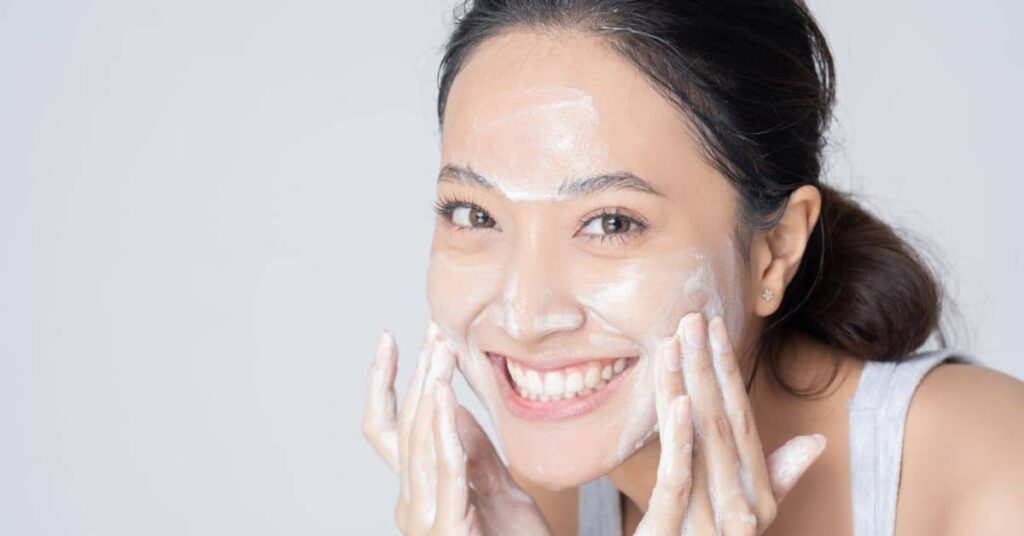 Normal Skin
People are surely blessed if they have normal skin types. The rarest among all, this type of skin is free from most skin issues such as acne, blemishes, oiliness, dirt, and more.
To maintain the skin, you can use any type of face wash, but salicylic acid face wash can be recommended to maintain the skin's texture. Also, you can use a moisturizer to maintain the skin's normal texture.
Acne-prone Skin
Oily skin type is acne-prone skin but is not mandatory. Acne can develop in all skin types if your pores are too tiny and tight.
It is the product of sebum and external dirt reacting to cause pimples and acne. Salicylic acid face wash can be highly recommended for oily and acne-prone skin. The salicylic acid face wash is manufactured for acne-prone skin only.
In addition, you will need to be very careful with this particular skin type since it is home to various skin issues such as irritation, inflammation, blemishes, itchiness, etc.
Also Read: 11 Best Organic Face Wash Available In India 2022
Combination Skin Type
Combination skin type is indicated by oily T-zone and comparatively dry cheeks. People with combination skin types find it difficult to choose the right product, and salicylic acid face wash is not the only option.
Although it can help to some extent, it can be used once in a while, followed by a good moisturizer.
In addition to the type of skin, you can also check your budget for buying the right face wash. Also, using the face wash in the right manner is essential.
Many people think washing their face, again and again, will help them maintain clean skin, which is not true. It is sufficient to wash your face once or twice a day to remove the grime.
Uses of Face Wash
Now that you know how to decide on the right face wash, you can now check the various uses of face wash than cleaning.
With no question, face wash is recommended for cleansing the face. It is also used to fight against various issues our skin may face due to dirt, pollution, food habit, and more.
Face wash helps deep clean the skin to pull out dirt, grime, and oil.
A face wash can help in the removal of pimples, acne, blemishes, scars, and other skin imperfections.
It is the perfect product for maintaining your skin's texture.
If you have itchy and dry skin, the right face wash will help eliminate that.
A good face wash can address all those issues if you feel inflamed skin, irritation, or patchy skin.
Regular face wash can help you get rid of dead skin cells.
Regular face wash use will help you get a natural glow and superb texture.
To conclude, it can be said that the right type of face wash depends on your skin type. If you have oily and acne-prone skin, then nothing better than salicylic acid face wash could be recommended.