Today, I am sharing the review of Mamaearth Onion Hair Oil.
Stress, exposure to pollution, harsh weather, & an unhealthy lifestyle may tend to have various hair problems– hair fall being the most basic one.
Onion is a great source to solve all hair troubles, including it in your daily hair care routine. As it accelerates hair growth and helps to reduce hair fall, making hair thicker and shiny.
Onion has a solid smell so we will in general try not to use onion juice or homemade onion oil despite knowing its advantageous properties for hair growth. Mamaearth onion hair kit offers oil with the goodness of onion.
Mamaearth onion hair products provide oil, shampoo, conditioner, and mask. I already tried mamaearth onion hair mask. Therefore, here is my review of mamaearth onion oil.
Mamaearth Onion Hair Oil Review 
This onion oil is effective to reduce hair fall as onions rich in potassium, sulfur, and antioxidants promote hair growth and increase blood circulation leading to new hair follicle growth.
Onions contain sulfur that gives full strength and holds prevents hair loss. So, This onion oil adds up the strength of hair roots and provides perfect shine to my hair.
Mamaearth hair oil becomes the new buzz for my all hair issues. I have been utilizing this oil for the last 6-7 weeks before my natural shampoo and I believe it's the one-stop solution for hair regrowth.
Mamaearth products are made with natural ingredients with no harsh chemicals. Mamaearth onion hair oil has a nice smell and it does not have an onion smell. It makes the hair follicle strong and thus controls hair fall. Also, it increases the growth of baby hair.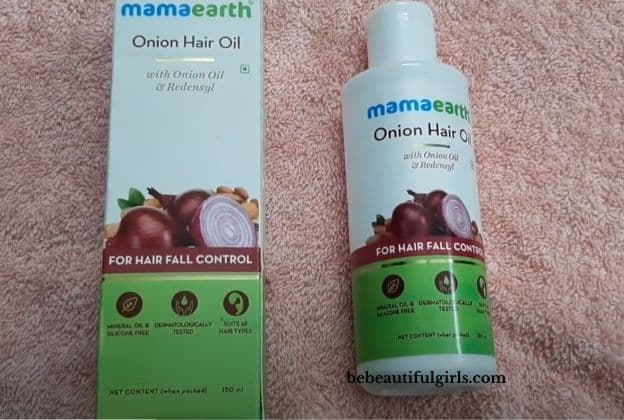 Product Details
Mamaearth Onion Hair Oil Regrowth and Hair Fall Control are made with natural key ingredients onion seed oil, amla oil, bhringraj oil, redensyl, almond oil, and castor oil. They all together work to increase the health of hair and scalp.
Price: Rs. 399, 150 ml
Sale
Mamaearth Onion Hair Oil for Men & Women with Onion &...
Reduces hair fall: This toxin-free hair fall control oil features Onion Oil...
Adds strength & shine: Full of nature's goodness, a blend of nourishing...
Balances scalp: Bhringraj Oil is known to balance & nourish the scalp. Rich...
Last update on 2023-09-14 / Affiliate links / Images from Amazon Product Advertising API
Mamaearth onion hair oil ingredients
Bhringraj Oil, Sunflower Oil, Almond Oil, Amla Oil, Jojoba Oil, Hibiscus Oil, Onion Extract, Onion Seed Oil, Olive Oil, Sesame Oil, Vitamin E, Castor Oil, Brahmi Oil, Fragrance, Redensyl
Made without: Free of harmful chemicals and toxins such as Parabens, Silicones, Dyes, Mineral Oil, & Synthetic fragrances.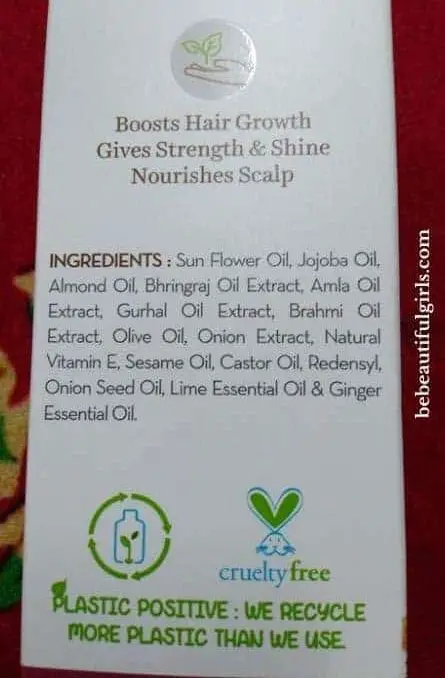 What the product claims:
Onion oil, in combination with Redensyl, lessens hair fall and boosts the growth of fallen hair.
My experience with Mamaearth onion oil for hair growth
Since I had purchased the onion hair mask from mamaearth onion hair range, So I bought this hair oil to incorporate the goodness of onion into my hair care regime. I bought this product from mamaearth website two months when I was facing a serious hair fall.
I noticed my hair becomes quite smooth and shiny after the first application. The smell was strong but not bothering. 
After using it regularly for a while, I feel it is not making my hair soft but it decreases my hair loss to a huge extent. Also, the texture of my hair has been drastically improved. So, the main disadvantage of this oil is it only helps to reduce hair loss, it works a little bit on other hair problems.
I have been facing dandruff problems, but now I hardly have any dandruff. Its natural ingredients help to reduce dandruff flakes from the scalp gently.
Excessive use of Hairstyling tools makes my hair very frizzy. Also, I see a noticeable difference in my dull and damaged hair. I believe mamaearth brand offers the best onion hair oil for hair growth.
Mamaearth hair fall oil is very lightweight, so you can apply it during the daytime. It doesn't feel sticky or greasy. After washing hair, you can notice visible changes in hair texture. And regular use is required for monitoring the hair fall problem.
My hair becomes quite thicker and healthier after its regular use because this onion hair oil is completely natural. The benefit is that unlike crude onion the strong-smelling does not endure.
It has given my hair more strength and gloss. Along with Mamaearth onion shampoo, I'm using this oil. To anyone who is suffering from significant hair loss issues, I would strongly recommend this.
There is a lot of baby hair popping up on my scalp. The hair does not feel oily after applying it as compared to other hair oils like wow onion hair oil.
Mamaearth onion hair oil price in India is MRP 399 quite pricey for a 150 ml quantity. But sometimes you may get it lowest price online.
I used to prepare onion juice or oil at home for applying on my scalp. But the disadvantage of this homemade onion oil was very difficult to use because it was very time-consuming and smelled bad.  Also, homemade oil leaves onion smells even after shampoo and conditioner. But this onion hair oil from mamaearth is easy to use, and a time saver. Also, it is easily washable and doesn't leave any bad smell.
Sale
Mamaearth Onion Hair Oil for Men & Women with Onion &...
Reduces hair fall: This toxin-free hair fall control oil features Onion Oil...
Adds strength & shine: Full of nature's goodness, a blend of nourishing...
Balances scalp: Bhringraj Oil is known to balance & nourish the scalp. Rich...
Last update on 2023-09-14 / Affiliate links / Images from Amazon Product Advertising API
[Read about Indulekha hair oil Review]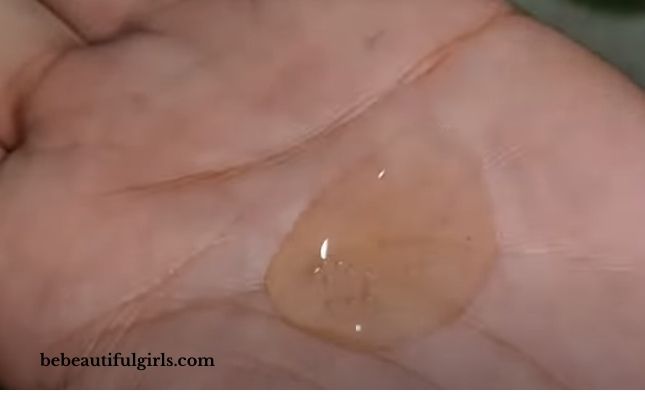 Packaging
It comes with a white flip-cap bottle which makes it easy to use. Flip-cap makes it travel-friendly and convenient to apply. The bottle is packed with cardboard packaging which has mentioned all details. 
Smell
It doesn't have a bad smell like onions. It contains a little strong smell. Thus, the smell does not bother the delicate nose.
Texture
It has a non-sticky texture, not thick consistency.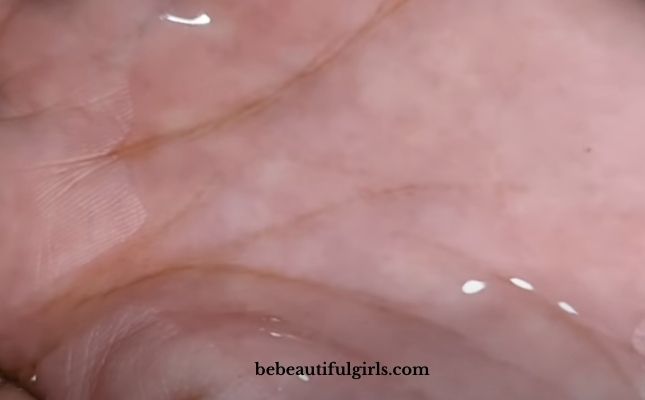 How to use:
Take a few drops of oil on your palms and apply directly on the scalp and massage gently with your fingertips. Leave it overnight or a few hours before shampoo.
Wash your hair with a sulfate-free shampoo. It is generally recommended to apply the oil twice a week for optimum results.
You could go ahead with any shampoo of your choice. However, Mamaearth Onion Hair Fall Control Shampoo works well if you have hair concerns like hair fall and if you are looking for all-natural ingredient-based hair care products that do the least damage.
Mamaearth onion hair oil side effects
It is the best onion oil for hair made with natural and herbal magical ingredients. So, this oil is safe for men & women of all ages and hair concerns like dry, damaged hair. Its natural resources do not give any side effects.
However, if you have a sensitive scalp or skin, it is best to conduct a patch test and check with your dermatologist before introducing a new product to your regimen.
[Read about Mamaearth Tea Tree Face wash Review: The best solution for Acne and Pimples]
Mamaearth onion hair oil benefits
Onion oil improves blood circulation to hair follicles which boosts hair growth.
Sunflower Oil, Amla Oil, Hibiscus Oil, etc. are a mixture of nourishing oils, full of nature's goodness adding strength and shine.
Almond oil contains Omega-3 fatty acids, vitamin E, phospholipids, and magnesium moisturizes and gives nutrition to the scalp,  making hair healthier and stronger.
Bhringraj Oil is deeply moisturizing, it acts as a natural conditioner for your strands. 
Onion Seed Oil stimulates the scalp and rebuilds lost nutrients, decreasing hair loss.
Redensyl is a breakthrough ingredient that increases hair density, fullness, thickness, and overall health.
Pros of Mamaearth onion hair oil
Reduces Hairfall and Promotes Hair Growth
Nourishes Hair
Suitable For All Hair Types
Free of chemicals and toxins
Fights against scalp infection
Adds strength and nourishes hair
Provides nutrition to the scalp
Does not contain any artificial ingredients
Cons of Mamaearth onion hair oil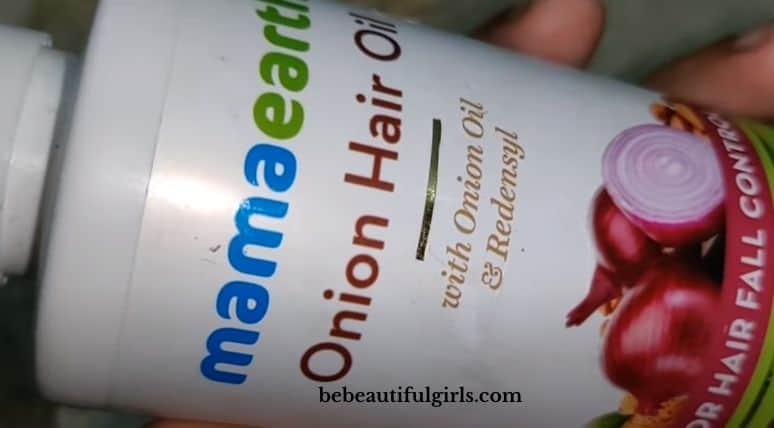 Shelf life: 2 years
Availability: Easy
Where to buy: You can easily purchase it on its official site mamaearth or any other online site Amazon, Flipkart, Nykaa, purplle, etc.
Overview
Mamaearth products are natural, pure, and effective. This onion hair oil is the best solution for hair fall, its wonderful ingredients help to promote hair growth, reducing hair fall and other hair problems. It is suitable for all skin types because mamaearth onion hair oil is made naturally, without any harmful chemicals. This herbal and toxin-free is safe for damaged, dull, colored, and chemically treated hair. Hence, mamaearth oil gives the best results in hair fall and improves hair regrowth.
Frequently Asked Questions
Does Mamaearth onion oil regrow hair?
It is made with a combination of onion oil and the new ingredient redensyl which helps to unblock hair follicles and also promotes new hair regrowth.
How do you use Mamaearth onion hair oil?
I apply a little warm oil and massage gently on my scalp. I leave it overnight for good results. You can also apply it for 1-2 hours before shampooing your hair. I have been using this oil twice a week and it works wonders.
Last update on 2023-09-13 / Affiliate links / Images from Amazon Product Advertising API