Every one of us wants healthy, long, smooth, and lustrous hair. When we say onions, you imagine the wonderfully, sharp aroma and inclusion in your favorite foods. But it is an even more wonderful element of onion in hair care products. Still, wondering?
Onions are highly rich in sulfur which helps in hair growth, regrowth, baldness, dandruff issues, and hair loss. 
Mamaearth hair care products offer an onion hair kit including onion shampoo, conditioner, onion oil, and onion hair mask. I already use mamaearth onion shampoo and conditioner for hair fall and hair growth with coconut oil.
I purchased a hair mask as part of the MamaEarth Onion hair fall kit. So, Here is my review of the MamaEarth Onion hair mask for hair fall control.
Mamaearth onion hair mask Review 
This herbal natural product with no harsh chemicals is a hair fall control hair mask that is enriched with onion oil, organic bamboo vinegar, and many other natural ingredients. It stimulates the hair from the root and also repairs my damaged hair.
I used wow onion shampoo for hair loss before using this. But it did not work for me. This mask makes my hair strong, soft, and shiny.
This thick creamy hair mask is easy to use on hair strands. I used this mask with mamaearth onion hair oil. This combination work amazing for my hair loss problem.
The aroma is very calming and does not have an onion smell. Mamaearth onion products for hair growth are the best ways to stop hair fall.
Mamaearth hair mask provides immediate hydration and my hair feels very smooth and bouncy in one go. This best hair care product is the one-stop solution for dry, rough, damaged hair. It is the best hair mask; I have ever used.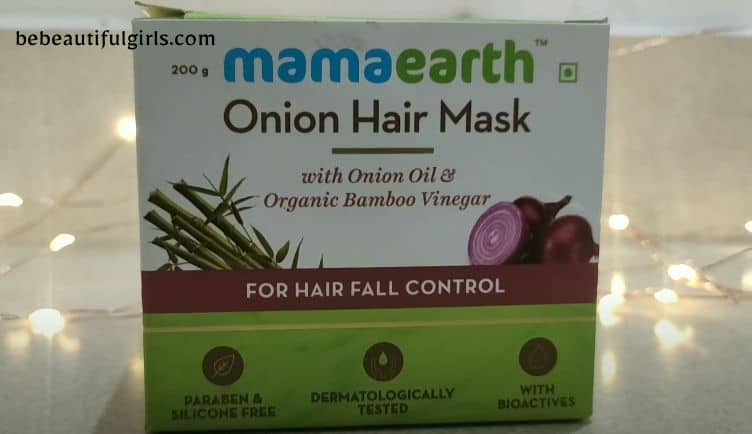 About brand:
This is a homegrown brand made in India called mama earth. Mama earth is the first company in Asia to be certified by MadeSafe, and I love the fact that they are plastic-positive which means they recycle more plastic than they actually use so that is a very good thing about this product.
All the mamaearth products are free from harmful chemicals. They're also dermatologically tested so even sensitive skin people can try these products out and they are made from 100 percent organic and natural ingredients.
Product Details
Hair fall control hair mask from mamaearth hair products made with key ingredients onion oil, coconut oil, organic bamboo vinegar, and rosemary oil. Onion oil renews the roots of the hair, healing nutrients lost due to exposure to pollution, dirt, Excessive use of dry shampoo, harsh weather & toxic chemicals utilized in hair care products. 
Price: Rs. 599, 200 ml
Mamaearth onion hair mask ingredients
Aqua, Brassicamidopropyl Dimethylamine, Brassica Alcohol, Cetostearyl Alcohol, Coconut Oil, Caprylic / Capric Triglyceride, Rosemary Oil, Onion Oil, Organic Bamboo Vinegar, Cedarwood Oil, Potassium Sorbate,  Sodium Benzoate, IFRA Certified Allergen Free Fragrance
Sale
Last update on 2023-11-13 / Affiliate links / Images from Amazon Product Advertising API
Made without: Free from Parabens, Mineral Oil, Silicones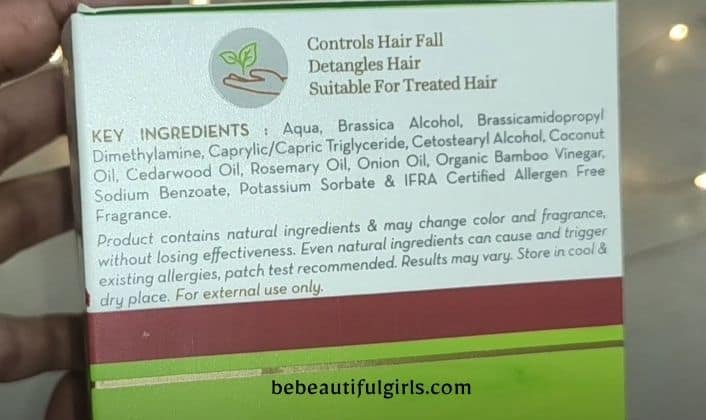 My write-up on Mamaearth onion hair mask Review
I applied an onion hair mask after using hair fall shampoo and conditioner from mamaearth hair growth kit. I got really impressed with just a single use, I experienced surprising results. My hair turned out to be soft and it becomes effortless to detangle. 
I have used this mask for almost half of the tub and applied it four to five times in the past two months. I notice a prominent decrease in hair fall, I wouldn't say it has totally ended because no product can actually prevent hair fall completely. Also, it is not much effective to regrow hair.
I did not see much drastic change in my hair loss or the amount of hair fall though it made my hair very healthier, smooth, and manageable. This mask controls the frizz and detangles my hair very well because it makes your hair very soft and shiny. You may notice the results after 4-5 washes.
Onion juice is the best way to reduce hair fall naturally. So, before buying this hair mask, I was making a homemade onion mask for hair and that was very time consuming and irritating and also left the smell of onion. But after using this hair pack, it saved my time, and effort and doesn't leave a smell like onion. 
One tub will cost you about 599 rupees for which you get about 200 ml of product. This will easily last for almost 3 to 4 months.
The wavy, curly hair type tends to get tangled a lot. However, after applying it, hair detangles effectively without causing hair fall.
Mamaearth Anti-hair fall mask is very efficient for mothers having serious hair fall during and post-pregnancy. So, it is very effective than other luxury hair masks.
This onion hair pack from Mamaearth helps to control all scalp infections. It's also effective for dandruff but does not work as an anti-dandruff hair treatment.
My hair became more manageable after using it. I applied it to my wet, non-oiled hair and then used a spa cap for 10 mins. You will improve results with the spa cap.
It provides the best results when used after the mamaearth shampoo and conditioner. It might take some time to show results but it's definitely worth a try if you are having hair fall or hair thinning issues.
This product from mamaearth onion hair range has IFRA certified allergen-free fragrance which can be used by those who have a problem with strong and synthetic fragrances.
[Read more Mamaearth Tea Tree Face wash Review: The best solution for Acne and Pimples]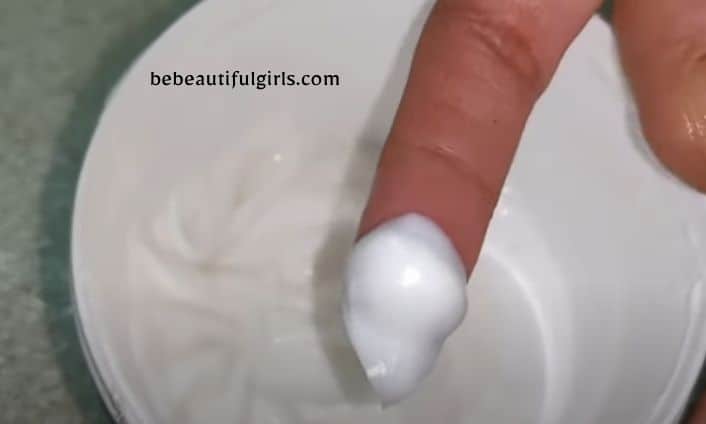 Packaging
The mask comes in a screw-open lid sturdy tub that is secured with a cap. There is no leakage problem occur as the tub has an inner plastic lid to stop spillage. This easy-to-carry packaging makes it travel-friendly. It is not difficult to take out products and use them till the last drop. But it is unhygienic to dip fingers into the tub while using them. So, before applying the mask to the hair, use a spoon to take it out in a bowl.
Fragrance
It doesn't smell like onion at all. It has a very pleasant and decent smell. The aroma is not overpowering and won't irritate those with sensitive noses.
Consistency
It is a White creamy mask. The consistency of the product is quite thick and creamy.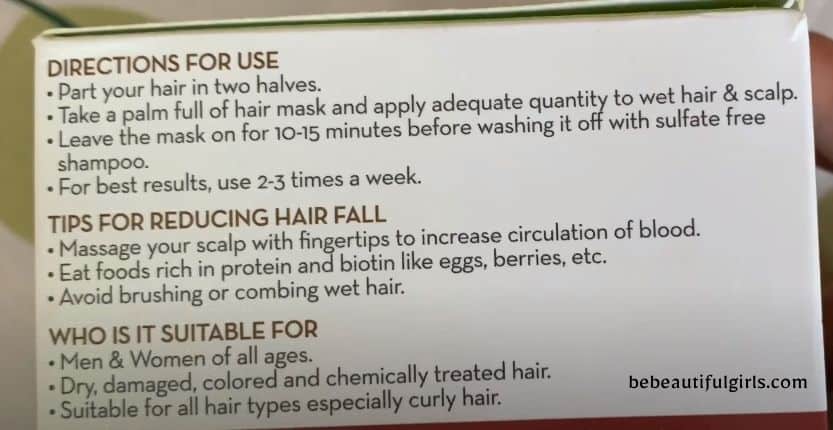 How to use Mamaearth onion hair mask
Make partition into 2-3 sections.
Apply a sufficient amount of hair mask on wet hair and scalp.
keep it on for 10-15 minutes before washing and rinse it off with a mild or sulfate-free shampoo.
For best effects, use it 2-3 times weekly.
Also, you can combine it with curd. Take the same amount of curd and mask. And use it before shampooing. It leaves hair smoother, shinier, and healthier.
[Read more Trichup Healthy Long & Strong Natural Shampoo Review]
Mamaearth onion hair mask benefits
Onion oil increases the healthy growth of hair and works on the scalp, strengthening the roots of the hair and lessening hair fall. 
This mask is not only a hair treatment for hair fall but also maintains nutrients and repairs damaged, dull hair.
Powerful, safe and natural ingredients make hair healthy and naturally shiny. Also, it promotes hair and scalp health for thick and strong hair.
Mamaearth's hair mask is free from harmful chemicals like Parabens, SLS, sulfates, Petroleum, Mineral oil, Artificial colors & fragrances.
This mask is enriched with Organic Bamboo Vinegar with strong anti-bacterial power that cools the scalp irritation and controls itch caused by a dry scalp.  Also, it improves blood circulation and strengthens it from root to tip. It conditions hair, making it shiny, and smooths hair.
Rosemary Oil invigorates the scalp and prevents early greying.
Mamaearth hair fall kit is suitable for all hair types and works well on dryness, damaged hair, frizzy hair, hair loss, hair fall, grey hair, weak hair, and colored and chemically treated hair. 
Pros of  Mamaearth onion hair mask
Reduces Hair fall
Accelerates hair growth
Repairs Dull, damaged hair
Makes Hair Healthy and Nourished
Strengthens the roots
Suitable for Chemically Treated Hair
Decreases frizz and hair breakage
Formulated with Natural Ingredients
Does Not Contain Silicones & Parabens
Hypoallergenic and Toxin-free
Cons of  Mamaearth onion hair mask
Takes Time To Show Results
Expensive
Sometimes scalp leaves oily
Shelf life: 2 years
Availability: Easy
Where to buy: You can easily purchase it online at its official site or Amazon, Nykaa, Flipkart, etc.
Overview
The Onion Hair Mask from Mamaearth hair fall control kit is the ultimate solution to control hair loss. The Best part about this onion mask is that it is free from parabens, Mineral Oil, Silicones, and safe for color-treated hair & chemically treated hair. It gives nourishment and a very beautiful shine to the hair. It made wavy and frizzy hair shiny, bouncy, smooth, and also tamed the frizziness.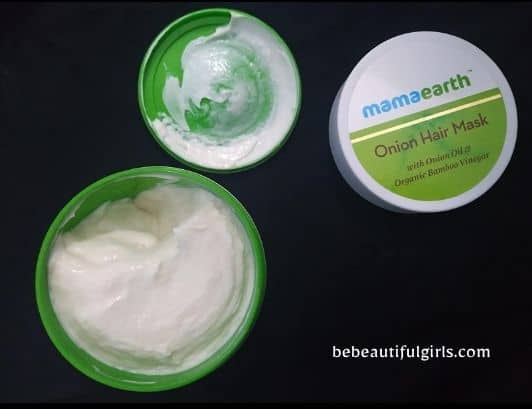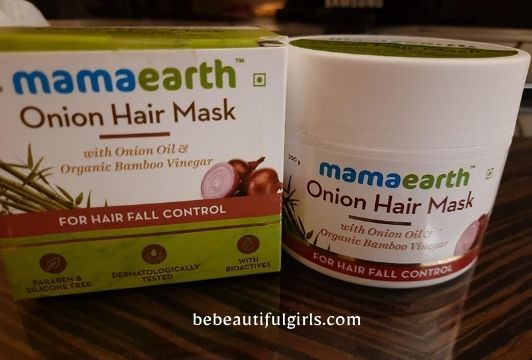 Frequently asked questions
Is Mamaearth Onion hair mask good for hair?
Regular use of this mask helps to reduce hair loss and accelerates hair growth. It makes my hair soft, shiny, strong, and healthy. Also, an onion mask cools the scalp, reducing irritation and itch.
How is Mamaearth Onion hair mask?
This mask works on the roots to tip for strengthening and nourishment of my hair. It fights dandruff, keeps hair frizz-free, nourishes the scalp, and is easy to manage. The brand is dermatologically tested to assure they are completely safe for use. 
Can we apply onion mask on oily hair?
The mask is to be applied on non-oiled and semi-wet hair only. It may be better to apply a hair mask on dry hair because oil inhibits the absorption of the mask as it builds a layer on the scalp. For best results, apply on dry hair 15 minutes before washing hair.
How do you open Mamaearth onion hair mask?
The hair mask is packed in a 200 ml plastic sturdy tub that has a screw-open top. Rotate the lid to open it.
When do you use Mamaearth Onion hair mask?
Apply it on wet hair 20 minutes before washing hair. Also, you can utilize it two times a week for better results.
Last update on 2023-11-13 / Affiliate links / Images from Amazon Product Advertising API