We need a face cleanser on a daily basis, and it's essential to keep your face clear and clean using a face wash. 
Glutathione is a natural substance that may play a role in softening the skin. You might have heard it referred to as the "skin-softening" or "wrinkle-fighter" ingredient in skincare products.
While the specific job of glutathione isn't completely perceived, it is acceptable to assume a role in skin-softening by fighting bacteria and toxins. Also, Glutathione has skin-lightening properties.
Glutafine face wash is created with glutathione as the main ingredient. So, today I will review Glutafine Lightening and Whitening Face Wash.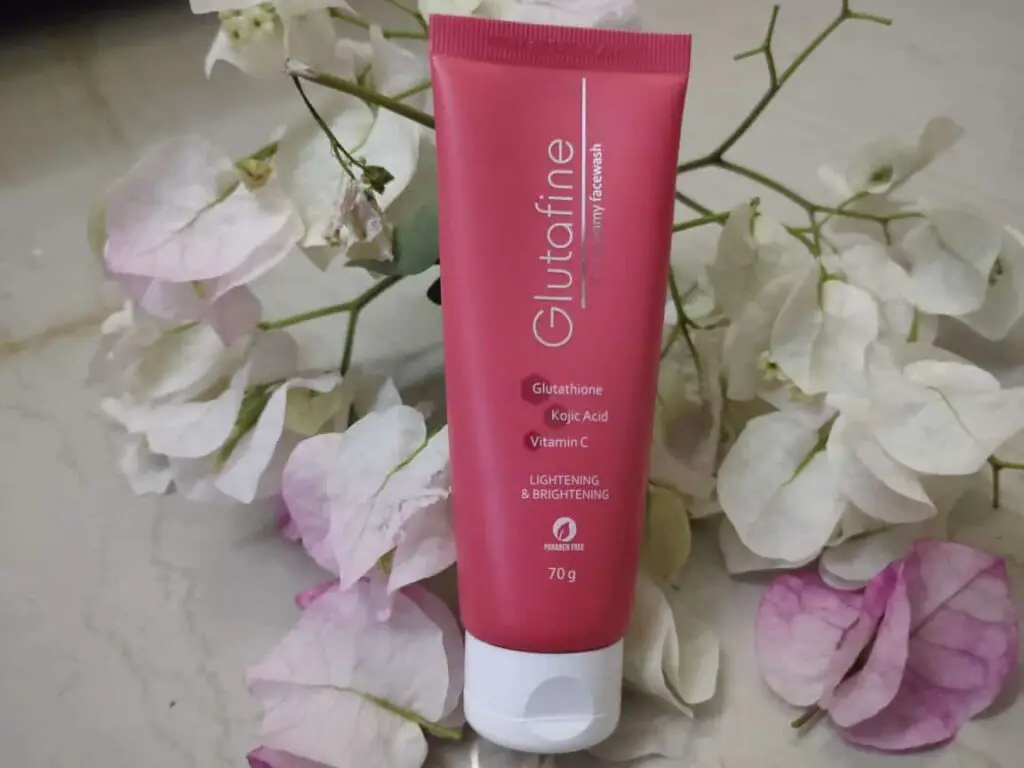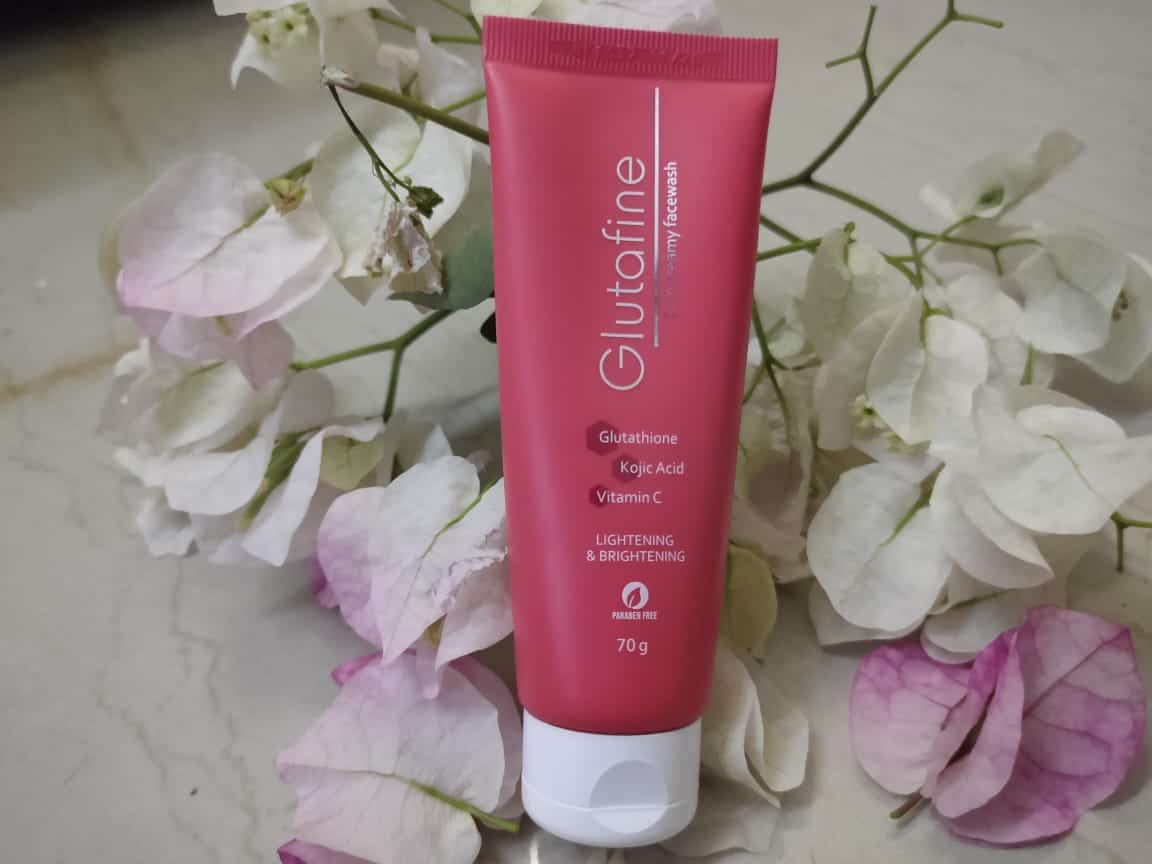 Glutafine Face Wash Review 
It has powerful ingredients Glutathione, Kojic acid, and vitamin c. This triple combination formula gives skin lightening and brightening effects.
Glutafine ultra-rich creamy face wash provides radiant skin glow after a few uses like skin Illumination face wash. Also, it gently removes dirt, dust, and other impurities. The plus point is that it is a paraben-free face wash.
It is beneficial for hyperpigmentation, uneven skin tone, dull complexion, and dark spots. Hence, it is one of the best skin whitening facewash suggested by dermatologists. However, it is not an effective solution for dark circles.
Product Details
Glutafine face wash composition has three effective ingredients Glutathione, Vitamin C, and kojic acid, for brightening and lightening effects.
This triple combination formula helps to enhance skin tone, elasticity & skin complexion. The daily application delivers bright, stimulated, and healthy-looking skin. It forms an additional lightning layer to illuminate your face glow thoroughly.
Sale
GLUTAFINE Face Wash 70g
It removes dirt, impurities and reduces blemishes without irritating the...
Glutafine face wash helps to improve the skin complexion, elasticity & skin...
The regular use of Glutafine face wash gives radiant, refreshed and healthy...
Last update on 2023-11-12 / Affiliate links / Images from Amazon Product Advertising API
Price
INR 399 for 70 ml
INR 699 for 200 ml
Glutafine Face Wash Ingredients
Key ingredients: Glutathione, Vitamin C, Kojic Acid, Liqurice, Vitamin E, Nicotinamide, Triclosan, Glycolic Acid, D – Panthenol
Full ingredients list: Aqua, stearic acid, coco fatty acid, lauric acid, sorbitol, glycerine, coco glucoside, kojic acid globules, myristic acid, propylene glycol, lactic acid, allantoin, vitamin c, salicylic acid, triclosan, vitamin E, potassium hydroxide, D-panthenol, Disodium EDTA, niacinamide, Phenoxyethanol, ethylhexylglycerin, sodium PEG-7 olive oil carboxylate, liquorice extract, glutathione, sodium hydroxide, and perfume.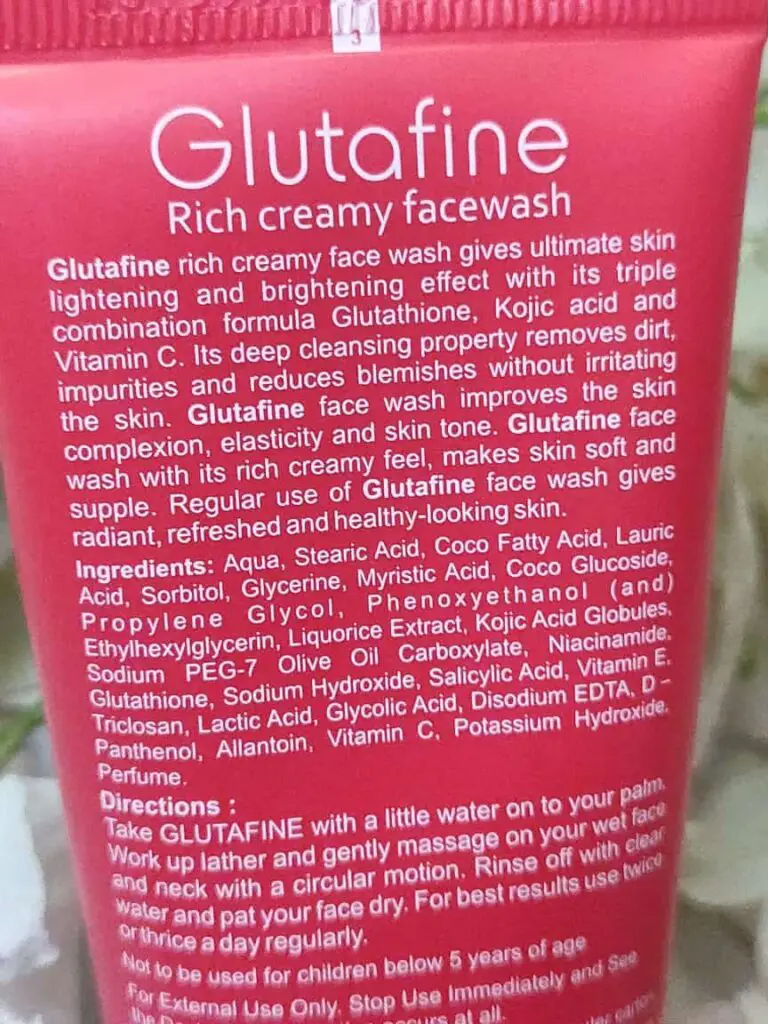 My write-up on Glutafine rich creamy face wash review
I feel this face wash is soap-free when I use it for the first time. It gives a fresh and fair look that lasts for up to one to two hours. Although it doesn't provide any permanent light and a fair look.
The best thing about it is that this face wash not only lightens the skin but also removes blemishes, pigmented areas, and dark spots without irritating the skin. So, it is the best glutathione face wash.
Glutathione face cleanser works well on combination and oily skin. It removes excess oil from the face, giving an oil-free look for about 3 to 4 hours.
It is not a mild face wash. This glutafine cleanser makes my dry skin drier. I need to moisturize my skin immediately after washing it with this.
Hence, for dry or dehydrated skin people feels dehydration and dryness on the skin. So, I always use my favorite Mamaearth aloe vera gel or WOW aloe gel for moisturizing my face after using this face wash. Also, sometimes I apply Nivea light moisturizer.
The glutathione face wash is a good product for the lightening and brightening effect on the face. Also, it helps to remove tanning after prolonged use. So, Mamaearth ubtan face wash is much better than glutafine for tan removal. But, Glutafine is the best whitening face wash.
I always prefer to use gel-like face wash before using a Glutathione cleanser. But now I'm a fan of it. It is very effective for oily skin. It brightens up as well as repairs the skin.
Glutafine face wash contains tiny scrubbing beads which give exfoliation, and the particles are delicate, which helps in massaging the face more. Thus, they won't give any redness or irritation. 
[Also check the most affordable Aloe vera gel BoroPlus Aloe Vera Gel Review]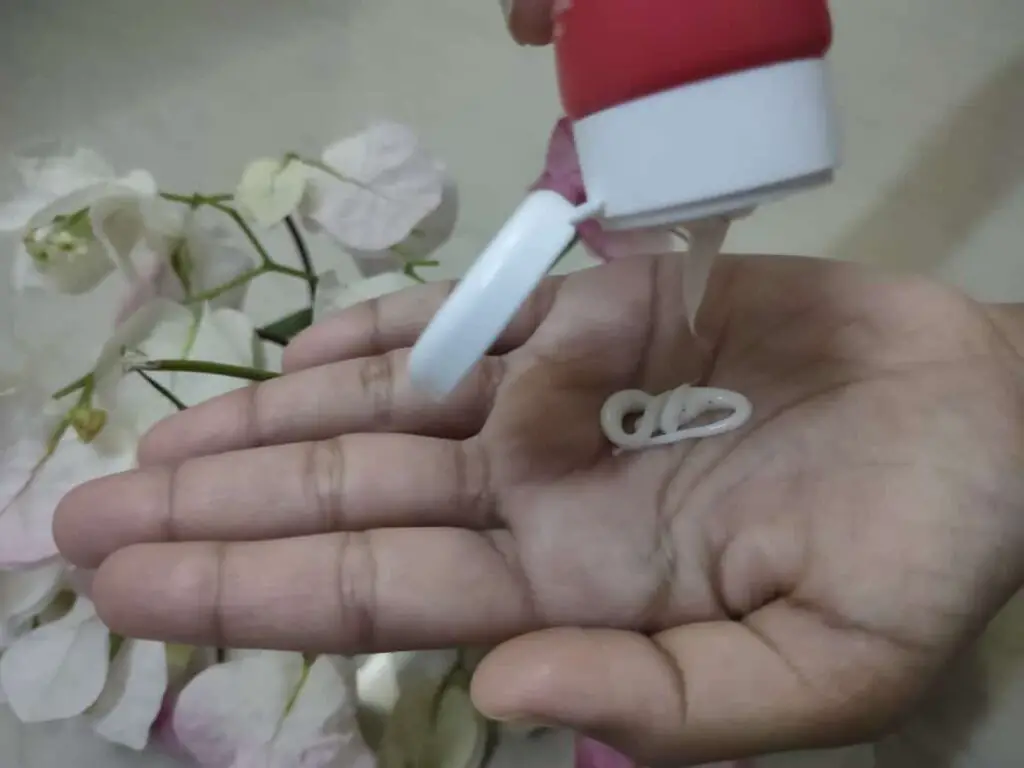 Packaging
It comes in a red-colored plastic tube with a flip-flop open cap that packs in red cardboard. The lid is slightly tight, making it leakproof. The product doesn't come off without pressing the tube due to its thick texture. So, Its strong and spill-proof tube packaging makes it perfect for travel-friendly. Thus, we can undoubtedly convey it in the bag while traveling. All details are written in silver color on the tube-like ingredients, directions of use, price, expiry date, etc.
Texture
It has a thick creamy consistency that has some mild scrub granules too. Thus, it is like a soft scrub for the face. It is a foaming face wash that foams up pleasantly, cleans all pollutants and oil adequately from the face, and leaves it clean. 
Fragrance
It has a strong unpleasant artificial smell.
Color: White creamy face cleanser
[Also check a solution for all eye skin problems Mamaearth Under Eye Cream Review]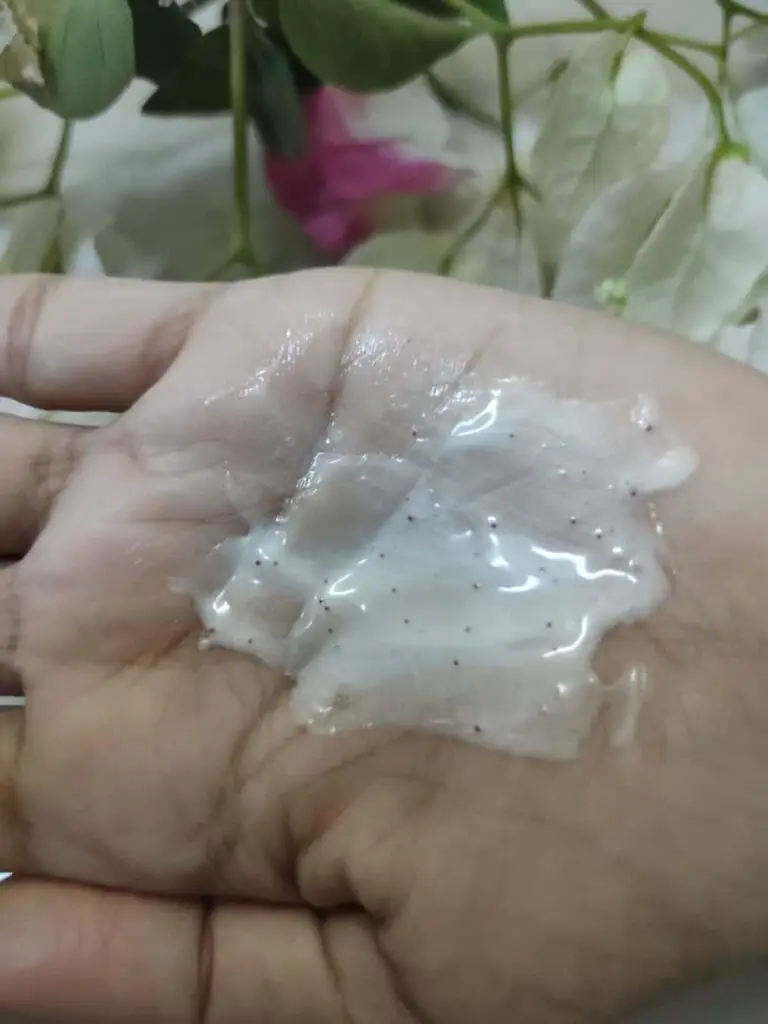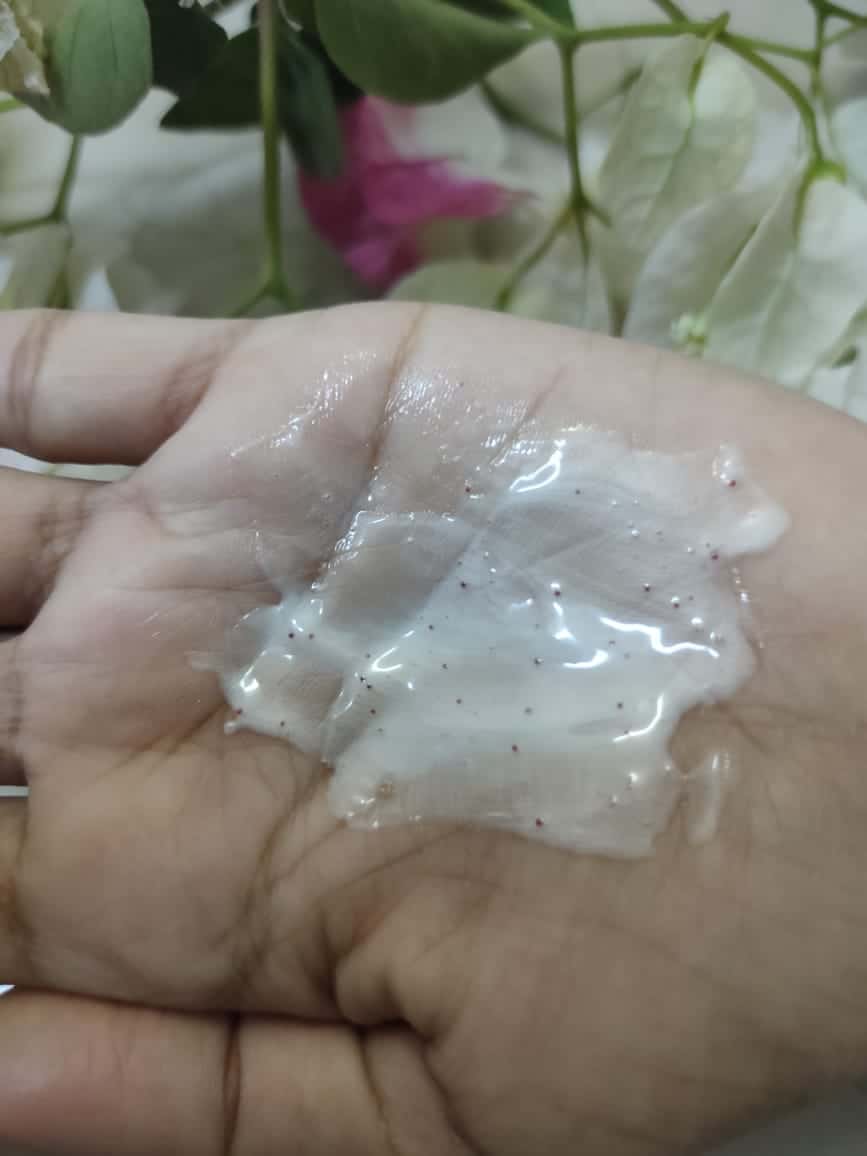 How to use Glutafine face wash
Take a pea-sized glutafine with a bit of water onto your palm.
Work up foam and gently massage on a wet face and neck with a circular movement.
Wash off with normal water and dry your face with a clean cloth.
For best outcomes, use twice or thrice per day consistently. 
It is a very creamy face wash. Even if you take some little amount of facewash, it lathers well. You will freshen up. I suggested using it at least twice a day to get decent results, get a clean face.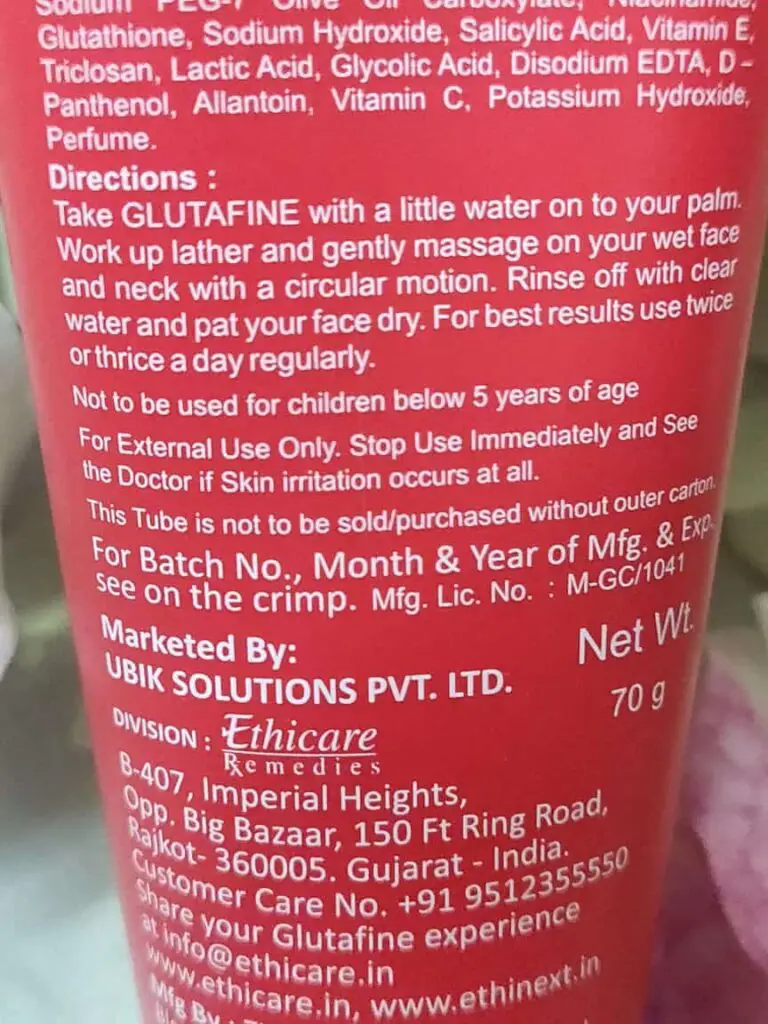 Glutafine face wash benefits
Glutathione a skin-whitening agent and has are antioxidants with other anti-melanogenic properties. It not only reduces the melanin (pigmentation) in the skin but has also improved skin elasticity and decreased skin wrinkles.
Kojic Acid has skin-lightening effects and is also recognized to have anti-inflammatory and antibacterial properties. So, kojic acid face wash could help with itchy, red, and inflamed skin. Also, It can reduce dark spots and enhance the occurrence of age spots and sun damage, making you look youthful.  
Vitamin C is packed with antioxidants identified for giving a brightening and "glowy" impact on our skin. Also, it prevents the unusual production of skin pigments (melanin) to even out the skin complexion and eases dark spots, sun spots, and acne marks.
Vitamin E has healing and moisturizing benefits that increase the skin's natural healing process. So, it could help soften the skin and naturally strengthen skin barrier function. It improves glow and makes your skin soft and healthy. 
Liquorice extract has natural antimicrobial and antifungal properties. It contains powerful antioxidants that shield the skin from ecological stressors, which gives the skin age early.
Nicotinamide is also known as vitamin B3 is a water-soluble vitamin. It decreases inflammation and minimizes the appearance of pores. It may help soothe redness from eczema, acne, and other inflammatory skin diseases, keeping skin soft and moisturized.
Glycolic Acid exfoliates dead skin cells, fights acne, diminishes fine lines and wrinkles, decreases hyperpigmentation, and brightens and evens tone.
[Also check skin brightening face mask Mamaearth Ubtan Face Mask Review]
Pros of Glutafine face wash
Paraben-free
Not too harsh on the skin
Cleans face without skin irritation
Gives an even skin tone
Provides effective skin brightening
Promote healthier skin
Helps in revealing fair skin from underneath
Great for excess oil skin
Cons of Glutafine face wash
It is a bit pricey. (INR 399 for 70 gm)
It has cleansing granules that may feel harsh on sensitive skin.
It apparently will not be suitable for very dry or disturbed skin because of the particles.
Those who have very much dry skin or a little bit darker complexion, don't like this facewash because they complain that it leaves a little bit of a white cast.
Glutafine face wash side-effects
This paraben-free face wash's richly creamy base gives at most brightening look without irritating the skin, and I did not experience any allergic reactions. However, it gives a burning sensation if the face wash gets in touch with the eyes.
It uses synthetic fragrance, which I don't particularly appreciate because some people might be allergic to this or develop an allergy if used for a prolonged period.
It is quite good although it has perfume, the good thing is it is paraben-free. Up until now, no side effects have been recorded. But, if you feel any unusual results like itching, redness, rashes, or stinging sensation, stop using it immediately.
Shelf life: Two years from manufacturing date
Availability: Easy
Where to buy: You can easily purchase it online on Amazon, Flipkart, and many other sites. Also, you can get it discounted price here.
Overview
Glutafine face wash is very effective for oily skin and gives a non-greasy look for a long time. This Glutafine foam-based face wash is non-organic and can be used by both men and women. It is designed for all skin types. Glutafine face wash is used to remove all impurities from the skin effectively and improve skin tone and skin complexion. It has lightening and brightening impacts on the skin. 
Last update on 2023-11-12 / Affiliate links / Images from Amazon Product Advertising API