Acne and pimples can completely devastate a person's life. It can make them feel insecure and perhaps cause low self-esteem.
Furthermore, having oily skin might have a negative impact on your well‐being.  Girls often conceal their flaws with thick cosmetics, despite the fact that this actually tends to irritate them.
Skincare products are made up of a variety of ingredients. Salicylic acid may be the answer if you have an oily or combination skin type or are dealing with aggressive acne. Therefore, today I'll be reviewing a Neutrogena oil-free acne wash cleanser.
Acid salicylic is employed in the battle against acne. It has anti-inflammatory and antiseptic characteristics that make the skin look softer, clearer, more even, and brighter, and is perfect for exfoliating.
Neutrogena oil free acne wash Review
With Salicylic acid as an active ingredient, Neutrogena Oil-Free Acne Wash is suited for oily, combination, and acne-prone skin types. It has a salicylic acid content of 2%.
This oil-free salicylic acid-based face cleanser gently cleanses deeply into pores to offer you smoother skin and help reduce future breakouts.
The gel-based face cleanser lathers up quickly and thoroughly to cleanse the face. This oil-free formula also protects the skin from excessive oil production while not stripping it of its natural oils.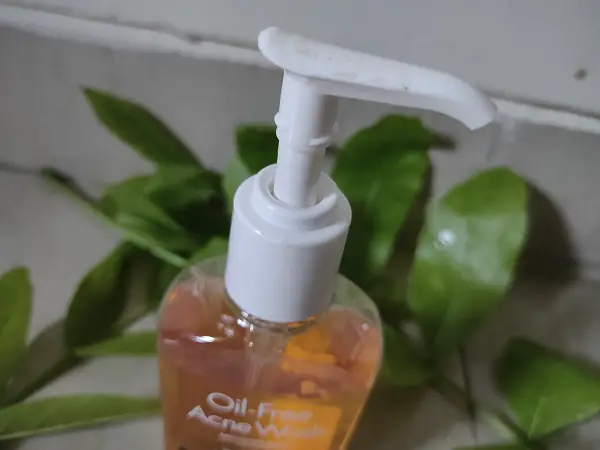 Product Details
For the treatment of acne, Neutrogena oil-free acne wash facial wash is an alcohol-free cleanser with 2% salicylic acid. All skin types can use Neutrogena acne wash. It's a gel-based face wash that has completed dermatological testing.
Neutrogena acne face wash contains salicylic acid, which is an effective acne therapy. Special skin soothers remove redness and over-drying that removes dead skin cells.
Price
7-8 USD for 6 fl. oz (177ml); 425 INR for 175ml.
Neutrogena oil free acne wash Ingredients
Active ingredient: Salicylic Acid 2% (Acne Treatment).
Inactive ingredient lists: Water, Cocamidopropyl betaine, citric acid, fragrance, sodium C14-16 olefin sulfonate, sodium chloride, disodium EDTA, C12-15 alkyl lactate, benzalkonium chloride, sodium hydroxide, Cocamidopropyl PG-dimonium chloride phosphate, propylene glycol, chamomilla Recutita (Matricaria) flower extract, aloe barbadensis leaf extract, PEG-80 sorbitan laurate, anthemis nobilis flower extract, yellow 5, red 40.
Sale
Last update on 2023-09-16 / Affiliate links / Images from Amazon Product Advertising API
Made without: This product are SLS and paraben-free.
What the product claims:
Residue-free and oil-free
Removes debris, oil, dirt, bacteria, and pollutants
Smoothly clean deep to remove skin pores
Non-comedogenic (no pores are clogged)
Help get rid of acne and help prevent future breakouts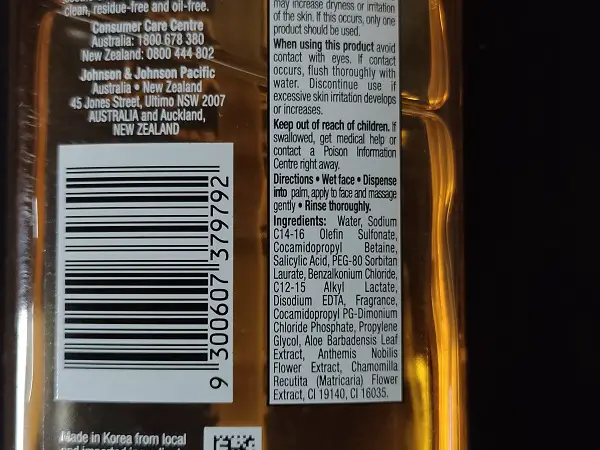 My write-up on Neutrogena oil free acne face wash Review
Neutrogena oil free acne wash with salicylic acid is designed specifically for oily skin. Neutrogena's oil-free acne wash is a fantastic facial cleanser. It's beneficial for persons with oily skin as well as acne and pimple problems.
My husband has oily to combination skin. Neutrogena face wash reduces the pimple bumps in 2-3 washes and makes the skin semi-dry. This acne wash is a mild face wash that effectively controls his face's sebum production.
It deeply cleanses the pores and leaves my skin clean without causing irritation or burns because it contains salicylic acid, which helps to prevent acne. So, it's helping him to manage his acne.
My husband's skin appears clean, soft, and luminous after using this face wash. In summer and monsoons, this facial wash is best used when the skin produces more oil and is also likely to break acne.
Salicylic acid functions in the effective fields directly and prevents future breakouts. It works nicely at the breakouts and delivers a cool feeling instantly.
Neutrogena acne wash lathers well and removes debris, grease, and oil from the skin in a gentle way. It is a gentle cleanser that effectively treats acne. Neutrogena Oil-Free Acne Wash is one of the most effective oil control facewash on the market.
However, unfortunately, Neutrogena oil-free acne wash salicylic acid acne treatment is not working on my dry and sensitive skin.
My skin felt fresh and clear after the first usage, but when I awoke the following day, my chin and sides of my cheeks were red, dried, itchy, flaky, and inflamed with tiny small bumps. I also got a dreadful burning sensation all over my face.
However, because it is oil-free, Neutrogena oil-free acne wash dries out my skin. So, I'll need to be followed up with a light moisturizer.
It may also trigger breakouts on severely dry skin, thus persons with sensitive or extremely dry skin should be careful and only use it after confirming that it will not harm their skin.
The majority of products on the market contain very little salicylic acid. But 2 percent salicylic acid is ideal for skin prone to acne.
However, this also implies that it will be drying on the skin. Hence, after washing my face with this, I use a water-based or non-comedogenic moisturizer.
I'd also like to point out that this product is only good for removing light makeup. So do not expect that heavy make-up such as mascara, waterproof lipstick, foundation, concealer, etc. will be removed.
Overall, The Neutrogena Oil-Free Acne Wash cleanses all skin pores. This shampoo removes the dead skin, leaving my skin looking radiant. It fades even the most pigmented acne scars. Additionally, it helps in the removal of stubborn whiteheads and blackheads.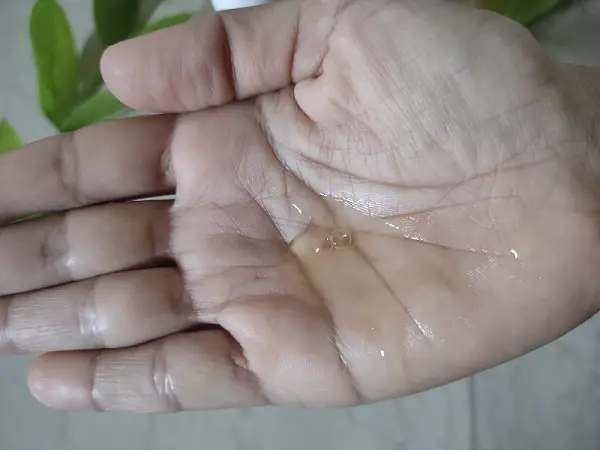 Packaging
Neutrogena oil-free acne wash foam cleanser is packaged in a clear pump bottle. Pump dispensers are helpful because they allow you to manage the amount of product dispensed and pump out just enough for single use. The face wash is amber in color, and the backside of the package contains all product information, including a complete list of ingredients.
Texture
Neutrogena oil-free acne wash facial cleanser has a medium consistency, not too runny or too thick. It has a similar texture to a transparent orange gel. The face wash foams up well with a little water.
Fragrance
I like the face wash's scent, which is light and calming and smells extremely fresh.
How to use Neutrogena oil free acne wash
Moisten your face and hands with normal water.
Pour face wash into your palms and lather up. (TIP: Before applying to your face, make a lather on your palm.)
Protect the sensitive eye area by tenderly massaging the lather into the skin in a circular motion.
Using lukewarm water, rinse and wipe dry with a soft towel. Use less often if you notice dryness or irritation.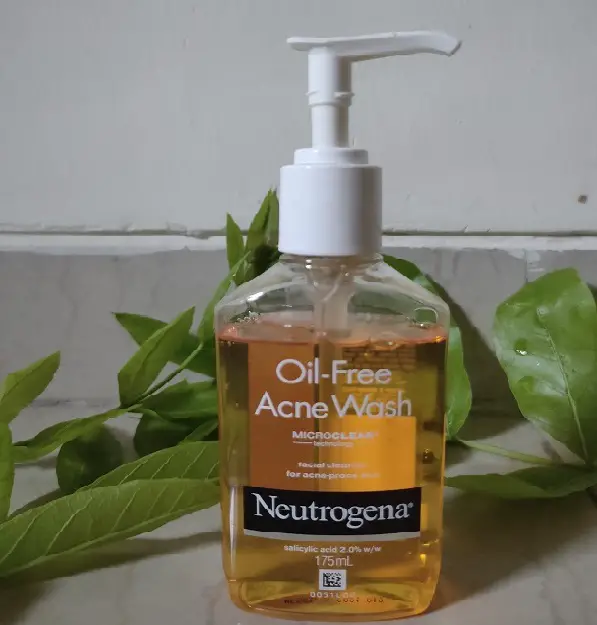 Pros of Neutrogena oil free acne wash
Does not contain any parabens
The pump dispenser is hygienic and simple to operate
One or two pumps are sufficient for the entire face and neck
travel-friendly pump that locks and unlocks very easily
Effectively fights acne
Lathers well
Cleanses the skin deeply
Gets rid of dirt as well as removes light makeup
Dries out mild acne
Prevents new breakouts
Not very costly
Removes excess sebum on the face
Non-comedogenic
Residue-free
Cons of Neutrogena oil free acne wash
If you don't moisturize afterward, your skin may feel overly dry.
Permanent acne is not addressed.
I wish they made these in smaller sizes for travel.
Sensitive skin should avoid this product.
Extremely dry people may face very dry and dull skin after using this face wash.
Sale
Last update on 2023-09-16 / Affiliate links / Images from Amazon Product Advertising API
Neutrogena oil free acne wash Side effects
Neutrogena makes normal and dry skin even drier. If you take other topical acne treatments at the same time, it will cause skin irritation and dryness.
It will lead to skin dryness and irritation if you use another topical acne medicine simultaneously. Stop using it immediately if you suffer any allergic reactions like redness, burning, rash, itching, or swelling. However, I advise doing a patch test 48 hours before using it or consulting a dermatologist or skin expert.
Overview
Neutrogena oil-free acne wash is a mattifying face cleanser that is perfect for oily skin and helps control breakouts while also reducing acne and pimples.
This face wash helps in the proper cleansing of the skin, as well as the smoothing and suppleness of the skin. It leaves oily skin feeling soothed, clean, residue-free, and oil-free. This product helps in the removal of excess oil and build-up on the skin's surface.
This is an ideal face wash for oily or combination skin.  Anyone who has dry or sensitive skin should avoid this. Neutrogena Oil-Free Acne Wash is a wonderful choice if you have acne and your skin is oily.
Frequently Asked Questions
How long does it take for Neutrogena oil-free acne wash to work?
After a week, I observed noticeable changes. However, after three days, it started to gently reduce acne. In only one wash, it removes all stickiness and leaves skin oil-free. If you want constantly flawless skin, you'll need to use this product regularly. But do not use this product more than twice a day if you have delicate skin.
Does Neutrogena Oil Free Acne Wash clog pores?
The acne-fighting face wash is designed to effectively cleanse deep into pores, resulting in healthier skin. The product is non-comedogenic and oil-free, so pores are not obstructed.
Is Neutrogena Oil Free Acne Wash Safe?
This face wash should only be safe for the skin. Avoid touching your eyes, nose, mouth, or broken skin to avoid allergic reactions.
How often should I use Neutrogena Oil Free Acne Wash?
Excessive usage may cause the skin to become dry and harsh. So, I recommend using it one to two times per day. After you've used it, apply a moisturizer.
Last update on 2023-09-16 / Affiliate links / Images from Amazon Product Advertising API