Tea tree is a potent anti-bacterial, anti-inflammatory, antioxidant, anti-fungal, and skin-soothing agent. The soft and hydrating formula will clean your skin and transform your face.
Tea tree isn't just beneficial for your skin but at the same time, it's also good for your hair, nails, and even your ears. It'll lighten your skin tone, leaving it a light shade. It will moisturize your skin and lessen the presence of wrinkles.
The Mamaearth brand is about natural goodness and herbal products. Mama earth products are paraben and sulfate-free. They're becoming very popular for their quality products.
I have tried many mamaearth products like Mamaearth onion oil, Mamaearth onion hair mask, and Mamaearth aloe vera gel. But today I will share a review of Mamaearth tea tree face wash for acne and pimples.
Mamaearth tea tree face wash Review 
Mamaearth's everyday use Tea Tree Face Wash which comes with Neem helps to control and prevent the development of new acne and pimples by controlling excessive oil secretion. 
It is chemical-free, a natural face wash, and also gentle on the skin. But it cleans the skin properly. This natural face wash for acne is the best face cleanser for pimples in India. Also, its foaming salicylic acid face wash is also good for acne and pimples.
It contains a tea tree which is one of my favorite ingredients for skincare because the tea tree is the strongest antibacterial oil and the neem helps to lighten the scars and pigmentation.
But, it is not quite well for skin lightening. So, for that, I will recommend Mamaearth vitamin C face wash for skin illumination.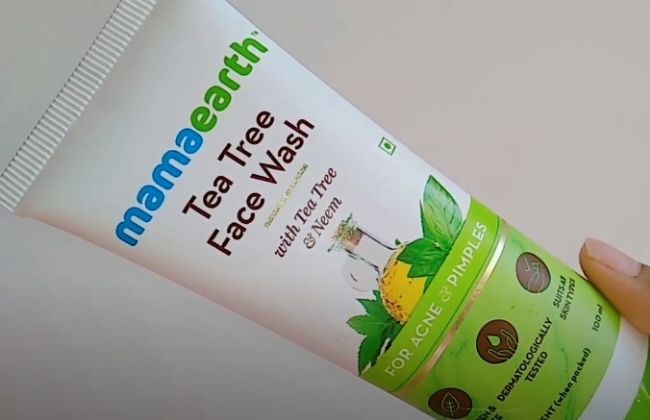 Product Details
Mamaearth face wash for acne is free from SLS and Paraben. So, this face wash is natural and blends neem and tea tree oil.
Deep cleaning, removes impurities so it helps to prevent acne. Neem fights against bacteria and controls excess oil.
Also, the face wash contains aloe vera which helps to reduce redness and inflammation. This face wash is dermatologically tested.
It is PH balanced face wash, so it takes gentle care of your skin. It is safe to use since it contains no harmful chemicals.
Price
Mamaearth tea tree face wash ingredients
Aqua, Sodium Lauroyl Sarcosinate, Disodium Cocoamphodiacetate, Glycerin, Sodium PCA, Neem Leaf Extract, Allantoin, Aloe Vera Extract, D Panthenol, Lavender Oil, Tea Tree Oil.
Neem extract: Neem has anti-inflammatory properties hence it reduces acne and pimples. It removes dirt and impurities to purify the skin. It is also believed to relieve skin dryness, skin itchiness, and redness.
Tea Tree Oil: It has anti-bacterial properties, so it heels infections and cuts. Also, it removes excess oil from your skin and gives you a fresh look.
Aloe vera extract: Aloe vera helps in reducing pimples and healing scars. Also, it nourishes your skin.
Lavender oil: It is a soothing agent that soothes irritation and redness caused due to sun damage.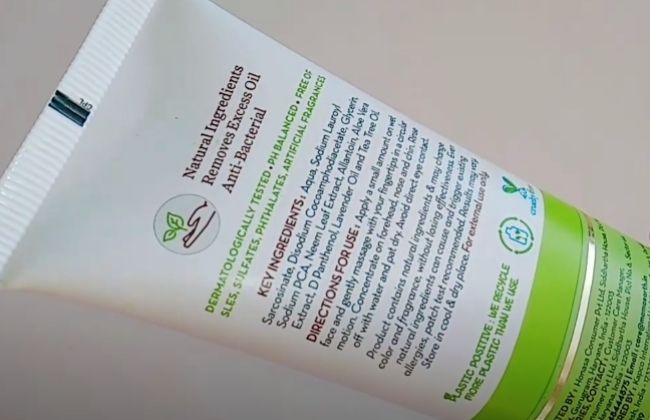 Made without: Free from Phthalates, SLES, and Sulfates, No Artificial Fragrances and harsh chemicals
My write-up on Mamaearth Tea Tree Face Wash Review
After experimenting with various face washes in the past, I am happy to report that I have finally found a face wash that I enjoy and is safe enough to use every day.
About a month ago, I bought Mamaearth pimple tea tree face wash. I observed that my skin became healthier, softer, and smoother when using the face wash. I've used this face wash both during the day and at night, and it's perfect for all skin types.
It's a fresh, refreshingly light face wash that leaves my skin squeaky clean yet doesn't sting my sensitive skin. The formula helps get rid of surface dirt, dead skin cells, and impurities on your face without being too harsh.
My face is a little oily in the morning before I wash it since I have oily skin, but this face wash makes it look oil-free. This face wash is easy to use and has a non-greasy feeling. The ultra-light formulation cleans and refreshes my skin without leaving it dry.
I have oily, acne-prone skin. After using this face wash regularly, my acne fades quickly, helping me achieve acne-free and clear skin. Also, it helps to prevent new acne without worsening acne. This face wash does not irritate my skin, and I haven't had any breakouts. So, I would say this face wash is safe to use.
Also, it reduces the bumpiness of my pimple a little, but the pimples do not go away completely immediately; you must use them every day. This acne-free face wash is light and mild, and it doesn't dry out my skin.
It helps to reduce acne scars to some extent. However, it doesn't help remove acne scars and dark spots completely. Because it contains tea tree oil, it gives my skin a rejuvenating and cooling sensation.
Mamaearth tea tree skin clearing facial wash will leave your skin feeling clean and smooth while reducing redness and treating acne. In short, Mamaearth face wash is one of the best face washes for acne-prone skin in India.
Overall, Mamaearth acne clear face wash leaves my skin looking fresh and bright, cleans my pores, and treats acne; it improves its overall appearance and brightens the complexion.
Mamaearth tea tree face wash price in India is 249 for 100 ml; that is affordable as it lasts longer.
[Check – CeraVe Foaming Facial Cleanser Review]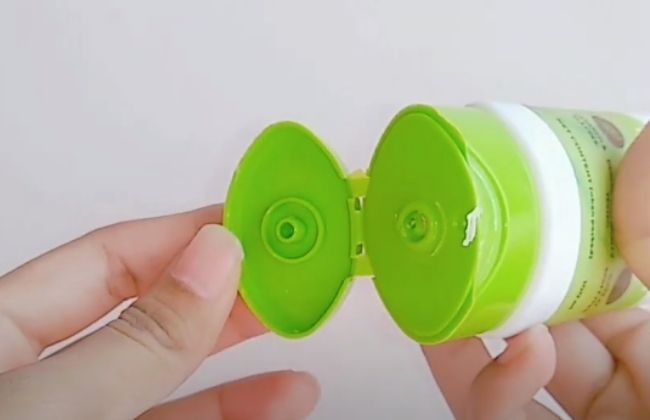 Packaging
It packs a beautiful white colored tube with a light green colored flip-flop open cap. Sturdy and leakproof tube packaging makes it ideal for travel-friendly. So we can easily carry it in our purses while traveling. The brand mama earth that all the important information like key ingredients, directions to use, manufacturing, and expiry details has been clearly mentioned on the tube.
Texture
This face wash has clear, transparent gel consistency. Also, the formula is neither too thick nor too runny.
Color: Transparent
Smell: Refreshing tea tree oil fragrance
Suitable for: Oily and Acne-prone skin, Suitable for All skin types, People with scars of acne and pimples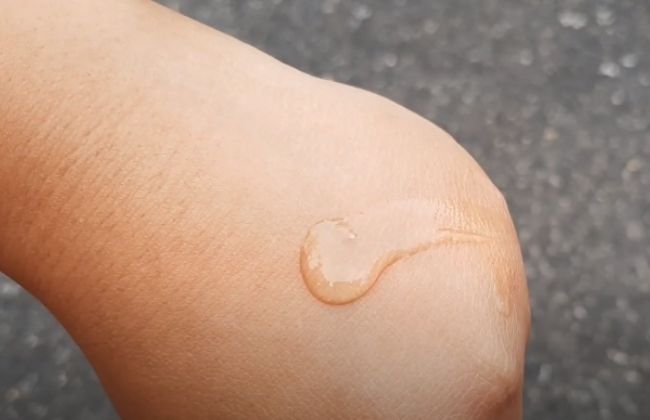 Mamaearth tea tree face wash side effects
I really love the tea tree in this face wash and even after a few uses, the face wash left my skin feeling clean and I did not have any allergic reactions or side effects.
It is very effective in comparison to another facewash. This natural and toxin-free product is free from harmful chemicals. So far, no side effects have been reported. However, if you experience redness, rashes, itching, burning, or stinging sensation, stop using it immediately.
[Check – BoroPlus Aloe Vera Gel Review]
Mamaearth tea tree face wash benefits
This toxin-free face wash gently cleanses the face and controls excess oil secretion.
The face wash is a natural blend of neem and tea tree oil that helps prevent acne by deep cleaning impurities and fighting bacteria without removing that skin's natural oils.
Gentle yet effective face wash eliminates dirt, oil, and impurities from the skin pores, making skin clean and clear.
Its natural ingredients and properties of neem prevent the development of acne and help you to get acne-free skin.
Paraben-free tea tree face wash with the presence of tea tree oil and its cleansing properties spreads easily on damp skin and provides healthy skin.
This formula is made with 100% pure aloe vera infused with turmeric to soothe sunburnt skin, calm rashes and heal wounds. Naturally rich in vitamins, it also reduces regular breakouts.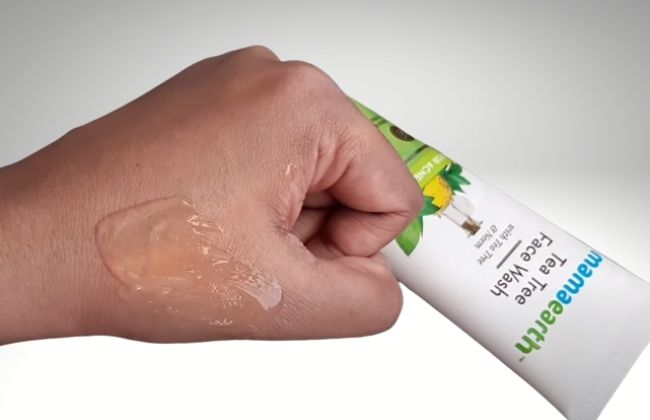 Pros of Mamaearth Tea Tree Face wash
Controls Acne Pimples
Also, Purifies the skin
Removes excess oil
Free from harmful chemicals
Budget-friendly
Cleans impurities and dirt
Maintains a glowing effect on the skin
Travel-friendly packaging
Cons of Mamaearth Tea Tree Face wash
Not suitable for extremely dry skin
How to use Mamaearth Tea Tree Facewash?
Step 1: Apply a small amount of face wash on your wet face and massage your face gently in a circular motion.
Step 2: Wash your face with water and Pat dry with a clean towel.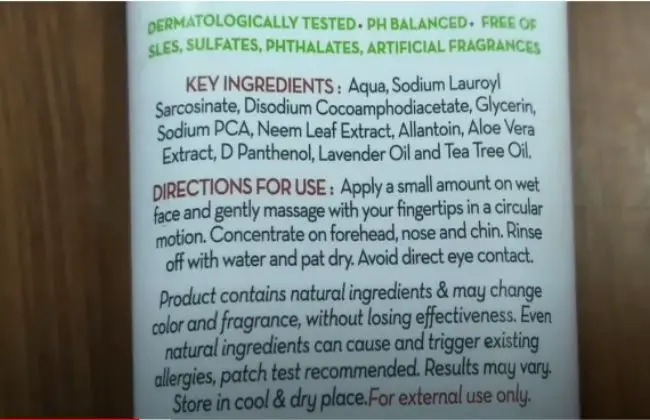 Shelf life: 2 years
Availability: Easy (Buy Online)
Where to buy: You can purchase it on online sites like Amazon, Nykaa, Flipkart, and also available on its official site mamaearth.
Overview
Overall, Mamaearth tea tree face wash for oily skin is lightweight and mild so it is safe to use. It is the best facial cleanser to treat skin inflammation and pimples. It purifies the skin deeply, eliminating the excess oil and dirt and decreases breakouts over the long run. Gentle and light formula yet exceptionally powerful face wash for oily and acne-prone skin. Highly recommended!
Frequently asked questions
Is mamaearth tea tree face wash good?
Yes, this organic face wash gently cleanses the face and controls excess oil secretion. It is enriched with tea tree oil, lavender oil, and neem extract that combat skin inflammation and give you a soothing experience and glowing skin.
Is Mamaearth good for oily skin?
It removes excess oils from the face and gives clean, oil-free skin. So, it is ideal for oily skin types.
Will it make my skin dry?
It dries out acne and pimples. You may moisturize your skin after cleansing with a face wash.