Hi everyone, I hope you all do well and in the best of your health. Today, I'm going to review the Mamaearth Tea Tree Face wash for Acne and Pimples. Mamaearth's everyday use Tea Tree Face Wash which comes with Neem that helps to control and prevent the development of new acne and pimples by controlling excessive oil secretion.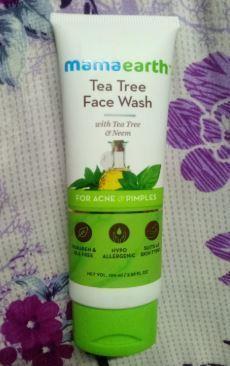 About Mamaearth Tea Tree Facewash
Product Details
Mamaearth Tea Tree Face wash is free from SLS and Paraben. So, this face wash is a natural which blends of neem and tea tree oil. By deep cleaning, removes impurities so it helps to prevent acne. Neem fights against bacteria and controlling excess oil.
Also, the face wash contains aloe vera which helps to reduce redness and inflammation. This face wash is dermatologically tested. It's PH balanced face wash so it takes gentle care of your skin. It is safe to use since it contains no harmful chemicals.
Price
Rs.249, 100 ml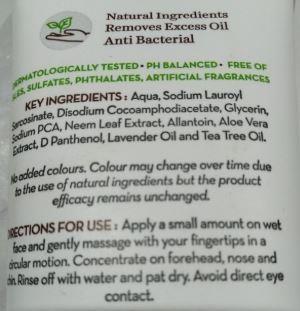 Key ingredients
Aqua, Sodium Lauroyl Sarcosinate, Disodium Cocoamphodiacetate, Glycerin, Sodium PCA, Neem Leaf Extract, Allantoin, Aloe Vera Extract, D Panthenol, Lavender Oil, Tea Tree Oil.
Neem extract : Neem has anti-inflammatory properties hence it reduces acne and pimples. It removes dirt and impurities to purify the skin. It is also believed to relieve skin dryness, skin itchiness, and redness.
Tea Tree oil : It has anti-bacterial properties so it heels the infections and cuts. Also, it removes excess oil from your skin and gives you a fresh look.
Aloe vera extract : Aloe vera helps in reducing pimples and healing of scars. Also, it nourishes your skin.
Lavender oil : It is a soothing agent which soothe irritation and redness caused due to sun damage.
Features of Mamaearth Tea Tree Face wash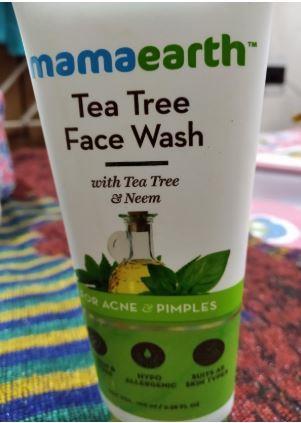 My write-up on Mamaearth Tea Tree Face Wash
Today's review is going to be about Mamaearth tea tree face wash so as you guys already know that mama earth is all over social media so I really want to try their product. I am writing this review after using it for around 20-25 days. Whether they are worth it or not.
Purchase this face wash about 20 days ago, So I thought of reviewing it. so talking about mama earth is paraben and sulfate-free products and you can buy their products from their official website and also from other shopping sites. I got mine from the official website.
It's paraben SLS free which suits all skin types so one thing which I really want to appreciate about the brand mama earth that all the important information like key ingredients, directions to use, manufacturing, and expiry details has been clearly mentioned on the tube.
So talking about the texture this face wash has clear gel consistency also the formula is neither too thick nor too runny. Now moving towards the packaging, it has beautiful white and green color packaging.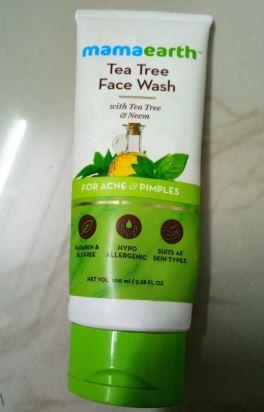 My skin type is combination skin that means my t-zone is oily and the rest of my faces on the normal side and I also have acne-prone skin. I'm using so I'm telling you all that I don't have a single pimple past twenty days. For every oily skin acne-prone beauties, I'll recommend Mamaearth Tea Tree Face Wash.
It seems very natural and chemical-free and also gentle on the skin. But it cleans the skin properly. It contains a tea tree which is one of my favorite ingredients for skincare because tea tree is the strongest antibacterial oil and the beam helps to lighten the scars and pigmentation.
If talking about my experience, This face wash is very lightweight and mild and also doesn't dry out my skin. Also, it's not like that if you use this face wash you won't get any acne, it can take months, it can take years, this face wash will not irritate your skin and also I didn't notice any breakouts so I would definitely say this face wash is safe to use.
Also, I have noticed, It reduces a little bumpiness of your pimple but it's not like that the pimple is completely gone either it is possible.
Who Can Use Mamaearth Tea Tree Face Wash?
People with Oily and Acne prone skin
Suitable for All skin types
Poeple with scars of acne and pimples
Works great for both men and women
Pros and Cons of Mamaearth Tea Tree Facewash
Pros
Controls Acne and pimples
Cleans impurities and dirt
Maintains glowing effect on skin
Cons
Well, there's none for this face wash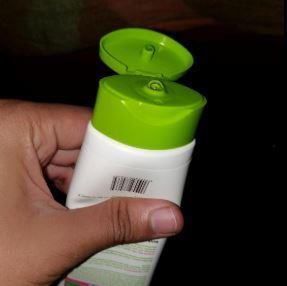 How to use Mamaearth Tea Tree Facewash?
Step 1 : Apply a small amount of face wash on your wet face and massage your face gently in a circular motion.
Step 2 : Wash your face with water and Pat dry with a clean towel.
Frequently asked Questions
Will it make my skin dry?
It dries out acne and pimples. You may moisturize your skin after cleansing with face wash.
How often should i use it?
You can use it daily. For best results, use twice a day.
Can teenagers use it?
Yes, above 15 years of age can be used as it is a natural and made with toxin free ingredients.
Who can use this face wash?
It is an unisex face wash which can be used by everyone.
Overview
This lightweight and mild face wash is safe to use. I would say it's a good feels wash nothing bad in it but also nothing extraordinary, if you have extremely sensitive skin and you prefer SLS and paraben-free product then you can totally check out this. Also, If you have oily and acne-prone skin then this mamaearth tea tree face wash is best for you so I totally recommend this face wash.
Hope you like this article. Please, do comment if you have any doubts or if you want to suggest.
Recommended Articles