Normally, we take great care of our skin. But, We tend to ignore our lips the majority of the time. Our lips are a gentle area of our bodies. Lips that haven't been properly cared for can darken.
Nicotine, pollutants, grime, make-up, and excessive sun exposure may cause harm to our lips, darkening them and draining their natural luster.
Bella Vita Organic Nicolips Lip Scrub is a chemical-free, natural treatment for lovely pink lips without dark spots and nicotine stains.
Scrub, Exfoliate, and Moisture are the basic stages in lip care. NicoLips from Bella Vita Organics does just that.
Therefore, I'm going to share the Bella Vita Organic Nicolips Lip Lightening Scrub Balm review today.
About Brand
Bella Vita Organic is a well-known Indian organic skincare and beauty brand. It creates and sells handmade, cruelty-free, unadulterated, and organic products all over the world. It's a good skincare and haircare brand that sells organic and environmentally friendly products.
Apart from being packaged in an eco-friendly, all of their products are natural, paraben- and sulfate-free, alcohol-free, cruelty-free, non-GMO, and mineral oil-free.
The products are of excellent quality, as well as being cost-effective. By focusing on natural beauty care and Ayurvedic formulation, their beauty products address the majority of skin, hair, body, and face-related problems. Bella Vita Organic uses real Indian traditional herbs that are chosen and blended with skill in their products.
Bella Vita Organic aspires to improve the lives of women in urban and rural India by providing them with the necessary skills and empowering them via work. Bella Vita Organic's product labels are hand-pasted by women to help them develop.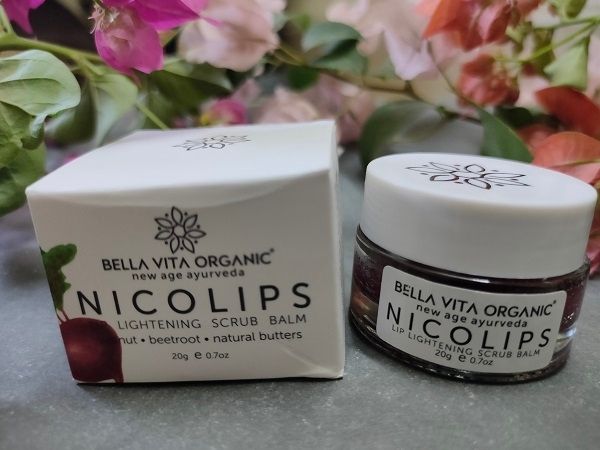 Bella vita organic nicolips lip scrub Review
It is prepared totally from organic, unadulterated, and natural ingredients. This lip balm not only heals cracked lips, but also scrubs them, and the greatest part is that it helps brighten dark lip skin, lighten lip stains, and remove nicotine stains.
Shea butter and almond oil are well-known healers for cracked and dry lips. These ingredients moisturize and protect lips from drying out. The walnut grains exfoliate gently and effectively. The product not only exfoliates but also heals your lips. 
One thing that I like most about this product is that it is formed completely of natural and organic ingredients with no harsh chemicals, and it moisturizes nicely when used in my daily routine.
The Scrub Balm is a high-quality product that will help you restore your lips' natural color. This lightening lip balm is a great addition to any lip care routine because it moisturizes, soothes, and gives plump pink lips.
Product Details
Bella vita organic lip balm scrub contains shea butter, rose extract, beeswax, beetroot extract, and calming grapeseed essential oil, among other naturally rich ingredients.
Also, NicoLips scrub is ideal for smokers to remove nicotine-induced dark patches, as well as for females whose lips darken because of the use of lipstick and lip colors.
This gentle lip scrub removes pigment and tan, leaving you with lovely, pouty lips. NicoLips is Asia's best-selling lip product, and it's made to fit all skin types and genders. It's also a great natural lip scrub for smokers who want to get rid of black patches on their lips produced by nicotine.
Price 
Rs. 399 for 20 gm
Sale
Last update on 2023-10-19 / Affiliate links / Images from Amazon Product Advertising API
Bella vita organic nicolips lip balm scrub Ingredients
Beetroot, Cocoa Butter, Mango Butter, Shea Butter, Kokum Butter, Walnut Grit, Coconut Oil, Sunflower Oil, Wheatgerm Oil, Peppermint, Vitamin E, Organic Wax, Almond Oil, Sodium Benzoate, Potassium Sorbate.
Made without: Free from paraben, sulfates, and other harsh detergents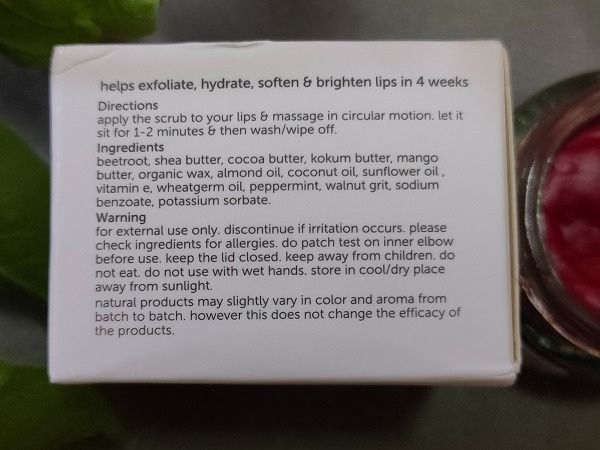 What the product claims:
Lightens, brightens & softens lips.
Exfoliates dry, chapped lips gently.
Prevents lips from darkening and makes them supple.
It hydrates and cures chapped, dry lips.
My write-up on Bella vita organic nicolips lip balm scrub Review
I'd never used a lip scrub before, and this was my first experience with one. I ordered this product about a month ago because I had dry, chapped lips and pigmentation problems. I apply it twice a day, in the morning and at night in my daily skincare routine.
I've only been using Bella vita organic lip scrub for 20-25 days, I've noticed a difference in the texture of my lips since day one. It aids in the removal of dead lip skin, making them soft and supple. Also, I'm noticing a change in my pigmentation; my natural color is emerging.
After a week of use, I notice that my lips are less chapped and dark and have a natural pink tone. I could even observe a difference in the color of my lips, which had darkened because of sun exposure. My lips have lightened significantly. So, I can say that this scrub is the best lip-lightening scrub.
I can notice its effect after only a few usages because it contains beetroot pigments, which naturally improve my lips. And because shea butter helps to hydrate my lips, I don't feel the need to use another product to keep them moisturized after I wipe this balm off. But, if your lips are highly black then you can use beetroot lip balm after scrubbing.
Nicolips Lip Lightening Scrub is my favorite because it doesn't bother my skin. Very fine oat and walnut particles provide gentle exfoliating without causing any harm to the delicate skin of the lips and do not have any side effects. It's a general lip-care product that everyone should use. No other scrub in the industry smells as amazing as this.
The best part is that it contains beetroot and walnut, which pleasantly exfoliate and penetrate deep into the skin of the lips, leaving them pink, silky, and smooth. Its gentle granules effectively exfoliate dead skin while also moisturizing the lips, restoring plumpness and silky soft skin.
This mild formulation also helps to brighten the lips with regular application. From the very first use, you will notice a change. The mild scrub removes dull, flaky skin, leaving you with a moisturized, luscious lip.
The good thing is that it's so light that I won't even notice it on my lips. Also, unlike any other thick, greasy balm, it does not leave my lips tacky.
This dark lip balm scrub gradually fades the blackness from your lips, leaving you with healthy, natural-looking lips. It also helps in the reduction of pigment from the lips.
[Must Read: WOW Skin Science Vitamin C Serum Review]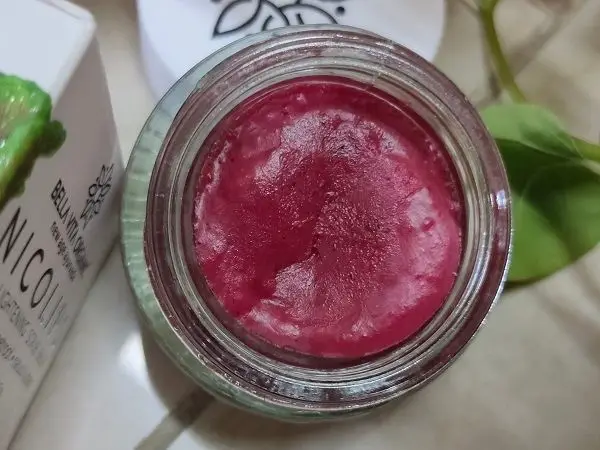 Packaging
NicoLips lip scrub comes in nice, small, and eco-friendly packaging. It is packaged in a cylindrical glass jar with attractive cardboard packaging that is easy to handle. The actual product was packaged in a simple and adorable glass pot with a logo-printed plastic cap. Because the product is so compact, it can be stored in almost any place. Furthermore, if you are going on a trip, you can pack it in your backpack. Furthermore, the container itself contains all of the product information.
Texture
There are very few scrubbing particles that softly exfoliate the lips, giving it a buttery touch. The scrub's texture is gritty but smooth, like jelly. Only a very small amount of the product is required to exfoliate your lips. It's simple to apply and remove. Nico lip lightening scrub has a medium-thick balm-like consistency that glides easily over the lips.
Color
The gel itself is a dark reddish color that resembles strawberry pulp.
Fragrance
Bella Vita Nico balm has a lovely scent to it. It has a pleasant fruity smell, which enhances your scrubbing experience.
[Must Read: Deyga Turmeric Healing Face Mask Review]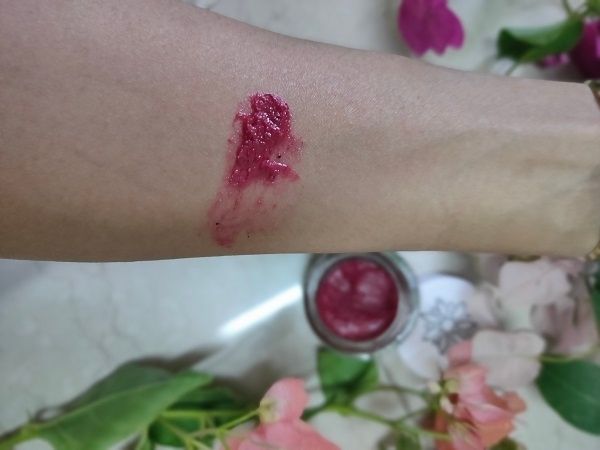 How to use Bella Vita Organic Nicolips Lip Lightening Scrub Balm
Moist your lips with a little plain water.
Using your finger, apply a very small amount of the scrub.
Then, using the scrub, gently rub your lips in a circular manner for 3 to 4 minutes.
Wait for 1-2 minutes before thoroughly washing with water and rinsing with a clean cloth to remove any residue.
It can also be used as a lip balm; simply take a small amount and apply it to your lips. It has a red tint to it and is somewhat pigmented.
Use it two or three times every week for optimal effects.
Before using the product, perform a patch test to discover if you are sensitive to it.
Last update on 2023-10-19 / Affiliate links / Images from Amazon Product Advertising API
Benefits of Bella Vita Organic Nicolips Lip Lightening Scrub Balm
Beetroot Extract which is well-known for its hydrating properties can help you achieve plump and moisturized lips. The skin's tone is improved because of the natural color. It also helps to lighten pigmentation and makes your lips smooth and supple.
Almond Oil helps to reduce discoloration and pigmentation on the lips. It intensely hydrates and moisturizes the lips.
Walnut oil transforms into skin-friendly granules. Because of the omegas that are in it, your skin will look healthier and be protected against various skin problems. Walnuts' fatty acids are also known to aid in the creation of smoother, healthier skin.
Shea Butter contains fatty acids that moisturize, nourish, smooth, and plump dry and chapped skin.
Natural emulsifiers found in Bess wax help the skin maintain moisture. This is very effective for chapped lips and dry lips that have been exposed to the sun.
Grapeseed oil, which is high in antioxidants, promotes collagen production and helps to decrease lip wrinkles and lines, giving your lips a plumper appearance and making your lip care routine more effective.
Mango and cocoa butter are high in hydrating fatty acids that penetrate quickly and nourish the skin from the inside out.
A combination of vegetable wax and soothing glycerin keeps skin moisturized and soothes itchy skin.
Aloe vera extract and granulated oats gently exfoliate dead skin cells and impurities. For those who have lost their pink/red lip color, Active Oat Powder Scrub Grit can help to remove dark stains. Meanwhile, Vitamin E is a potent antioxidant that helps in the maintenance of a youthful look.
[Must Read: The Moms Co. Natural Vita Rich Under Eye Cream Review]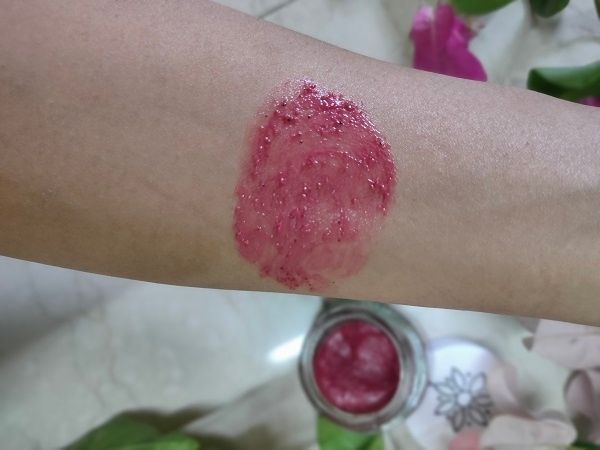 Pros of Bella vita organic nicolips lip scrub
Organic, free of harmful chemicals
Cruelty-free
Best for gentle exfoliation
Decent, convenient, and tiny glass tub container
Significantly lightens lip pigmentation and discoloration
Easily available online
Nice fruity fragrance and gel-like texture
Lasts a long time
Glides smoothly over lips
Nice and gentle yet effective scrub
Does what it claims
Cons of Bella vita organic nicolips lip scrub
Shelf life: 24 months from manufacturing
Availability: Easy (You can easily purchase it on Amazon or their official website bellavitaorganic)
Overview
Nicolips' mild lip scrub is the best and most effective way to get rid of dark lips. Bella Vita Organic Nicolips Lip Scrub is an excellent scrub for removing darkness and pigmentation from the lips and giving them a delicate, pink appearance. Nicolips is extremely hydrating and nourishing, leaving my lips soft, rosy, plump, and nourished. Overall, it's a decent scrub made from natural ingredients. It's worth a shot!