I'm going to review Dove's intense repair shampoo today. Most of us are know that hair can become stressed and damaged over time, despite our best efforts. Did you know that the effective damaged hair treatment can help you repair your hair's health and perhaps make it healthier-looking in the long term? New Dove Intense Repair Shampoo offers a unique formulation that noticeably restores and nourishes damaged hair regularly. So, let's see whether it actually does provide the claimed results.
Dove Intense Repair Shampoo Review
This intensive repair shampoo contains fibre actives that help provide healthy-looking, strong hair that resists breakage while making hair more beautiful. Dove shampoo is designed for dry, lifeless, dull, or color-treated hair, as well as damaged hair.
This dove shampoo removes dirt hair, making it suitable for daily use by those of us with brittle hair. And, in addition to rapidly healing the look of surface damage, it also strengthens the root of strands when used with conditioner, making your hair noticeably fresh, stronger, and gorgeous, making it a fantastic addition to your daily regimen.
Product Details
Dove nutritive solutions intense repair shampoo developed with keratin actives that helps your hair restore from damage in two ways. The formula improves the appearance and feels of your hair, making it smoother and more resistant to breakage. It also enters the strands to feed the hair from the inside out, resulting in firmer, quite beautiful hair wash after wash.
Price of Dove intense repair shampoo
INR 56 for 80 ml
INR 124 for 180 ml
INR 230 for 340 ml
INR 430 for 650 ml
Sale
Dove Intense Repair Shampoo, 650ml
Nourishing system that rebuilds damaged hair from within
Visible repair and hair nourishment with every wash
Actively helps repair damage deep inside hair
Last update on 2023-09-14 / Affiliate links / Images from Amazon Product Advertising API
Dove Intense repair shampoo Ingredients 
Water, Sodium Laureth Sulfate, Glycol Distearate, Cocamidopropyl Betaine, Dimethiconol and Trideceth-10, and TEA-Dodecylbenzenesulfonate, Perfume, Glycerin, Sodium Chloride, Cocamide MEA, Amodimethicone, and Cetrimonium Chloride and Trideceth-12, Acrylates/Beheneth-25 Methacrylate Copolymer, Styrene/Acrylates Copolymer, Guar Hydroxypropyltrimonium Chloride, Mica and Titanium Dioxide, Sodium Hydroxide, Disodium EDTA, Trehalose, Adipic Acid, Gluconolactone, Sodium Sulfate, PEG-45M, Helianthus Annuus (Sunflower) Seed Oil, Geraniol, Methylchloroisothiazolinone and Methylisothiazolinone, DMDM Hydantoin, Alpha-Isomethyl Ionone, Citronellol, Linalool.
What the product claims:
Suitable for everyday use
Keratin Actives help heal damage deep within the hair
Replenish and restore the look of damaged hair
Protects against future damage with continued usage
Hair appears to be healthier, stronger, and more attractive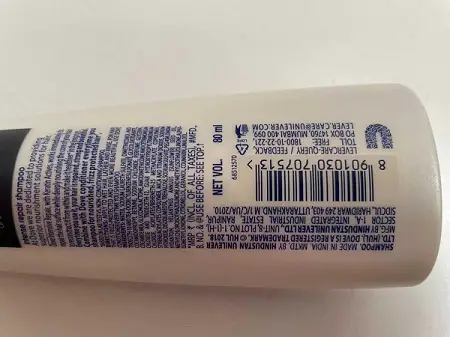 My write-up on Dove Intense Repair Shampoo Review
I've been using Dove intense repair shampoo and conditioner for two months. After a few applications, I have incredibly clean, fresh, and manageable detangled hair. It makes my hair soft; however, the impact is very temporary.
After utilizing heat styling products and chemically formulated shampoos, my hair becomes extremely dry and frizzy. However, after using this Dove shampoo, the hair becomes incredibly soft and protects it from additional damage. It also helps to reduce frizz and cleans the scalp thoroughly, leaving the hair feeling light and bouncy. It delivers the finest effects when I wash my hair after a hot oil treatment and use a conditioner from the same range.
Dove's intense shampoo is gentle enough to use on a daily basis. I tried a lot of shampoos to fix my dull hair, but none of them worked. On the other hand, Dove made my hair frizz-free, nourished it, and made it feel soft like it had never felt before.
It's a gentle shampoo that lathers effectively and cleans thoroughly. It hydrates and softens my hair, leaving it tangle-free. The significant part of this product is that I can use it regularly.
When shampoo is used with Dove intense repair conditioner, it gradually helps to reduce split ends. It thoroughly cleans my hair and scalp while also moisturizing my scalp. However, this shampoo will not help remove dandruff or dry flakes from hair. Also, my hair fall problem is the same as it was previously. After two months of use, my hair fall and dandruff problem have not improved. It's terrible for hair loss, dandruff, and other hair issues. It's suitable for everyday use because it's not a dry shampoo or even a shampoo with many toxins.
If you have split ends, I recommend using Dove intense repair shampoo and conditioner. I like to use this conditioner to treat split ends in particular. It will not cure the problem overnight, but it will help you get better over time. You can also apply a hair mask to boost your hair's condition.
Now that I've stopped using it, I'm using a gentle chemical-free shampoo, and believe me when I say that my hair fall has decreased considerably since the first use, and I think that the harsh chemicals cause my hair to fall out. Aside from that, Dove intense repair shampoo thoroughly washes dirty hair and leaves it silky and smooth, and it also hydrates dry hair.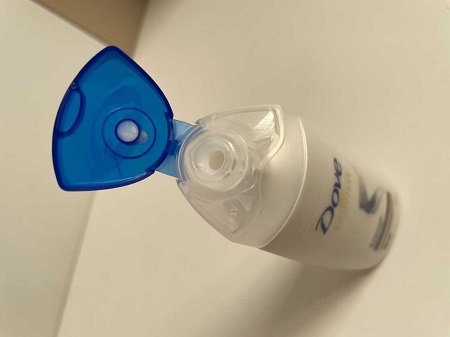 Packaging 
Dove intense repair shampoo has a blue flip open cap packaged in white plastic. The cap is well-sealed and spill-proof. The official Dove emblem is molded on the opening flap of the cover. The product name, some claims, and a blue label image are all found on the front side of the packaging, as is customary. The back of the package includes a description, directions, ingredients, and manufacturing information. I purchased a travel-friendly bottle in a tiny size, and this shampoo is also available in large sizes. I enjoy the durable and user-friendly package.
Texture
This shampoo has a pearly white texture. It has a little thick, creamy, and sticky texture. It's neither too runny nor too thick, and I have to combine it with a few drops of water to spread it evenly on my scalp. When rubbed with water, it produces a significant volume of moisture-rich foam. It takes some time and effort to rinse off thoroughly. While washing, it feels slick.
Fragrance
It has a long-lasting flowery fragrance. Many other Dove hair care products have similar smells. It smells just like dove soap, which I appreciate because a hint of scent lasts all day, leaving my hair smelling lovely.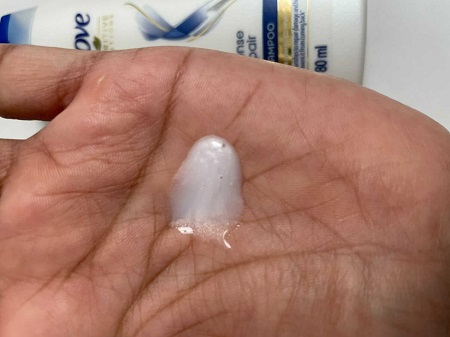 Dove intense repair shampoo vs hair fall rescue
Dove Intense Repair Shampoo does an excellent work of moisturizing and reviving dull, damaged hair strands. This unique formula not only heals but also protects damaged hair from future damage. On the other hand, The Dove Hair Fall shampoo can be used as a one-stop solution for strengthening tresses and reducing hair fall to a significant amount.
How to use dove intense repair shampoo
Wet your hair thoroughly and apply the needed amount of Dove Intense Repair Shampoo to your hair.
After that, carefully massage the shampoo into your hair from the roots to the tips.
Rinse it off with lukewarm or regular water.
Apply Dove Intense Repair Conditioner to your hair after dove repair shampoo for the better effect.
Sale
Dove Intense Repair Shampoo, 650ml
Nourishing system that rebuilds damaged hair from within
Visible repair and hair nourishment with every wash
Actively helps repair damage deep inside hair
Last update on 2023-09-14 / Affiliate links / Images from Amazon Product Advertising API
Pros of dove intense repair shampoo
Ideal for daily hair wash
Budget-friendly
Effectively cleanses the scalp
Nourishes and conditions damaged and frizzy hair
Prevents breakage
Nourishes the hair without over-drying
Pleasant fragrance
It makes healthy hair that feels stronger
Remove any debris, contaminants, or excess oil
Repairs the damage caused by my heat treatment
Repairs split ends
Available in various sizes (from sachets to 650ml bottles)
Cons of dove intense repair shampoo
It contains too many harmful chemicals
Not sulphate-free
Contains Silicon
There is no difference in dandruff or hair loss.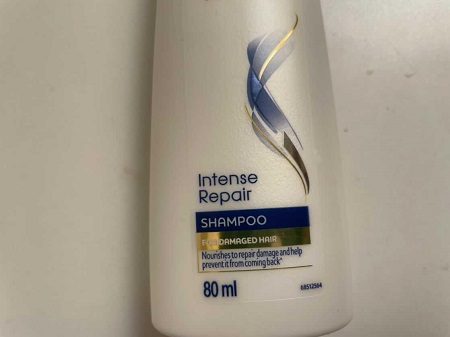 Overview
Dove intense repair shampoo is a shampoo that cleans, moisturizes, and combat frizz. This moisturizing shampoo restores hair breakage and makes it smoother and stronger. It's designed specifically for damaged hair, and it's not for hair fall, dandruff, or any other type of hair issue. It contains a unique nourishing formula that efficiently nourishes the hair, and it has nothing to do with hair aside from that. As a result, I will recommend anyone who merely requires shampoo for dull and damaged hair.
Frequently asked questions
Is Dove Intense Repair shampoo paraben free?
Yes, it is a paraben-free shampoo.
Is Dove Intensive Repair good for hair loss?
Dove repair shampoo is a great way to keep your hair moisturized. It's designed to repair damaged hair while also preventing split ends. However, it doesn't reduce hair loss. After two months of use, I found no difference in my hair fall concern. Dove hair fall treatment shampoo could be a lifesaver for hair loss.
Does Dove Intense Repair Shampoo have any side effects?
The Dove intense repair shampoo may not suit hair because it contains sulfates. Excessive product usage damages the hair, making it drier and causing more harm than benefit. So yet, no major side effects have been recognized, and this product has no components that can cause negative side effects when used.
Last update on 2023-09-03 / Affiliate links / Images from Amazon Product Advertising API