For a lot of people, one of the most dreaded aspects of a special event is hair loss. Whether it's a big event or not, getting ready for a night out is stressful when your hair isn't cooperating.
We've been very vocal about the importance of avoiding heat damage, but even a little heat styling on a day when you're just washing and styling will likely cause a little frizz. Another regular occurrence is heat damage caused by styling tools.
Excessive hair loss leads to bald spots and our forehead seems bigger. Mamaearth onion haircare range offers oil, mask, shampoo, conditioner, and serum for hair fall solutions. 
All mamaearth hair products in India are designed to be sensitive to the senses, and all products are organic and safe to use. Therefore, today I will share a review of Mamaearth onion hair fall control shampoo for hair with onion & plant keratin.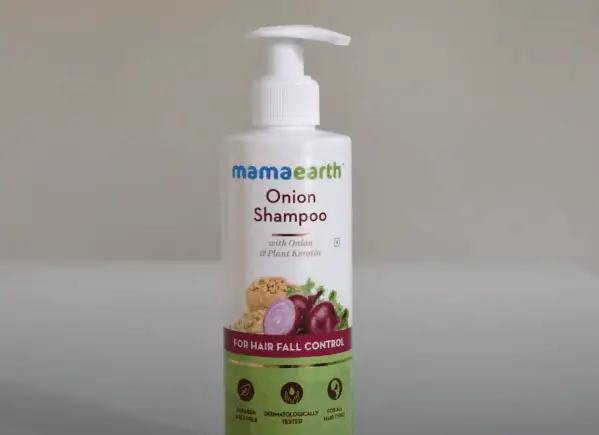 Mamaearth Onion Shampoo Review 
It is made with natural ingredients for better health of hair and scalp. They are cruelty-free, with no paraben, and no harmful chemicals. 
This Onion Hair Shampoo by Mamaearth helps you combat hair fall and accelerates hair regrowth. It contains onion oil and plant keratin that replenish and strengthen hair, to make it frizz-free.
You may find this to be a good match for keratin-treated hair as very often, the strong chemicals in keratin treatment contribute to excess hair shedding and thinning of hair. 
Also, I recommend doing regular oil treatments. Oiling helps nourish your hair and boosts both scalp and hair health. You can purchase Mamaearth Onion Hair Oil with the onion shampoo that is safe to use on chemically treated hair.
Also, for better hair fall treatment, you can use Mamaearth onion mask along with Mamaearth onion oil, and shampoo, and also use Mamaearth conditioner for more nourishment.
Product Details
Mamaearth Onion Hair Shampoo is infused with key ingredients Onion oil and plant keratin. These both help to repair the natural structure of the hair and makes hair glossy and frizz-free. Onion seed oil forms a protective layer that grows hair and maintains moisture balance.
Sale
Last update on 2023-11-10 / Affiliate links / Images from Amazon Product Advertising API
Price
INR 349 for 250 ml
INR 559 for 400 ml
Mamaearth onion shampoo ingredients
Aqua, Vegetable, Glycerin, Onion Oil, Plant Keratin, Sodium Methyl Cocoyl Taurate, Caprylyl/Capryl Glucoside, Sodium Cocoamphoacetate, Xanthan Gum, Sodium Lauroyl Sarcosinate, Glyceryl Stearate, D-Panthenol, Cocamidopropyl Betaine, Vitamin E, Sodium PCA, Potassium Sorbate, Sodium Gluconate, Polyquaternium 73, Polyquaternium 10, Phenoxyethanol, IFRA Certified Allergen Free Fragrance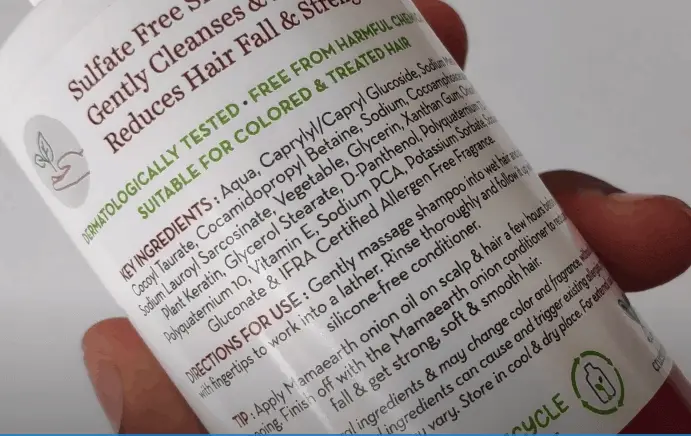 Made without: This product is free from toxins such as silicone, dyes, parabens, mineral oil, sodium Laureth sulfate(SLS), and synthetic fragrance.
What the Mamaearth shampoo claims:
Safe for colored & chemically treated hair, this anti-hair loss shampoo is free of harmful elements & toxins.
My write-up Mamaearth onion shampoo review
When we heard onion shampoo, the first thing that comes to mind is the strong fragrance of onion but Mamaearth's anti-hair fall shampoo turned out to be so different and pleasant smell. It makes my hair a little softer without conditioner.
This shampoo has not onion-like smell but has a very refreshing fragrance which is good.
It helps to decrease fizziness and makes hair healthy and smooth. My hair is naturally smooth and silky. So, no requirement of using conditioner as it is enough to saturate the hair and scalp.
This cleanser is helpful for the significant hair fall and dandruff issues, but not for serious hair fall. I notice the result within one month. Its smooth and exceptionally gentle smell this cleanser can be utilized in colored or treated hair.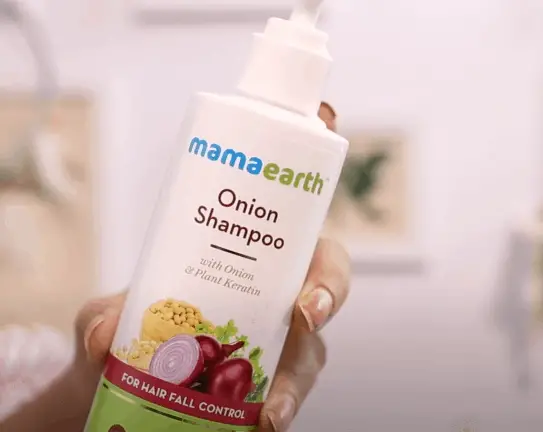 This is the best hair fall shampoo that I have at any point attempted. This has not simply controlled my hair fall yet additionally given me healthy hair and scalp.
It will not make lather too much but yes it will clean my scalp and hair nicely. But the scalp gets sticky after two days of hair wash.
So, the drawback of Mamaearth onion shampoo does not give a squeaky-clean feel, it leaves a layer of oil despite washing it more than 3-4times with water trying to remove it.
In short, there appear to be no substantial results as it claims plus there emerges a doubt of it being organic too. Not suggested for oily-skinned people as it leaves an oily layer after wash.
Keep in mind you need to apply a lot amount of shampoo if you want to clean your hair properly. A small amount doesn't work as it doesn't foam well. Especially if you applied oil to your hair.
The well-known wow onion shampoo is the same as the Mamaearth onion shampoo. Most of the ingredients are the same and both work the same. But I preferred Mamaearth more because, for me, it is the best shampoo for hair loss. Both are free from harmful chemicals and are made naturally.
[Check – Mamaearth Vitamin C Face Wash Review]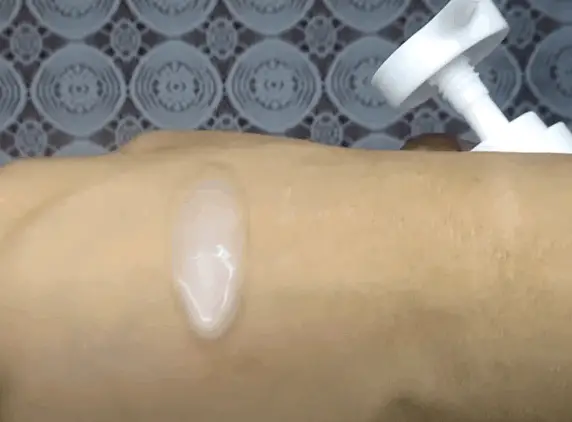 Packaging
It comes in a white-colored recyclable plastic bottle with a siphon top. The nib is a long and very comfortable pump top for dispensing shampoo. The sturdy packaging will last longer without breaking until the bottle lasts. The size of the bottle is large and the nozzle can't be locked once opened, so this large packaging cannot be used as travel-friendly. The label mentioned all details like key ingredients, directions for use, manufacturing and expiry date, etc.
Texture
Its consistency is translucent white thick gel-like that is not easily spread. So, mix it with adequate water for easy application. Also, it has a slight shimmer.
Aroma
The fragrance is mild and tolerably different. But the smell is a combination of floral essence and onion.
[Check – Mamaearth Aloe Vera gel Review]
Results
I feel my hair becomes a little smooth after the first wash. But the hair fall is the same as earlier. In case of a hair fall, I must be patient. Since it is something like a drawn-out impact. However, after a couple of washes, my hair fall is still there, not totally gone. I've not noticed much difference in my hair loss. But yes, my hair fall is not increased. Therefore, I can say that it reduces hair fall to some extent.
When I used this on oiled hair, my hair becomes more smooth and soft in the first wash. But it doesn't remove oil completely from the hair and scalp.
However, when I used this hair loss shampoo on non-oiled hair, my hair becomes a little dry after washing. But the conditioner or mask from the same hair fall kit helps to overcome this problem.
Thus, the downside of this shampoo is it does not take the oil off the scalp nicely so the scalp becomes oily in two days.
How to use mamaearth onion shampoo
Take a required quantity of shampoo and apply it to wet hair and scalp. Gently massage using fingertips. Wash thoroughly and then use a silicone-free conditioner.
This Mamaearth shampoo for hair growth is suitable for regular use. However, with any shampoo, it is not suggested to be used on a daily basis unless you have extremely oily hair, or go through extensive sweating on a daily basis. Shampooing your hair every day can remove the natural oils from your hair and make it weak and dry.
[Check – Mamaearth Tea Tree Face wash Review]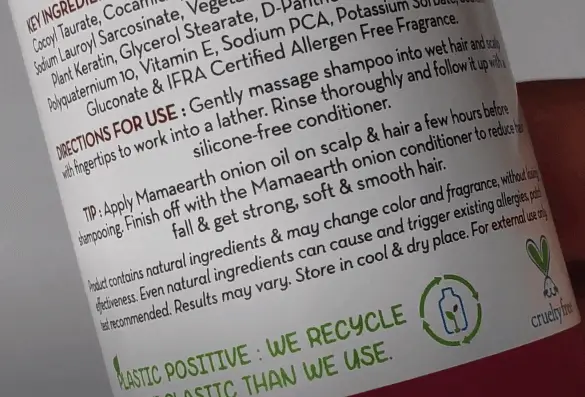 Mamaearth onion shampoo benefits
Onion oil rich in sulfur, potassium & antioxidants, increases blood circulation to hair follicles. So, it stimulates the scalp, prevents hair fall, and promotes hair growth. Also, it helps to reduce itchiness and irritation.
Vitamin E is a powerful antioxidant that strengthens the roots and nourishes hair strands. Its antioxidant properties protect the hair from damage and help boost hair growth.
D-Panthenol is generally known as vitamin B5 that adds shine to the hair as It works as a hair moisturizer, covers the hair, and smoothens the hair strands.
Plant keratin made using 18 amino acids, is an extremely protective protein that helps keep the dampness balance of hair. It makes hair soft and smooth and gives hair natural shine and strength.
Glycerin is a humectant that draws moisture from the environment onto your scalp. It's helpful for dull and damaged hair and may condition quite sufficiently to prevent breakage.
Xanthan Gum is a natural preservative that is mostly used in shampoos and conditioners. It improves quality and product safety.
Pros of Mamaearth onion shampoo
Affordable
Suitable for colored or chemically-treated hair
Made with Natural Ingredients
Free from toxic chemicals
Pleasant fragrance, unlike onions
Does not cause more hair fall
Washes off the oil and dirt
Cons of Mamaearth onion shampoo
Might cause dandruff
Not suitable for oily scalp and dry ends 
Does not have hair-smoothening ingredients. So, a conditioner is a necessity.
Mamaearth onion shampoo side effects
Mamaearth onion cleanser is made with natural ingredients, there are no major side effects. However, they have their cons like other shampoos.
The stickiness of shampoo remains even after using a lot of water while cleansing the hair. So, hair becomes very sticky and hard to touch. Moreover, the application of oil to the hair worsens the problem.
It doesn't clean dirt, pollutants, and oil from the scalp and hair properly even after more application of shampoo. Also, Aloe vera gel, onion juice, or any hair mask may not completely remove if we apply it before shampooing.
It may lead to dandruff problems for very dry scalp people. Dandruff starts building in the scalp on the second day after shampoo.
This will not create a foam or lather while using so we need more quantity of shampoo for washing hair that tends to dry and hard hair.
Shelf Life: 2 years
Availability: Easy
Where to buy: You can easily purchase it at online shopping sites like Amazon, Flipkart, Nykaa, or its official site Mamaearth.
Overview
Mamaearth onion hair shampoo is free from sulfates and is safe to use on damaged, colored, and chemically treated hair. This shampoo is suitable for all hair types. It works well on many hair troubles and gives healthy hair. Also, this cleanser reduces hair breakage and makes hair strong. The shampoo will work well for those who have not severe hair loss. It controls hair fall but does not completely stop it. Overall, it does not work well for hair loss problems.
Frequently Asked Questions
How is MamaEarth onion shampoo?
Mamaearth onion shampoo has safe and natural ingredients. It is infused with the goodness of onion seed oil and Redensyl. It doesn't have an onion smell and has a moderate fragrance. The surfactants are gentle, but it is not much powerful against hair loss. Because the amount and the density of the active ingredients are not significant.
Is Mamaearth onion shampoo mild?
Yes, this shampoo is very gentle on hair and also it has a mild fragrance.
Is Mamaearth onion shampoo sulfate-free?
Yes, it is free from harmful ingredients like sulfates, paraben, dyes, mineral oil, and synthetic fragrance.
Is Mamaearth onion shampoo good?
It will help with many hair troubles and hair fall will get reduced after many usages of this product to some extent. It contains good hair smoothening agent that helps to reduce hair dryness and frizziness and makes your hair healthy. It is free from harsh chemicals and made of natural ingredients.
Is MamaEarth onion shampoo good for dandruff?
Onion is a powerful ingredient to prevent premature graying & dandruff and strengthens hair. But this Mamaearth shampoo is not able to remove dry flakes and dandruff effectively. 
Last update on 2023-11-10 / Affiliate links / Images from Amazon Product Advertising API