Today, I will review Good Vibes Rosehip Radiant Glow Face Serum. Most people hear about the benefits of face serums but aren't know what they do.
Therefore, I'll try to describe it in simple terms. Face serums provide concentrated forms of active ingredients to help hydrate your skin.
There are various facial serums on the market that work on a specific problem, depending on what your goal is.
Furthermore, there is no need to apply large amounts of facial serums on one's skin. A couple of drops of oil may do wonders for your skin.
Good Vibes Rosehip Radiant Glow Face Serum Review
Good Vibes Rosehip Serum is loaded with rosehip oil, which helps to restore the skin's texture. It's a non-greasy, lightweight product that brightens and hydrates your skin.
This good vibes serum moisturizes your skin from the inside out, penetrating deep into the layers of your skin.
Rosehip contains a high amount of Vitamin C, which helps to prevent premature aging and effectively reduces wrinkles and fine lines.
This radiant glow serum hydrates your skin profoundly and cures rough and uneven spots, leaving it feeling soft and plump.
Product Details
Good vibes rosehip face serum redefines the texture of your skin and enhances suppleness because rosehip oil is considered anti-aging.
It's also high in antioxidants and vital fatty acids, which make the skin look brighter and smoother. Rosehip's hydration helps the skin to retain moisture, making it soft and smooth.
Sale
Last update on 2023-09-14 / Affiliate links / Images from Amazon Product Advertising API
Price of Good Vibes Rosehip Radiant Glow Face Serum
INR 225 for 10ml
INR 399 for 30ml
INR 499 for 50ml
Good Vibes Rosehip Serum Ingredients
Rosehip Oil, Almond Oil, Jojoba Oil, Vitamin-E, Sesame Oil, Butyl Hydroxy Toluene, Cyclopentasiloxane
Made Without: This product is free of parabens and sulfates and has not been tested on animals.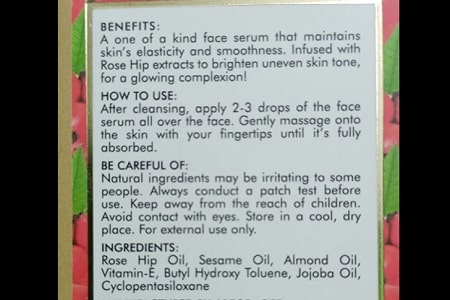 What the product claims:
This revitalizing serum will give you a healthy, natural shine.
It restores the shine of your skin.
Lock in healthy moisture to keep your skin hydrated and smooth.
A non-greasy, lightweight product that brightens and illuminates your skin.
A serum that improves your skin's overall appearance for a gorgeous, luminous shine.
My write-up on Good Vibes Rosehip Serum Review
I've been using this good vibes face serum for a month and a half. It moisturizes my skin well, although a moisturizer accomplishes the same thing. It simply provides the skin with an immediate glow.
For my normal skin, it worked well. It enhanced the texture of my skin, making it smoother, and it eliminated the need for a moisturizer for normal skin. It gives an instant shine to the face, but for skin lightening effect, and good vibes vitamin c serum is good.
I used it before going to bed, and only a couple of drops are needed to massage adequately. It takes a few seconds to penetrate into the skin and leaves the skin with a beautiful glow the next morning.
It's a little sticky when I first apply it, but after massaging it into my skin, it's completely absorbed and my skin looks normal. On my skin, there is no oiliness. however,  People with oily skin may notice a slight greasiness on their faces.
It hydrates and moisturizes the skin well, although it is not a moisturizing cream. As a result, especially those with really dry skin need to use a mild moisturizer. Oily skin does not require moisturizing.
It provides an immediate glow and is easily absorbed. However, after 3-4 days of use, it causes pimples on my forehead. After using one month on a regular basis, reduced my acne and post-acne scars, also reducing tiny zits on my forehead. I also use it before putting on makeup since it gives me a glow.
Initially, for a few days, you may experience irritating feelings in some portions of your face. In addition, after a few days of use, little pimples emerged on my face. So I suggest giving it a try for one night to determine whether it's worth keeping (this is already mentioned in the product details).
Rosehip isn't the main component, despite how it's advertised. Rosehip is listed as the last component on the bottle, and the percentage isn't specified. Sesame oil is the main ingredient, along with a few other ingredients.
Overall, this serum instantly hydrates skin without causing oiliness. The serum is quite light and quickly absorbs into the skin. Just two or three drops are plenty for your face.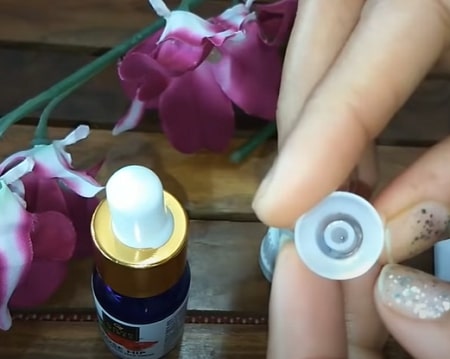 Packaging
The good vibes rosehip radiant glow serum comes in a blue-colored glass bottle with a dropper dispenser and the bottle packs in a cardboard box. Spill-proof packaging is provided with a white-colored cap that seals the glass bottle.
Once you've opened it, you can reattach the dropper with the cap. The package is leakage-proof, but it is not travel-friendly. The product information is printed on both the box and the bottle. The glass dropper comes with 10ml and 30ml bottles, whereas the 50ml bottle has a plastic dispenser on top. 
Texture
The serum has a transparent tint and is slightly sticky. This clear liquid has a slightly thicker consistency and a gel-like feel. It has a semi-runny consistency that is neither thick nor watery. It is quickly absorbed into the skin.
Fragrance
It has a little strong fragrance but there is no synthetic perfume included in the ingredient list, so I suppose the smell derives from all of the natural oils specified.
How to use good vibes rosehip serum 
After cleaning your face with a gentle cleanser, use a dropper to apply a few drops of rosehip serum on your face.
Now, gently massage the serum into the skin with your fingers until it is equally distributed and absorbed.
I used it in the morning as well as at night. It's the first thing I do in the morning before applying sunscreen. Because it's light, it works great under the foundation to give you a dewy look. After using this, the foundation or BB cream glides smoothly.
In addition, I use it in my nighttime routine if I feel my skin is parched or in need of little additional pampering.
Good vibes rosehip radiant glow face serum benefits and ingredient analysis
Rosehip Oil moisturizes the skin, stimulates regeneration, and enhances the elasticity and texture of the skin thanks to its moisturizing and rejuvenating properties.
Sesame Oil has anti-inflammatory, antimicrobial, and antioxidant features. It may help acne-prone skin and acne scars in particular. It also shields you from UV radiation and pollution.
Almond oil soothes and hydrates the skin while also preventing acne and pimples.
Vitamin E contains antioxidant properties that help to reduce free radicals and inflammation on the face.
Butyl Hydroxy Toluene is utilized as an antioxidant in a variety of cosmetic products. It's found in a range of beauty products as a preservative. Butylated hydroxytoluene, or BHT, is an antioxidant and preservative used to stabilize and prevent oxidation in skincare and cosmetic products.
Jojoba Oil helps to clean clogged pores and controls sebum production. Jojoba oil, like other oils, is excellent for healing dry, irritated skin. It moisturizes the skin without clogging the pores, resulting in healthy skin.
Cyclopentasiloxane is a typical component in skincare and body care products that helps products slide on easily and evenly by improving the texture of formulations. It also forms a protective layer for the skin, shielding it from moisture loss, allergies, and bacteria.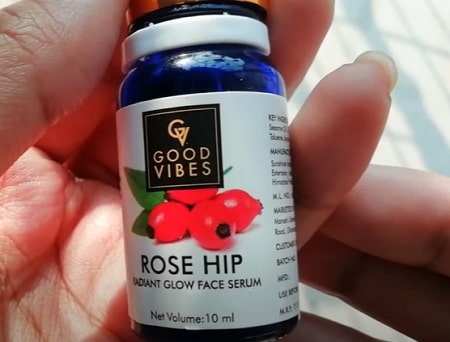 Pros of good vibes rosehip radiant glow face serum 
No parabens, sulfates, & alcohol 
Cruelty-free
Absorbs easily into the skin
Improves skin elasticity 
Smoothens and brightens skin
Different size options are available
Budget-friendly
Gives that healthy glow to the skin instantly
Semi-thick consistency
Keeps skin hydrated and moisturized
Easily available
Gives instant shine to the face
Cons of good vibes rosehip radiant glow face serum 
Due to the glass bottle, it is not suitable for travel.
It does not sufficiently moisturize the extremely dry skin
A glass dropper can be broken by falling from the hand or any other way.
Natural ingredients may be aggravating to some persons
Because you might experience little bumps on your face, you should perform a patch test first.
Shelf life: Two years
Sale
Last update on 2023-09-14 / Affiliate links / Images from Amazon Product Advertising API
Overview
Good vibes rosehip radiant glow face serum moisturizes my skin without clogging my pores. It is one of the best serums at this price point. This serum's consistency is perfect for me. This amazing stuff gives a healthy and hydrated glow that lasts a long time. Anyone who wants to add hydration and brightness to their skincare routine should try this.
Frequently Asked Questions
Is good vibes Rosehip serum good for combination skin?
Rosehip oil contains a high amount of vitamin c and has a brightening impact, making it an excellent ingredient for combination skin. It hydrates oily and combination skin well without making it greasy or oily.
Is good vibes rosehip serum good for oily skin?
This serum contains jojoba oil, which is excellent for hydrating oily skin. However, very oily skin feels a bit of stickiness after applying it. It does not cause acne or breakouts, even on sensitive skin.
Can I use good vibes Rosehip serum before makeup?
Yes, this serum can be used before applying makeup. In fact, you may add 2-3 drops of this rosehip serum to your foundation for a natural dewy finish. It's a great makeup look for a casual day in my opinion.
Last update on 2023-08-29 / Affiliate links / Images from Amazon Product Advertising API