Today I'll be reviewing Plum Vitamin C Serum. Over the past decade or so, vitamin C serum has become a well-liked skincare product.
A vitamin C serum works well to increase collagen synthesis and decrease wrinkles. Our skin's major structural protein, collagen, is crucial to maintaining the youthful appearance and health of our skin.
Vitamin C has three scientifically proven magical properties: antioxidants, collagen enhancers, and skin brighteners.
When applied topically, vitamin C at a concentration of at least 10% has been shown to reduce wrinkles, dark spots, and other oxidative damage as well as enhance your skin's natural glow.
So I'd want to share my experience and results using Plum vitamin C face serum.
Plum Vitamin C Serum Review
Product Details
Plum goodness vitamin c serum contains Ethyl Ascorbic Acid (EAA, 15% active). It is a water-soluble type of vitamin C that immediately enters the skin and resists oxidation for a longer period of time.
It also has Mandarin, Kakadu Plum, Betaine, and Rose Extracts. This face serum with Mandarin and vitamin C absorbs quickly and gives your skin a soft, glowing, and plump appearance.
Japanese Mandarin increases the formation of collagen and Vitamin C in the skin. Betaine hydrates skin and rose extract calm it.
The highest plant source of vitamin C is the Kakadu plum, which is also high in folic acid and carotenoids, an antioxidant that helps against UV damage. 
Price
INR 550 for 20 ml (Buy Here)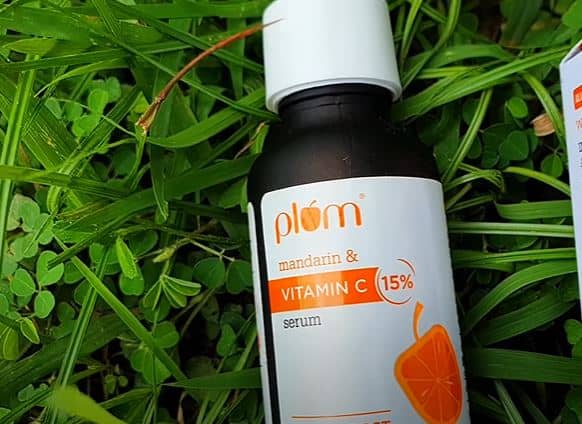 Plum Vitamin C Serum Ingredients
Aqua, Ethyl Ascorbic Acid, Betaine, Citric Acid, Isodecyl Neopentanoate, Terminalia Ferdinandiana (Kakadu Plum) Fruit Extract, Propanediol, Ethoxy Diglycol, Benzyl Alcohol, Sodium Citrate, Xanthan Gum, Citrus Reticulata (Mandarin) Peel Extract, Rosa Damascena (Rose) Extract, Hydroxyacetophenone, Trilaureth-4 Phosphate, Sodium Polyacryloyldimethyl Taurate, Caprylyl Glycol, Sodium Gluconate.
What the product claims:
Fights hyperpigmentation
Reduces dark spots
Enhances glow
Evens out skin tone
Helps fight sun damage
Read: Biotique Vitamin C Dark Spot Solution Serum Review
My write-up on Plum Vitamin C Serum Review
I've been using this product for a few weeks, and it works great for my skin. Despite having oily skin, I had no problems using this serum.
If you are new to including vitamin c serum in your skincare regimen. It is the best vitamin C serum for beginners.
My oily skin doesn't feel heavy or sticky after using it, and I follow it up with a light moisturizer and sunscreen. It offers me a healthy-looking shine and softens my skin. My skin doesn't experience any adverse effects from this serum, such as a burning sensation.
The serum is very light and immediately absorbs into the skin. Little drops will suffice to last a long time. Additionally, due to its watery, light texture, dry skin requires a thick layer of moisturizer to be applied on top. If you don't follow up with a decent moisturizer, your skin could become dry.
This plum serum helps to lighten my dark spots, brighten my dull skin, and enhance the texture and complexion of my skin. Additionally, it helps to reduce open pores.
The best part about this plum mandarin vitamin C serum is that since it doesn't contain any oils, it didn't cause any breakouts on my skin. It works best for my skin when I combine it with the Plum E-Luminance Moisturizer. As a result, it is the best vitamin C serum for oily acne-prone skin.
This serum is a lifesaver for my acne scars. Also, it significantly lightens skin and lessens pigmentation. Furthermore, it does not cause blackheads or pimples.
My face seems to be much more clear and bright. Although other vitamin C serums are fairly pricey, this one is reasonably priced and does the job wonderfully.
I apply directly this plum vitamin C serum in the morning before applying makeup since it blends easily and creates a flawless look. Also, you can use it at night on your face.
It takes some time for this serum to show benefits. You must therefore be patient for at least a week, following which you will undoubtedly see improved skin texture and brighter skin. It gracefully absorbs into the skin and keeps the glow throughout the day.
Sale
Last update on 2023-09-14 / Affiliate links / Images from Amazon Product Advertising API
Packaging
Plum Vitamin C 15% glow boost serum is packaged in a lovely outer box. The interior box has a dropper bottle. It also has a protective lid that protects the product from leakage. It comes in a tinted dark glass bottle to prevent oxidization. The packaging contains all relevant information. However, there isn't an ingredient list on the packaging, which I believe is a small drawback.
Read: Garnier Vitamin C Serum Review
Consistency
It has a light, watery texture that soaks up rapidly into the skin without leaving an oily behind. Additionally, it gives the skin a soft glow right away after application.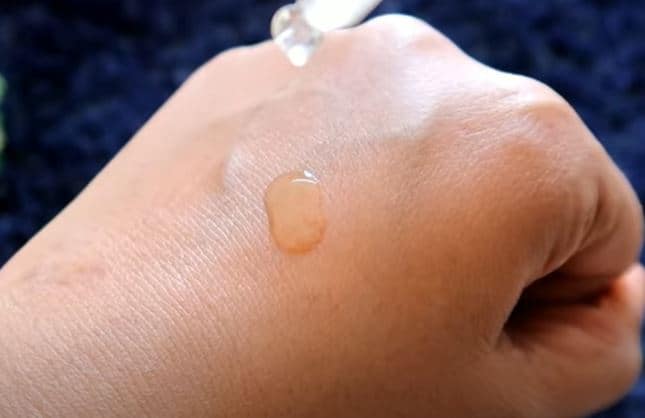 Fragrance
The serum features a fragrance-free formula and no aroma in the product. However, the natural ingredients do not have a chemical or synthetic odor. It smells quite faintly.
How to use Plum Vitamin C Serum
The best way to use vitamin C serums is to massage them into your skin.
Start with a freshly cleaned face, then pat a few drops of serum onto it.
Once the vitamin C serum has been thoroughly absorbed, massage the skin.
Apply SPF during the day and moisturizer at night as a precaution.
Plum Vitamin C Serum Benefits and Ingredient Analysis
Ethyl Ascorbic Acid is a highly stable compound that is soluble in both oil and water. Also, it is a potential source of Vitamin C, a skincare powerhouse. It reduces pigmentation, increases skin suppleness, and minimizes fine lines and wrinkles.
Propanediol can be used as a solvent, to increase the effectiveness of preservatives, and to increase skin moisturization.
Kakadu Plum enhances moisture while promoting skin renewal.
Betaine is an amino acid component obtained from sugar beets that have significant skin protection and moisturizing characteristics.
Japanese Mandarin increases the effectiveness of vitamin C and gives the skin an immediate glow.
Isodecyl Neopentanoate offers a light, non-greasy feel. It works wonders at easing the greasy or heavy feeling.
Hydroxyacetophenone is a useful multipurpose ingredient that functions as an antioxidant, a preservative enhancer, and a calming agent.
Read: WOW Skin Science Vitamin C Serum Review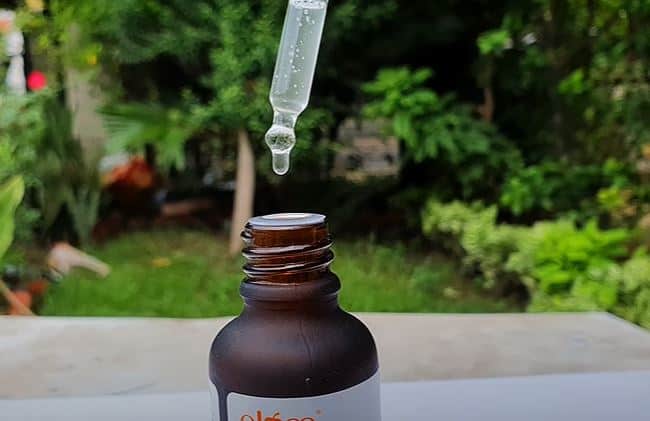 Pros of Plum Vitamin C Serum
Vegan and Cruelty-Free
No artificial colors or essential oils
No synthetic fragrances
Paraben-free and Silicone-free
Beginner-friendly
Brightens skin
Reduces dark spots
Gives natural glow
Quick absorbing formula
Doesn't leave a greasy feel
Cons of Plum Vitamin C Serum
No good for hypersensitive skin
Plum Vitamin C Serum Side effects
While using this serum, I didn't experience any negative side effects. Plum serum is a product that is generally safe and well-tolerated.
When using this serum, some people may suffer brief tingling, burning, or irritability. However, these symptoms shouldn't stay for very long.
Wash your skin right away to get rid of the serum if you suffer prolonged stinging or symptoms of an allergic reaction, such as redness or rashes.
Most users stated that it didn't irritate them or have any negative effects. The only exception was for people with sensitive skin, as powerful levels of vitamin C might occasionally irritate it.
Overview
Overall, Plum Vitamin C Serum reduces pigmentation, moisturizes skin, and gradually lightens dark spots. Also, it is good for dehydrated and dull skin.
This Plum Vitamin C serum is a must-try for anyone looking for an affordable, high-quality Vitamin C serum. However, be careful to run a patch test. Also, remember to put on sunscreen after using vitamin C.
Frequently Asked Questions
Is Plum Vitamin C Serum good for sensitive skin?
This serum is mild on the skin and free of any potentially damaging ingredients. It contains lots of antioxidants, moisturizing elements, and fruit extracts that will help to cure the skin's damage. These ingredients are suitable for those with sensitive skin.
Can I use plum vitamin C with niacinamide?
Yes, you can combine vitamin C and niacinamide products in your beauty routine. If your skin is really sensitive, you should still proceed with caution. So, to prevent irritation, you might want to use low amounts of niacinamide if you do have sensitive skin.
Can we apply Vitamin C serum directly on the face?
According to skin care specialists, you should use vitamin C serum immediately after toning your skin. Just a few drops of serum can be applied to the face or palm. Pat the face gently, then wait for the product to penetrate completely into the skin. Use a hydrating moisturizer to lock the serum into the skin.
12 Best Vitamin C Serums in India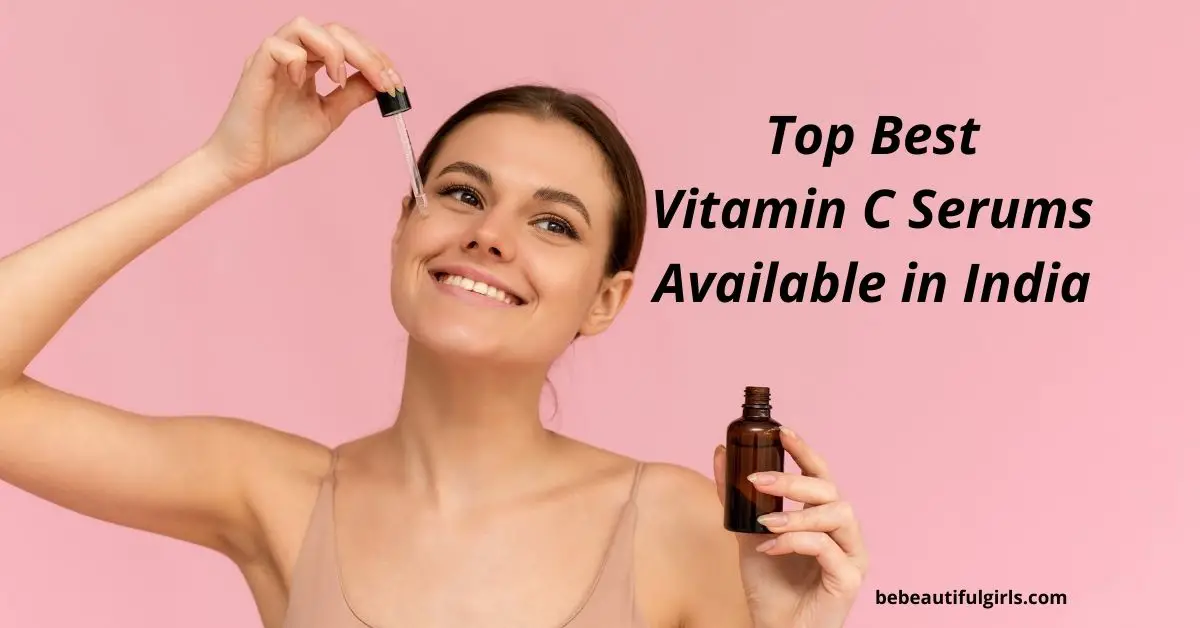 Vitamin C is a well-researched skincare ingredient that has long been a preferred treatment for various skincare issues. Check out the complete details of India's 12 best vitamin c serums.