Deyga Body Scrub Review
Scrubbing is a vital part of exfoliating your skin, and thus it is essential when you are at a phase in your life when it is time to get rid of toxins from your body.
Any treatment for shiny, glowing skin will, naturally, have to be performed regularly to achieve optimum results.
Once your pore has been purged and your skin hydrated, it will be ready to receive a face and body scrub, an essential step in making your skin radiant and beautiful.
The excellent skin benefits of a body scrub will help you get glowing and glowing, especially during the summer months. 
Getting a decent scrub with organic ingredients can make a huge impact on the appearance of your skin. So, when I came across a body scrub from deyga organic skincare, I had to have it. Therefore, today I will review Deyga body scrub.
About brand:
I have used some deyga organic products; Deyga beetroot lip balm becomes my all-time favorite for soft lips. Deyga brand offers 100% natural and organic products that nourish the skin and hair without irritating the skin.
The idea behind Deyga is pretty simple: it uses ethically sourced organic ingredients and is prepared in hygienic environments. Each product is made with traditional recipes and made, mixed, and packed by hand. All deyga products are cruelty-free and sustainable.
They have an amazing collection of skincare products and hair care, wellness, baby care, bath & body, and oral care.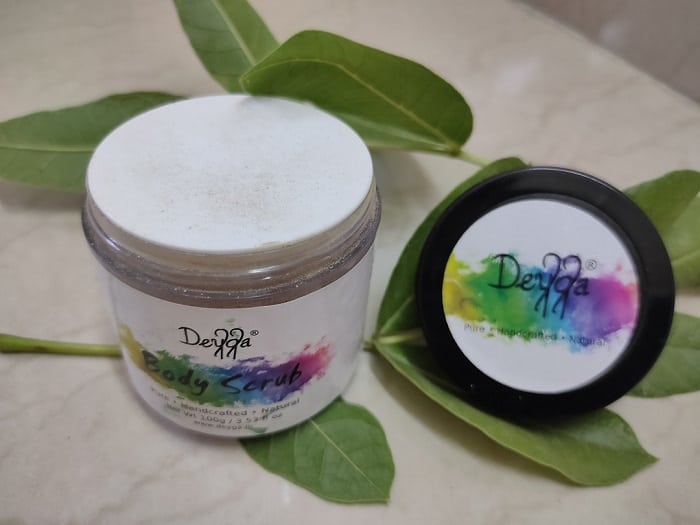 Deyga Body Scrub Review
The scrub is free from a range of potentially irritating ingredients, including parabens, alcohol, and silicones, and the packaging says it's suitable for all skin types.
A rich and richly scented body scrub that is pleasant to use and soothing for sensitive skin. The product is made with 100% natural ingredients; thus, it has eight months of shelf life.
The Deyga handmade scrub is gentle, so it's great for normal to oily skin, and it smells absolutely divine. It's the perfect way to get a full, nourishing scrub without having to sit around for half an hour with some sand in your bath.
I like the fact that they do not use any artificial fragrances, preservatives, or artificial colors in their products and keep base ingredients 100% natural and pure.
Product Details
Deyga scrub is made with the goodness of pomegranate, orange, and papaya. Its natural ingredients effectively clean the clogged pores to give a healthy glow and dirt-free skin.
It doesn't dry out the skin like other body scrubs and keeps up sufficient dampness levels for dry skin. Scrub removes dead skin due to exfoliation, animates the underlying tissues, and removes tan efficiently.
Deyga Body Scrub 100g
Skin Type:All skin types
Ingredients:Ananas, Pomegranate, Orange, lbimi, Lime, Papaya, Purple rice...
Usage:Take a spoon full of Powder on your palm and add water/Deyga's skin...
Last update on 2023-10-22 / Affiliate links / Images from Amazon Product Advertising API
Price
INR 370 for 100g (3.53 fl oz)
Deyga body scrub ingredients
Ananas, Pomegranate, Orange, Papaya, Skin Cherishing Essential Oil, Lime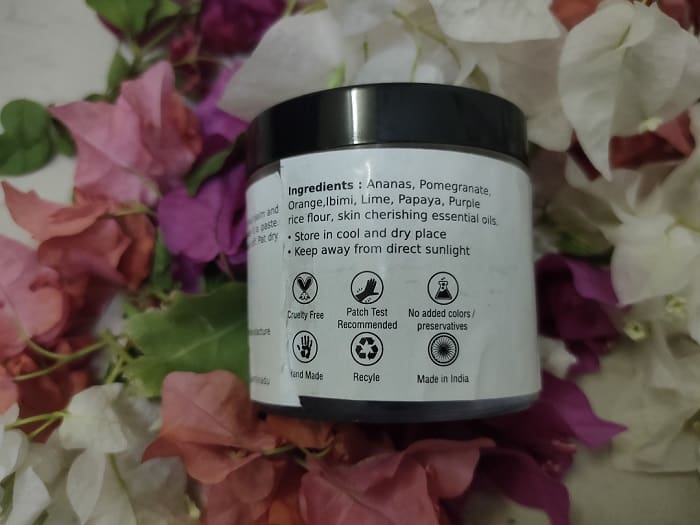 Made without: Deyga Organics Products free from Parabens, SLS, SLES, Petrolatum, Silicones, DEA, MEA, TEA, Phthalates, and Ethoxylates. 
What the product claims:
Deyga organic scrub helps exfoliate the skin, remove dead skin, reduce blackheads, reduce tan, and remove impurities. Also, it unclogs pores and polishes the skin.
My write-up on Deyga organics Body Scrub Review
I love natural products, and I have used this body scrub for around 20-25 days. My neck had black patches, and also, I have dark underarms and dark elbow problems. After the first application, I didn't notice any change in my dark neck, elbow, and underarms, but my skin feels smooth and supple.
However, after a few usages, I noticed my underarms, elbow, and neck darkness removes very much, and I can see noticeable changes in my skin.
I went on a trip last month. So, I have faced a little tanning problem too. It works very effectively to remove my tan altogether. So, for me, it is the best body scrub in India that I have ever used.
The smell of this organic body scrub is delightful. It doesn't dry out my skin and leaves a soft surface and a natural glow; the whole body looks rejuvenated. Also, I did not notice any bad stuff like itchiness, redness, and irritation after using it.
I normally use this scrub twice a week. I mixed it with a Deyga basil toner, or sometimes I used it with rosewater that I made at home. It works amazingly on my dark patches and tanning.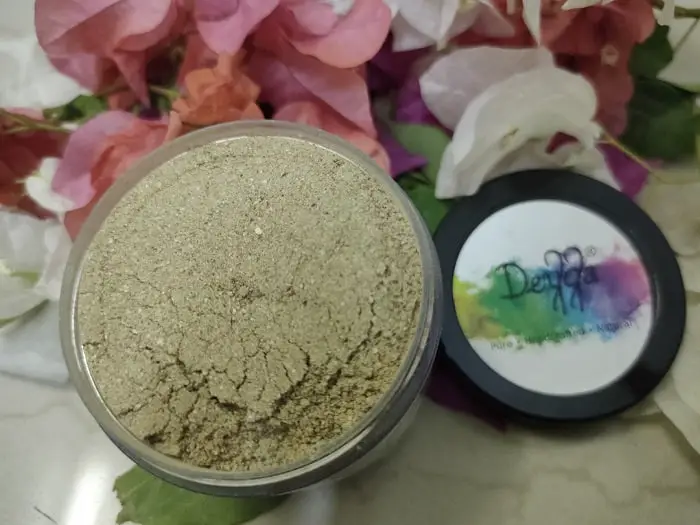 To some extent, it also helps in the reduction of pigmentation. But I think frequent application works amazing for pigmentation problems.
Also, it is a good option for strawberry legs. I have little strawberry legs, not much. After some use, it removes completely, and the legs feel silky and smooth.
It is not so harsh and rough on the skin but very gently exfoliates the body. A little quality is enough, so it lasts for a longer time. It is one of the best body scrub exfoliators.
Deyga organics body scrub is formulated for only the body, not for the face. For the face, I will recommend using Deyga healing turmeric mask. This face mask gives amazing results for many face problems.
Packaging
It arrives in a round container with a black twist-open top. The plastic body covering has wrapped with white paper. In that wrap, All information stated on white paper, like directions of usage, ingredients, expiry date, price, etc., are available on the packaging itself.
The sturdy jar packs with a double protection lid with a white plastic guarded cover inner and a screw lid on the top. This packaging looks simple and leakproof, making it perfect for travel-friendly. The black screw lid is tight enough to carry around without fear of leakage. This tub packaging comes without any wooden spoon or spatula along it.
Texture
This organic body scrub comes in powder form that is very mild on the skin. It exfoliates the skin, leaves soften, and healthy glow. Actually, powder exfoliators are more beneficial with regard to removing ingrown hair.
How to use Deyga Body Scrub
Take two parts of scrub powder and mix it with one part of curd, water, and your favorite toner.
Apply to the skin and massage for 3-4 minutes in circular motions. Don't rub your skin; massage gently.
Wash it off with normal water and wipe off your skin. It helps in removing dead cells and tan, leaving your skin soft and smooth.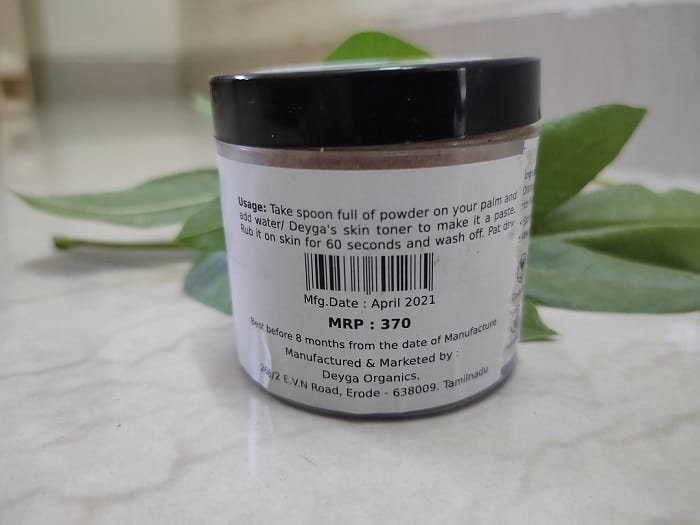 Benefits of Deyga Body Scrub 
Ananas means pineapple. It is loads of vitamin C and antioxidants that can heal acne breakouts, sun damage, and uneven skin toning. Pineapples are a good all-natural exfoliator that exfoliates dead skin cells. Also, pineapple has a powerful enzyme named bromelain which can break down and help clear dead skin cells. It cleans and purifies the skin.
Pomegranate is a rich source of vitamin C, brightening your skin tone. It is beneficial for both oily and dry skin types. Pomegranate effectively treats dull and dry skin. Also, it acts as a detoxifying agent, which helps remove toxins from the skin and provides graceful and plump skin. 
Orange has a high content of citric acid and fruit acids that aids in skin exfoliation and gently exfoliate your skin. Also, It assists with drying out skin inflammation to reveal brighter skin every day and improving the overall look of your skin.
Papaya has skin-lightening properties, which can help reduce damage to the skin cells and clear blemishes and pigmentation. It will provide skin moisture to help you battle dry and flaky skin and bring its natural glow.
Lime helps reinvigorate your skin and shields it from contaminations, gratitude to its disinfectant, antioxidant, and antibiotic properties. It has vitamin C and flavonoids that strengthen collagen. Lime works as a natural bleaching agent because of its skin-lightening properties. It tends to be used to lighten acne scars, dark spots, blemishes, and pigmentation. 
Pros of Deyga Body Scrub 
100% natural and cruelty-free product
Pure and Handcrafted
Contains all-natural ingredients
Products do not have any harmful chemicals
Effectively remove Tanning and skin blackness
Very gentle exfoliator on the skin
Improves skin texture
Keeps skin flawless and young
Cons of Deyga Body Scrub 
Shelf life: Eight months from the date of manufacture
Availability: You can buy it from Deyga.in, and the scrub is only available on their website.
Overview
Deyga body scrub exfoliates the skin well and gives a smooth and subtle glow to the skin. It contains natural preservatives and ingredients, no harmful ingredients. The significant advantage of this scrub is it helps remove dead, lighten tan and remove impurities very effectively, leaves fresher skin. It really improves my skin's overall health without any side effects. I definitely recommend and repurchase it.