Today I'm sharing a review of Biotique Vitamin C Dark Spot Solution Serum, a product from the Biotique Vitamin C range.
Serums and solutions are the most effective approach to ensure that your skin gets enough vitamin C.
Serums and solutions are the most effective at soaking deep into the skin, allowing you to reap the greatest advantages for your skin.
Biotique is a well-known and well-respected brand in India. Advanced organics by Biotique is a range of skin, hair, and body care products.
Biotique claims that their product is created entirely of botanical extracts, that it is organically pure, and that it is free of preservatives. Dermatologists tested it for safety, and it employs animal-friendly procedures.
Biotique vitamin c serum Review
The main ingredient of Biotique Advanced Organics Vitamin C Dark Spot Solution is vitamin C extracted from oranges. Vitamin C is loaded with antioxidant that helps to prevent discoloration and brighten the skin. 
Vitamin C serum boosts collagen formation in the skin, keeping it moisturized and glowing. It also adds elasticity to the skin and improves the complexion.
Product Details
Biotique Vitamin C Dark Spot Solution face serum penetrates deeply into the skin, extracting all of the vitamin's benefits. It aids in controlling targeted spots and reducing fine lines and blemishes on the skin.
It promotes collagen production, which helps prevent the signs of aging on your skin. It also aids in the keeping of an even skin tone and the reduction of damage caused by extended and damaging sun exposure. Biotique's vitamin C Dark Spot Solution helps you achieve youthful, clear, and glowing skin.
Biotique vitamin c serum price
INR 336 for 30 ml
Biotique Vitamin C Serum Ingredients
Organic-certified vitamin C complex
What the product claims:
It provides great hydration and moisture, illuminates the skin from the inside out, and helps remove pigmentation.
Sale
Biotique Vitamin C Dark Spot Solution Serum 30ml |...
Vitamin C Face Serum by Biotique gives luminous youthful skin. Ideal For...
It has an anti-aging effect that helps to diminish fine lines, age spots...
Vitamin C face serum is formulated to help moisturize, nourish and protect...
Last update on 2023-11-10 / Affiliate links / Images from Amazon Product Advertising API
My write-up on Biotique vitamin c dark spot solution Review
I've been using this serum on my oily skin for the past three weeks. Within ten days, my skin texture had improved. Only a couple of drops are needed to cover the entire face. It has made my skin feel more moisturized and fresh.
I can see the improvement in my acne-related facial dark spots, which have lightened significantly. However, my acne marks do not remove completely.
My skin is sensitive and oily, but it hasn't broken out and is doing admirably. I'm delighted to report that I haven't experienced any negative side effects from using them. But, I liked the Garnier vitamin C booster serum better than this one.
It has no dryness on the skin. However, because it has a watery and light texture, those with dry skin will need to use a moisturizing cream afterward.
It absorbs rapidly and leaves a matte finish on the skin without greasiness. It helps to reduce pigmentation and discoloration to a certain extent. This serum is great for oily skin types and persons who have light dark spots or discoloration on their faces.
My skin tone improved after using this vitamin c dark spot serum twice a day for ten days, and dark spots began to lighten slightly. There haven't been any major changes yet. If I use it regularly, I'm hoping it will decrease.
I use it with Biotique's Vitamin C moisturizing cream, and the results are excellent. My skin is oily, but it dries and absorbs rapidly, so there are no breakouts or oiliness.
It has the consistency of a light cream rather than a serum. The only disadvantage is the overwhelming smell, and there are no ingredients stated anywhere. As a result, I'm not confident that this Biotique serum is made entirely of natural ingredients, as they claim.
If you have acne-prone skin, the serum may cause breakouts and leave scars on your skin. This serum is not suggested for people who have acne-prone skin.
Overall, gradually Biotique vitamin c serum helps in the reduction of pimple marks, as well as pigmentation, small wrinkles, age spots, and skin tone evenness. This Vitamin C face serum helps establish a protective barrier on the skin, improving suppleness and promoting beautiful, youthful skin.
Read More: WOW Skin Science Vitamin C Serum Review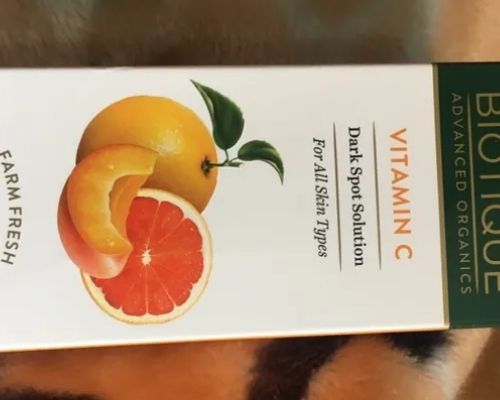 Packaging
Biotique vitamin c face serum comes in a white and dark green colored pump bottle with a transparent and golden cap. The bottle is packed in a cardboard box, and there will be no leaking because the cap closes tightly. However, the pump packaging is disappointing because when you're almost done, a bit of the product stays at the bottom and can't be pumped due to the space between the pipe and the pumps. In this regard, a certain amount is wasted.
Consistency
The solution is non-sticky and non-oily, with a nice texture. The serum has a white, watery texture that immediately penetrates and absorbs into the skin.
Fragrance
This biotique face serum has a pleasant citrus smell. It has a lemony scent and is incredibly refreshing to use, especially in the summer.
Read More: Mad Hippie Vitamin C Serum Review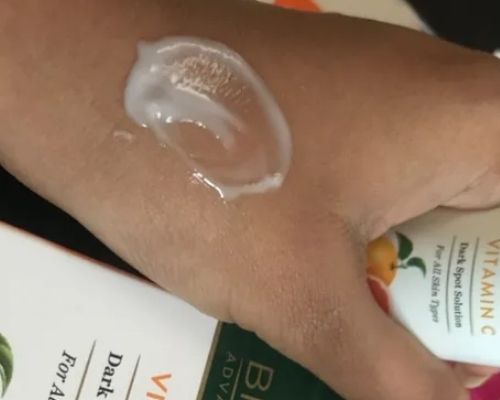 Pros of Biotique Vitamin C Dark Spot Solution Serum
Vegan
Cruelty-free
100% botanical extracts
Refreshing smell and smooth texture
Brightens the skin and gives healthy skin
Improves skin texture
Provides hydration
It gives skin a healthy glow and a youthful appearance
Cons of Biotique Vitamin C Dark Spot Solution Serum
Quantity is a little less for this price.
The ingredients list is not mentioned anywhere.
It doesn't remove dark spots completely, as they claim.
Read More: Good Vibes Vitamin C and B3 Serum Review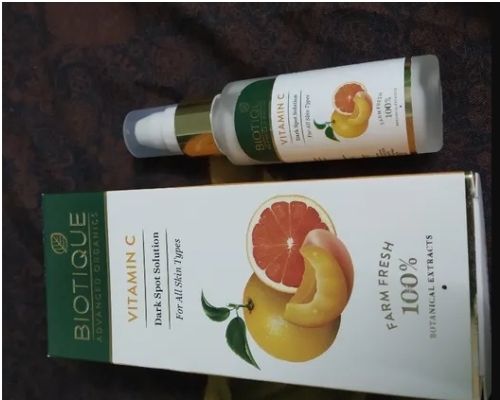 Overview
Biotique Vitamin C Dark Spot Solution Serum is a non-greasy, fast-absorbing serum. It's suitable for all skin types, especially oily skin. This serum is an effective product for instant hydration. Using it daily may help minimize acne spots and other dark spots over time. Anyone looking for a light vitamin C serum should try it.
Frequently asked questions
How do you use biotique vitamin C Dark Spot Solution?
It's the first thing I do after cleansing and before moistening my face. Although this serum can be used twice a day, I only use it in the morning. Gently massage a few drops into your cleansed skin and neck using your fingertips.
Does biotique vitamin c serum good for sensitive skin?
This serum is comprised entirely of natural ingredients and is quite gentle on the skin. It's suited for all skin types, also sensitive skin, and it works well and has no negative side effects.
Last update on 2023-11-09 / Affiliate links / Images from Amazon Product Advertising API