One of the most useful components to include in your skin-care routine is vitamin C serum. You're missing your skin of the various benefits Vitamin C may provide if you haven't begun using it yet.
Vitamin C is the holy grail of ingredients for illuminating dull skin and fading sunspots, especially as we get aging.
The potent antioxidant, vitamin c is important for any effective skincare regimen. One of the most powerful topical antioxidants is vitamin C.
Good vibes offer many effective skincare and hair care products. Also, they have many serums for younger-looking radiant skin.
So, today I'm going to tell you about my experience with Good Vibes vitamin C and B3 serum.
Good Vibes Vitamin C And B3 Serum Review
The Good Vibes Vitamin C & Vitamin B3 Skin Glow Serum is a skin-glow product that can help minimize dark patches and roughness.
The serum contains vitamin C content, which has antioxidant properties and shields the skin from UV damage.
The serum contains vitamin B3, which helps to smooth the skin's appearance and maintain moisture content.
The best part is free from paraben and sulfate. Good vibes vitamin c serum has numerous skin benefits, including improved skin health, the removal of dark spots, and the reduction of wrinkles and fine lines, resulting in younger-looking, radiant skin.
Vitamin B3 helps to keep skin hydrated by reducing water loss. It's also known to boost keratin levels. When Vitamin C and B3 are blended, you get healthy, hydrated, and toned skin. Therefore, it works effectively on dry skin.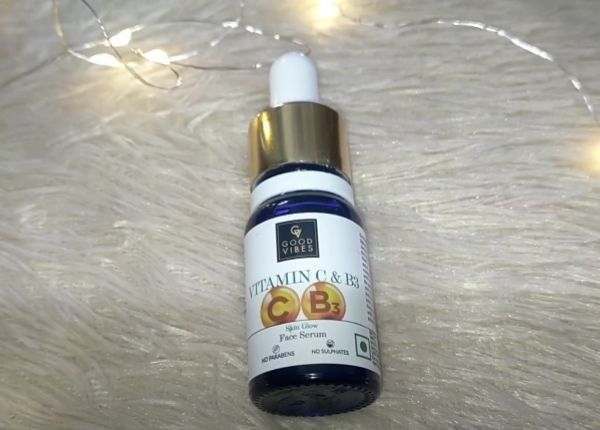 Product Details
Good vibes skin glow serum enriched with Vitamin B3's skin-restoring properties. This face serum contains vitamin B3, which has powerful skin-brightening qualities.
Good vibes skin glow serum vitamin c and b3 moisturize your skin. It improves the skin's barrier while reducing dark spots and redness. While the antioxidant properties of Vitamin C help to give skin a healthy glow. As a result of the combination of Vitamin C and Vitamin B3, your skin will be radiant, hydrated, and toned.
Price
INR 240 for 10 ml
Sale
Last update on 2023-10-21 / Affiliate links / Images from Amazon Product Advertising API
Good Vibes Vitamin C And B3 Serum Ingredients
Vitamin C, Niacinamide, Liquorice Extract, Mulberry Extract, Orange Extract, Glycolic Acid, Lactic Acid, Glycerin, Yogurt Whey Extract, Fragrance, Cilantro Extract, Phenoxyethanol & Ethylhexylglycerin, Bitter Melon Extract, Honey Propylene Glycol, EDTA, Polyethelene Glycol 400, Triethanol Amine, Aqua
Made without: This product is paraben & sulfate-free and is not tested on animals.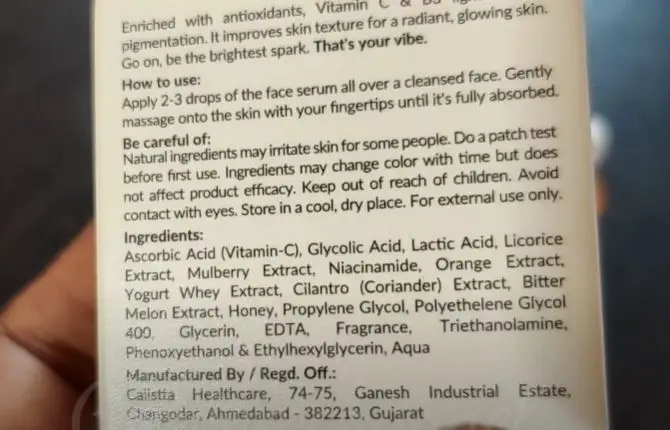 What the product claims:
Effortlessly reduces the appearance of enlarged pores for a more radiant and youthful complexion
Promotes collagen production for firmer and plumper skin.
Reduce the visibility of wrinkles and fine lines.
The product helps to improve the skin's uneven tone, dullness, and weakened surface.
My write-up on Good Vibes Vitamin C and vitamin B3 Serum Review
I applied good vibes vitamin c and b3 face serum for about 30-35 days in my daily skincare routine after cleansing, toning, and moisturizing the face. I can see a noticeable difference in my skin. The Good Vibes Vitamin C Serum gives me a brighter, more radiant complexion, which is true to its name.
This Good vibes vitamin c serum has been beneficial to my skin; it helps in even toning the skin and lightening all dark spots, but this takes time. I've been using it for a month now, and I'm starting to notice some results, but they're not dramatic.
I used this product in the morning and night routine along with organic toner, serum, and moisturizer, as well as sunscreen during the day. It lightens the skin tone and decreases pimple marks, but I'm not sure if it eliminates acne.
It's a good product for people with extremely oily skin. After using this serum, it leaves a slight greasiness on the skin. With one minute of massage, it is totally absorbed into the skin.
However, one more recommendation for persons with oily skin is to use only 3 drops at a time because their sticky properties may trigger acne problems.
In concerns to pimples, it doesn't do much, but it does help lighten dark spots. Because it is so light, absorbed thoroughly. Also, it brightens up dull skin, which is a bonus. My skin appears to be healthy and radiant.
I'm not sure if it clears pigmentation, but it surely gives the face a perfectly apparent glow, making it look like healthy skin, and my skin texture is better.
It hydrates and moisturizes dry skin well. Also, this serum greatly aided me in minimizing open pores and scars. My dull skin now appears shinier, healthier, and tighter than it has ever been. 
I have sensitive skin, so after one week of use, I was disappointed to find baby pimples on my forehead, but after 15 days of regular use, my troubles faded and I could feel a soft and healthy face.
If you have combination skin, the Good Vibes vitamin C serum may not work. When applied to the face, it was quite oily and sticky. The feeling that something was on my skin that shouldn't have been there gave me a bothersome feeling. After using it, my T-zone broke out. This is not something I would recommend to anyone with a combination or sensitive skin.
Overall, it considerably increases moisture and works well to improve skin health.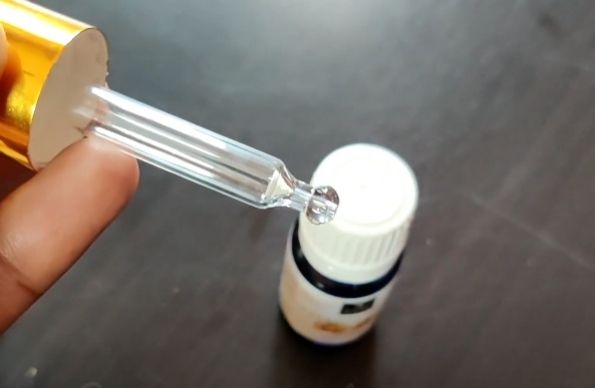 Packaging
The product arrived in well-protected packaging. The Good Vibes Vitamin C And Vitamin B3 Skin Glow Serum comes in a dark blue bottle with a dropper, beautifully packaged in a cardboard box with all necessary guidelines and details clearly stated. This travel-friendly packaging is extremely convenient to carry everywhere in your bag.
Texture
The product has a watery, light consistency that easily absorbs into the skin.
Fragrance
It has a very light scent; it doesn't have a lot of aromas.
How to use Good Vibes Vitamin C and B3 Serum
After cleansing and toning your skin, apply the serum as part of your day and night routine.
Apply a little amount on your face with a dropper. With your fingers, gently massage it in circular motions.
Leave it on for it to penetrate your skin.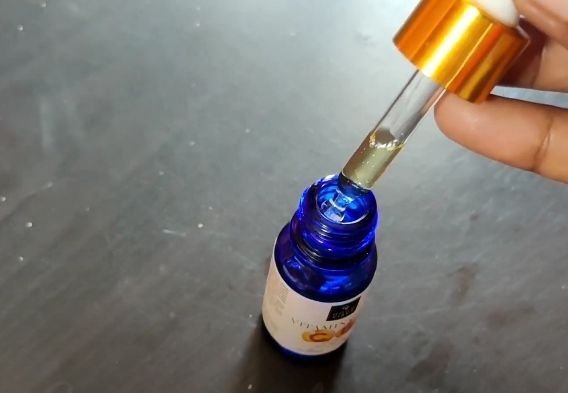 Good Vibes Vitamin C And B3 Serum benefits
Vitamin C is the most potent antioxidant that helps to rejuvenate and illuminate skin by reducing pigmentation, dark spots, and dullness. It also helps in the battle against free radicals and UV-induced damage, resulting in skin that appears younger and more radiant.
Vitamin B3 has calming properties that help in the renewal of your skin's cells. Vitamin B3 also helps to keep skin hydrated by reducing water loss.
Liquorice is a potent anti-inflammatory that helps to soothe irritation and skin redness, leaving it looking fresh and relaxed.
Mulberry is a rich source of antioxidants that protects the skin from free radical damage and delay the aging process.
Last update on 2023-10-28 / Affiliate links / Images from Amazon Product Advertising API
Pros of Good Vibes Vitamin C And B3 Serum
Affordable 
Formulated without paraben and sulfate
Cruelty-free and Alcohol-free
Travel-friendly packaging
Pleasant smell
Brightens skin
Provides youthful radiance
Adds glow and moisturizes my face well
Improves skin surface
Cons of Good Vibes Vitamin C And B3 Serum
May not be for sensitive or combination skin
Good Vibes Vitamin C And B3 Serum Side effects
Although the Good Vibes vitamin c serum contains many natural ingredients, some people may be allergic to them. When using vitamin C serum, as with other skincare products, some people may have negative effects. Furthermore, this serum contains a variety of ingredients that may trigger an allergic reaction. I haven't had any side effects after using this serum.
Availability: Easy (You can easily purchase it on Flipkart, Amazon, purplle, or its official website goodvibesonly.in)
Overview
Overall, Good vibes vitamin c and b3 serum is a very refreshing serum that helps fade away dark spots, even out acne scars, and hydrates the skin. In fact, for me, this good vibes serum is best for dark spots. Also, good vibes vitamin c & b3 is alcohol-free serum. So, All skin types can safely use this product. However, it may not work well for combinations and sensitive skin type people.