Are you fed up with concealing your underarms due to dark patches? Do you want lighter, smoother underarms without having to use harsh chemicals or costly procedures?
Many women, particularly those with darker skin tones, struggle with underarm darkening. It can be caused by a variety of factors, including excessive sweating, shaving, and the use of certain deodorants.
Although there are many products on the market that claim to lighten underarms, not all of them are reliable or safe.
The Sanfe Underarm Lightening Serum is one product that has gained recognition for its safe and efficient method of underarm lightening. It is a product that claims to effectively lighten underarm skin, reduce pigmentation, and prevent odor.
In this article, we'll review Sanfe Underarm Lightening Serum and see if it lives up to its claims. We'll look at its ingredients, efficacy, and any possible negative effects in more detail.
Sanfe Underarm Lightening Serum Review
Product Details
Sanfe Underarm Depigmentation Serum is completely natural and functions in combination with underarm skin science. It is enhanced with kojic acid, white lily oil, and the benefits of sea grapes.
It not only evens out skin tone and treats spots and discoloration, but it also calms the skin while preserving its pH balance.
The goal of this depigmentation serum is to moisturize and maintain healthy skin. The unique sea nutrients help in skin rejuvenation.
Price
INR 295 for 100 ml (Buy Here)
Sanfe Underarm Lightening Serum Ingredients
Aqua, Cucumber extracts, Aloe Vera extract, Lactic acid, Sea Grape, Sea Aster, Blue Sea Kale, Green Seawood Extracts, Propanediol, Vegetable Glycerin, Alpha Arbutin, Niacinamide (Vitamin B3), Ethyl Ascorbic Acid (Vitamin C), Kojic Acid, Xanthan Gum, Neroli Oil, White Lily Oil, Peppermint, Potassium Sorbate & Microcare PEHG, 99.9% Silver Flakes.
Ingredient Analysis:
Aqua: It mostly serves as a solvent for substances that prefer to dissolve in water rather than oils.
Cucumber extracts: Cucumber extract has high antioxidant content and hydrates and calms the skin. Its Cooling qualities can lessen swelling and soothe itching.
Aloe Vera extract: The anti-inflammatory properties of aloe vera are one of its primary advantages. Its moisturizing properties also effectively hydrate skin.
Lactic acid: Alpha hydroxy acids (AHAs), such as lactic acid, moisturize the skin while removing dead skin cells and reducing the appearance of dark spots and rough patches.
Sea Grape: It hydrates the skin and serves to tighten and enhance its elasticity.
Sea Aster: It protects against sensitivity and inflammation naturally. Furthermore, the Sea Aster extract's high nutrient level promotes hydrated, healthy skin.
Blue Sea Kale: A potent antioxidant that helps in free radical defense for the skin.
Green Seawood Extracts: Rich in vitamins and botanical ingredients that brighten, exfoliate, and control oil production on the skin.
Propanediol: Propanediol has anti-aging, emollient, solvent, and preservative qualities that improve product absorption and consistency.
Vegetable Glycerin: It is a humectant. In other words, it can take moisture into the skin and hold it there.
Alpha Arbutin: Alpha arbutin successfully lightens and decreases UV-induced pigmentation and radical damage without increasing sun sensitivity.
Niacinamide: The ingredient can improve the brightness of your complexion, smooth out any rough patches, and lessen hyperpigmentation and inflammation.
Ethyl Ascorbic Acid (Vitamin C): It helps in the fading of dark spots or pigmentation caused by aging and UV exposure.
Kojic Acid: It lightens and restores skin, as well as helps in reducing hyperpigmentation.
Xanthan Gum: It works as an emulsion stabilizer, texture enhancer, and thickening substance.
Neroli oil: Because of its antibacterial properties, neroli oil can help to lessen skin irritation and acne outbreaks.
White Lily oil: It has hydrating, softening, and smoothing properties.
Peppermint: It refreshes the skin by having calming and cooling properties. It maintains the skin's integrity and forms a protective barrier for the skin.
Potassium Sorbate: It works as a preservative to keep the product stable and lengthen its shelf life.
Microcare PEHG: A liquid preservative that uses phenoxyethanol and ethylhexylglycerin as its basis.
99.9% Silver Flakes: They stimulate glowing skin and provide an antibacterial remedy to the skin.
What the product claims:
The Sanfe underarm lightening serum treats dark spots, minimizes pigmentation, promotes natural skin brightness, hydrates skin, and keeps the PH balance.
Also Read: Sanfe Intimate Lightening Serum Review
My write-up on Sanfe Underarm Lightening Serum
I've been using this lightening serum to get rid of the dark underarm pigment for the past two months. It improves skin texture and pigmentation while also brightening the skin naturally.
Its formulation is light and non-sticky, and it absorbs quickly into the skin. It helps significantly in reducing pigmentation and irregular skin tone. It also gives a cooling feeling to the underarm, which calms the skin.
It is soft, leaves my skin feeling smooth, and moisturizes my skin. My underarms are lighter than they were before, so I can tell there has been a change. Although I have sensitive skin, this serum did not even slightly irritate it.
This underarm whitening solution has a pleasant fragrance and maintains my underarms fresh and hydrated throughout the day. It keeps the skin moisturized and keeps the pH balance.
After taking a shower every night, I routinely massage this Sanfe serum into my elbows and underarms. In those areas, the amount of darkness has considerably decreased.
Also, it has a cooling scent that masks the odor. After using this product, I no longer need deodorant because it somehow masks the odor under my arms. Additionally, particularly in the summer, it gives a cooling sensation to sweaty underarms.
Consistent use will help you get rid of the darkness under your arms, and it also brightens and soothes the skin. I think it is one of the best underarm serums in India.
Overall, Sanfe's underarm lightening serum lessens pigmentation while also hydrating, naturally brightening, and balancing the pH of my skin. In addition to nourishing the skin, its skin-friendly formula treats dark spots and battles bacteria.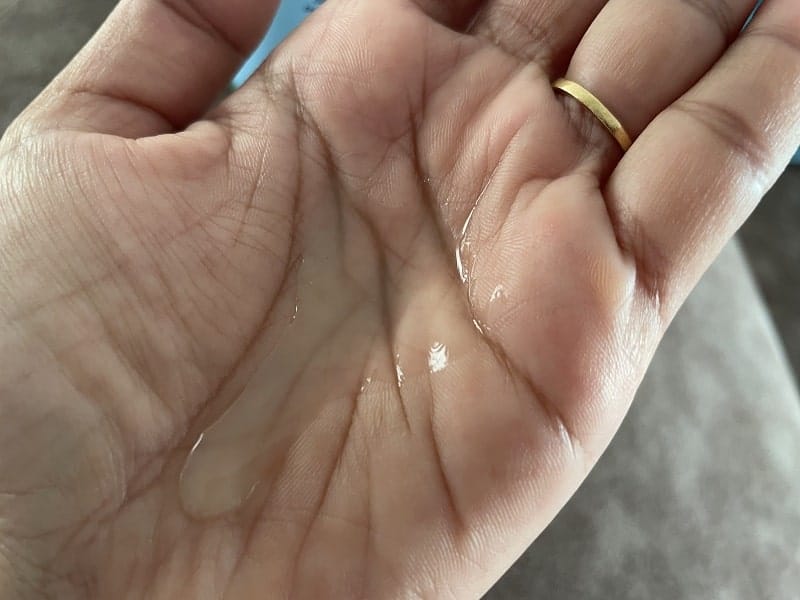 Packaging
The Sanfe underarm lightening serum is packaged in a clear container with a white pump. A pump dispenser makes it handy and simple to use. It pumps the necessary quantity of the product to prevent spills while being used. The bottle contains all the information you need, including the ingredients, cost, expiration date, and usage instructions.
Consistency
This depigmentation serum has a runny, water-like consistency. The serum has a pale blue color and is readily absorbed. The serum has a silky, pleasant texture that does not irritate or feel uncomfortable on the skin.
Fragrance
It has a light, refreshing fragrance that is a little overpowering for those with sensitive noses. After a while, it disappears.
Sale
Last update on 2023-09-14 / Affiliate links / Images from Amazon Product Advertising API
How to use Sanfe Underarm Lightening Serum
Clean up and dry off the region. Apply a generous quantity of this serum to your skin. Massage your underarm for 20 seconds.
Sanfe Underarm Lightening Serum Side Effects
The underarm whitening serum from Sanfe is gentle and suitable for everyday use. It's also created with natural extracts that are suitable for all skin types. I did not notice any negative side effects. But for some individuals with sensitive skin, it might result in rashes, irritation, or redness. Therefore, run a patch test before using this product.
Pros of Sanfe Underarm Lightening Serum
Paraben and Mineral oil free
Non-sticky formula
Leaves cooling feel
Cruelty-free
Reduces the dark spots to a great extent
Soothes the skin
Treats pigmentation
Provides brightening naturally
Improves skin texture
Cons of Sanfe Underarm Lightening Serum
Overview
If you have dark underarms and perspiration a lot of, this serum is for you. My complexion feels smooth and fresh after using it. It will give your skin a natural brightening effect and treat pigmentation and dark spots.
I have to suggest this product to you if you have pigmentation and dark spots on your underarms. The summer friend you've been looking for is Sanfe Underarm Depigmentation Serum. It offers you clearer, spotless skin and combats skin problems.
With the addition of this serum to your underarm darkness removal regimen, it's time to wear that summer dress you've been wanting.