Dove recently launched two deodorant variants, dove original and even tone. New dove deodorant for dark underarms is available in spray and roll-on packaging.
The main difference between the two variants is that Dove originally claims to smoothen or even out the skin tone, whereas dove even tone is meant to reduce dark marks and restore your skin's natural tone.
Both products are free from alcohol and parabens that making them skin-friendly even for sensitive skin people. So, today I will share a review on Dove even tone deodorant.
Dove Even Tone Deodorant Review 
New dove deodorant reduces dark underarm marks. The spray bottle is designed for extra fragrance whereas the dove roll-on deodorant is intended for extra moisturization.
Dove even tone antiperspirant helps with uneven skin tone. So, It helps to rejuvenate and renew your natural underarm skin tone. Also, Dove skin renews deodorant and doesn't leave white marks.
This 48-hour antiperspirant deodorant is especially for women that give long-lasting protection from sweat and odor too. This long-lasting antiperspirant deodorant has a subtle smell for extra freshness. 
Product Details
Dove even tone is an antiperspirant deodorant with unique 1/4 moisturizing cream for softer, smoother, and more beautiful underarms.
This dove even tone antiperspirant deodorant for women contains caring oils that give long protection in the armpit area. Also, it enhances the improvement of skin tone in delicate underarm skin.
Dove Even Tone Deodorant Price
Dove deodorant spray price: INR 220 for 150 ml
Dove deodorant roll-on price: INR 200 for 50 ml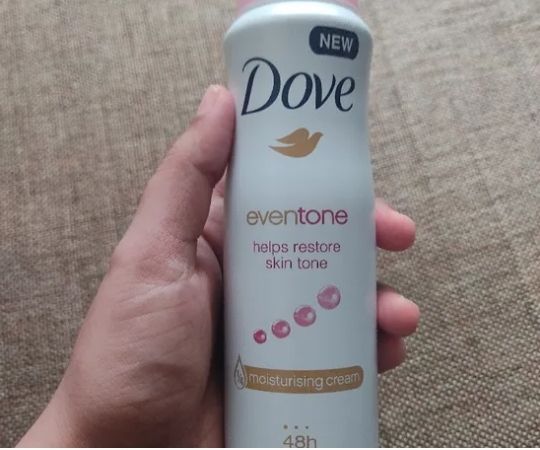 What the Dove Eventone Deodorant Claims:
48-hour odor protection
1/4 moisturizing cream
Alcohol-free and Paraben-free
This new dove deodorant visibly reduces dark underarm marks in 7 days
Sale
Last update on 2023-10-21 / Affiliate links / Images from Amazon Product Advertising API
My write-up on Dove Even Tone Moisturizing cream Deodorant Review
I have been using both spray and roll-on for a month. After using the dove even tone deodorant spray, my skin has remained fresh and protected for the day. I also noticed that I have a lot less sweating than usual. Plus, the body odor appears to have gone away.
I had the same fragrance throughout the day, possibly somewhat less exceptional than in the morning. Dove spray moisturizing cream is used for an extra fragrance that leaves refreshing skin.
Another big plus for me is that they are super mild and, as I said before, contain zero percent alcohol. So that when I spray after shaving, there's no burning sensation or stingy feeling.
Usually, most antiperspirants have alcohol in them, which can cause serious aggravation on sensitive or shaved skin. Yet, this issue won't occur to you with this deodorant. Therefore, alcohol-free makes it safe to use after post-shaving.
Dove even tone roll-on deodorants come with a rolling ball like the others available in the market. As you move its roll-on head, it makes an even-thin layer on the skin. Dove roll-on moisturizing cream is used for a more moisturizing effect to dry underarms.
Best of all, the roll-on formula is translucent so that it doesn't leave a white residue on the skin or clothes. I also observed that roll-on is far more moisturizing than the deodorant spray.
The product claims to provide 48-hour odor protection. Indeed, I can't ensure that since I didn't test it without a shower for that long time. But it surely does give me a whole day's protection.
Its fragrance lasts a long that depends on how much you sweat. So, It is a perfect choice for summer days. There are no yellow stains on my clothes, and also on my white clothes.
The significant part is that I can notice visible differences in my pigmentation and dark underarms using both the dove even tone spray and roll-on. My pigmentation reduces to a great extent.
It provides visibly brighter and even-toned underarms. So, this dove deodorant for dark underarms very effectively lightened dark patches. I can say that it is the best deodorant for whitening dark underarms.
They don't irritate my skin, and the 1/4 moisturizing cream and caring oils have helped make it smoother underarms. If you have a significant concern with rough or dry skin, just go for the roll-on that truly moisturizes the underarms more than dove spray deodorant.
This product helps to restore the natural underarm skin tone when used frequently.  After using this deodorant for a few months, the discoloration under my armpits has disappeared. Wonderful for brightening dark underarms and avoiding sweat stains.
This spray retail for rupees 220 for 150 ml in India, whereas the roll-on costs 200 for 50 ml. So, pricing wise I feel like these are pretty standard market prices for deodorants.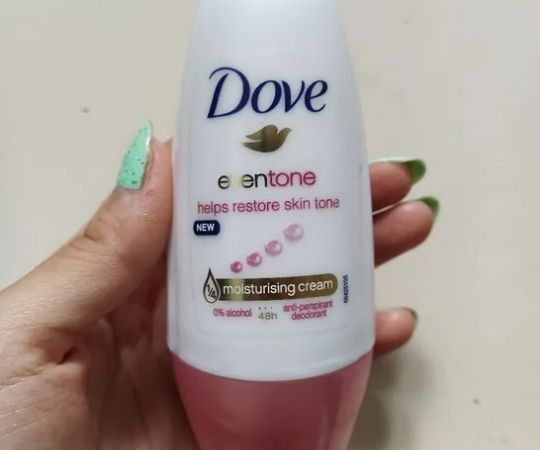 Packaging
Dove spray deodorant comes as a spray bottle like other spray products, nothing fancy but simple and easy to use. The roll-on comes in a normal roll-top that easily glides on the skin. Both products come in a white and pink color that looks so elegant and pretty. All the necessary details are mentioned on the product. Both are very convenient to use, and the roll-on is more comfortable while traveling.
Fragrance
It has a light, sweet floral scent, which is quite pleasing and refreshing at the same time. So, its gentle aroma is ideal for a daily routine. The smell lasts longer compared to other products.
Texture
When you press the nozzle, it sprays like a fine mist and dries down pretty quickly. Also, it doesn't leave an oily or tacky buildup like other deodorants but can be highly irritating, particularly in the summer. So, a big thumbs up for that to dove.
The consistency of roll-on deodorant is quite liquid. However, I must mention here that the formula does take a little more time to absorb into the skin than the spray.
Pro-tip: One thing always keep in mind is to shake it well before using deodorant. Do not spray near the eye area or face.
[Also Read: 9 effective ways to make your forehead smaller]
How to use dove even tone spray
Just spray the dove deodorant spray every day after the bath. Wearing clothes after the product dries.
How to use dove even tone roll-on
Apply 4-6 swipes of dove per underarm daily after shower. Let the product dry before wearing clothes.
Dove even tone vs. clear tone deodorant
Both are very similar they are alcohol-free and give up to 48 hours of antiperspirant protection. They have a gorgeous floral scent. Clear-tone deodorant comes in different variants. However, the formulation and ingredients are different. Even tone claims to restore skin tone, and clear tone moisturizes and stimulates the natural skin renewal process. A clear tone is costlier than an even tone.
Sale
Last update on 2023-10-21 / Affiliate links / Images from Amazon Product Advertising API
Pros of Dove even tone deodorant
Sweet, floral fragrance
Skin-friendly
Gives freshness for a long time
Gentle on skin
Leaves soft, smooth underarm skin
Travel-friendly packaging
Provides 48-hour protection
No alcohol and paraben
Even out natural skin tone
Cons of Dove even tone deodorant
Conclusion
If you're looking for odor protection, both the spray and roll-on do an excellent job. Dove even tone deodorant is a decent one with a long-lasting fragrance. The Best thing about this deodorant it is Alcohol-free, and it has a very soothing and subtle fragrance. So, if you don't like strong deodorant scents, then definitely go for it.
Frequently Asked Questions
What does dove even tone do?
It helps to reduce uneven underarm skin tone, moisturizes dry underarms well, and gives 48-hour odor and wetness protection. Its gentle scent refreshes the skin the whole day.
Does dove even tone work?
Yes, it very effectively lightens dark underarms and provides freshness for a long time. It also reduces the bad smell of sweating.
How long does dove even tone take to work?
Brand says that dove's unique formula works to renew your natural underarm skin tone within seven days with regular usage. But, I have noticed a result in a month.
Does even tone antiperspirant?
Yes, dove even tone is an antiperspirant which means it is designed to reduce sweating.
Last update on 2023-10-21 / Affiliate links / Images from Amazon Product Advertising API