One of the most delicate parts of our faces is our eyes. When you put on a lot of makeup and remove it, you are causing too much stress to your eyes, and you will see the eyes area is becoming very dry and patchy.
Even if you do not put on makeup, you will see that your face's eye area will have fine lines in the coming time. Even if you do a lot of skincare for your face, you need to take care of your eyes as well.
Mom care products offer gentle and mild treatment for the eye. Natural vita-rich under-eye cream with a cooling massage roller helps solve all skin types' under-eye problems. So, today I will review The Moms Co. Natural Vita Rich Under Eye Cream.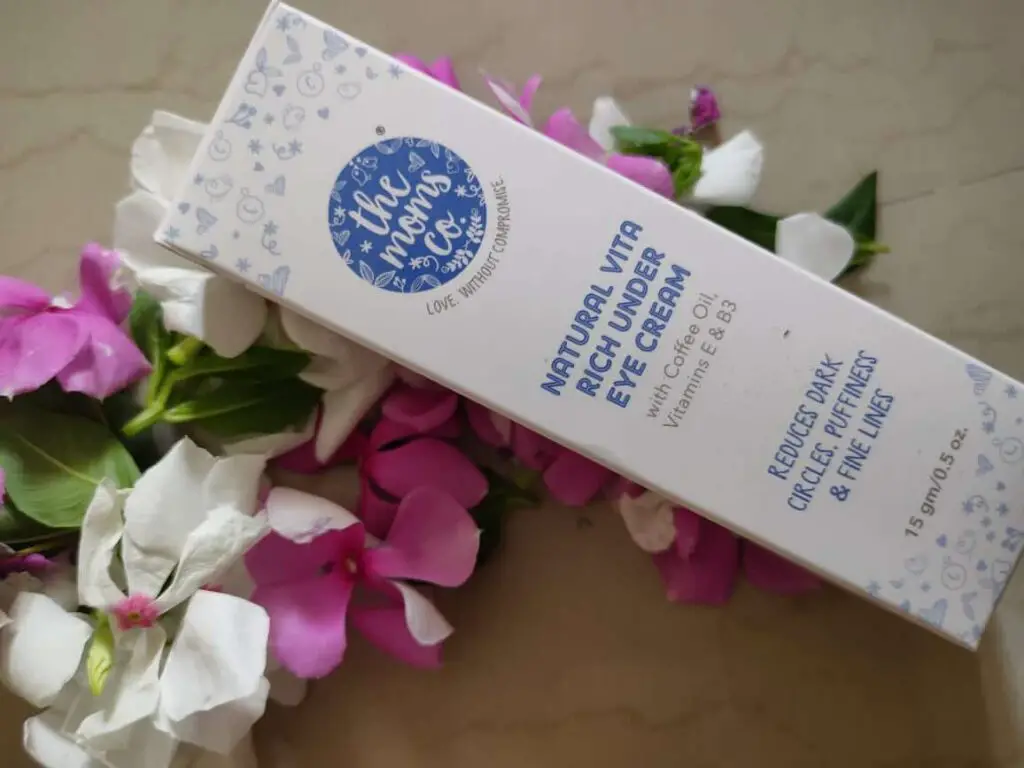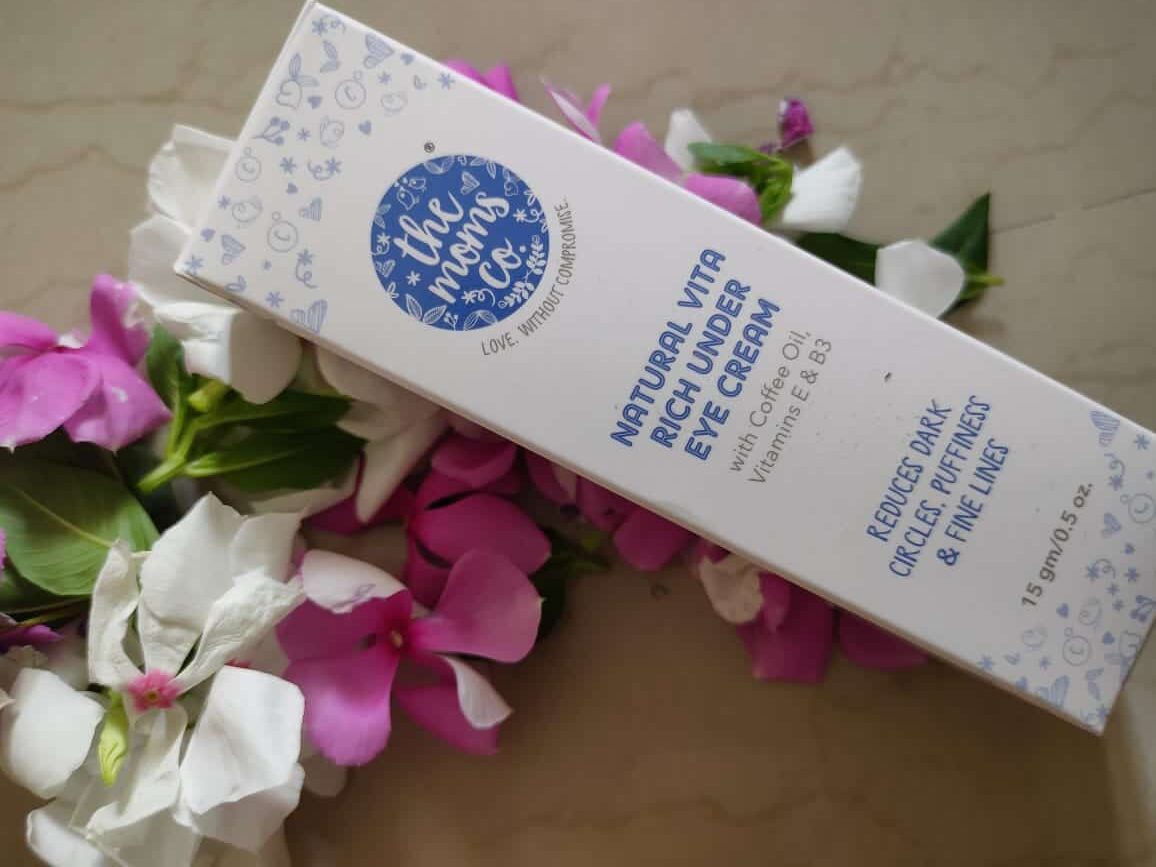 The Moms co under eye cream Review 
The Moms Co. Natural Vita Rich Under Eye Cream is a 100% natural, mild and gentle formula that helps reduce dark circles, fine lines, and puffiness. It might lessen the presence of dark circles, but it does not claim to lighten dark eyelids.
This natural eye cream works as a dark circles removal cream that is suitable for all skin types, including sensitive skin. Also, it is cream for bags and puffiness too.
This dark circles treatment cream is a cruelty-free product. There are no parabens in the ingredient list, and it is made up entirely of natural components and essential oils.
It is dermatologically tested and also certified all-natural and toxin-free, so that is a good thing. This cream is made safe by Safe Cosmetics Australia.
Product Details
Natural under-eye cream by the moms co-brand is enriched with coffee oil, vitamin E, and vitamin b3. It doesn't contain harmful or synthetic ingredients. 
This under-eye cream calms with organic chamomile oil, reduces puffiness, soothes weary eyes with Green Tea, softens and conditions skin with Shea Butter and Avocado Oil, and softens and conditions skin with Shea Butter and Avocado Oil.
Chia seed oil is the richest botanical source of Omega-3 fatty acids, which helps to hydrate the skin.
Sale
Last update on 2023-06-04 / Affiliate links / Images from Amazon Product Advertising API
Price
INR 474 for 15 gm
The moms co under eye cream ingredients
Purified water, chamomile oil, coffee oil, chia seed oil, Vitamin B3 & E, glycerin, caprylic triglyceride, glyceryl monostearate, citric acid, sweet almond oil, Hyaluronic Acid, organic aloe vera, jojoba oil, orange essential oil.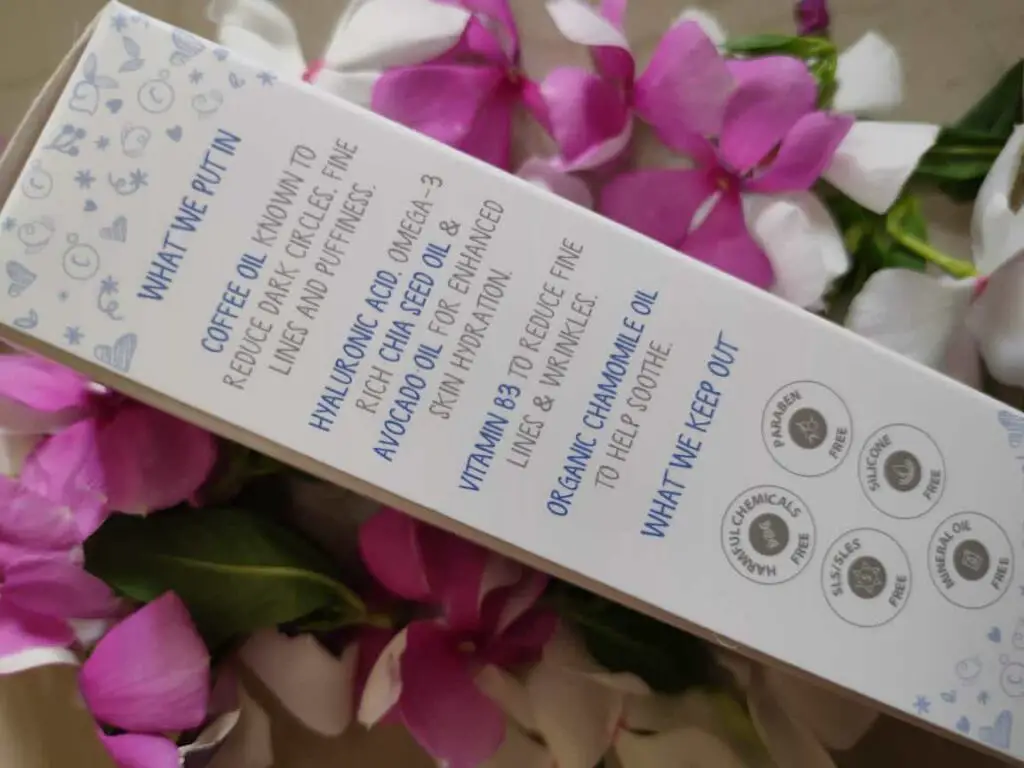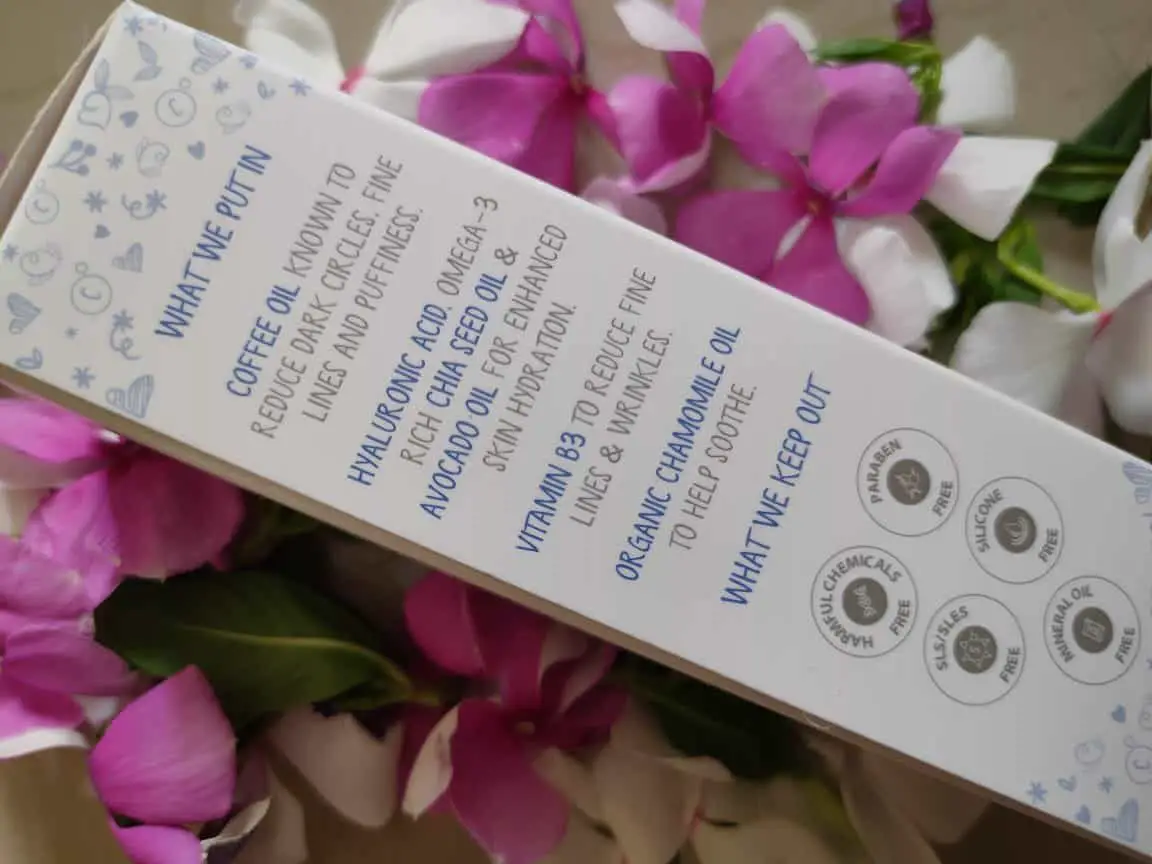 Made without:
This product is dermatologically tested for sensitive Indian skin. It is free from mineral oil, parabens, sulphates (SLS, SLES), synthetic fragrances, phenoxyethanol, PEGs, DEA/TEA, and various other probably harmful chemicals.
What The Moms Co. Natural Vita Rich Under Eye Cream claims:
Our Made Safe, Toxin-Free, Australia-Certified, and Allergy-Free face cream reduces dark circles, puffiness, fine lines, and wrinkles.
My write-up on The Moms Co. Natural Vita Under Eye Cream Review
I have been using the moms co eye cream for three weeks. One of the results I experience promptly is refreshing and reviving the eyes.
It feels slightly sticky but moisturizes the undereye well, making it ideal for dry skin people. It is also suitable for oily skin and clogged pore skin because it is ultralight.
Roller makes the application much more enjoyable. It is a nice roller pen for undereye for providing relief from stress and a dark circle. The roller is such a stress buster. The soothing cream gives a relaxing effect to the eye. It is the best eye-roller under-eye cream for puffy eyes.
The best part of this product is the roller head because the metal roller adds up to the benefits of this product because being a metal, it is cold. So, whenever you apply that cream with the help of the metal roller, it feels calm, relaxing, and soothing under your eye.
This cream wand is extremely cooling under the eyes and aids in the reduction of puffiness. The formula of this product works as an eye moisturizer and helps to reduce dark circles, making it one of the best products for under-eye circles.
The moms co dark circles cream gives a very soft touch to the skin; it is also very long-lasting as it doesn't let your skin dry out even after hours. It is the best under-eye cream I have used.
Moms co under-eye roller visibly improves the appearance of wrinkles and fine lines efficiently. It works as an anti-wrinkle eye cream for under-eye bags.
With regular use, the cream minimises fine wrinkles and provides the eye area with significant moisturization and hydration. Regular use has minimal effects on the dark circles. The cream did not irritate or make my eyes wet.
Also, the well-known brand for puffy eyes, Mamaearth under eye cream effectively reduces puffiness around the eyes more than the moms co. But The moms co eye cream is more successful in lessening under-eye dark circles than mamaearth. Also, I have tried Mamaearth bye bye dark circles which is also an effective solution for dark circles.
[Also Read WOW skin science Aloe Vera Gel Review]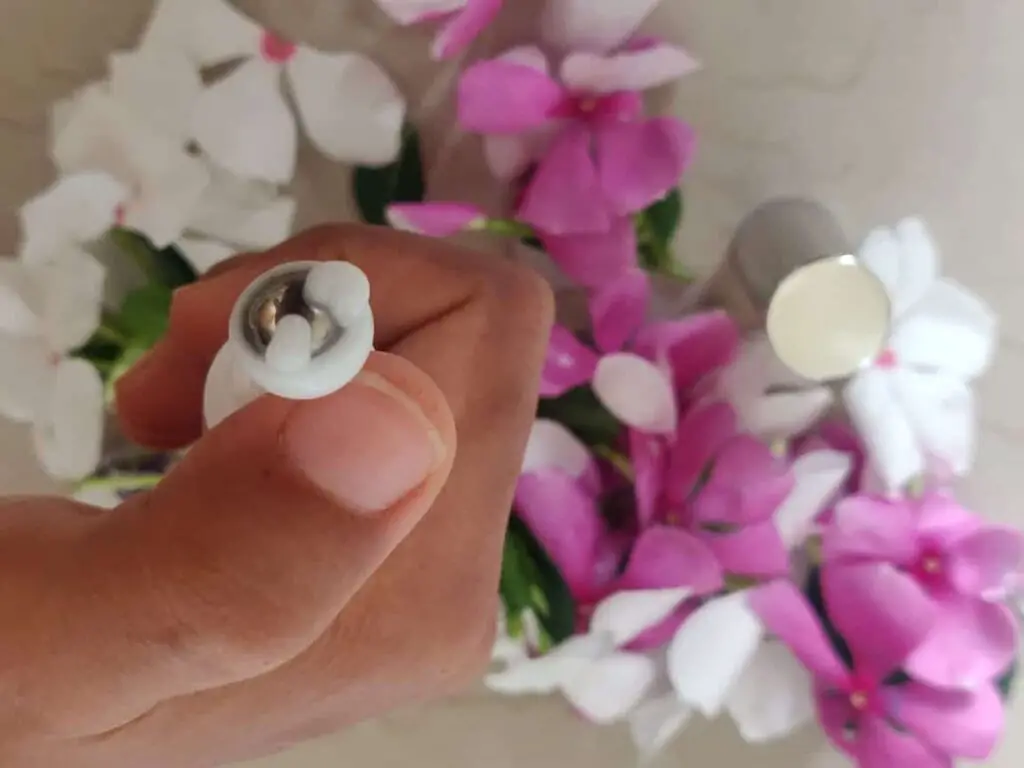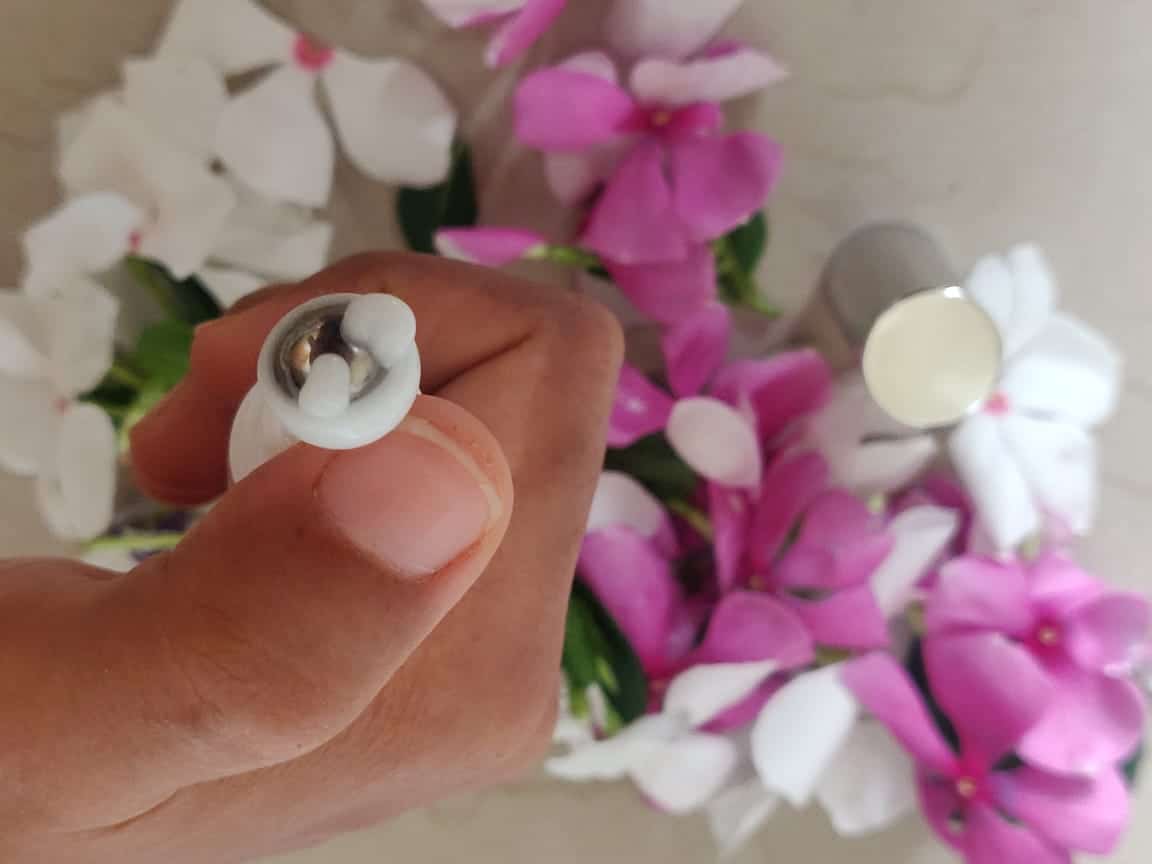 Absorption
It's a rich formula but takes time to get absorbed as it is a little sticky but nourishes the undereye area. Religious usage may give brightness to the eyes. But the applicator tip, which has the metallic ball in it, gives a nice rolling effect when applied and reduces puffiness.
Packaging
The Moms Co. Natural Vita Rich Under Eye Cream comes in a white tube that packs inside the cartooning box. The tube has a metal roller at the top of the head. You need to pump it once, and cream would start to dispense around the periphery of the roll of the metal roller that has two nozzles. And then, you need to roll the metal roller underneath your eyes over a dark circle. It's pretty sturdy and spill-proof because it has a lock, making it travel-friendly.
Texture
The consistency of the cream is smooth and somewhat oily so before morning makeup, I suggest you apply it in advance and for night use- a perfect choice. 
Fragrance
Mom co under eye dark circle cream doesn't smell artificial, but it smells like it's made from rice starch. The fragrance is pleasant and light.
[Also Read Mamaearth Ubtan Face Mask Review]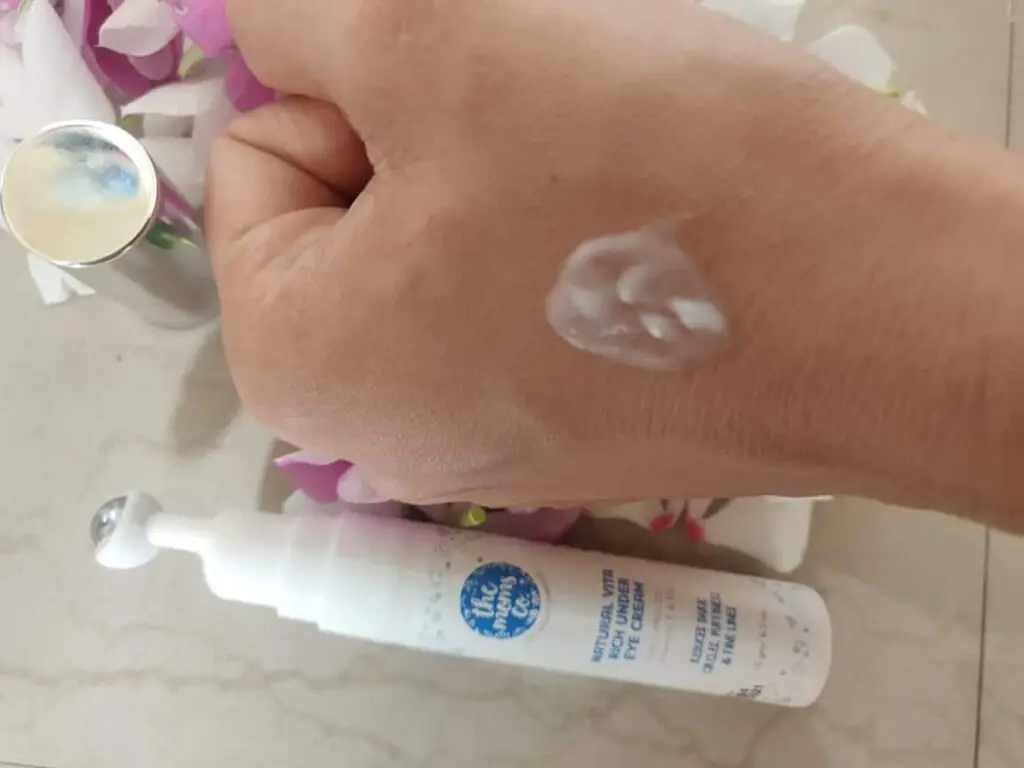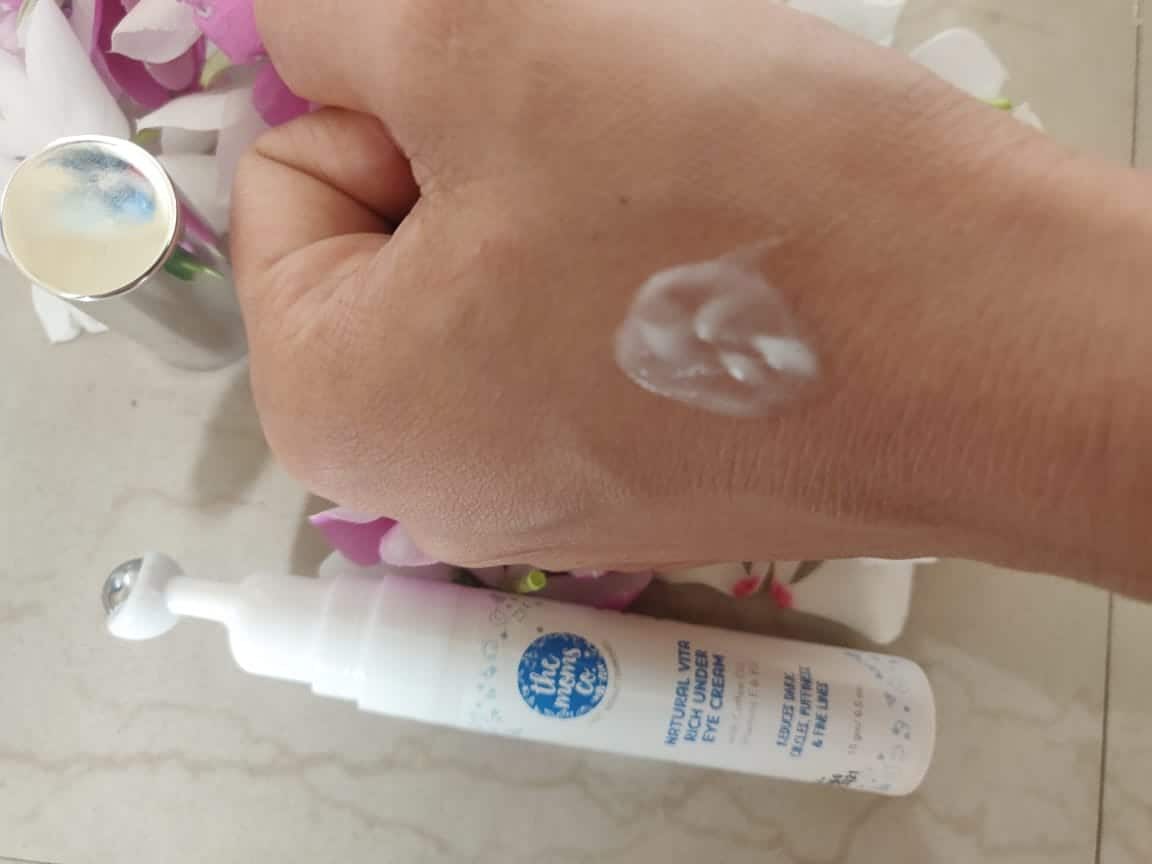 Results
We all know that skincare is not something that happens instantly, It's a journey. So, you need to be a part of that journey, and you cannot expect any product to work overnight. You need to be patient as well as consistent with your skincare.
So, in these three weeks, I noticed that My dark circle is shed away after a few applications, making it the best under-eye cream for dark circles in India. Also, it did slightly brighten up that zone humor the fine lines.
My under-eye skin looked a lot smoother, soft, and supple. I have dry and rise while oily eyelids, but my under eyes felt a lot more hydrated and radiant. I currently did not notice any difference in my fine lines. But, overall, the texture of the under-eye feels a lot better than it.
How to use the moms co under eye cream
To use, pump once to remove the cream and tenderly rub the under-eye zone with the cooling roller in circular motions.
Then Use your fingertips to smooth in excess cream so that it just gets seeped into your skin.
If you suffer from puffy under your eyes, put the entire tube into the refrigerator and glide on your underneath eyes. It feels so damn calm, soothing, and relaxing, and it instantly brightens up the area, and of course, it does soothe the delicate area.
Use daily for best results. You can use it at night after you cleanse and tone your face before using your moisturizer or night cream.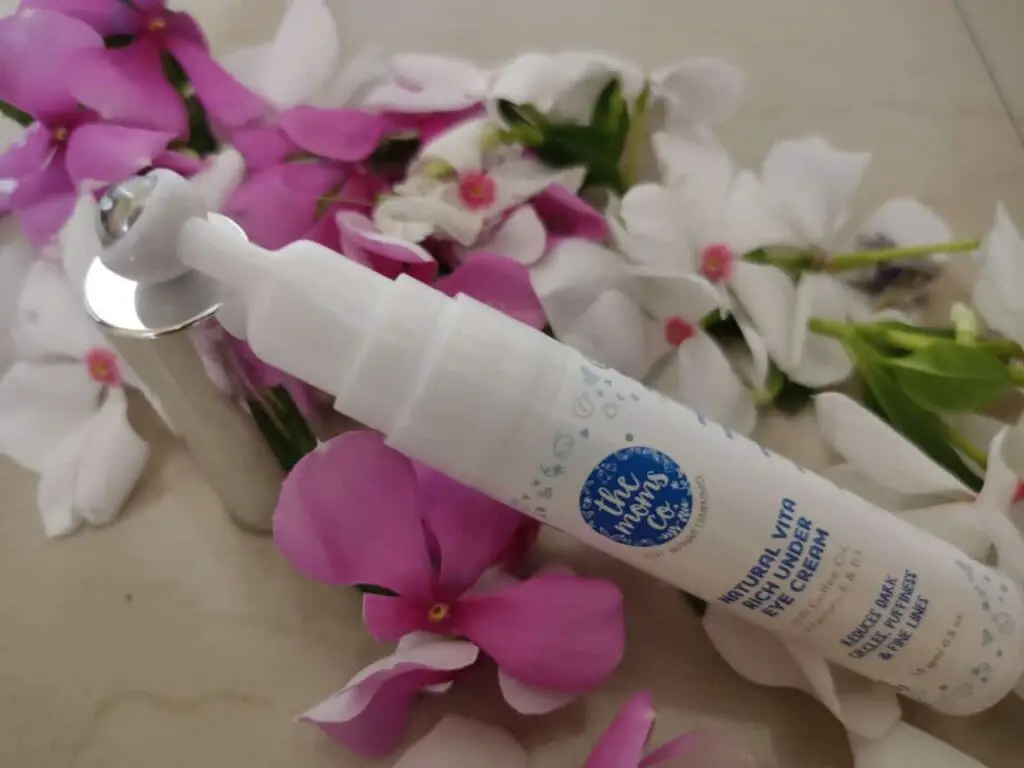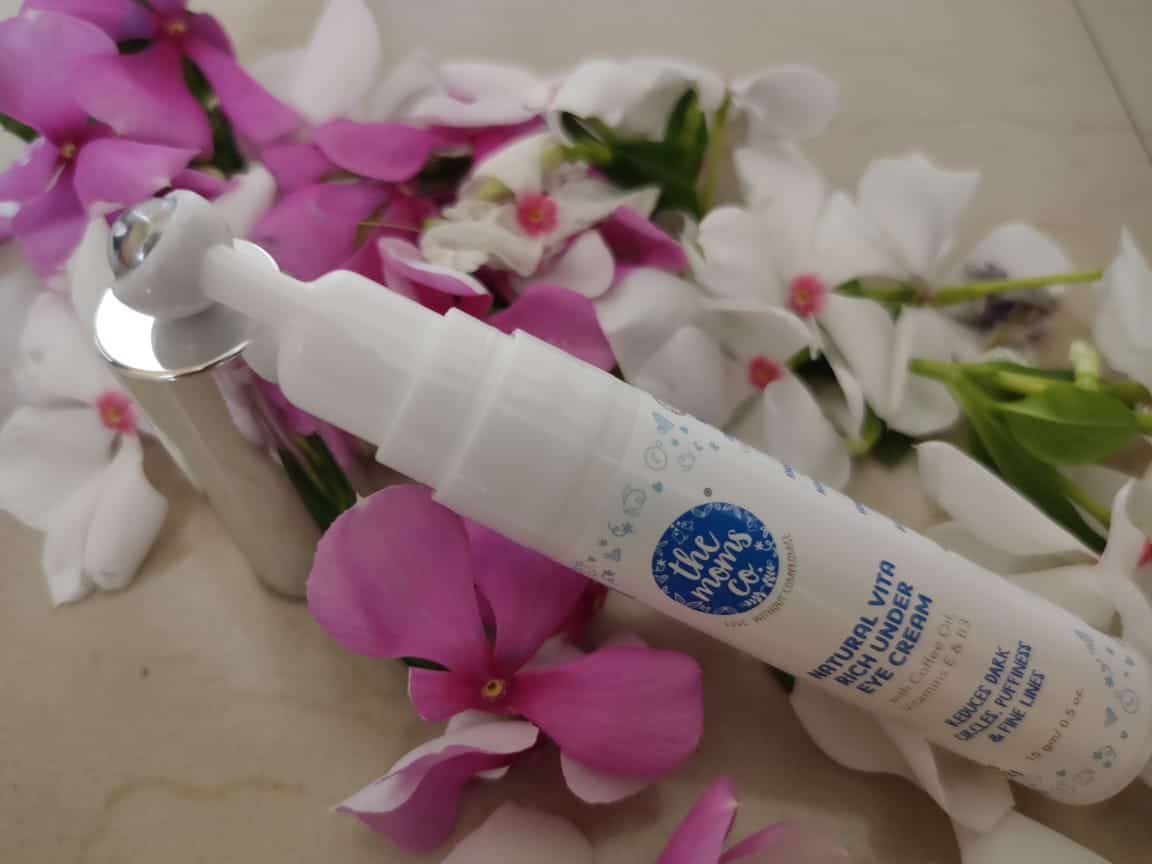 The Moms co under eye cream benefits
Coffee Oil is rich in antioxidants that improve blood flow in the under-eye area & reduce the appearance of puffiness and dark circles.
Chia Seed Oil helps to fight skin dehydration and also plumps up your skin. The source of omega-3 fatty acids and antioxidants that absorbs deep into the skin and improves skin hydration. This Omega 3-rich Chia Seed Oil also aids in the maintenance of hydration, which helps to decrease the appearance of fine lines and wrinkles.
Vitamins B3 is a super effective skin-restoring ingredient that offers multiple anti-aging benefits as it helps to reduce uneven skin tone.
Vitamin E hydrates and improves your skin and works on even texture, fine lines, dullness, and weakened skin. It also shields the skin from the sun's rays. Vitamin E helps the skin's premature aging and also nourishes and repairs sun damage.
Chamomile oil has soothing properties and a cooling impact on the skin; it lessens redness & inflammation. 
[Also Read BoroPlus Aloe Vera Gel Review]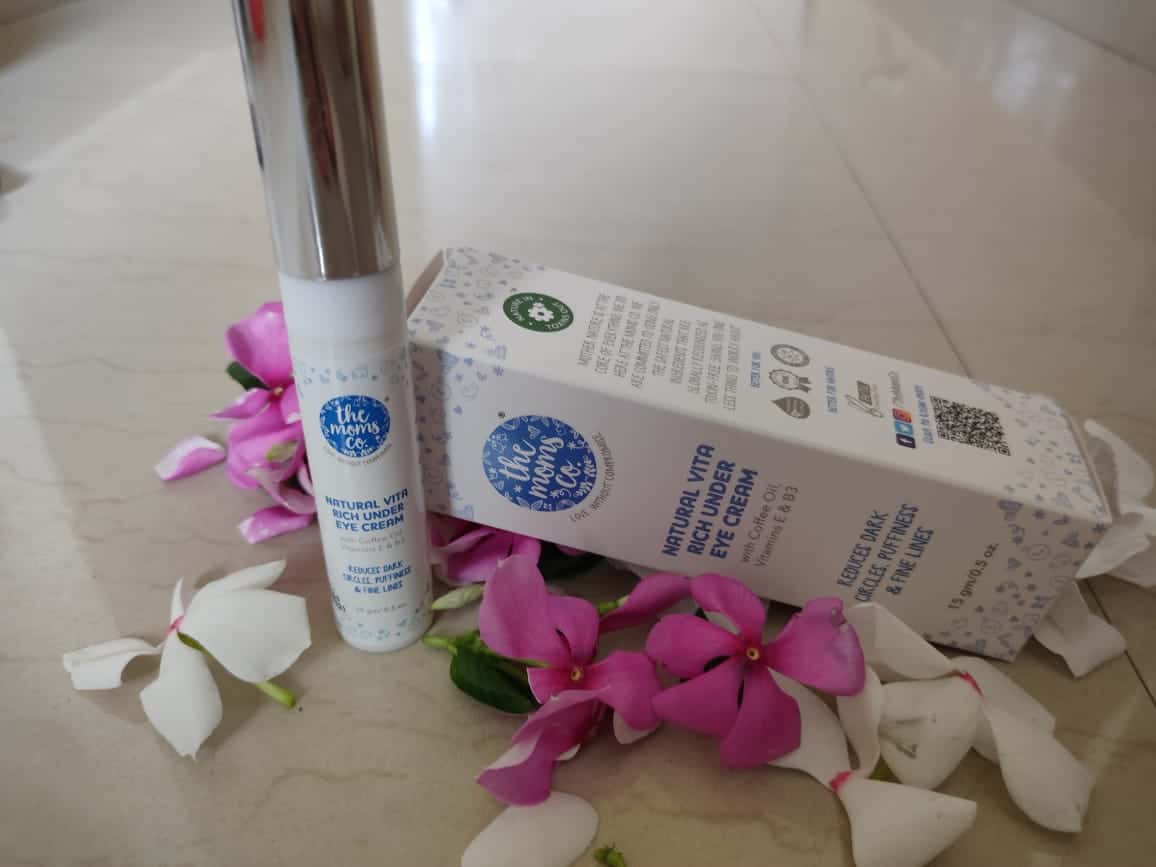 Pros of The Moms Co. Natural Vita Rich Under Eye Cream
Comes with a roller & easy application
Synthetic fragrance-free
100% natural and toxin-free product 
Formulated with non-comedogenic ingredients
It's lightweight and has a soothing effect
An affordable eye-roller
Made with all-natural ingredients, no harmful chemicals
Restore skin moisture
Soothes the skin and improves skin radiance
Improves overall skin health
Made with the richest sources of natural vitamins
Cons of The Moms Co. Natural Vita Rich Under Eye Cream
Slightly sticky
The siphon comes off in some cases when you eliminate the cap, which can be irritating.
Another con is that you have no handle on how much item is dispensed with each pump. Often it removes excess than needed.
The roller might have been of better quality.
The moms co under eye cream side effects
Being a chemical-free product, The Moms Co. Natural Vita Rich Under Eye Cream makes no tingling or anything of that kind on the under-eye area. It doesn't burn or have itchiness around the eyes. But when it accidentally enters the skin, it may slightly irritate like other creams. It is safe to use, but use more natural sources like coffee to reduce dark circles. The skin around the eyes is very thin; hence it is advisable to take necessary precautions while using.
Shelf life: 2 years
Availability: Easy (You can purchase it at online stores like Amazon, Flipkart, Nykaa, And its official site, themomsco.
Overview
Natural Vita Rich Under Eye Cream by The Moms Co. is a light, gentle, and hypoallergenic product. This eye cream product from the moms co. is an effective treatment for under-eye dark circles, and it gives relief from puffiness, fine lines, and wrinkles. The amazing part of this natural under-eye cream is the massage roller, which helps absorb eye cream properly. It's a very good product to reduce under-eye darkness and gives a soothing effect while using.
Frequently asked questions
Does moms Co under eye cream work?
Yes, Dark circles, puffiness, and fine wrinkles can all be reduced with Natural Vita Rich Under Eye Cream by The Moms Co. Also, It rich in omega-3, which will help to firm skin and give a good nice toned under the eye. This cream will make you look much younger; thus, this product is also very skin-friendly, dermatologically tested, and not tested on animals.
How do you use Moms co eye cream?
I apply The Moms Co. Natural Vita Rich Under Eye Cream two times a day after bath and before bed regularly. I massage it every night and giving me good eye rest and sleep.