Dandruff is a non-inflammatory skin condition that generally impacts the scalp. More than 50 percent of the population is influenced by dandruff.
Basic Dandruff is harmless to the body, while the more serious inflammatory form of this is called seborrheic dermatitis can be awful.
The commonest side effect of dandruff is flaking or scaling with or without irritation over the scalp. I've discovered that the best and most effective dandruff shampoos have the ingredient "ketoconazole" in it. So, I review shampoo that contains ketoconazole, Nizoral Anti-Dandruff shampoo.
Dandruff is a condition in which our scalp sheds skin cells as white flakes. A fungus called Malassezia globose is one of the most accepted reasons for causing dandruff.
Malassezia is naturally present on our scalp. It benefits from sebum and deliveries oleic acid. Now, a few people are sensitive to this oleic acid. when it enters the upper layers of their skin, it causes irritation.
Hence, in response to this inflammation, their skin sheds a large number of dead skin cells at a higher rate. At that point, These cells combine together forming white flakes, thus causing dandruff.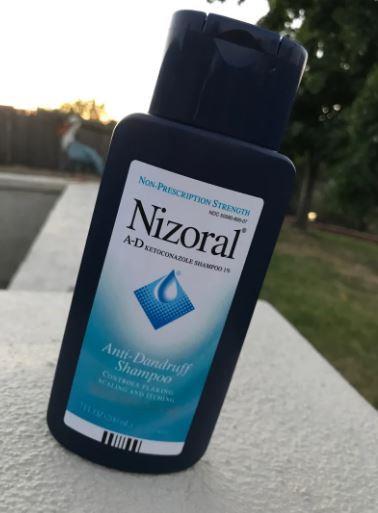 Product Details
Nizoral Anti-Dandruff Shampoo is made with ketoconazole 1% to relieve such skin reactions like flaking, scaling, and itching caused by dandruff. This powerful dandruff control shampoo works on the root of dandruff as it kills the fungus that causes it.
Generic Name: ketoconazole 1%
Brand Name: Nizoral Shampoo
Price: around $14.99, 7 fl oz (200 ml)
Ingredients
Active Ingredients: 1 % Ketoconazole (Anti-dandruff shampoo)
Inactive Ingredients: Water, Benzyl Alcohol, BHT, Citric Acid, Cocamide MEA, Blue 1, Fragrance, Hydrochloric Acid, Acrylic acid polymer (carbomer 1342), Glycol Distearate, Hydroxypropyl Methylcellulose, Sodium Chloride, Sodium Cocoyl Sarcosinate, Polyquaternium-7, Sodium Hydroxide, Sodium Laureth Sulfate, Tetrasodium EDTA
Nizoral Anti-Dandruff shampoo claims:
The anti-fungal active ingredient 'Ketoconazole' in Nizoral A-D, is 10X more effective at controlling fungus, the primary cause of dandruff.
What it is:
Nizoral A-D is the anti-dandruff shampoo with Ketoconazole which is an antifungal medicine – a clinically proven powerful dandruff fighting ingredient.
What it does:
This Flaky scalp shampoo does more than just control dandruff signs. This dandruff relief shampoo controls dandruff and helps control hair loss from dandruff. Also, Nizoral anti-dandruff shampoo kills the fungus that causes dandruff.
How it works:
It works differently to get right to the root cause of dandruff by fighting the fungus that causes it. This itchy scalp shampoo help to fight dandruff outbreaks and leaves hair smelling fresh, and helps relieve scalps that are flaky, itchy, and scaling.
What else you need to know:
It is safe enough to be used on all hair types, including color-treated, chemically processed, and gray hair.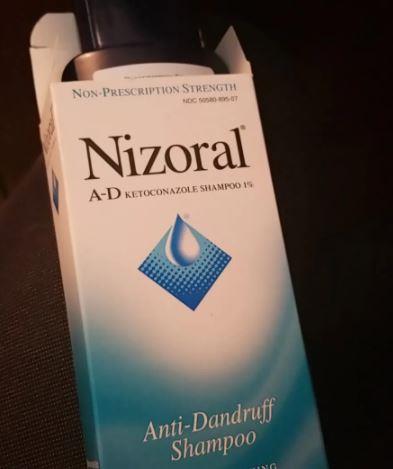 My write-up on Nizoral Anti-Dandruff shampoo
Actually I get suffered from scalp fungal infection and heavy dandruff. When I search OTC products for fungal infection treatment than I get to know about shampoos contain ketoconazole which is for fungal infection and dandruff.
The active ingredient in that is a topical anti-fungal called Ketoconazole and I see it prescribed or recommended a lot.
To date, there are only a few mainstream shampoos that contain ketoconazole. The most famous and well-known one is, obviously, Nizoral shampoo.
Nizoral is normally marketed as an antifungal shampoo for people with dandruff. Presently separated from being an antifungal shampoo, It also accompanies with androgen blocking properties.
Therefore, it is an effective anti-inflammatory agent for normal hair loss sufferers. It understands that the root cause of thinning hair is sensitivity to the hormone levels in your body. Therefore Anti-androgens work to block hormone (androgen) movement in your scalp.
Packaging: It comes in a sturdy blue color bottle that is travel friendly. It also comes in sachets.
Consistency: Neither thick nor runny
Smell: A very clean, fresh scent and a pearlescent, soft feel.
In this case, Nizoral is acting as the "anti-androgen" and while Anti-androgens block the hormonal activity in your scalp, Anti-inflammatory play an incredibly important role in calming the environment of your healthy scalp.
It works well to control seborrhoea dermatitis – as well as or better than prescription shampoos I've used. But it contains dye and fragrance. Nobody needs that and people with seborrhoea dermatitis are often sensitive and occur allergic reactions (seek immediate medical attention).
I have tried everything from apple cider vinegar shampoo, head shoulders, dove dandruff shampoo. This medicated shampoo works even after the first wash. I generally emerge from the shower with flakes and after using this product I hardly have any.
Most guys who use Nizoral (and particularly the 2% strength Nizoral) report having dry scalp or non-dandruff flakes.
It is effective, however shockingly, it does not contain anti-inflammatory ingredients and even the label suggests that it is not ideal for daily application. If you read the instructions carefully, you will realize that Nizoral should only be used once every 3 days and not every day.
The shampoo contains 1%, also available in a 2% mixture of Ketoconazole. But it may cause allergic inflammation of the skin, also called contact dermatitis.
Nizoral anti-dandruff shampoo for acne:
Dandruff shampoos are viewed anti-fungal treatments that will help treat fungal acne better than cleansers detailed with standard acne ingredients, like salicylic acid or benzoyl peroxide, since you have to treat the yeast rather than bacteria.
Nizoral can be used as a face wash was really effective at getting rid of acne. I've tried everything from prescription creams, benzoyl peroxide, special face washes, natural products, and oils and nothing seemed to work. This cleared up all of the body acne on the face, back, chest, and shoulders.
Nizoral anti-dandruff shampoo for face:
As I said before, This shampoo can be used as a face wash. Nizoral is a dandruff treatment shampoo that is used on the face to treat fungal acne.
Why we like it:
This Shampoo contains 1% Ketoconazole, an anti-fungal medicine, and a dandruff fighting ingredient. This dandruff treatment shampoo is specially formulated to be gentle, so it helps to control hair loss from dandruff.
How to use:
Wet hair and scalp thoroughly with normal water.
Take a coin size amount of the shampoo and apply it on the scalp or damp skin of the affected area. Gently massage with the fingertips like normal shampoo, for 2 to 3 minutes over your scalp.
Rinse your hair with water. Follow this therapy for a few weeks and you will be sorted.
Nizoral Shampoo may be irritating to the eyes, so avoid contact with eyes. If Shampoo gets into the eyes, rinse gently with cold water.
Possible common Side effects of Nizoral anti-dandruff Shampoo:
Mild dryness of the skin
Mild skin itching or irritation
Skin burning sensation
Thinning of the hair
Abnormal hair texture
Skin rashes
Can burn or irritate the broken scalp
Scalp pustules
Benefits of Nizoral Anti-Dandruff shampoo
Nizoral Anti-Dandruff Shampoo, the best ketoconazole shampoo is an effective solution to give you freedom from dandruff.
Not only prevents dandruff but also treats seborrhoeic dermatitis – dry, flaky, red, itchy scalp.
It solves scalp issues like dandruff, flaking, scaling, and also Itching.
The effective ingredient ketoconazole is the anti-fungal treatment that fights the scalp infections causing fungus. It reduced the skin irritation and itchiness caused by dandruff.
Salon-tested, powerful dandruff relief shampoo made with ketoconazole 1%, is specially formulated to be gentle.
This shampoo binds to the natural protein of your hair and works between regular shampoos to remove the fungus that causes dandruff.
Positive effects for hair care containing ketoconazole shampoo, it can be effective for improving hair growth.
Pros
Fights dandruff in the first use
Dandruff-Free Hair
Lathers Well
Fights dandruff outbreaks
A proven ingredient with salon-tested gentleness
leaves your hair smelling fresh
Controls flaking
Cons
It has a drying effect on hair
Contains SLS and Parabens
Note: Keep far from kids. Whenever swallowed, get medical help or contact a Poison Control Center immediately. Stop use and ask a doctor if the rash shows up and the condition worsens.
Frequently asked questions
What is ketoconazole shampoo 2% used for?
Ketoconazole 1% shampoo is used to prevent dandruff. While Ketoconazole 2% shampoo is used to treat "sun fungus" like tinea versicolor; pityriasis Versicolor. 
Why does Nizoral help with hair loss?
Ketoconazole is an antifungal chemical used to manage scalp conditions like dandruff. Also, It is an agent that blocks the synthesis of DHT (or dihydrotestosterone) in the scalp that causes male & female pattern baldness. So, It is the best and most effective hair loss shampoo.
Is Nizoral shampoo safe during pregnancy?
It might be harmful and the danger to the fetus during pregnancy. So, Nizoral ought to be used only if prescribed.
Can I use Nizoral shampoo while breastfeeding?
If you are a breast-feeding mother and are using this medication, it might influence your child. Take advice to your doctor before using this shampoo.
Why dandruff commonly affects the Scalp and no other areas?
According to one study, dandruff happens in association with Skin oil medically called sebum that's secreted by your sebaceous glands around the hair follicle And the fungus Malassezia is attracted to this oil or fats in this oil and evokes an inflammatory response in susceptible people.
Overview
If you're battling to discover a shampoo that works effectively to get rid of your stubborn dandruff, go to Nizoral A-D anti-dandruff shampoo. If you had a genuine dandruff issue, which led to the dry and patchy scalp with flakes that was not only irritating but caused serious hair fall problems.
So, for such people, I suggest this ketoconazole shampoo. Ketoconazole shampoos are also available in generic form as the generic medicine.
Of course, it is good to use when people have a problem of dandruff, but Nizoral Anti Dandruff Is not for the user who wants to wash their hair on a daily basis. To control dandruff, use it twice a week in between your regular shampoo.
Would I recommend and repurchase it?
Yes, I will.
Hope you found this review helpful. Kindly do comment and share your experience and thoughts on bebeautifulgirls.
You may also like