We generally want fair and glowing skin. Aside from a healthy diet routine and fresh face packs, it's essential to clean the face consistently to eliminate dirt, pollutants, and impurities to achieve healthy and glowing skin. I believe all skin tones are beautiful; however, sometimes we have uneven skin tones, which makes us stressed.
Normally, the Glutathione face wash is very famous for skin lightening and whitening effects. But, recently, I tried the ethiglo facial cleanser. Therefore, today I will review Ethiglo Skin Whitening Face Wash.
Ethiglo Face wash Review
It contains skin whitening ingredients such as kojic acid, licorice, Vitamin C, Glycolic acid, Salicylic acid, and Lactic acid, which helps ease the skin tone, acne, tan, melasma, pigmentation, and adheres to other skin problems.
The Ethiglo face wash assists with giving a clear, bright, and even skin tone. Its whitening agent lessens the perceptibility of the dark spots and scars caused because of suntan and skin inflammation.
The Ethiglo facewash is a breakthrough formula that uncovers naturally glowing skin after a few uses like skin Illumination face wash. The vitamin-rich formula immediately improves the skin's natural pinkish-fair complexion.
This face wash eliminates dirt and oil effectively and uncovers splendid skin right away. With daily application, the skin recovers its smooth, glossy, youthful tone and texture without disturbing the natural pH level.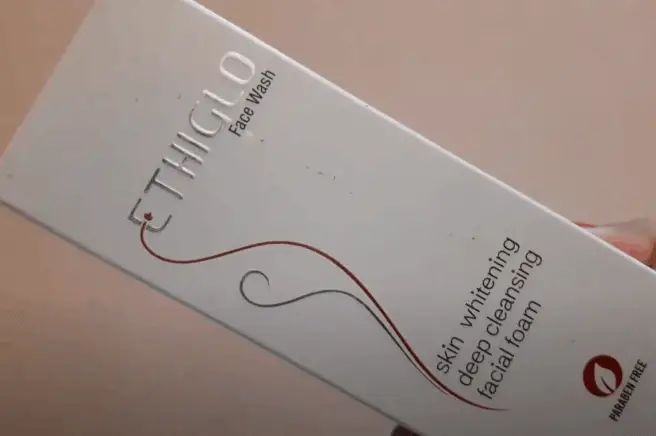 Product Details
Ethiglo face wash is used for removing dark spots and dead skin. It is an effective cleanser to improve complexion and skin tone. It also retains skin moisture and is hydrated throughout the day.
This whitening facial cleanser's smooth, creamy formula profoundly cleanses my skin, helps in decreasing pigmentation, and eliminates the layers of dead skin to give you healthy and more radiant skin.
Last update on 2023-11-12 / Affiliate links / Images from Amazon Product Advertising API
Ethiglo face wash price
INR 250 for 70 ml
INR 499 for 200 ml
Buy Here.
Ethiglo face wash ingredients
Key ingredients: Kojic acid, Vitamin C, Liquorice, Nicotinamide, Lactic acid, Glycolic acid, Potassium hydroxide, Salicylic acid, Gum binder, SLS, EDTA, Preservatives, Perfume
Full ingredients list: Aqua, Coco Fatty acid, Stearic acid, glycerine, globules, Lauric acid, Liquorice extract, Phenoxyethanol (and) Ethylheyglycerin, Sodium PEG-7 olive oil Carbovylate, Niacinamide, Triclosan, Sodium hydroxide, Allantoin, D- Panthenol, Salicylic acid, Glycolic acid, Lactic acid, Disodium EDTA, Vitamin C, Vitamin E, Potassium Hydroxide, Perfume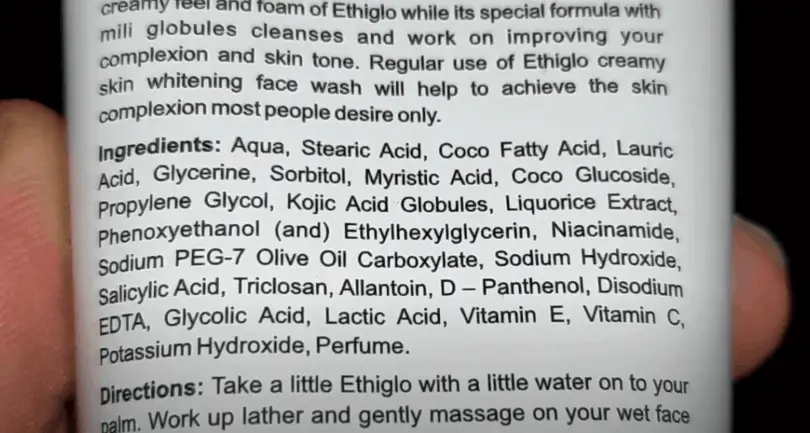 My write-up on Ethiglo skin whitening face wash review
Ethiglo face wash clears all oil and lights up my face after the principal application. It gives impeccable outcomes on my skin. It cleans the pores of the skin and eliminates all dirt. So, it successfully gives healthy and clean-looking skin. 
This skin-brightening face wash helps treat scars and blemishes. It makes the skin brilliant and clean. Ethiglo purifies the skin appropriately, eliminates overabundance of oil, and gives the skin a new splendid look. Thus, It is one of the best skin-whitening face washes.
It is an excellent product for normal and oily skin types as it clears all oiliness from the face and leaves a bright and oil-free look. It has salicylic acid in it, which lessens acne, and many dermatologists suggest this product. But, it has a comedogenic ingredient, so it may not suit extreme acne skin types.
However, it isn't appropriate for dry skin as it makes my skin drier; follow it with a decent toner and moisturizer. Usually, I used a natural moisturizer like Mamaearth aloe gel or Wow aloe vera after washing my face.
Therefore, the best thing about ethiglo face wash is it works amazingly for oily and open pores skin; it purifies deeply and makes the skin look clear. Therefore, It is a good fairness face wash for oily skin.
Remember to apply a decent oil-free moisturizer after washing the face. Otherwise, it will make the skin dry, and after sometimes the skin begins to create more oil.
This cream is likewise ideal for brown skin complexion types. The ingredients are so perfect for each skin type. It very smooth and calming facewash yet somewhat dry. Hence, Ethiglo facewash isn't reasonable for dry skin even if it has a creamy base. 
The face cleanser thoroughly cleans the skin without overdrying it. It offers the skin a soft glow and a freshness that lasts for about 2-3 hours. The face wash does a good job and helps in the healing of acne's dark spots.
It has added a mind-blowing glow to my skin without irritating skin. This creamy face wash, with its deep cleansing properties, assists with decreasing imperfections and tanning. But, The natural mamaearth ubtan face wash is more effective for tan removal than ethiglo.
The main drawback is that parabens may be present. The ingredient list mentioned on the site doesn't include parabens. But the tube I got has parabens. On the other hand, the product claims that it is paraben-free. Hence, I don't know whether it is paraben-free or not.
[Also check the most affordable Aloe Vera gel BoroPlus Aloe Vera Gel Review]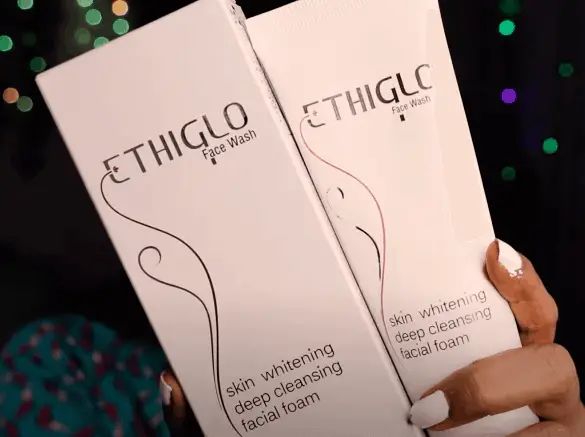 Packaging
The Ethiglo face whitening face cleanser is packaged in a plain white tube with a flip-open cover. The tube packs in a carton box with all the necessary details about its claims and ingredients, directions of use, price, expiry date, etc., printed on it. It's spill-proof and travel-friendly thanks to the flip-flop cap. So, the sturdy packaging makes it very easy on the pocket.
Consistency
It is a thick creamy cleanser with red beads. Its buttery smooth texture forms too much velvety foam with just a little amount. Therefore, it lasts quite a while. Red beads are very light and mild that not work much for exfoliating the skin. While we lather the face wash, the particles in it vanish swiftly.
Color: A glossy white colored face wash
Fragrance: It has a soft and mild smell.
[Also check a solution for all eye skin problems Mamaearth Under Eye Cream Review]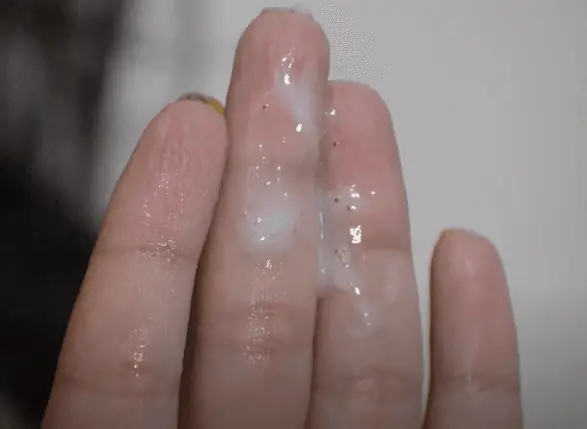 Ethiglo face wash results
This facewash is a blessing for oily skin people, and After using one month, it gives me observable effects. After the first usage, the skin started glowing naturally and offered a new vibe. But, Extreme usage will make the skin dryer, so it won't suit dry skin individuals as it will make your skin more dryer. 
It won't give you results overnight, but you will surely notice the adorable difference in your skin after constant use. It requires to be used for a prolonged time. Also, Ethiglo soap is available for the body, and it is cheaper than face wash.
Ethiglo face wash vs ahaglow
Both works are similar to improving skin texture and tone and also cleansing the pores. But the only difference is texture. AHA Glow face wash is a transparent gel-based cleaner with multi-colored millicapsules, while Ethiglo is a creamy consistency with red granules. The composition of Ahaglow is Aloe Vera, Glycolic acid, Vitamin E, and Gel base. Whereas Ethiglow contains Kojic Acid, Vitamin C, and Liquorice. Also, ahaglow doesn't dry out the skin as a gel-based texture.
How to use Ethiglo face wash
Use it similar to a regular face cleanser. A small amount should be poured onto your hand.
Wet your face, and apply it delicately all over and neck in round movements to create a lather.
After that, rinse your face and allow it to dry.
Use it two times every day as excess usage can dry your skin. Consistent use of this product enhances your appearance and skin tone.
[Also check skin brightening face mask Mamaearth Ubtan Face Mask Review]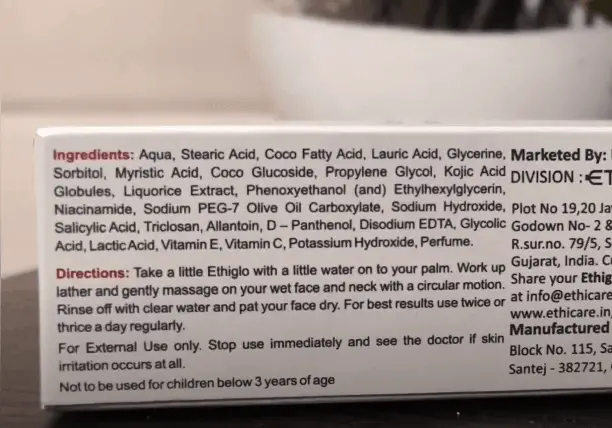 Ethiglo face wash benefits
Kojic acid is a skin-lightening ingredient that gives your skin a perfect, lighter tone. Its antioxidant abilities ensure the skin by compensating for free radicals present in the environment. It is known to have anti-inflammatory properties to assist with annoyed, red, and inflamed skin. Also, it has a few antimicrobial properties that can help heal pimples caused by bacteria in the skin.
Vitamin C is loaded with antioxidants that promote collagen production and fasten the skin regeneration process. It restrains the unusual creation of skin colors (melanin) to even out the skin tone and lightens dull spots, sun damage, acne scars, and keeps skin strong and firm.
Liquorice has natural antimicrobial and antifungal properties soothing to the skin. Its powerful brightening properties lighten scars and blemishes on the skin.
Nicotinamide is also known as vitamin B3, and its anti-inflammatory properties treat skin conditions and redness from skin break out, dermatitis, and other inflammatory skin disorders. Also, it helps to reduce pore appearance and keep skin soft and moisturized.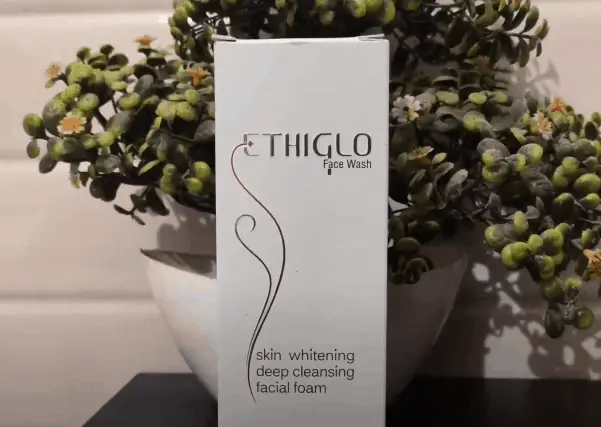 Pros of Ethiglo face wash
It lathers well and cleans the skin deeply
Not harsh on the skin
A pea-sized amount is required, which will make this tube keep going far 
Reduce blemishes and lightens the skin tone
Travel-friendly packaging
It is suitable for regular use
cleanses the pores of the skin
Pleasant fragrance
It gives a brightening and whitening impact if used over some time
Make my skin clean and dust-free
It provides brightness and gentleness to the skin
Never broke me out
Cons of Ethiglo face wash
It contains SLS and stearic acid substances. 
Red particles do not offer much exfoliation.
It may not be easily available.
Stearic acid is gently comedogenic, but it might not suit acne-prone skin.
Dry skin person may require to follow-up with a moisturizer as it dries out the skin.
Ethiglo face wash side effects
Skin lightening face wash with deep cleansing made with unique formula with mili globules that gives skin lightening & brightening effect without aggravating the skin, and I did not feel any allergic responses. It uses preservatives and artificial fragrances, which I don't especially like because some people may be susceptible to this or build up a hypersensitivity whenever utilized for a prolonged period. It is pretty good although it has perfume. It might create a stinging sensation in sensitive skin types. As of recently, no side effects have been reported. But, if you experience any abnormal effects like itching, redness, breakouts, rashes, or burning sensation, stop using it right away.
Shelf Life: 3 years
Availability: You can purchase on many online stores like Amazon, Flipkart, emartindia, etc., and the company's site.
Overview
Ethiglo Face Wash is a deep cleansing face foam that is creamy and whitens the skin. whitening deep cleansing facial foam. This skin whitening deep cleansing face wash is a rich creamy facewash appropriate for any skin type. It chips away at skin brightening, pigmentation, imperfections, dark spots and makes the skin look more brilliant, more youthful, and lightens up the skin tone. It feels soft on the skin when applied and successfully disposes of abundance oil and dirt.
Frequently Asked Questions
Is Ethiglo face wash good?
It produces a rich, creamy foam that works like dead skin removal. The creamy formulation with small microgranules gives an advanced skin whitening effect by enhancing the skin texture with luminosity after constant use. 
Is Ethiglo face wash good for oily skin?
It is an amazing face wash for oily skin. This pollution-free face wash has special active and deep cleansing that cleans all dirt, pollutants, and controls oil production from the face, and gives a non-greasy look.
Last update on 2023-11-12 / Affiliate links / Images from Amazon Product Advertising API