The reason behind dark circles is mainly melanin deposit, genetics, iron deposit, stress, pollution, or sleepless nights. Mamaearth bye bye dark circles eye cream offers eye cream with the integrity of nature.
Mamaearth brand is clinically tested and natural, safe to use. I have used many mamaearth products from skincare to haircare, such as an onion hair fall kit – Onion hair oil, Onion hair mask, and Onion hair shampoo.
I also tried Mamaearth face washes like Tea tree face wash for acne, Vitamin C face wash, Ubtan face wash, Ubtan face mask, and all work pretty great. However, today I will review Mamaearth Bye Bye Dark Circles Eye Cream.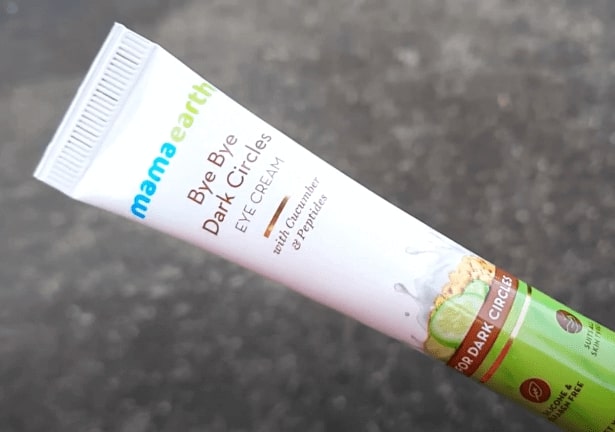 Mamaearth Bye Bye Dark Circles Review 
The cream is very gentle as it is free of any harsh chemicals, and hence all skin felt pampered and made the under-eye area feel firmer and more nourished. 
The application is very smooth and most important, it is made without paraben and is appropriate for all skin types.
My under eyes dark circles have vanished, and even I don't have puffiness under my eyes.
This cream is lightening my dark skin under the eyes, moisturizes and hydrates the under eyes, and works very well underneath makeup.
It can be applied as a suitable eye cream for under eyes during the daytime and nighttime.
This dark circles removal cream is a silicone and paraben-free under-eye cream that is suitable for all skin types.
It has cucumber and peptides that help in hydrating the under area and improving its appearance. 
Product Details
Mamaearth natural under-eye cream for dark circles is infused with the goodness of natural ingredients like Cucumber Extract, Daisy Flower Extract, Peptides, and Hawkweed Extract to assist you with reviving your eyes and eventually lessens the visibility of dark circles.
The blend of peptides, hawkweed extract, and daisy flower extracts manages melanin deposition in the skin to exhibit even-toned. Dermatologically tested dark circle cream by Mamaearth has no toxic chemicals and is liberated from toxins. 
Sale
Last update on 2023-09-14 / Affiliate links / Images from Amazon Product Advertising API
Mamaearth bye bye dark circles cream price
INR 399 for 20 gm 
Mamaearth Bye bye dark circles ingredients
Glycerin, Aqua, Propanediol, Glyceryl Monostearate, Cucumber Extract, Cetearyl Alcohol, Dicetyl Phosphate, Cetearyl Octanoate, Bellis Perennis (Daisy) Flower Extract, Hieracium Pilosella (Hawkweed) Extract (JuvenEye CLR), Neopentyl Glycol Diheptanoate, Ceteth-10 Phosphate, Caprylic Capric Triglyceride, Xylitylglucoside, Anhydroxylitol, Xylitol (Aquaxyl), Butylene Glycol, Carbomer, Polysorbate 20, Palmitoyl Tripeptide-1, Tromethamine, Palmitoyl Tetrapeptide-7 (Matrixyl 3000), Potassium Sorbate, Sodium Benzoate, Acrylates/C10-30 Alkyl Acrylate Crosspolymer, IFRA Certified Allergen-Free Fragrance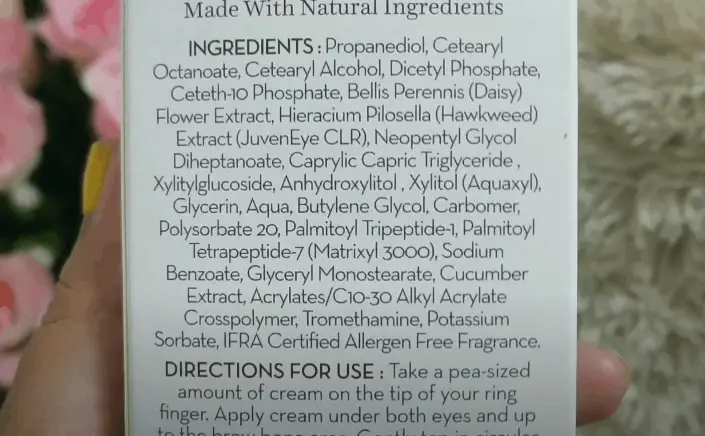 Made without:
The cream is free from Paraben, SLS, Petroleum, Sulfates, Artificial Preservatives, & Colors.
What the product claims:
This cream contains Cucumber & Peptides, known for Skin lightening and tightening properties that help lessen undesirable dark circles caused because of melanin deposits and iron deposits.
My write-up on Mamaearth Bye bye dark circles cream review
I am suffering from dark circles for an extended period. And this eye cream from Mamaearth has helped me to decrease dark circles.
This cucumber under eyes dark circles cream gives me soothe with a minty cool effect around my eyes after application. My eyes feel relaxed and have a very calming impact.
It moisturizes the eye area and keeps my skin soft. The dark circles under my eyes have lightened, and my face looks a lot healthier now.
I apply it overnight and wash it off in the morning, followed by a daily skincare routine. It does not feel very heavy, making it the perfect night eye cream.
My under-eye circles have started fading away. So, for me, it is one of the best eye creams for dark circles in India.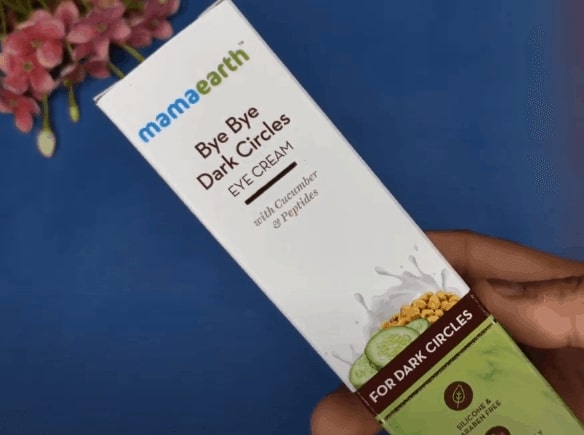 The lightweight texture of the cream does not feel sticky or look greasy and immensely softened my under-eye area. It is the most effective cream for removing dark circles.
I get a refreshing eye with this dark circle eye cream from the house of Mamaearth. The dark circles cream has acid and peptides, which reduce dark eyes and other eye area problems like puffiness, under-eye bags, dark spots, wrinkles, dark circles, etc.
It goes far and keeps my eyes hydrating for quite a while. It is a good eye moisturizer for dry skin. For a dry under-eye area, this cream gives a decent measure of hydration to the eyes.
However, if you feel dryness around the eyes in the wake of utilizing it; you can apply Mamaearth aloe vera gel for moisturizing.
Also, it leaves a cooling sensation and diminishes the dark patches. I store it in the fridge for a more cooling effect.
Mamaearth bye bye dark circles price in India is INR 399 for 20 gm. The cream quantity is less than the cost, but the quality is outstanding. The quantity lasts for two months in a single tube.
[Also check – Prolixr Detoxifying Sea Algae Mask Review]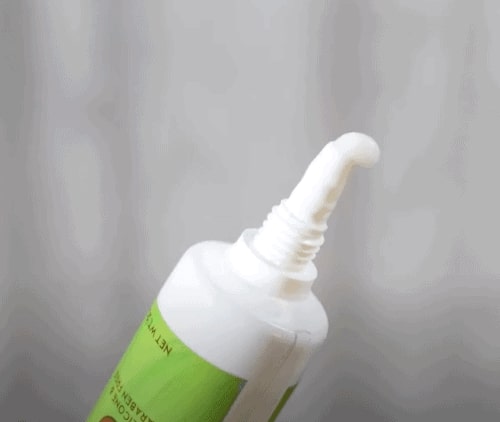 Packaging
It comes with a white and green-colored sleek tube that packs in cardboard. The best part is it comes with nozzle packaging, making it easy to apply and carry in a bag.
The tube is very lightweight which makes it travel-friendly. All details are present on the backside of the tube and cardboard-like whole ingredients list, directions for use, price, expiry date, etc.
Aroma
It has no synthetic fragrances but natural flower extracts for fragrance. The smell of the cream is very light and pleasant. It is very similar to baby products.
Consistency
It has a fragile texture that is very easy to glide around the eyes. Thus, this eye cream works well for extremely oily skin, even in summer also. It doesn't make the skin oily or tacky.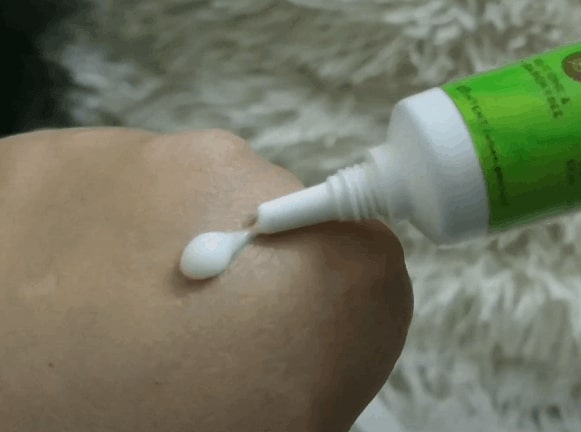 Absorption
The cream is hydrating and non-sticky. It has not a very thick texture and is very lightweight, so it gets assimilated rapidly into the skin, in contrast to different items, which are incredibly thick and uncomfortable.
Results
I have seen a visible change in my eye area look, which I haven't gotten with other promising creams. I'm beginning to see improvements with only three weeks of use of this cream.
This cream hydrates my undereye well. It assists with diminishing my dark circles somewhat.
I apply the cream twice every day, and I'm delighted with the progress made up until this point.
The cream absorbs quickly into the skin, leaving the under-eye area smooth and nourished. My dark circles have somewhat diminished, and the change is incredible.
It will take some effort to show its outcomes with regular use. One important tip after applying this cream is to don't use a mobile, or laptop, or give any stress to your eyes. Remember to use this dark circle treatment consistently.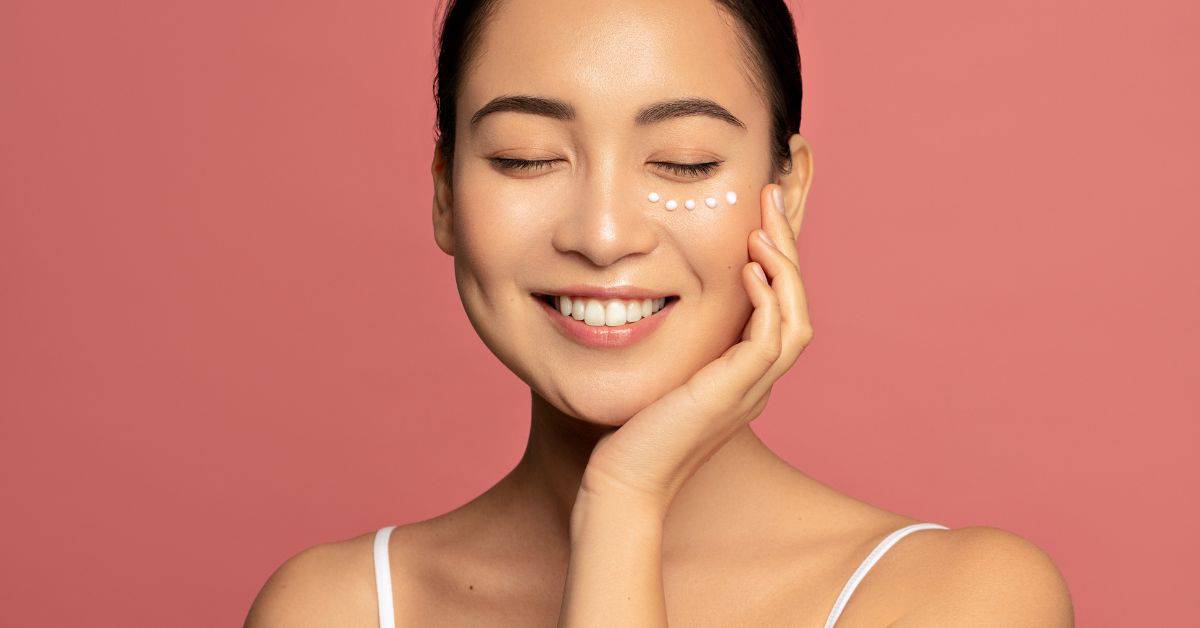 Are you trying to find the best natural under-eye cream to help with dark circles? If the answer is yes, you've found the correct place.
Mamaearth under eye cream vs bye bye dark circles
While both eye creams target under-eye bags, fine lines, wrinkles, and dark circles, the main difference between both eye creams is the formula.
While Mamaearth Under Eye Cream is formulated with cucumber extracts and coffee, the Mamaearth Bye Bye Dark Circles Eye Cream contains cucumber extracts with peptides.
Bye bye dark circles from Mamaearth are formed with effective ingredients, mainly helping to reduce dark circles, while Mama earth under eye cream is designed for puffy eyes.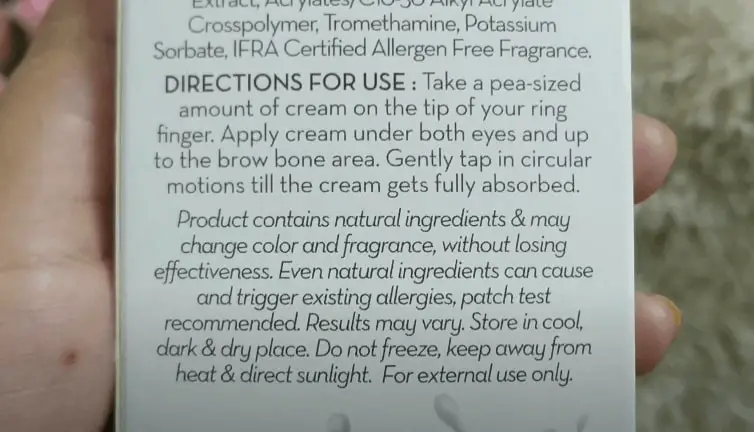 How to use Mamaearth bye bye dark circles
First, cleanse your face correctly and used your toner before you start applying the eye cream.
Now, take a small amount of cream on your ring finger, then do a small dot on your brow bone and under your eye and dab it all over.
Gently massage it around both eyes in a circular direction till it is absorbed completely.
Mamaearth bye bye dark circles Benefits
Cucumber Extract is plentiful in vitamin C and is named for its cooling and skin-lightening features. It has high water that aids produce collagen while leaving the skin hydrated and tightened. Its antioxidant content helps decrease melanin production as it compensates for the damaging free radicals generated by Sun's UV beams.
Peptides are a skin repairing agent triggering skin cells and exciting collagen production in the skin, leaving the skin looking youthful and wrinkle-free. 
Daisy Flower Extract exfoliates the skin naturally and lessens the dull spots and age spots caused by daily environmental pollutants.
Hawkweed Extract's soothing and nourishing effects help to fight dark circles. It lightens and renews the skin to help target the reduction of dark circles. 
[Also check – Younique Lash Serum Review & Results]
Mamaearth Bye Bye Dark Circles Eye Cream Uses
Reduces dark circles
Leaves smooth and radiant skin
Lightens the under-eye area
Nourishes Under Eye Skin
Reduces visible skin damage
Makes the under-eye appear fresh and youthful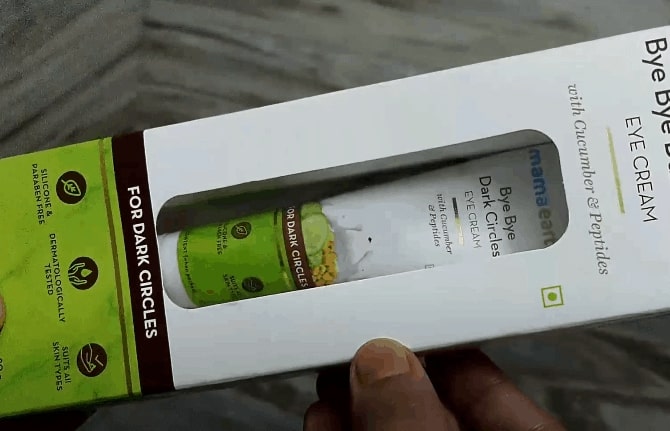 Pros of Mamaearth bye bye dark circles cream
Cruelty-free
Suits All Skin Types
Lightweight texture
Clinically tested and hypoallergenic
Travel-friendly packaging
Free of any toxic additives
Made with rich ingredients
Quickly absorbs into the skin
Cons of Mamaearth bye bye dark circles cream
May sensitive eye areas get redness with its application.
It can hurt your eyes if in case gets in contact with it.
I found the cream to be slightly high-priced. (399 INR for a 20 gm tube)
Mamaearth bye bye dark circles side effects
The cream is exceptionally gentle on the under-eye area as I never built up a sensitivity or aggravation in the wake of applying the cream. It has no unfavorably allergic effect, even on sensitive skin.
Eye cream should go close to your eyes; however, it ought not to go on your top eyelid, nor should it be used straightforwardly under your base lashes.
In that case, cream gives a burning sensation close to the eyes and leaves marks. It will rely upon your skin type; I have combination skin, and I didn't feel a burning on my eyelids or anything. It causes irritation and redness if the cream gets in touch with the eyes.
Shelf life: Two years from the manufacturing date
Availability: Easy (buy online)
Where to buy: No nearby cosmetic store carries this cream. It's available on Amazon, Flipkart, and Nykaa, among other places. Here's where you can get it for a discount.
Overview
Overall, Mamaearth bye bye dark circles under eye cream are one of the best products for under eye circles that help to lighten the dark circles.
Also, it is a soothing eye cream that moisturizes and hydrates the eye area very well. This nourishing eye cream is very gentle.
This natural and effective dark circles removal cream immediately refreshed the eye skin and provides a soothing effect to the eyes.
Frequently Asked Questions
Does mamaearth bye bye dark circles work?
It is a very effective under-eye cream that removes dark circles and makes the eye skin bright and young. Also, it moisturizes the eye area very well.
Does mamaearth bye bye dark circles help reduce genetic dark circles?
People with genetic dark circles can use this product. Yet, it may not entirely solve the situation. For hereditary skin conditions, it is ideal for getting guidance from a dermatologist.
Can I use mamaearth bye bye dark circles twice daily?
You can use it twice a day, after a bath in the morning and before bedtime. Two times a day gives a good effect.
Last update on 2023-09-10 / Affiliate links / Images from Amazon Product Advertising API