The dark circles around your eyes reveal to you that you are sleepy and exhausted. Tiring workdays and sleepless bedtimes can harm your pretty eyes and make you seem dull and tired.
Mamaearth brand is all-natural, safe for all skin types, it's paraben-free, cruelty-free, and the best part is that this company is plastic positive, and they cycled more plastic than they produce.
I have used a wide range of mamaearth products from haircare to skincare, like an onion hair fall kit – Onion hair oil, Onion hair mask, and Onion hair shampoo. I also tried Mamaearth face washes such as Tea tree face wash for acne, Vitamin C face wash, Ubtan face wash, Ubtan face mask, and they all work pretty well.
However, today I will review mama earth's skincare range product, Mamaearth Under Eye Creme for Dark circles.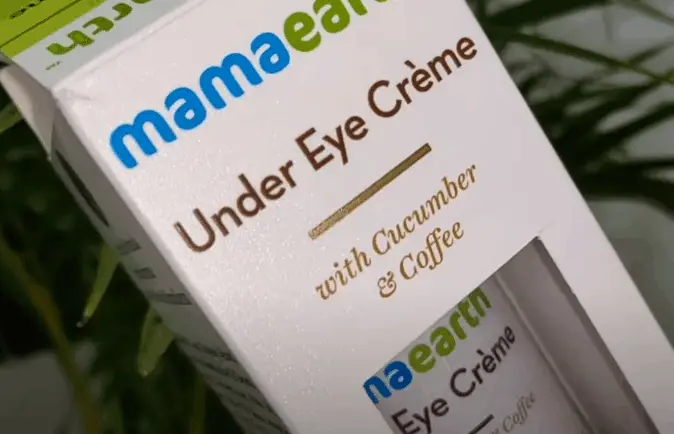 Mamaearth under eye cream Review
 It is formed with vitamin C, hyaluronic acid, peptides, and white lily extract, revealing smooth and radiant skin. These ingredients lessen many eye area matters like puffiness, under-eye bags, dark circles, wrinkles, and fine lines, making it perfect for everyday morning and night eye cream. 
Mamaearth under eye cream for puffy eyes is made with the best natural and toxin-free ingredients, just like homemade eye cream.
Natural flower extracts are used for fragrance in this creme. This Mamaearth eye creme is suitable for normal to combination skin and dry and extremely dry skin.
This high-performing crème locks in deep, intensive moisture without oil or tacky residue. It can be used in the morning and nighttime as a suitable eye cream for under the eyes. 
Product Details
Mamaearth natural under-eye cream for dark circles & wrinkles with coffee & cucumber rejuvenates eyes with a unique blend of vitamin c, peptides, and caffeine. White Lilly extract hydrates, and its therapeutic benefits last throughout the day and night.
It reduces eye bags, puffiness, dark spots, and under-eye circles very effectively, making it the perfect morning and nighttime under-eye creme. Also, it is designed to recover our beautiful eyes and keep their natural beauty.
No products found.
Price 
MRP 599 for 50gm
Mamaearth under eye cream ingredients
Aqua, Cetostearyl Alcohol, Glycerol monostearate, Rice bran oil, Almond Oil, Glycerin, Rockweed Extract, White lily extract, Sunflower oil, Caffeine Anhydrous, Shea Butter, Extra Virgin Olive Oil, Mulberry Extract, Cucumber Extract, Papaya Extract, Green Tea Extract, Sodium PCA, Wheatgerm oil, Hydrolysed Collagen, Tocopherol acetate (vitamin E), Lactic acid, Allantoin, Potassium Sorbate, Calendula Extract, Ashwagandha Extract, and Geranium Oil.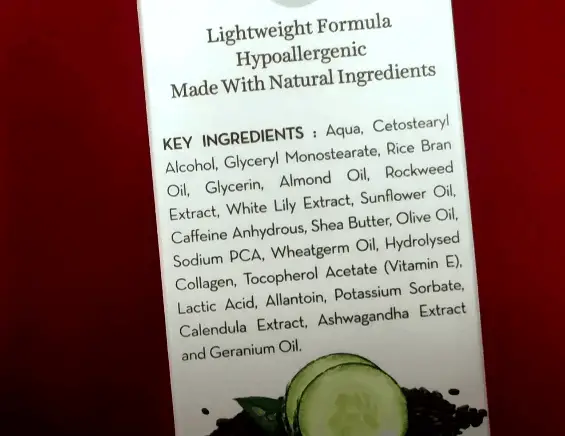 Made without: Mamaearth Under Eye Crème is free of Parabens, Sulfates, Mineral oil, Silicones, Phthalates, synthetic fragrance, and synthetic colors.
What the product claims:
Mamaearth Under Eye Crème assists with clearing under-eye bags, dark circles, and puffiness. It is appropriate for all skin types and is made without harmful chemicals.
My write-up on Mamaearth under eye cream for dark circles review
I've been using mama earth under eye cream with cucumber and coffee strictly and consistently for about two months.
For the past two months, I give an honest try without skipping a single day. I was applying Mamaearth cream for under-eye dark circles every night before going to bed.
It makes my eyes look radiant and healthy. It is helped in reducing the dark circle under my eyes; looks so much better now.
Sometimes when I wake up, I get puffy eyes, and the area around my eyes looks very sleepy. This crème helps to overcome this concern.
It is admittedly a perfect natural dark circle cream for regular use. It gives me a better result as compared to other dark circles remover creams.
It has a thick consistency and is not a lightweight recipe that takes some time to absorb. To have a very dry under-eye area, this cream gives the perfect value of hydration to the eyes. Yet, if you feel dryness around the eyes after using creme; you can apply Mamaearth aloe vera gel for moisturizing.
No products found.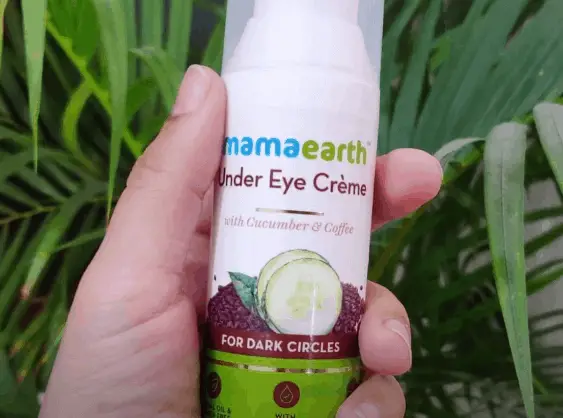 Through it does not obliterate my dark circles, but yes, it reduces them to some extent. Yet other than that, it is a moisturizing and decent eye cream.
It is the most effective way to reduce puffiness. It is noticeably diminished my fine lines too. Now I awake with a fresh and delicate eye. Therefore, for me, Mamaearth under-eye cream is one of the best under-eye creams for puffiness in India.
The one thing I say is that I began noticing the difference within 2-3 weeks. It helped lighten the circles to a significant extent. At least to the time that I didn't have to depend on using a concealer every day.
It helped me out with dark circles, and it smoothed the surface under my eyes. Though the process is slow, it still works.
This puffy eye cream hydrates the skin, but it isn't doing much for the pigmentation around my eyes even after using it regularly. But it gives a mild cooling effect. It's a good natural under-eye moisturizer and can be applied under makeup as well. 
Yes, you need to know that a product from the same brand, Mamaearth bye bye dark circles is formulated with effective ingredients, that mainly help to reduce dark circles, while under-eye cream from mamaearth is intended for puffy eyes, not for dark circles.
Also, the well-known brand for dark circles, The moms co Natural vita-rich under eye cream is more effective in reducing under-eye dark circles compared to mamaearth eye cream. But, the mamaearth more effectively removes puffiness around the eyes than the moms co. So, it is the best under-eye cream in India.
[Also check – BoroPlus Aloe Vera Gel Review]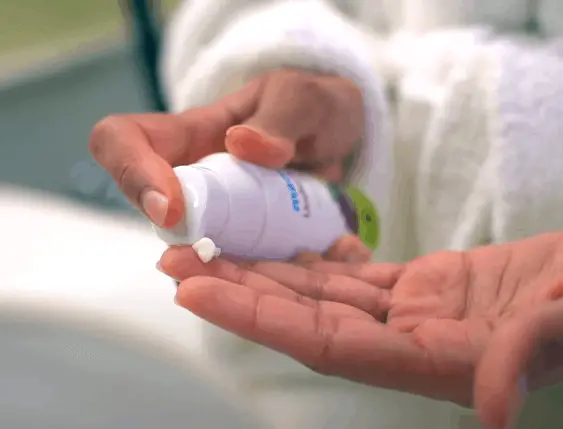 No products found.
Packaging
The packaging comes in a white and green colored plastic bottle, and it has a cap with a pump dispenser. The pump bottle is good from a hygienic point of view. The product quantity is 50ml which is decent, and a little goes a long way. The pump with a capped bottle is spill-proof and travel-friendly. All the information present in the cardboard and the bottle also like ingredients, directions of use, cost, expiry date, etc.
Consistency
The texture of this natural eye cream is a little bit thick and heavy. It has a little bit of whitening sort of tint to it, which gives a brightening effect to the under-eye area when it is freshly applied. It is a little bit heavy, so it needs some effort to get absorbed into the skin. Since this is a slightly thicker and heavy cream, it does not work for oily skin during the summer. It becomes too heavy and greasy and causes a lot of sweating.
Fragrance
The smell is refreshing, a little bit like rose water; it's similar to the overnight repair cream.
[Also check – Prolixr Detoxifying Sea Algae Mask Review]
Results
It takes time to see visible changes in the dark circles because you can't expect it to work overnight on your dark circles. You have to use strict and regular to see good results.
This mama earth creme helps to reduce my puffy eyes very effectively. It's not entirely removed from the dark circles, but it soothes my eyes well. My under-eye circles have diminished somewhat, but nothing like bliss. It nourishes and keeps skin hydrated for a long time; for best results, use it twice a day.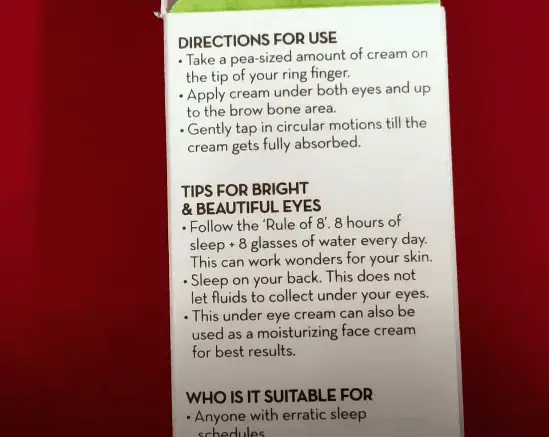 How to use Mamaearth under eye cream
First, cleanse your face correctly and used your toner before you start applying the eye cream.
Now take a pea-sized amount of this cream on the tip of your finger and make small dots around the eyes.
Start massaging gently in a circular motion till it gets completely absorbed.
After applying it, wait for about two minutes for the skin to soak it up, and then follow it up with your moisturizer or serum or whatever you use in your nighttime skincare routine. Also, give yourself a few minutes before wearing cosmetics or sunscreen.
Mamaearth under eye cream Benefits 
Caffeine soothing properties increase blood flow that helps in reducing puffiness under the eye area and tightens the skin.
Cucumber extract helps a fresh and bright appearance around the eyes for sensitive skin. Also, the White lily extract helps to improve skin elasticity.
Extracts of vitamin C in this under-eye dark circle cream help reduce dark circles and minimize sun damage.
White lily extracts have restorative properties that hydrate and nourish the eye's skin, revealing smooth, soft, and radiant skin.
Cucumber has anti-inflammatory properties that can help to soothe the skin and give you blemish-free skin.
Vitamin C and coffee extracts reverse sun damage; they help with pigmentation, and they also give an overall even skin tone.
Almond oil helps to reduce inflammation and protect your delicate eye skin. Also, it helped to remove stress and puffiness due to sleepless nights.
Hyaluronic acid and other organic compounds assist to reduce under-eye bags, age spots, wrinkles, and dark spots. All these natural ingredients make healthy-looking eyes. One needs to be gentle while applying any eye product.
No products found.
[Also check – WOW skin science Aloe Vera Gel Review]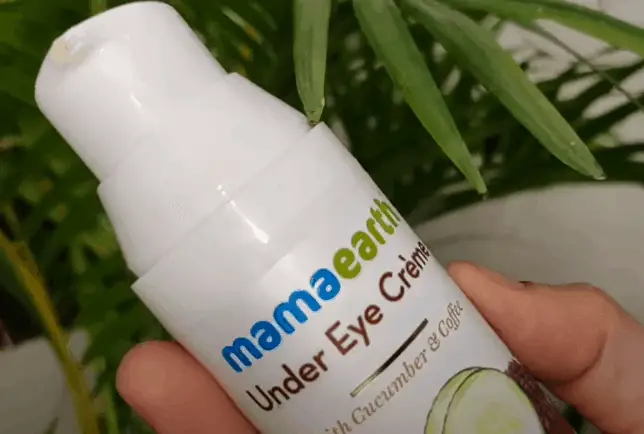 Pros of Mamaearth under eye cream 
Travel-friendly packaging
Lightweight formula
The eye area is hydrated without seeming sticky or oily
It's a great product to use before applying makeup.
Formulated without toxic chemicals
The consistency of the cream is nice, spreads quickly
It doesn't require applying much in one go. A little quantity taken on fingertip works admirably. 
It remains for a long time and leaves the skin soft and hydrated. 
Clinically tested and hypoallergic
Cons of Mamaearth under eye cream 
Nothing drastically good and takes time to show results even after using it regularly.
I found the cream to be somewhat costly. (599 INR for a 50 ml bottle)
People with sensitive eye areas may face burning sensations.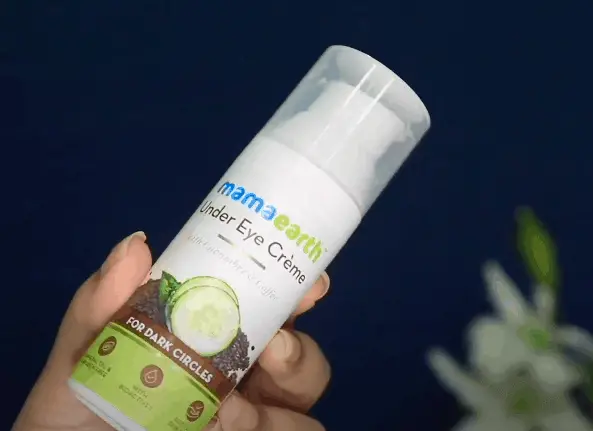 Mamaearth under eye cream side effects
Mamaearth dark circle eye cream contains herbal ingredients, which are perfect for all skin types. However, even natural products can cause existing sensitivities. 'Patch testing' is required for sensitive skin types. Geranium oil can be a little bit allergic to some people as it is generally used as a fragrance ingredient. However, on their website, they have mentioned that it is used for healing and as an anti-depressant, which I don't comprehend; this is excessively weird.
Shelf life: Two years from the manufacturing date
Availability: Easy (buy online)
Where to buy: This cream isn't sold in any of the local cosmetic stores. You can order it on online sites like Amazon, Flipkart, and Nykaa.
Overview
Overall, Mamaearth under eye cream for dark circles is made with natural ingredients that hydrate and nourish the eye's skin. It is one of the best lightweight eye creams. This lightweight cream formulation smoothly glides for an instant cooling effect and gives a refreshing feel. Also, it diminishes my puffiness well. However, it reduces the dark circles to some extent, but not ultimately. But, overall one of the best eye creams for puffy eyes and dark circles.
Frequently asked questions
Does Mamaearth under eye cream work?
It works well on many eye areas concerns as eye bags, puffiness, wrinkles, and fine lines. However, it does not work as well for dark circles.
How do you use Mamaearth under eye cream?
I make small dots of cream around the eye and massage gently using my fingertips for a few minutes. I repeat this process two times a day, the morning after bath and the night before bed.
How to open mamaearth under eye cream?
The creme comes with a pump dispenser bottle with a pump. Thus, you don't have to open the container for use. Just press the pump and get a sufficient amount. After use, secures the cap again for no leakage problem. However, if you want to open the bottle, pull the head of the bottle.