Teenage Skincare Routine
Teen life means the phase of 360-degree transformation. The hormones take a rollercoaster ride, often leading to acne breakouts and pimples in some teen girls.
Not to forget the toll that the changing environment & pollution takes on the skin by producing blemishes, hyperpigmentation, and premature aging later in life. Opting for the best skin care products in the early stages is essential.
Having a gentle face wash in the skincare routine is necessary. However, identifying the best face wash can often be confusing, especially for their parents.
They should advise picking a gentle face wash with natural and toxin-free ingredients to keep their daughter's skin healthy and fresh. Such skin care products are safe for regular use too.
What is the importance of teenage skincare?
Teen girls should follow a simple yet effective skincare routine that will prevent them from having breakouts while maintaining healthy skin.
Maintaining a good skincare routine during the onset of teenage years can improve skin texture and help it stay constant with age.
A face wash will gently clean all the dirt, impurities, and grime that settles on their skin after long school hours. It would also not reduce the natural oils or sebum from their skin.
Repeated over a period of time, it would teach them a preference for curating and following a personalized skincare routine.
How does natural face wash provide facial hygiene?
Your skin comes across many impurities that clog the skin pores and destroy the skin texture. A toxin-free face wash made using fresh ingredients from the environment can clarify the skin and maintain hygiene.
Face Washes featuring Tea Tree, Ubtan, Charcoal, Rice Water, Coffee, and Turmeric extracts are considered the best face wash for girls. These natural face washes contain antibacterial, tan removal, and dirt cleansing properties that can suit your teenage girls' skin well.
Here are some of the benefits of using a good face wash:
Deeply cleanses & brightens the skin
Removing dirt & sweat from the skin pores should be done constantly to prevent bacterial infection. Mamaearth's Vitamin C Foaming Face Wash is great for teens as they can quickly and effectively rinse with little effort.
It comes with a silicone brush that penetrates deep into the skin and cleanses deeply, marking itself as the best face wash for girls.
Made with the goodness of Vitamin C and Turmeric, the face wash can help regenerate skin cells, brighten the skin, and even improve skin tone. Turmeric is a great exfoliant that removes impurities from within and soothes the skin.
2. Removes excess oil
If your teenage daughter has oily skin and is worried about acne, you should advise her to use a skincare product that controls her excess sebum production. If you are looking for the best face wash for girls, you should choose the one with Apple Cider Vinegar and Salicylic Acid.
Crafted with the goodness of these ingredients, Mamaearth Oil-Free Face Wash combats annoying pimples and heals active acne. It also helps remove the dead skin cells that result in giving clear & acne-free skin. The Salicylic Acid in the face wash is a great exfoliator that prevents blackheads.
Tip: If you want a shampoo for dandruff and hair fall, you should pick a product with apple cider vinegar as it is known to be effective for hair care.
3. Removes tan and repairs sun damage
Ubtan is an age-old skin care tradition that helps reduce dullness, hyperpigmentation, and suntan. It also makes the skin fresher, more radiant, and well-hydrated. One can use this face wash on a daily basis to reverse the harmful effects of UV rays, pollution, and other harsh weather conditions.
Mamaearth's Ubtan Face wash, made from the natural goodness of Turmeric, Saffron, and Carrot Seed Oil, is one of the best face washes for girls. It also helps moisturize the skin from within and improve the skin texture and complexion.
4. Combats acne & breakouts
Teenagers are prone to acne breakouts due to hormonal imbalance, which is why it needs special & timely care. Tea Tree is one of the most effective ingredients that work wonderfully against acne breakouts and helps put a full stop to them. Additionally, it can eliminate acne-causing germs and makes acne scars seem better.
The Mamaearth Tea Tree Face Wash features a Tea Tree and Neem. The duo's antioxidant, anti-inflammatory, and antimicrobial properties form a protective layer on the skin and cease bacterial growth.
5. Prevents pollution & dirt
The perfect solution to fight against pollution & dirt is the Mamaearth Charcoal Face Wash. Charcoal is known for its gentle removal of dirt, impurities, and microparticles that may accumulate on the skin. It is another option in the list of the best face washes for girls because it contains Activated Charcoal.
The latter helps remove toxins and pollutants in the skin pores. The presence of Clay & Coffee helps gently exfoliate the skin's dead layer and removes excess oil deposition. It revitalizes the skin cells and helps regenerate new skin cells.
6. Hydrates and plumps up the skin
What is the best way to make skin feel refreshed, calm & hydrated? It's Mamaearth's Aqua Glow Face Wash. It is also one of the best face washes for girls because it features Himalayan Thermal Water. It is rich in calcium, Potassium, and Magnesium, which help maintain the skin's moisture barrier.
Hyaluronic Acid's presence helps bind moisture content to the skin cells, making them look healthier and hydrated. Aloe Vera's presence helps maintain moisture levels, even for people with sensitive skin.
What is the best way of applying this face wash?
School-going teen girls can add this as the first thing they do when they get ready for school and after they return from school. Follow these steps to reap maximum benefits from the face wash-
Rinse your palms & face well
Squeeze a little quantity on your palm and gently massage with the built-in brush in a circular motion.
Cover the entire forehead, cheeks, nose & chin area. Avoid contact with the eyes.
Rinse off with water and pat dry (avoid vigorous rubbing of the towel to dry the face).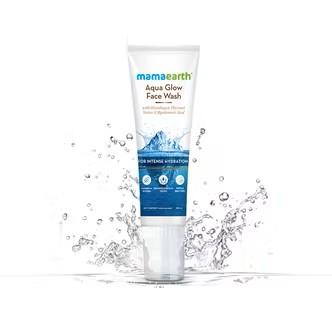 Why choose Mamaearth?
Asia's first MadeSafe-certified brand, Mamaearth is known for its toxin-free formulations, which means no Parabens, Silicones, or Mineral Oils go into the making. Dermatologists and skincare experts test all its products, so you can pick your favorite product and start your skincare routine without any issues.
Did you know? The face washes are non-comedogenic and suit every skin type, whether dry, oily, combination, or sensitive.